Completed meetings and events 2015-2016
Mon 27th June 2016 Presidential Handover
.
Mon 20th June 2016 Visit Wild Flower Garden - Slaidburn
Garden created by local school children. Meal at Hark to Bounty afterwards
Mon 13th June 2016 Club Assembly
Outline of plans for next Rotary Year
Mon 6th June 2016 New Committees
for 2016/7
Mon 30th May 2016 No Meeting
Bank Holiday
Mon 23rd May 2016 Climbing Mount Kilamanjaro
Jacqui Cowling
Mon 16th May 2016 AGM and discussion on Club Bylaws and policies
Roports and Election of officers for 2016/17
Mon 9th May 2016 Mock Auction
Richard and Annis Schofield
Mon 2nd May 2016 No Meeting - Bank Holiday
.
Mon 25th April 2016 Talk by member Iain Poole
Lost in the French Alps
Mon 18th April 2016 Perils and Pitfalls of the English Language
Peter Houldsworth
Mon 11th April 2016 Hospital Service
David Peat
Mon 28th March 2016 - no meeting
Members visit other clubs this week. No home meeting
Mon 14th March 2016 Job Talk
Member Ricky Newmark
Mon 7th March 2016 Film, The construction of Whalley Hydro Generator
John Whipp
Mon 7th March 2016 First Aid talk
First responders team
Mon 29th February 2016 Irving Berlin
Talk by Nick Mahon
Mon 22nd February 2016 Visit by District Governor
Arthur Jones
Mon 15th February 2016 Unknown
Mon 8th February 2016 MacMillan Care
Organised by Trishia Newmark
Mon 1st February 2016 Talk by member tba
Subject not known
Mon 25th January 2016 Burns Night
With guests
Mon 18th January 2016 Film show by Richard Dugdale
China or Turkey
Mon 4th January 2016 Talk by John Pallister
Topic to be decided by members
Mon 5th October 2015 Charter Celebration 2015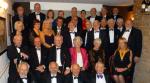 Held at Mitton Hall Hotel, Mitton, Whalley.
Speaker; son of famous vet.
Fri 4th September 2015 Safari Supper
Food to be enjoyed at various hostelries. Guests welcome.
Mon 27th July 2015 Talk on Dementia
Crossroads Care Ribble Valley
future
calendar
district events
local events