Completed meetings and events 2021-2022
Tue 16th November 2021 Dovetail - Speaker : Sam Osmond
The Bombshell that rocked Hong Kong.
Tue 2nd November 2021 Remembrance
Speaker is Rev John Morris, who saw active service as a Royal Marine. This evening has been arranged to celebrate 100 years of the Royal British Legion.
Tue 26th October 2021 Skittles Evening
This will be at the Jolly Farmer, Blacknest - all members, partners and friends welcome! £10.50 per head, including a basket meal - contact John Vilton
Tue 19th October 2021 Speaker: Josh Godfrey - Farnham Museum; Assistant Governor, Tim Vile will also be joining us
Josh is the Curator of Farnham Museum and he is delighted to be coming along to Weyside in this, the 60th Anniversary year of the Museum. He will be speaking on its history and their plans for the future.
Tue 5th October 2021 Speaker : Pam Taylor
Pam, a local historian, will be speaking on the history of Farnham Park.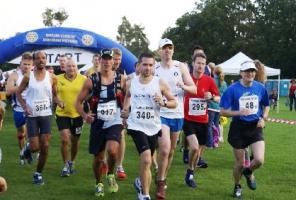 Sun 12th September 2021 2021 Farnham Pilgrim Marathon
One of the most scenic, yet challenging events in the Marathon Calendar.
Here are some photos from the 2020 event run with Covid-19 precautions in place
read more...
Tue 17th August 2021 WEYSIDE BBQ! At Heronsway Guide Camp
Our incoming President Robert has organised this for us all to get together (Partners, children etc all welcome). £16 per person; £8 children. You need to book in with Diane Vasey with numbers and dietary requirements.
Tue 20th July 2021 Handover Night
This is the delayed Handover Meeting at the Bush Hotel with the formal handover to the new President for the Rotary Year 2021/2022
calendar
district events
local events