Completed meetings and events 2021-2022
Tue 23rd November 2021 No Meeting
Tue 23rd November 2021 Council Meeting
.
Tue 16th November 2021 Speaker Meeting
Speaker: Nigel Mortimer (South Devon AONB) "Kingsbridge Estuary Rotary Club by name …and by nature?" Stewards: Mike Jones & George Lacon Venue: TBA
Tue 9th November 2021 No meeting
Tue 2nd November 2021 Special General Meeting
Stewards: Beverley Harman and Norman Hore
Thu 28th October 2021 Council Meeting
@ the Regal Club
Wed 27th October 2021 International/Foundation Committee Meeting
@ Creeks End
Tue 19th October 2021 Speaker Meeting
Speaker: David West (Retd Lt Col RM) "Royal Marines in Norway (Arctic Survival training)." @ Fortescue Arms, East Allington
Stewards: Lindsey Glasman & Dave Graham
Tue 12th October 2021 NO MEETING
.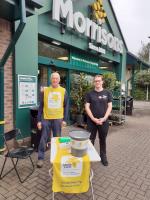 Thu 7th October 2021 - Fri 8th October 2021 Collection on behalf of Marie Curie
@ Morrisons
read more...
Tue 5th October 2021 Business Meeting
at the Regal Club, Kingsbridge. Stewards: Bill Beare & Richard Foss
Thu 30th September 2021 Council Meeting
Venue?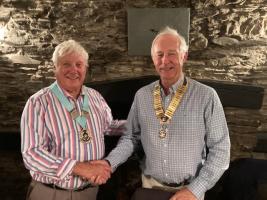 Tue 28th September 2021 Speaker Meeting
Speaker: DG Michael Champion
At Fortescue Arms, East Allington
Tue 21st September 2021 NO MEETING
(Speaker meeting next week)
Sat 18th September 2021 - Sun 19th September 2021 Rotary District 1175 Environmental Weekend
To tie in with Great Big Green Week, Devon & Cornwall clubs are promoting environmental issues.
read more...
Tue 14th September 2021 President's Social
in lieu of President's Night
Wed 8th September 2021 Business Meeting
At Thurlestone Golf Club. N.B. This, our first face to face meeting for 18 months, is on a Wednesday.
Sat 4th September 2021 District Council meeting
on Zoom
Tue 31st August 2021 Membership Services committee meeting
venue TBC
Tue 3rd August 2021 Business Meeting
Thu 22nd July 2021 Council Meeting
at Chris Miller's
Tue 20th July 2021 Speaker Meeting
Speaker: Garry Joliffe "Till the Coast Is Clear"
Vote of thanks: Peter Barnwell
Tue 13th July 2021 NO MEETING
.
Tue 6th July 2021 Business Meeting
with video of handover
calendar
district events
local events