Completed meetings and events 2017-2018
Thu 12th October 2017 - Speaker Edgar Guest
Teenager in Hungary during World War 2
Sat 7th October 2017 - Dinner,Dance,and Cabaret starring Stephen Dunnett -Raising funds on behalf of the Oak Foundation Drug Development Unit
Fund raising event of dinner ,dance and cabaret by Stephen Dunnett well supported by Rotarians and their friends organised by Rtn Howe successfully raised fund for the designated charity
read more...
Sat 7th October 2017 - Dinner,Dance,and Cabaret starring Stephen Dunnett -Raising funds on behalf of the Oak Foundation Drug Development Unit
This is a joint unit between The Royal Marsden and the Institute of Cancer Research. The U.K's only Biochemical Research Centre for cancer ,undertaking ground breaking laboratory and clinical research to discover new ways of treating different cancers.
read more...
Thu 5th October 2017 - Speaker meeting
Speaker from the charity Help for Heroes
Sat 30th September 2017 - Caribbean hurricanes disaster appeal collection
Recent devastating hurricanes affection of Caribbean Islands- cruel grip making thousands of people losing everything they had. Urgent need of shelter,fresh water and,food are priority.Billericay Mayflower Rotarians' collection buckets were in use again.
read more...
Thu 28th September 2017 - Business Meeting
Club monthly business discussion
Wed 27th September 2017 - Trip to Rye
Train trip to Rye organised by rail enthusiast President Mervyn with support of his wife Jane,Mayflower Rotarians and their partners enjoy a relaxing day meandering through cobble lanes soaking up the autumn sunshine admiring many of Rye's history.
read more...
Fri 22nd September 2017 - Sun 24th September 2017 Billericay Mayflower wins Bill Tiffin trophy for largest number of delegates attending District Conference
The District Conference 2017, organised by D.G Nick Sillitoe held at Norton Park Hotel in Winchester.
read more...
Fri 22nd September 2017 - Sun 24th September 2017 District 1240 Conference, 2017 - join Nick and Jane
Come and celebrate the success of Rotary, in particular District 1240, and our theme - Rotary For Life
read more...
Thu 21st September 2017 - Speaker meeting
Speaker Matt Abbott-DP World London Gateway
Thu 14th September 2017 - Speaker meeting
Malcolm Robinson talking about the charity for children's blood disorder-Harvey's Gang
Fri 8th September 2017 - Supporting Local Community Event- Billericay Art Trail

Billericay Art Trail 2017-8th to 23rd September 2017
read more...
Thu 7th September 2017 - Speaker meeting
Sue Crace- Running London Marathon
Thu 31st August 2017 - Speaker meeting
Rowing around the coast of Great Britain by Laura Try.
Raising money for Centrepoint- U.K's largest charity for homeless young people.
Thu 24th August 2017 Business Meeting
discussion of club business
Thu 17th August 2017 - Fellowship Evening
Fellowship Evening
Wed 16th August 2017 - Early Inspiration Enhancing Young Children's Intellectual Development Phase -2

One of our much debated project bearing in mind "Charity begins at home" most of us are pleased we responded to the urgent plea of our ex club member now a Rotarian of Sun Rise Rotary Club,Port Elizabeth,South Africa.
read more...
Thu 10th August 2017 - Speakers meeting
Sue Ginn -William Smith and the map that changed the world
Thu 3rd August 2017 - St Luke's Hospice
Speakers- Trudy Westmore-Cox and Heather Penny
Thu 27th July 2017 Business Meeting
Club business plan discussion
Sat 22nd July 2017 - Marshaling for local community event - 70th Anniversary Ferrari Rally
On the 70th Anniversary of Ferrari more than fifty cars passed through Billericay High Street crowded with appreciating spectators,managed by volunteering teams of marshals.
read more...
Thu 20th July 2017 - D.G visit
Speaker our Nick Sillitoe D.G
Thu 13th July 2017 - Fellowship Evening
Club Fellowship Evening - thoughts on Summer Fest
Sun 9th July 2017 - Billericay Summer Fest 2017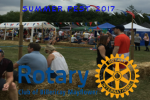 Billericay town celebrates summer festival with friends and family dancing to the music,soaking up the atmosphere,enjoying food and drinks from the selections of stalls - event organised for the community by Billericay Mayflower Rotary Club
read more...
Thu 6th July 2017 - Summerfest Briefing
Final briefing before Summer Fest also club hosting visiting Rotarian Cricketers
Thu 6th July 2017 - Hosting Australian Rotarian Crickters
Twenty five Australian Rotarian cricketrs and their partners return visit following earlier match played by English Rotarians in Australia
read more...
Sun 2nd July 2017 - D.G 1240 District Billericay Mayflower Rotarian Nick Sillitoe

DG Nick Sillitoe is proud and delighted to take on his new role for the year ahead
read more...
future
calendar
district events
local events