Completed meetings and events 2017-2018
Mon 18th September 2017 Club meeting
We welcome speakers from the Godalming Writers Group
Mon 11th September 2017 Club meeting
Neville Lyons will relate the Joe Lyons Story
Mon 4th September 2017 Club meeting
Summer Walk, organised this year by Cath Lovell. Details to follow.
Mon 28th August 2017 No Club meeting
Bank Holiday
Mon 21st August 2017 Club meeting
Business Meeting
Wed 16th August 2017 Club Council Meeting
Council meets in Oxborough Room
Mon 14th August 2017 Club meeting
Committees evening
Mon 7th August 2017 Club meeting
DG James Onion will share his view of Rotary with us.
Mon 31st July 2017 Club meeting
Anne Eve will relate her experiences a member of a prison Independent Monitoring Board
Mon 24th July 2017 No club meeting today
The club meeting for this week is being held two days earlier at the Milford Bowls Club.
Sat 22nd July 2017 A Bowls and Social event
By kind invitation of Milford Bowls Club and Rtn David Allen, club members and partners will be able to enjoy some bowling with a Bar-B-Q afterwards.
Mon 17th July 2017 Club meeting
Woolsack Early Days by our early Presidents
Mon 10th July 2017 Alison Hall - PHF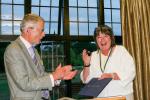 Alison Hall, Seeds for Development, was awarded a PHF. She and Alex Latim - Forgotten Peoples project - brought us up to date with their work in Uganda.
read more...
Sun 9th July 2017 Garden Party
This is a garden party with music at the home of Paul Rees. All Woolsack members and partners are invited to attend.
Mon 3rd July 2017 Club meeting
This will be a fellowship evening
future
calendar
district events
local events