Completed meetings and events 2019-2020
Wed 24th June 2020 eMeeting No. 11 - Presidential Handover
Zoom meeting during which the presidency of the club is handed from Ben Mangiante to Mike Harris
Wed 17th June 2020 eMeeting No. 10 - Club Assembly
Zoom meeting during which our incoming President and his team advise the club on their plans and proposals for the coming year. We will be joined by Ray Spare the incoming Assistant Governor.
Wed 10th June 2020 eMeeting No. 9 - Club Council
Zoom meeting where we discuss the business of the club
Wed 3rd June 2020 eMeeting No. 8 - Mary Tyler
Zoom meeting during which we will joined by Mary Tyler - Trustee of Womens Refuge to tell us about their work and needs.
Wed 27th May 2020 No Meeting - Bank Holiday Week
No meeting this week due to the Bank Holiday
Mon 25th May 2020 Spring Bank Holiday
Spring Bank Holiday
Wed 20th May 2020 eMeeting No.7 - Jane Walker MBE
Zoom meeting during which we will be joined by Jane Waker MBE of the Purple Community Fund. Jane will be speaking to us from her base in the Philippines
Sat 16th May 2020 District Assembly
District Assembly
Wed 13th May 2020 eMeeting No. 6 - Club Council
Zoom meeting adressing the business of the club
Fri 8th May 2020 May Bank Holiday
75th Anniversary of VE Day
Wed 6th May 2020 No Meeting - Bank Holiday Week
No Meeting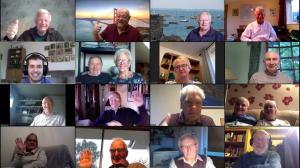 Wed 29th April 2020 eMeeting No. 5
Our weekly meeting plus we have a Guest Speaker - Mr Gary Farnfield who is going to tell us about the works and aspirations of Rainbows
calendar
district events
local events