Completed meetings and events 2015-2016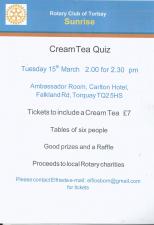 Tue 15th March 2016 CREAM TEA QUIZ
Ambassador Room, Carlton Hotel, TORQUAY, TQ2 5HS. Tickets £7 to include a cream tea Contact Elfriede elfiosborn@gmail.com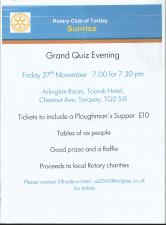 Fri 27th November 2015 QUIZ EVENING - TOORAK HOTEL TORQUAY
Tickets are £10 to include a Ploughman's supper. Teams of six, we will make up teams from odd numbers. Ticket only event. Pls contact Elfriede (see poster)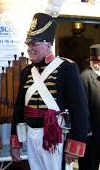 Wed 21st October 2015 OCTOBER DINNER
Our dinner meeting for October at the Toorak Hotel, Torquay, will be on Wed October 21st at 7pm for 7.30. The cost is £16.50 for a two-course meal. Speaker Edgar Lawrance
read more...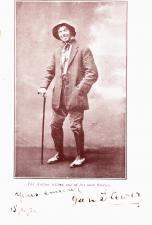 Wed 16th September 2015 Dinner Meeting at the Toorak Hotel
Our speaker will be Frank Turner, who will be talking about Jan Stewer, a local author who specialised in tales told in local Devon dialect. £16.50 for 2 courses.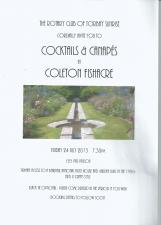 Fri 24th July 2015 Cocktails and Canapes at Coleton Fishacre
In order to start off the new Rotary year we are organising a private Cocktails and Canapés evening at the National Trust's Coleton Fishacre house and gardens, near Brixham, on Friday July 24 (7.30pm).
calendar