Completed meetings and events 2022-2023
Sat 26th November 2022 A celebration of the 70s and 80s
Organised by Tormohun Rotary, this event will be at the Royal Yacht Club. The cost is £35 to include a choice of chicken or scampi and a desert plus a live band. 70s dress preferred but optional. Email david@gordonrowe.co.uk for tickets.
read more...
Tue 22nd November 2022 Pamper evening
To be held at Vegan Organic Skincare Devon in Babbacombe Road. More details to follow.
Sat 19th November 2022 - Sat 24th December 2022 Christmas Grotto
Bookings are now available for the Christmas Grotto which will be open for weekends from 19 November and then every day from 15 December. Tickets £20 https://www.eventbrite.co.uk/e/fleet-walk-santas-grotto-2022-tickets-419503184317
Sun 13th November 2022 Remembrance Sunday
Wreath laying on Torquay seafront.
Mon 31st October 2022 Halloween Party
Halloween party at Beryl's house.
Sat 29th October 2022 Crab Supper
Paignton Rotary Club Annual Crab Supper at Churston Ferrers Grammar School, 7.00 for 7.30. See attached flyer for payment details.
read more...
Tue 18th October 2022 Rotary Torbay Sports Event
Dainton Golf Club, cost £19 to include carvery
Sun 16th October 2022 Under One Roof 3
Side splitting comedy by the Unleashed Theatre Company at the Princess Theatre. Tickets £13.40
Sun 16th October 2022 Apple Day at Cockington
Stand at Cockington - volunteers needed
Mon 10th October 2022 Gin tasting evening has been cancelled
Gin tasting at Reddenhill Road Babbacombe plus fish and chips, ice cream, tea and coffee. Cost £12.
Mon 3rd October 2022 Little Theatre trip
39 Steps. Cost is £10
Sun 2nd October 2022 Totnes Raft Race
Volunteers needed - more details to follow
Mon 26th September 2022 Pizza Night
Meadfoot Cafe with speaker Jenny Pye talking about support for people in Sri Lanka
Sat 10th September 2022 MacMillan Coffee Morning
On Beryl Durtnall's terrace
Tue 6th September 2022 BAY ROTARY SPORTS PETANQUE
Arrive 5pm Stoke Fleming Village Green for 5.30 start. Min 6 players needed, best 2 scores count. Dinner at 19.45pm at Stoke Fleming Lodge Hotel. £3 for game only, £14 for delicious curry or £17 for both.
Sat 3rd September 2022 THNN Torbay Holiday Helpers Network Festival of Fun
Live music plus craft and charity stalls, inflatables, pop up bar, eateries, owl display and much more on Babbacombe Downs
Mon 29th August 2022 Daniel's BBQ
Details to be finalised.
Thu 25th August 2022 BCSC Quiz Night
At the Babbacombe and Corinthian Sailing Club, St Marychurch. 7.30 for 8.25 start.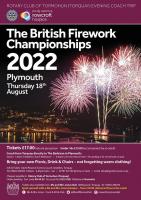 Thu 18th August 2022 Plymouth Fireworks
Tickets £17. Coach from St Matthias Church 5.45 pm and 6 pm Livermead Hotel.
Sun 14th August 2022 Steve's BBQ
Details to follow.
Sat 30th July 2022 Broadway & Beyond Brixham Theatre
Half price tickets available quoting discount code BTCIOBAB50
Sun 24th July 2022 Elfriede's Pool Party
£5 in the pot. Food will be provided.
Mon 18th July 2022 Tormohun School Environment Poster Competition
Exhibition of posters reflecting Climate Change and presentation of prizes for the winners
read more...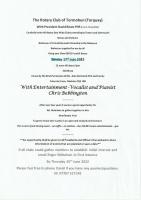 Sun 17th July 2022 Torbay Rotary BBQ
BBQ at Culvertor Farm, Marldon being organised by Tormohun for all rotary clubs in the bay.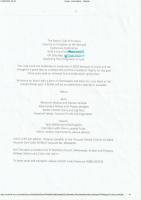 Sat 16th July 2022 Torquay River Dart trip
Champagne, meal and jazz band on River Dart. Transport available.
Sat 9th July 2022 Meadowside Charity Wheelbarrow Race
Courtney Park, Newton Abbot. Donate and/or attend to help support the Meadowside Charity Newton Abbot & District.
read more...
Wed 6th July 2022 Preston Handover
Preston Handover at Paignton Club. Email Yvonne Childs r.childs256@btinternet.com (01803 847376). Cost is £15.50
read more...
Sun 3rd July 2022 Meeting with Ladies Circle
Meeting to discuss joint cream tea initiative to support Children's Hospice
calendar