Completed meetings and events 2016-2017
Mon 26th June 2017 - Wed 5th July 2017 Life Education Trailer

Tameside Rotary Club supporting Life Education Trailer at 3 local schools - see below for details/dates
read more...
Fri 23rd June 2017 Dictionaries - handout at St Joseph Mossley

Handout of dictionaries to Year 6 at St Joseph RC School Mossley
Wed 21st June 2017 Dictionaries-handout to St Mary's CE School
Dictionaries handed to Year 6 pupils at St Mary's School Droylsden
Sat 17th June 2017 Tour of Tameside

Tameside Rotary Club - car park duties - collecting in aid of Manchester Bomb Victims - £300 collected many thanks to organiser of Tour of Tameside and all runners
Tue 13th June 2017 Handout Donations to Tameside Local Organisations

13 local organisations receive cheques from Tameside Rotary Club £1900 in total. Click on "What we do" and then "Financial Support Available" for 2018 applications to be considered.
read more...
Tue 13th June 2017 AGM and Presidential Handover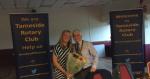 Also presentation of financial donations to 13 local organisations
Sun 21st May 2017 - Sun 28th May 2017 British Bangladesh Charity Week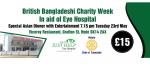 To raise funds for Rotary Eye Hospital in Sylhet Bangladesh
read more...
Tue 9th May 2017 Monthly Meeting - Club Assembly
At Dukinfield Golf Club - Yew Tree Lane Dukinfield SK16 5GF
read more...
Sun 16th April 2017 Rotary International Great Britain & Ireland Conference in Manchester

This year Manchester was the venue for the largest Rotary Conference in Britain
read more...
Sun 16th April 2017 Peace Garden @ Ashton College

Tameside Rotary Club maintaining a very special Peace Garden at Ashton 6th Form College. One of our
Rotarians Ed Kelly brings his expertise to the job.
Tue 11th April 2017 Monthly Meeting
At Aldwinians RUFC Droylsden Rd Audenshaw M34 5SN
Tue 14th March 2017 Monthly Meeting
Change of venue previously advised now
Royal George Hotel 193 Manchester Rd Mossley OL3 7HX.
- Speaker from NSPCC - Childline
Please Book in with Peter Holden
Sat 11th March 2017 Supporting Marie Curie

Rotarians Derek & Andy collecting on behalf of Marie Curie at Aldi
Hyde
Tue 21st February 2017 Special Monthly Meeting - Eye Hospital Bangladesh
Presentation from Andy, Mizan and Arthur regarding their recent trip to Bangladesh and India and the proposed Eye Hospital in Sylhet Bangladesh
Tue 10th January 2017 Monthly Meeting
Wed 14th December 2016 Tameside Rotarian receives special Recognition

Mizan Rahman who is the owner of Adnans Restaurant, Market Street Hyde receives the very prestigious Asian & Curry Award 2016 for the best newcomer
Tue 13th December 2016 - Christmas Dinner
At Reflections - Ashton
Tue 22nd November 2016 Business & Special General Meeting
To Finalise Christmas Arrangements plus election of various club officers for 2017/8
Tue 15th November 2016 Charter Night at Dukinfield Golf Club
our 1st Charter Night - will be a great night
Sat 12th November 2016 Toys4Tameside

To promote this year's toy collection for needy Children organised by Tameside4good Santa was on Ashton Market
read more...
Tue 8th November 2016 Monthly Meeting - Note No Meeting
No Meeting - Note Charter Night 15th Nov
Tue 18th October 2016 Monthly Meeting note replaces our meeting on 11th Oct
Venue Broadoak Hotel Ashton
Speaker Rtn John Miles - from Global Sight Solutions
read more...
Fri 9th September 2016 - Sun 11th September 2016 Tameside Beer Festival

Come and enjoy a pint (or two) of real ale. This will be the 5th year of this very successful event held in Stalybridge Civic Hall.
Profit from the event will be used to support NSPCC, Tameside new MacMillan Unit plus Rotary Local Charities
Wed 24th August 2016 Charity Golf Day

Held at Werneth Low Golf Club in aid of Willow Wood Hospice.
Many thanks to Martin Wild from Calloway for donating the prizes
read more...
Tue 12th July 2016 Monthly Meeting at Dukinfield Golf Club Yew Tree Lane Dukinfield SK16 5GF
Monthly Meeting- talk on Prosecco Wine by Peter Dushko.
Come and enjoy the wine and the company
future
calendar
district events
local events