Completed meetings and events 2018-2019
Tue 9th October 2018 Report on District Conference
District 1145 - Sinah Warren, Hayling Island 5th - 8th October
Tue 25th September 2018 Speaker Meeting - Richard Mantle
Magna Carta - Myths & Legends
Tue 11th September 2018 Speaker Meeting - Eco Local

EcoLocal is a local charity originally established in 1987 run by, for and with the local community. Annually Eco Local works with over 350 organisations, interacts with 20,000 individuals and enables over 200 people to volunteer 14,000 hours of time.
Sun 9th September 2018 International BBQ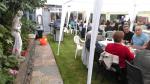 A fundraising event for the benefit of our International Charity Programme. Hosted by Vince and Bianca
Tue 4th September 2018 Whist Evening
Chris & Ros Bowmer
Sat 1st September 2018 Luxury Afternoon Tea with Bubbles & Jazz

Second annual Luxury Afternoon Tea in support of Oaks Way Seniors Centre for all the friends & families associated with the Centre, and supporting organisations.
Tue 28th August 2018 Guided Visit All Saints' Church Carshalton & Pub Social at The Sun, 4 North Street, Carshalton
No Meeting at the Oaks tonight as our usual venue is unavailable. Join us at The Sun.
Mon 27th August 2018 Environmental Fair - Carshalton Park
Come and visit us at Carshalton Environmental Fair one of South London's best days out! DIscover Rotary and how membership could be just right for you.
Tue 21st August 2018 Members Evening - Quiz
Visitors welcome of course!
Tue 14th August 2018 Speaker Meeting - Colin Myerscough – President Cheam & Sutton and local author

Colin is the author of three books published under the pen name J.M. Collin. Find him on goodreads.com.
future
calendar
district events
local events