Completed meetings and events 2019-2020
Mon 22nd July 2019 Meal & Speaker
Subject: For a Shilling Day
Speaker: Peter Rhodes
Thu 18th July 2019 Networking & Projects
This friendly informal group which includes our Corporate and some of our working members, meet for networking and to plan upcoming projects
read more...
Mon 15th July 2019 Social
SOCIAL EVENT
Tony Thompson has organised a walk on Monday 15th July starting and finishing at the Saracens Head Pub, Balsall Common. The walk, which is free, will start at 10:00am followed by a lunch at 12:30pm.
Mon 8th July 2019 Meal & Speaker
Subject: Ukelele Entertainment
Speaker: Bob Carey
Mon 1st July 2019 CLUB HANDOVER 2019/20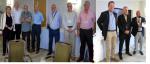 ftr: President - David Butler, President Elect - Brian Miles, President Nominee - Simon Tarmey, Secretary - John Ruddick, Treasurer - Peter Roberts, International - Philip Austin, Community - Roy Shearing, Attendance - Graham Tall, Webmaster- Anna Poynter
read more...
future
calendar
district events
local events