Completed meetings and events 2019-2020
Tue 30th June 2020 Presidential Handover via Zoom
President Andrew hands over the reins to Colin, who introduces his team for 2020/21. Partners and guests welcome.
read more...
Tue 16th June 2020 Open meeting via Zoom, followed by Club Council.
A monthly opportunity for online fellowship during lockdown. Let's beat that virus!
read more...
Tue 9th June 2020 Club Assembly on Zoom
Colin introduces his Team and their plans for 2020/21
read more...
Tue 2nd June 2020 Speaker Meeting via Zoom with Christine Shand
Christine Shand talks about her life as a Church Organist.
read more...
Tue 24th March 2020 We move to Zoom!
The decision is taken. Weekly meetings go online due to the Corona virus lockdown.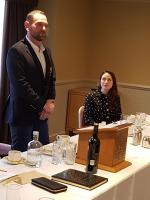 Tue 3rd March 2020 Speaker Meeting with Ben Bowles
Ben Bowles (accompanied by his wife Louise) talked about his life as a boxing trainer and ultra-runner.
read more...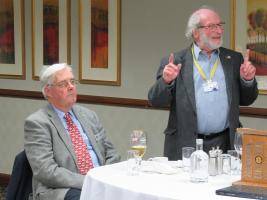 Tue 25th February 2020 Speaker meeting about RYLA
Robin Wraight speaks about the achievements of Rotary's Youth Leadership Academy in the District.
read more...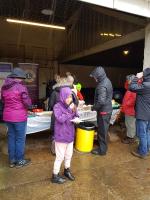 Sun 16th February 2020 Snowdrop walk at Landwade Estate
A joint event with the Lions Club was almost washed out by storms and rain. Lions provided welcome warming refreshment under cover in the barn.
read more...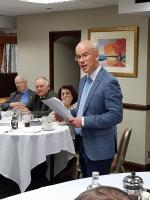 Tue 4th February 2020 Speaker meeting with Kevin Pearson of Goldings Newmarket
Kevin spoke about the history of Goldings and their focus on customer service.
read more...
Thu 9th January 2020 Speaker meeting via Zoom with Charles Dore from Open Door
Partners and Guests welcome.
read more...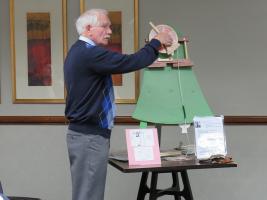 Tue 7th January 2020 Speaker meeting with Alan Balcomb
Alan Balcomb Bellringer Captain at St. Martin's Church Exning demonstrated the 'ups and downs' of a Bell Ringer.
read more...
calendar
district events
local events