Completed meetings and events 2016-2017
Tue 27th June 2017 Club Meeting. Neela Mann, Great War Cheltenham
Neela Mann: Cheltenham during the Great War. Please invite Partners/friends
Tue 20th June 2017 Club Meeting - Diane Lyle, Africa
Out to Africa in a cardboard box. Talk by Diane Lyle, daughter of Douglas Thomson.
Partners welcome.
Tue 13th June 2017 Club Assembly
Club Assembly - David Price's plans for 2017-18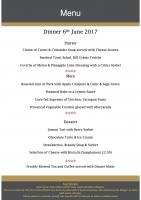 Tue 6th June 2017 Presidents Dinner at Dumbleton Hall
Can all members attending the dinner please email Tina with their menu selections as soon as possible.
Tue 30th May 2017 No Meeting
Tue 23rd May 2017 Club Meeting
Opera Society. Please invite Partners/friends.
Tue 16th May 2017 Club Meeting - Animal Shelter
Visit to Cheltenham Animal Shelter
Fri 12th May 2017 - Mon 15th May 2017 Visit to Nimes, France with Chateaurault Rotary Club
Details TBD
Tue 9th May 2017 Club Meeting - Evening of Mystery
Members are encouraged to come along and find out what it is all about. (Amusing, thought provoking and generally good fun).
Tue 2nd May 2017 International Evening - Sandra Lewis, Shoe Box
Sandra will be giving us insight into the Shoe Box charity, which provides for children in E Europe.
Sat 29th April 2017 Know Your Own Blood Pressure Day 2017
An annual event run by many Rotary Clubs throughout Britain and Ireland and promoted by the Stroke Association to diagnose high blood pressure early.
read more...
Tue 25th April 2017 Club Meeting - SS Great Britain
A talk on Brunel's great ship the SS great Britain. Discover the ship that changed the world.
Please invite Partners/friends.
Tue 18th April 2017 No Meeting
Tue 11th April 2017 Club Meeting - AGM
Please come along to the AGM, it's your Club.
Tue 4th April 2017 Nick Gazzard - The Holly Gazzard Trust
Nick is one of the Founders of The Hollie Gazzard Trust, formed following the loss of his Daughter Hollie who was a Domestic Abuse Victim.The Trust helps to reduce domestic violence and aims to positively change the lives of young people.
Tue 28th March 2017 Club Meeting - The Mitford sisters
The Duchess of Devonshire was the last surviving Mitford sister, a group of aristocratic siblings whose notorious lives mirrored the turbulence of the 20th century and fascinated British society.
Please bring Partners and friends
.
Wed 22nd March 2017 Primary School Quiz
Our. Annual Primary School Quiz went ahead hosted by Warden Hill school as their team had won the competition for the first time last year.
read more...
Tue 21st March 2017 Club Meeting - Holst Museum
A talk on Cheltenham's Holst Museum
Tue 14th March 2017 Club Meeting
University Vice Chancellor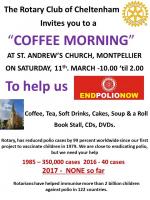 Sat 11th March 2017 Coffee Morning for End Polio Now
Our Coffee Morning attracted nearly a hundred visitors over the four hours. Everyone was able to enjoy coffee, tea, tasty cakes and delicious soups and a roll. With several stalls too, we raised over £500. A wonderful atmosphere and a great team effort!
read more...
Tue 7th March 2017 Club Meeting
Holst Museum
Tue 28th February 2017 Club Meeting
William and Stryder: Ride around England. Fascinating talk about a horse ride around England with lots of slides. Stryder is the horse. Please bring Partners and friends.
Tue 21st February 2017 Club Meeting
International Committee Evening
Sun 19th February 2017 Valentine's Charity Dinner at Brasserie Blanc
In aid of the Kambia Appeal.
Three courses including welcome drink for £25 per head.
Tue 14th February 2017 Club Meeting
Gloucestershire Police and Crime Commissioner
Tue 7th February 2017 Mike Philips - Wassily Kandinsky: two wives, a muse and colourful art
A tale of passion, ambition, politics, war and tragedy set in Russia ,Germany and France in the first half of the 20th century. And a very colourful breaking of the boundaries of painting. Partners and friends most welcome.
Tue 31st January 2017 Club Meeting
Tim Brain. Faith in stone "" Gloucestershire's historic churches. Please bring Partners and friends.
Tue 24th January 2017 Chris Ryder: Mayor of Cheltenham
Tue 17th January 2017 Club Meeting
Susie Godwin - Midlands Air Ambulance
Tue 10th January 2017 Club Meeting
Animal Shelter
Tue 3rd January 2017 Alex Chalk MP
Tue 27th December 2016 NO MEETING
Tue 20th December 2016 NO MEETING
Tue 13th December 2016 Christmas Dinner
Dinner to be served at 715pm.
Sat 10th December 2016 Parcel Packing
Time TBC
Tue 6th December 2016 Cheltenham History Society on Cheltenham railways
Tue 29th November 2016 Dame Janet Trotter DBE
Choosing charities to make the biggest impact.
Tue 22nd November 2016 Richard Box: The Christmas Story in paintings
Please invite your partners.
Tue 15th November 2016 Visit to RSC Stratford: The Tempest
Tue 8th November 2016 SGM. International Committee - Kambia Update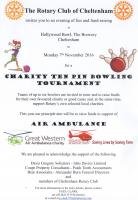 Mon 7th November 2016 Charity Ten Pin Bowling Tournament
An evening of fun and fund-raising at Hollywood Bowl, The Brewery, Cheltenham
read more...
Tue 1st November 2016 Sue Ryder, Leckhampton Court
Tue 25th October 2016 Nick Humphris: Roman Mosaics
Please invite your partners.
Tue 18th October 2016 District Governor
Tue 11th October 2016 COMVOC evening: County Community Projects (CCP)
Tue 4th October 2016 Everyman Theatre Presentation
Tue 27th September 2016 Adrian Barlow on John Betjeman and Victorian Architecture
Please invite Partners
Tue 20th September 2016 Rotary Foundation
Tue 13th September 2016 New member talk: Geoff Comer
Tue 6th September 2016 Downs Syndrome
Tue 30th August 2016 NO MEETING
Tue 23rd August 2016 Quiz, with Partners
Sat 20th August 2016 Summer Garden Party
Summer Salads and Desserts at Peter and Christine Ormerod's. Proceeds for International Projects
read more...
Tue 16th August 2016 International Evening
Tue 9th August 2016 GARAS: refugees situation, a talk by Adele Owen.
GARAS is the Gloucester Association for Refugees and Asylum Seekers.
Tue 2nd August 2016 Club Ramble. Supper at Jurys Inn, as usual
A four and a half mile walk on Alney Island, an island in the River Severn, followed by our usual supper at the Jury's Inn.
read more...
Tue 26th July 2016 Comvoc - Nicole Mayall, Community Fundraiser for the Royal British Legion in Gloucestershire.
Tue 19th July 2016 Guided visit to Gloucester Cathedral; supper at Jurys Inn, as usual
Meet at Gloucester Cathedral at 4 o'clock. Note earlier time than usual. There is a charge of £7.50 per head by the Cathedral authorities and numbers have to be confirmed in advance. Supper at Jury's Inn at 6pm.
read more...
Sun 17th July 2016 President Lunchtime at Home
Join Mike and Chris at their home.
Tue 12th July 2016 Treasure Hunt in Cirencester, Supper at The Golden Cross, Black Jack Street, Cirencester
The Treasure Hunt will start in the Forum car park in Cirencester between 6.00 and 6.20pm. Supper will be at the The Golden Cross, Black Jack Street, Cirencester in the Stable Bar function room alongside the rear garden at 8.15 for 8.30pm..