Completed meetings and events 2017-2018
Tue 26th June 2018 Partners evening, Rev. Canon Capon, an update on GWR railway
Tue 19th June 2018 Club meeting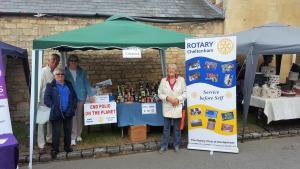 Sat 16th June 2018 Prestbury Village Fayre
The Club attended Prestbury Fayre in order to promote Rotary and to raise funds for our charity, Rotary Foundation, through a bottle raffle and other sales.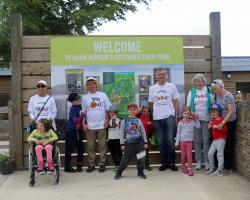 Wed 13th June 2018 Kids Out 2018
A great day out was had by all when 5 Club Members took nine, children from Battledown Assessment Centre, to the Cotswold Farm Park.
read more...
Tue 12th June 2018 Club Assembly
Tue 5th June 2018 Paul Wagstaff - Food Bank
Paul will be outlining the work of Cheltenham Food Bank, one of many run by the Trussell Trust.
Tue 29th May 2018 Partners evening, Jan Long on Gertrude Bell
A return visit by Jan, who proved to be an engaging speaker on her last visit
Tue 22nd May 2018 No meeting
Mon 21st May 2018 - Thu 24th May 2018 Dublin Visit with Chateaurault Rotary Club
Spend a few days of 2018 based in Dublin at our annual meeting with our friends from Chateaurault.
read more...
Tue 8th May 2018 Alwyn Sampson - the History of The Queens Hotel
Tue 1st May 2018 Pam Turner - End Polio Campaign in India
Pam will be telling us about her recent trip to India to support the End Polio Campaign.
Tue 24th April 2018 President's Dinner at Cotswold Hills
Dinner with Parthers at Cotswold Hills Golf Club, followed by pleasant musical entertainment
Tue 17th April 2018 Club meeting, Richard Buckley - My job, part two
Richard has already given a brief insight into his work as a Royal Naval Chaplain, but had to leave a lot out. So this will fill in the gaps.
Sat 14th April 2018 Know Your Own Blood Pressure Day
Annual event in support of Stroke Awareness in Regent Arcade, Cheltenham
Tue 10th April 2018 - Kirsty's Ghosts
Tue 3rd April 2018 No meeting - Easter week
Tue 27th March 2018 Partners night, Mike Bottomley on Rudyard Kipling
Please bring your partners or friends
Mon 26th March 2018 Primary School Quiz, Timing TBD
The annual quiz for Cheltenham Primary Schools, this year to be held at Warden Hill Primary School.
Tue 20th March 2018 Life Education
We support local Schools for annual visits of the Life Education mobile classroom. The talk is about the work the Educators do in those classrooms, so we can visualise their activities.
read more...
Tue 13th March 2018 Gill Cartwright, her role as a Prison Visitor.
Tue 6th March 2018 Rob Garnham - His work as a local Planning Advisor
Tue 27th February 2018 Partners night, Mike Phillips on Kandinsky
A tale of passion, ambition, politics, war and tragedy set in Russia ,Germany and France in the first half of the 20th century. And a very colourful breaking of the boundaries of painting.
Sun 25th February 2018 Valentine's Charity Dinner At Hotel Du Vin
3 courses - £26 per person Including welcome drink.
In aid of Kidasha, working in Nepal, making every child matter. Please invite your friends.
read more...
Tue 20th February 2018 Rotary Week
Tue 13th February 2018 Kay Bunyan, a Volunteer with Health Watch
Tue 6th February 2018 Andy Dice-Davies. - Cheltenham Paint Festival
Talking about the first ever Paint Festival in 2017 and plans to continue it.
Tue 30th January 2018 No meeting
Tue 23rd January 2018 Cheltenham Borough Mayor - Klara Sudbury, With Partners
Tue 2nd January 2018 - Tue 19th December 2017 Club Meeting - Round the World Picture Quiz
A quiz devised by David Price. Partners and friends welcome.
Tue 26th December 2017 No Meeting
Tue 19th December 2017 Christmas Dinner Buffet at Jury's Inn
Substitute for cancelled Christmas Dinner. Bring your partner and have a go at Stan's Quiz. Let Tina know whether you are coming or not.
Tue 12th December 2017 Christmas Dinner at Ullenwood - Cancelled
Cancelled because road to golf club closed because of snow and ice.
Tue 5th December 2017 David Wadsworth - Land's End to John O'Groats
David will be telling us about his latest Charity Bike Ride, now completed, when he rode from Land's End to John O'Groats.
Tue 28th November 2017 Glastonbury from behind the Scenes'
Tue 21st November 2017 Club meeting- Paul Milton, Everyman Theatre
​Paul is the Everyman's Creative Director and Head of its Education & Community Department. He will be delighted to talk about 'How the Theatre Is Today' along with details of all their community projects.
read more...
Sat 18th November 2017 End Polio Now Collection
Collecting all day at Cheltenham Racecourse to support End Polio Now. Exact times TBD.
Tue 14th November 2017 SGM
Followed by a 'my job' talk by a club member (TBD)
Tue 7th November 2017 Club Meeting - RYLA student
Our RYLA Student, KeenanTaylor, from All Saints Academy will talk to us about his recent experience of the Rotary Young Leaders course.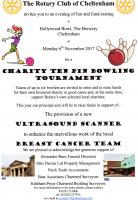 Mon 6th November 2017 Charity Ten Pin Bowling
Enter a team for a fun evening raising funds for a new Ultrasound Scanner to help the local Breast Cancer Team.
Tue 31st October 2017 No meeting
Tue 24th October 2017 Simon Richardson.- IT Schools Africa
Simon will be telling us about IT Schools Africa, a Cheltenham-based organisation who redistribute your old computer/laptop to schools in Africa.
Tue 17th October 2017 Club meeting - Philip Smith, Anecdotes
Tue 10th October 2017 Club meeting - Kevan Blackadder, Cheltenham Bid
Tue 3rd October 2017 Club meeting - Jan Long on Elizabeth Barrett Browning
Partners and friends welcome
Tue 26th September 2017 Liz Waterman - International Charity
Please bring Partners or friends
Tue 19th September 2017 Canal Trust
Tue 12th September 2017 Club meeting - Mike Phillips, In the Steps of the Vikings
In the Steps of the Vikings: early Estate Agents and such nice people.
Tue 5th September 2017 Visit by DG Alan Hudson
Tue 29th August 2017 No meeting
Tue 22nd August 2017 Club Meeting - Treasure Hunt, Tewkesbury
Meet at St Mary's Lane Car Park, Tewkesbury, GL20 5RU between 530 and 6pm. Walk takes 1 and half to 2 hours. Dinner at 8 pm at Royal Hop Pole. Choices to David Price, see below and his email.
read more...
Tue 15th August 2017 No Meeting - talk postponed
Tallk by Jan Long on Eizabeth Barratt Browning postponed till 3 October
Tue 8th August 2017 Club Meeting - Talking Books
Talking Books, speaker from RNIB
Tue 1st August 2017 Club Meeting - ComVoc evening
Paul Clark leading, particularly on the planned 10 pin bowl night.
Tue 25th July 2017 Club Meeting- Cambodia
Speaker, Stella Barnes,
Please bring your Partners and friends
Tue 18th July 2017 Club Meeting - Ramble, Coombe Hill Nature Reserve
Meet at Coombe Hill at 4.30pm for 4.45pm start.
Return to Jury's Inn for supper at 7.00pm.
read more...
Tue 11th July 2017 Club Meeting- Seoul and The Glorious Glosters.
Seoul and The Glorious Glosters. A talk by Ian Thomson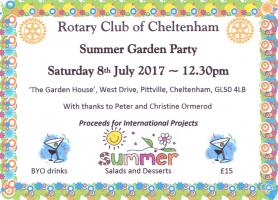 Sat 8th July 2017 Summer Garden Party
Garden Party at Ormerod's in aid of our International Projects
Tue 4th July 2017 Presidential Handover + Talk by Richard Owen
Handover to David Price as President, and talk by Richard Owen