Completed meetings and events 2017-2018
Mon 18th June 2018 Club Assembly
Come along and hear what is being planned for the coming year under the leadership of Ed Burt
Tue 3rd April 2018 Light Hearted Stories From an Accountant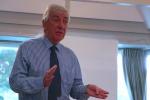 read more...
Mon 5th February 2018 My Trip to Canada
This presentation will be given by our own Elizabeth Hill
Mon 15th January 2018 President Elect Ed Burt
Presentation by President Elect Ed Burt on Rotary Matters
Mon 8th January 2018 Club Meeting
Our Speaker is Malcolm Wearn, who will be telling us about The History of Under Water Weapons.
Mon 20th November 2017 Special General Meeting & Business Meeting
Please submit reports in good time.
Mon 16th October 2017 A Presentation about our local Hiltingbury Scouts
Presentation by David Overton
Mon 2nd October 2017 Our Very Own Past District Governor Reg Ling will report on the RI Conference and the Southern States of the USA
This is not to be missed! Reg's knowledge is second to none and there will be some excellent visuals in the presentation. See you there!
Mon 18th September 2017 Mike Scrivener - Stroke Support Group & Farewell
Mike set up our Stroke Support Group as a Community Service Project, which has gone from strength to strength.
A major achievement for our club.
future
calendar
district events
local events