Completed meetings and events 2021-2022
Tue 3rd May 2022 Rotary Club Meeting
12.45pm., for 1.00pm at Wildwoods' Private Function Room.261, High Street, Epping CM16 4BP
Tue 26th April 2022 Rotary Club Meeting
12.45pm., for 1.00pm at Wildwoods' Private Function Room.261, High Street, Epping CM16 4BP
Tue 19th April 2022 Rotary Club Meeting
12.45pm., for 1.00pm at Wildwoods' Private Function Room.261, High Street, Epping CM16 4BP
Tue 12th April 2022 Rotary Club Meeting
12.45pm., for 1.00pm at Wildwoods' Private Function Room.261, High Street, Epping CM16 4BP
Tue 5th April 2022 Rotary Club Meeting
12.45pm., for 1.00pm at Wildwoods' Private Function Room.261, High Street, Epping CM16 4BP
Tue 29th March 2022 Rotary Club Meeting
12.45pm., for 1.00pm at Wildwoods' Private Function Room.261, High Street, Epping CM16 4BP
Tue 22nd March 2022 Rotary Club Meeting
12.45pm., for 1.00pm at Wildwoods' Private Function Room.261, High Street, Epping CM16 4BP
Tue 15th March 2022 Rotary Club Meeting
12.45pm., for 1.00pm at Wildwoods' Private Function Room.261, High Street, Epping CM16 4BP
Tue 8th March 2022 Rotary Club Meeting
12.45pm., for 1.00pm at Wildwoods' Private Function Room.261, High Street, Epping CM16 4BP
Tue 1st March 2022 Rotary Club Meeting
12.45pm., for 1.00pm at Wildwoods' Private Function Room.261, High Street, Epping CM16 4BP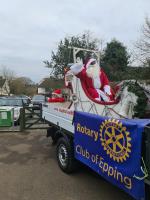 Thu 16th December 2021 SANTA VISITS IVY CHIMNEYS PRIMARY SCHOOL
Santa surprised the young students with a visit with his sleigh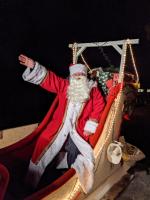 Tue 14th December 2021 SANTA SLEIGH
Santa will be visiting Epping on Monday, North Weald on Tuesday, Theydon Bois on Wednesday and will be back in Epping on Thursday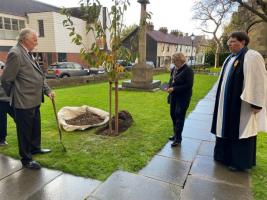 Tue 2nd November 2021 Memorial Tree
The Rotary Club of Epping planted a Prunus Kanzan tree at St. John the Baptist Church, Epping as a memorial to all those lost to the Covid-19 pandemic.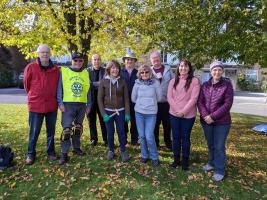 Fri 29th October 2021 - Sun 31st October 2021 WORLD POLIO DAY
Epping Rotary Club has planted 4000 crocus bulbs around town in Epping. Although Celebrating World Polio Day, Crocus, the earliest of Spring flowers, also provide much needed food for hungry pollinators, especially Bees.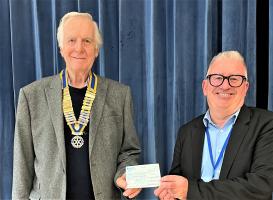 Tue 26th October 2021 Rotary helps the Epping Forest District Museum
The Rotary Club of Epping present Museum Heritage & Culture specialist Tony O'Connor with a £200.00 cheque to help with fundraising to keep the Museum at the heart of the community.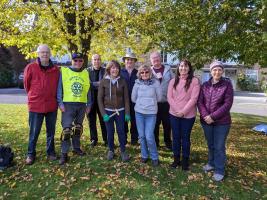 Fri 22nd October 2021 - Commemorating World Polio Day
Volunteers planted crocus bulbs at The Esso Mound, Theydon Grove to commemorate World Polio Day. 4000 bulbs will be planted by volunteers throughout the town as a reminder that we MUST End Polio Now throughout the World.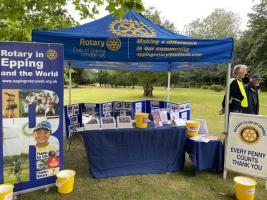 Sun 29th August 2021 Cupcakes at Copped Hall
Epping Rotary Club attended the Open Day to raise funds for End Polio Now
Tue 13th July 2021 Club Meeting
Tue 6th July 2021 Club Meeting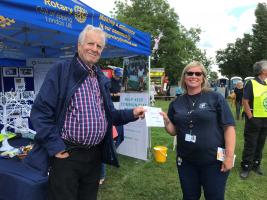 Sun 4th July 2021 ROTARY AT THE TOWN SHOW
The Rotary Club of Epping attended the Town Show, Wendy Cockbill won the £50.00 Tesco Voucher and many families have hilarious photos of themselves as an England Footballer - let's hope we win the Euros!
calendar
district events
local events