Future meetings and events
Tue 15th December 2020 at 10.27 - Tue 1st March 2022 - 12.27 SANTA thanks all that came to see him in Christmas week.

SANTA completed his tour of Brixham during christmas weeks including Fore Street Brixham on Christmas Eve. Brixham Rotary would like to thank all that came to see him and made Christmas special at this difficult time.
Thu 1st April 2021 at 16.39 - Sat 1st October 2022 - 18.39 PLEASE GO TO OUR NEW WEBSITE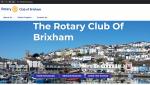 Check out our new
Rotary Club of Brixham WEBSITE
http://www.brixhamrotary.org