Future meetings and events
Wed 29th January 2020 at 17.00 - 22.00 Club Meeting (OMH)
Fri 7th February 2020 at 19.00 - 22.00 Whisky Tasting - Islay Malts
Another one of John's delightful evenings, this time at Kingfishers Restaurant, Cretingham Golf Club. Smoky Whisky and Bangers & Mash
Sat 21st March 2020 at 19.00 - 23.00 Charter Night
Our annual "birthday" celebration, for members and invited guests, this year to be held at Kingfishers Restaurant, Cretingham Golf Club.
Wed 15th April 2020 at 19.00 - 22.00 Annual General Meeting

The review of our Rotary Year (District Governor or assistant present)
Sat 9th May 2020 at 14.00 - 17.00 Bowls at Earl Soham (TBC)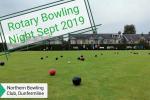 Crown-green bowling this time - with fond memories of Arthur Dorsett who was a member at Earl Soham.
Fri 22nd May 2020 at 16.00 - Sun 24th May 2020 - 13.00 RIC 20120
Our annual get-together with 4 other clubs across Europe. This year, it'll be in Lublin, Poland.
Wed 3rd June 2020 at 19.00 - 22.00 Club meeting (OMH) - Prep for club assembly / business planning
Planning for 2020-21 activities
Wed 24th June 2020 at 19.00 - 22.00 Handover event (TBA)
The new regime will take over....