Future meetings and events
Sun 4th June 2017 at 12.30 - 15.00 Rotary Club of Elland Charter Dinner
The Rotary Club of Elland celebrates it's SAPPHIRE Charter
Fri 15th September 2017 at 19.00 - Sat 16th September 2017 The Annual Vintage Dinner and Disco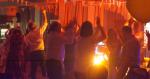 Join the Rotary Club of Elland as we kick off our vintage Weekend celebrations with a Seventies themed dinner and disco.
With a dinner, raffle and live entertainment, you'll be guaranteed a great night out....
Sat 16th September 2017 at 14.00 - 17.00 Vintage Tea Party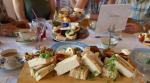 For those old enough to remember the Fifties but young enough to enjoy a jive! Our ever popular afternoon tea party with live jive band returns for its third year.....
Sun 17th September 2017 at 10.00 - 19.00 The Elland Vintage Fair 2017

Our vintage fair returns with something for everyone. From classic cars to steam engines; train rides to tanks; vintage stalls and a food court. Plus live entertainment and a fly past by the Lancaster Bomber. http://www.ellandvintageweekend.org.uk