Future meetings and events
Wed 25th November 2020 at 19.00 - 21.00 From Field To Fork - The Importance Of Understanding Where Food Comes From" - with Adam Henson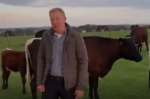 The Importance of: Understanding Where Food Comes From - zoom recording by Adam Henson (Country file on TV), following on Roy will lead a short discussion amongst Cavaliers on points raised by the recorded audience. Follow up report: Mike Wilkinson.
Wed 9th December 2020 at 19.00 - 22.00 SGM - Special General Meeting - Zoom
Planning ahead for Rotary year 2021/22 - Club Officers etc to be notified to RIBI in January. Thanks/report TBC
Wed 16th December 2020 at 19.00 - Yuletide Tales - A talk by local thespian Tim Tubbs
Learn all about Feasting and Wassailing!
Vote of Thanks & media report: Jonathan Knight
Wed 6th January 2021 at 19.00 - 22.00 TBC @ Downe Arms
It is the intention to return to the Downe Arms or Downe Arms + Zoom (Hybrid) on a weekly basis in 2021.
January meeting organisers: Mark Shields & Doug Johnson
Wed 13th January 2021 at 19.00 - 22.00 TBC @ Downe Arms (ALSO 20th = TBC)
This meeting CAN be at Downe Arms even though it is a 2nd Wednesday (farmers do not meet in January)
Wed 27th January 2021 at 19.00 - 22.00 Burns night celebration (tbc)
Traditional festivities centred around the life and times of the immortal bard
Wed 10th February 2021 at 19.00 - 22.00 Details TBC - AWAY from Downe Arms
2nd Wednesday - meetings usually take place away from the Downe Arms. February meeting organisers: John Walker & Kavita Verma
Wed 10th March 2021 at 19.00 - 22.00 Details TBC
2nd Wednesday - meetings usually take place away from the Downe Arms. March meeting organisers: Roger Chapman & Mike Kent
Wed 14th April 2021 at 19.00 - 22.00 Details TBC
2nd Wednesday - meetings usually take place away from the Downe Arms. April meeting organisers: Richard Grunwell & Eric Morgan
Wed 19th May 2021 at 19.00 - 22.00 AGM - Annual General Meeting
Reports from Club Officials / Committee chairs
May meeting organisers: Jonathan Knight & David Francis
Wed 2nd June 2021 at 19.00 - TBC
June meeting organisers: Tony Graham & Paul de Villanueva