Future meetings and events
Mon 1st July 2019 at 14.00 - Thu 31st December 2020 - 14.00 Sensory Garden is developing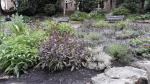 Our club has built a Sensory Garden just off Milton Gardens for the enjoyment of visually and otherwise handicapped people.
It occupies what was The Sunken Garden and will continue to develop over the next few years.
Sat 23rd May 2020 at 09.00 - Sun 14th June 2020 - 10.00 Alsager Animal Safari

Alsager Rotary, Inner wheel and Tangent clubs are running the much loved Animal Safari once again.
Deadline for entries : 20th May Display must be available by end of 21st May