Future Meetings and Events
Mon, Feb 6th 2023 at 12:30 pm - 1:30 pm
Club Topic Discussion (at Fulwell):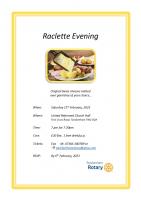 Sat, Feb 11th 2023 at 7:00 pm - 10:00 pm
Raclette Evening
Our next Raclette Evening will be held on 11th February, a sociable evening with great food - including a variety of different cheeses. Further details on the poster. Please book by 6th February.
Mon, Feb 13th 2023 at 12:30 pm - 1:30 pm
Business Meeting (on Zoom)
Mon, Feb 20th 2023 at 12:30 pm - 1:30 pm
Speaker (at Fulwell):
Mon, Feb 27th 2023 at 12:30 pm - 1:30 pm
Speaker (on Zoom) - Liz Jones (GoodGym)
Mon, Mar 6th 2023 at 12:30 pm - 1:30 pm
Committees (at Fulwell):
Mon, Mar 13th 2023 at 12:30 pm - 1:30 pm
Business Meeting (on Zoom)
Mon, Mar 20th 2023 at 12:30 pm - 1:30 pm
Speaker (at Fulwell):
Mon, Mar 27th 2023 at 12:30 pm - 1:30 pm
Special General Meeting (on Zoom)
Mon, Apr 3rd 2023 at 12:30 pm - 1:30 pm
Committees (at Fulwell):
Mon, Apr 10th 2023 at 12:30 pm - 1:30 pm
NO MEETING (Easter)
Mon, Apr 17th 2023 at 12:30 pm - 1:30 pm
Business Meeting (on Zoom)
Mon, Apr 24th 2023 at 12:30 pm - 1:30 pm
Speaker (at Fulwell):
Mon, May 1st 2023 at 12:30 pm - 1:30 pm
No MEETING (Early Spring Public Holiday)
Mon, May 8th 2023 at 12:30 pm - 1:30 pm
Committees (at Fulwell):
Mon, May 15th 2023 at 12:30 pm - 1:30 pm
Business Meeting (on Zoom)
Mon, May 22nd 2023 at 12:30 pm - 1:30 pm
Club Assembly (at Fulwell):
Mon, May 29th 2023 at 12:30 pm - 1:30 pm
NO MEETING (Late Spring Public Holiday)
Mon, Jun 5th 2023 at 12:30 pm - 1:30 pm
Committees (at Fulwell):
Mon, Jun 12th 2023 at 12:30 pm - 1:30 pm
Business Meeting (on Zoom)
Mon, Jun 19th 2023 at 12:30 pm - 1:30 pm
Annual General Meeting (at Fulwell):
Mon, Jun 26th 2023 at 12:30 pm - 1:30 pm
Speaker (on Zoom):
Mon, Jan 13th 2025 at 12:30 pm - 2:30 pm
Rotary Club of Twickenham Centenary
We will be celebrating our hundredth birthday