Future meetings and events
Fri 29th January 2021 at 07.30 - 08.30 Breakfast Meeting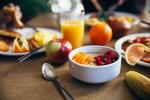 The breakfast meetings are open to all members of the club.
The core meeting lasts under 1 hour due to work commitments of some members, but others can remain online afterwards for further discussion if they wish.
Wed 3rd February 2021 at 12.30 - 13.30 Speaker Meeting - Vaccinations

Marietta Evans (Aneurin Bevan UHB - Public Health Team) will share facts about vaccination history and the importance of the COVID-19 vaccination.