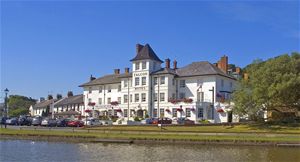 We meet at the Falcon Hotel on 1st and 3rd Monday evenings at 6.00pm. On 5th Monday we meet at 6.00pm for a social evening at which guests are welcome.
Please check with the Secretary, Cliff Surgeoner 07773186646 email: cliff@bizdata.co.uk or call the Falcon Hotel, 01288 352005, by 3.00pm on the day of the meeting. Dinners are usually 2-course to be paid on arrival inside entrance door.
Visiting Rotarians are always welcome, please book in as above.
Also see the the Bude Town website www.visitbude.info for all visitor information.