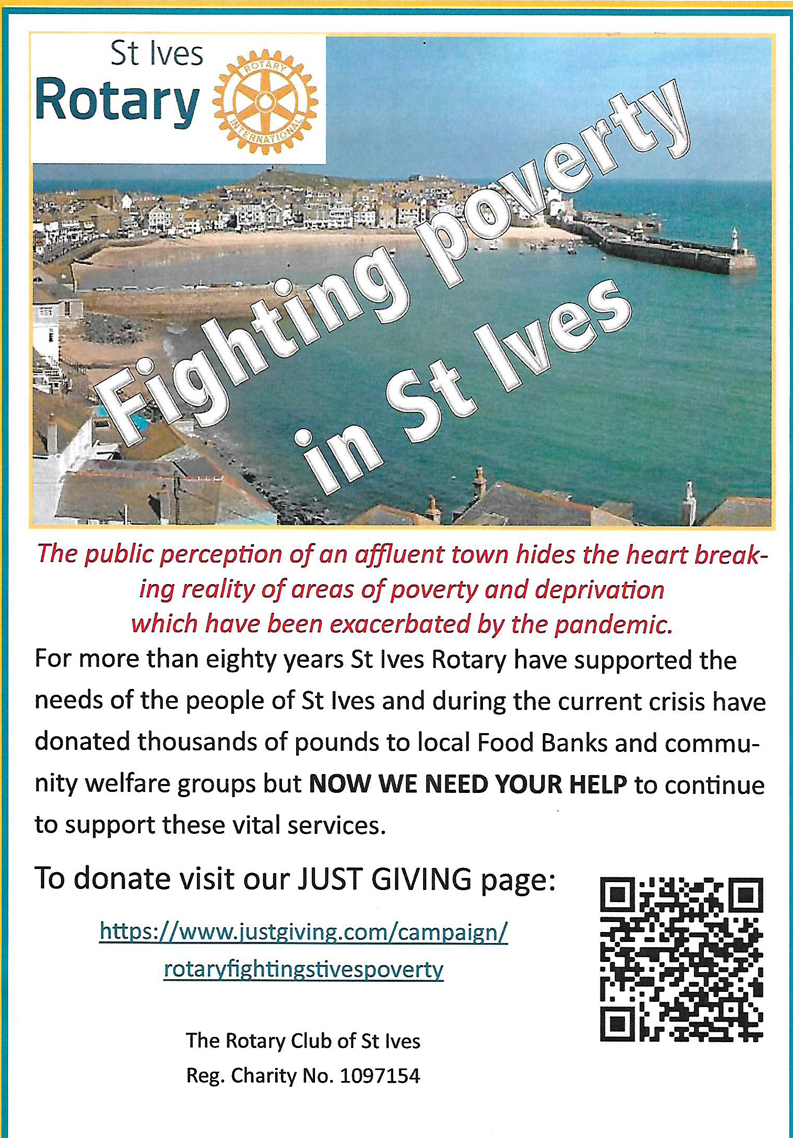 Families hit by poverty and deprivation in St Ives need your help. For more than 80 years, St Ives Rotary Club in Cornwall has been raising funds and helping causes where there is need in the local area and through campaigns such as Water Aid and End Polio Now. More recently, we have supported Food Banks and other poverty relief services around the St Ives area and in Cornwall. This year, we are aware that, while St Ives is known as a very desirable holiday destination, it does, in fact, suffer with levels of poverty that put the town in the UKs worst 20% for deprivation relating to income, employment, access to training and skills, and barriers to housing and services: in the same vein, only 58% of St Ives residents are in employment. Almost 2,000 families in the town need child benefits and there has been a four-fold increase in the use of food banks. The uncomfortable truth is that average annual salaries in the town are £6,000 lower than the national average while average house prices are 17.1 times average income. There is no shortage of need but there has been a shortage of ways to give. St Ives Rotary plan to address this problem by asking Rotarians, St Ives people and those who love the town, wherever they live, to take on a challenge of their own choosing and raise money through sponsorship which they can pay into the Rotary Club through Just Giving and which
we will use to support poverty relief in the town through foodbanks and other services.
We raise funds through varied activities to support causes where there is a need
We meet at the Tregenna Castle Hotel
(on the left as you approach the town from Carbis Bay)
on Wednesdays at 12.45 pm for 1.00 pm.

Occasionally, on the fifth Wednesday of the month, the meeting may be held in the evening. Please contact the Secretary or view the Club Calendar Page for details during these months.
CORONA VIRUS
MEETINGS SUSPENDED UNTIL FURTHER NOTICE
Hotel Telephone (01736) 7953564
There is ample parking at the hotel. The front of the hotel is mainly for disabled parking with general parking to the side, a large car park to
the rear of the hotel and another car park near the Tennis Courts.

St. Ives Harbour and the Island Chapel
ST. IVES, has warm, golden, world-class beaches, galleries, craft shops, stunning and inspiring art in the Tate St Ives, The Barbara Hepworth Sculpture Garden, the Bernard Leach Pottery Museum and the St. Ives Museum.
Discover the bright and shining southwest tip of Cornwall, with Britain's mildest climate and the ancient town of St Ives nestling amongst rich, magnificent coastal scenery; surrounding you with the clearest air, the cleanest beaches and scented, sub-tropical gardens.

---------------------------------------------------------
St. Ives Rotary Club is always on the look out for new members - women or men, working or recently retired. They usually hold or have held responsible posts and can volunteer a little of their time, talents & resources to help support local and worldwide community needs.
New members enjoy new friendships, bring new energy and fresh ideas and help the Club achieve much more.
Do you want to join the fight to see an end to Polio in the world?

Do you want to meet like minded people who want to make a difference in their community?

Do you want to help provide opportunities for youngsters to develop new skills or show off existing skills/talent?

Do you want the chance to enrich your social life?
If the answer to any of these is "yes", Rotary could be for you.
----------------------------------------------------------------------
Join us on Facebook
----------------------------------------------------------------------
Some of our recent activities are shown in the links at the top of the page.
----------------------------------------------------