THIS IS THE TRURO ROTARY CLUB IN TRURO, CORNWALL, ENGLAND
Welcome to the Home page of the Rotary Club of Truro Web Site. I hope your visit will give you a glimpse into the world of Rotary International and an insight into the fun and fellowship that is part of this amazing worldwide organisation which has more than 1.3 million members.
Our club was formed in 1922 and, from its foundation right through to the present day, our focus has been about helping our local community. Today we give a little of our time each month to support projects like the Truro Memory Cafe, the Food Bank, the Truro Disabled Club and the Parkinson's hub, all of which are incredible projects helping local residents deal with their daily challenges. We also help organisations including the Royal British Legion with their annual "Poppy appeal", and provide local young people with innovative programmes and support designed to help in their personal development.
Our Club consists of 19 members, both men and women, who come from a wide range of backgrounds and walks of life. We also have an Evolution Club, run at a separate location where new members are also welcome . Please see the Rotary Evolution Club of Truro website for details

We find that those approaching retirement,or those newly retired, are often attracted to the idea of helping their local community after a busy working life whilst at the same time,enjoying the friendship that Rotary offers.
If you would like to find out more about our club, please contact us .You can email us at rotarytruro@gmail.com or click the contact link at the bottom of this page. Please ensure that you include your contact details in any message you send.
If you are a serving Rotarian wishing to visit our club we can offer you the warmest of welcomes
Best wishes
Rotary Club of Truro 2019-2020
CURRENT EVENTS AT THE ROTARY CLUB OF TRURO 2020 - 2021
The Rotary Year 2020 concluded at the end of December and President Mike Robson handed over the Presidency to our New President Jennie Reed and this inauguration took place on Tuesday January 12th
Thank you Mike for a very succesful one and a half years under very difficult circumstances during the onset and continuation of the Covid 19 pandemic. We wish Jennie a succesful time as President and look forward to eventually resuming normal Rotary meetings and fellowship togeth In the meantime we will continue our meetings on Zoom until further notice.Jennie will serve as President until June 2022
At the same time John Simpson was welcomed back again and inaugurated as the Senior Vice President of the Club
Good luck to both Presidents for a successful and eventful 18 months
In normal times we would have an annual Christmas collection at Sainsburys to raise money for local charities. This year it ws not possible but we did manage to raise funds by various means and did donate quite considerable sums to our local Charities . Pleas see the separate report on this succesful activity.

Meanwhile this was last years collection
ANNUAL CHRISTMAS COLLECTION AT SAINSBURYS DECEMBER 2019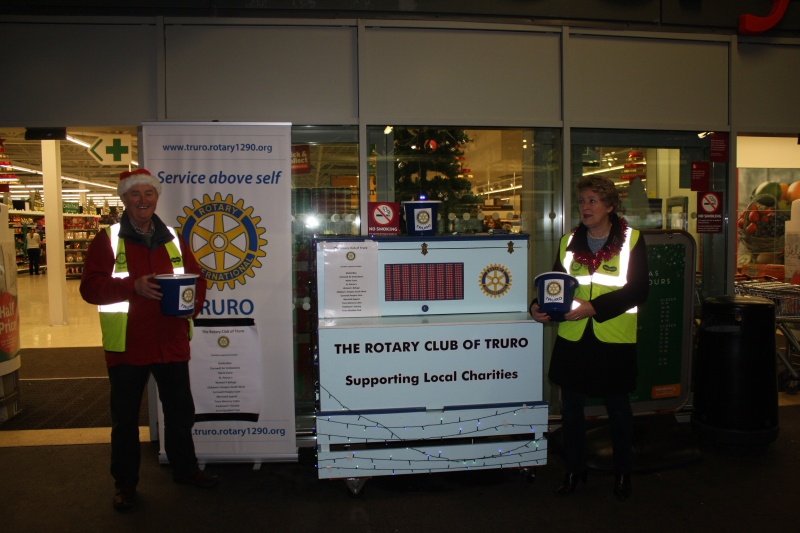 BI-MONTHLY CLUB MEETING
Whilst membership is by invitation, this should not stop anyone male or female who feels that they might like to become involved in the Rotary family from indicating an interest, either by speaking to a Rotarian, or by getting in touch with us to find out more.
We usually meet at Truro Golf Club, Truro on the SECOND and FOURTH Tuesday of each month with an evening meal,and is open to visitors. Both evenings are 6 for 6.30pm.
We have a relaxed dress code.
Service before self, through the various activities we undertake, is the driving force of our club. Fellowship, friendship and a good sense of fun also feature highly on our agenda."
Rotary is an excellent way of putting something back into the community, at the same time as having a good deal of fun. Many long standing friendships have been formed through Rotary.
Please feel free to visit us
PREVIOUS EVENTS
Swimathon 2013
£1790 has been raised for Rotary's "End Polio Now" campaign. This will be matched by Bill Gates making a total £3580
-------------------------------------------
Santa Run - Dec 201. £2204 raised
-------------------------------------------
Poppy Appeal - Nov 2012
we raised over £4697 in Sainsbury's Truro - thank you everyone who donated!
-------------------------------------------
Drive It in Cornwall April 2012 raised over £5469
--------------------------------------------
Steam Rally August 2012 raised£1128
--------------------------------------------
Pancake Race Feb 2012 raised £3246
--------------------------------------------
Steven Horne and John Reynolds have also received Paul Harris Fellowship Awards alongside Jennie Reed, Peter Willson, Brian Reeve-Fowkes, Rod Mantle and David Crossley