Welcome to our website
Welcome to the Rotary Club of Banchory-Ternan website. Rotary is a dynamic organisation bringing together men and women from a wide variety of career backgrounds to put our common values into action.

Our motto of 'service above self' is evident in everything we do as we form teams and partnerships with communities to get things done locally and internationally.

Standing still is not an option for Rotary. We are a changing organisation that welcomes diversity and new challenges.

Heather Morrison
President 2023-24
The Rotary team are well known for running the Annual Rotary Wheels Rally for classic and vintage vehicles which is held every May in Milton of Crathes and the Rotary Charity Golf Day every August. We are also support events such as the Steam and Vintage Rally, Kids Out, The Banchory Show and the Braemar Gathering.
Our involvement with Youth and Vocational activities is also very visible in our community. Banchory Ternan Rotary Club partners with the local schools annually for Shoe Box collections, Young Musician Competition, Primary School Quiz, and Young Speechmaker Competition.
Our work on the Banchory Academy Garden, Scolty Centre garden and Scolty ward garden has been widely appreciated by the community.
We support international causes including support for Ukrainian refugees, disaster relief in Turkey and disaster relief and mental health projects in Peru. Through the wider Rotary movement we support the provision Shelter Boxes for those in need when disaster strikes anywhere in the world. Rotary's contribution to the eradication of polio has been immense.
We hold many social events with partners as having fun together is a key aspect of Rotary membership. If getting involved, contributing to the community and having fun appeals to you, then please get in touch and come and meet us.
Our Community
The town of Banchory (pop 7,650 in 2016) lies on the north side of the River Dee some 18 miles west of Aberdeen, Europe's oil capital.
Originally settled in 5-6th centuries at the confluence of the River Feugh, the site became the location of the annual St Ternan Fair during the middle ages.
The town flourished with the arrival of the Deeside Railway line in 1853 and became a popular destination for both holidaymakers and day-trippers from Aberdeen.
During the 1970-90s the town expanded as a result of the oil boom and is currently undergoing a new period of growth. There are a range of shops, hotels, restaurants, garages and local services. The town has two excellent golf courses.
Our Club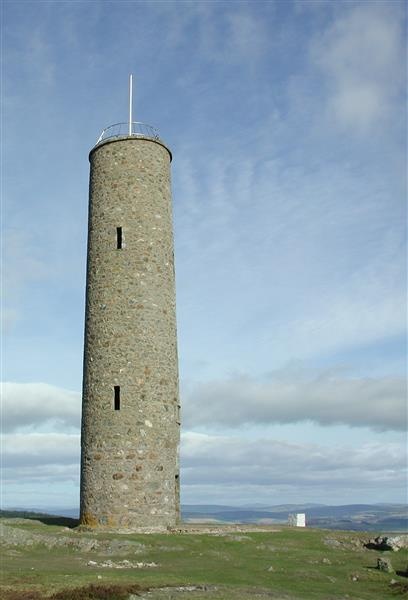 The club was founded in the small town of Banchory in 1971. Membership is currently around 40.
We are active in fund-raising for local, national and international good causes through a series of events throughout the year.
The club supports and encourages international exchange visits, sponsors educational, cultural and youth activities and promotes enterprise through the Young Enterprise programme in local schools.
But it's not just about fundraising. There is a strong social aspect and members are part of a global network of 1.3 million Rotarians spanning most countries and cities around the globe.
Scolty Tower was erected in 1839 in memory of General William Burnett of Banchory Lodge. He served in Flanders in 1793 under the Duke of York and was created General in 1837.
The tower is located on the prominent Scolty hilltop overlooking the town and was restored by the Rotary Club in 1992.