Rotary Club of Barton-Upon-Humber
Barton Rotary Club welcomes new members, men or women, who feel that they would like to help other people, both locally and internationally, put something back into our community and to have a lot of fun doing it!
The club has been serving Barton and the surrounding villages since 1977 and is part of the Worldwide Rotary
organisation of 34,164 clubs in 210 countries, with a total of 1,223,083 members.
If you would like to help people, by joining Rotary
we would be very pleased to hear from you.
You can contact us for more information,
via the Contact Us on top of the page.
Barton Rotary Club meets every Wednesday
5.45 for 6.15
The Rotary Club of Barton-upon-Humber - doing great things in Barton and the villages since 1977.
The Humber Bridge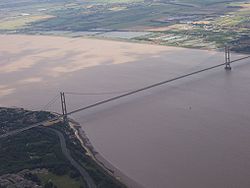 The HumberBridge, near Barton upon Humber, England, is a 2,220 m (7,283�ft) single-span suspension bridge, which opened to traffic on 24 June 1981. It is the fifth-largest of its type in the world. It spans the Humber (the estuary formed by the rivers Trent and Ouse) between Barton-upon-Humber on the south bank and Hessle on the north bank, connecting the East Riding of Yorkshire and North Lincolnshire.�
Please read about Rotary
http://www.rotary.org/RIdocuments/en_pdf/595en.pdf
http://www.rotary.org/en/Members/NewMembers/RotaryBasics/Pages/ridefault.phpx