We are a small friendly club who think big. We are always looking for like minded people to join us, male or female 18+ so get in touch soon.

We meet at the Lakeside Bistro every third Thursday of the month.
If you would like to join us at one of our meetings please get in touch with us in order that we can send you a formal invitation.
If you cannot commit at the moment then how about joining us a "Friend of Rotary" where you can get all the benefits of hearing about what we are doing and joining us as and when you can. Contact us for more information.
On Saturday 21st August we held a damp meeting in Swadlincote Market on The Delph. Six members attended and we had a Tombola. Considering the weather we had some good support.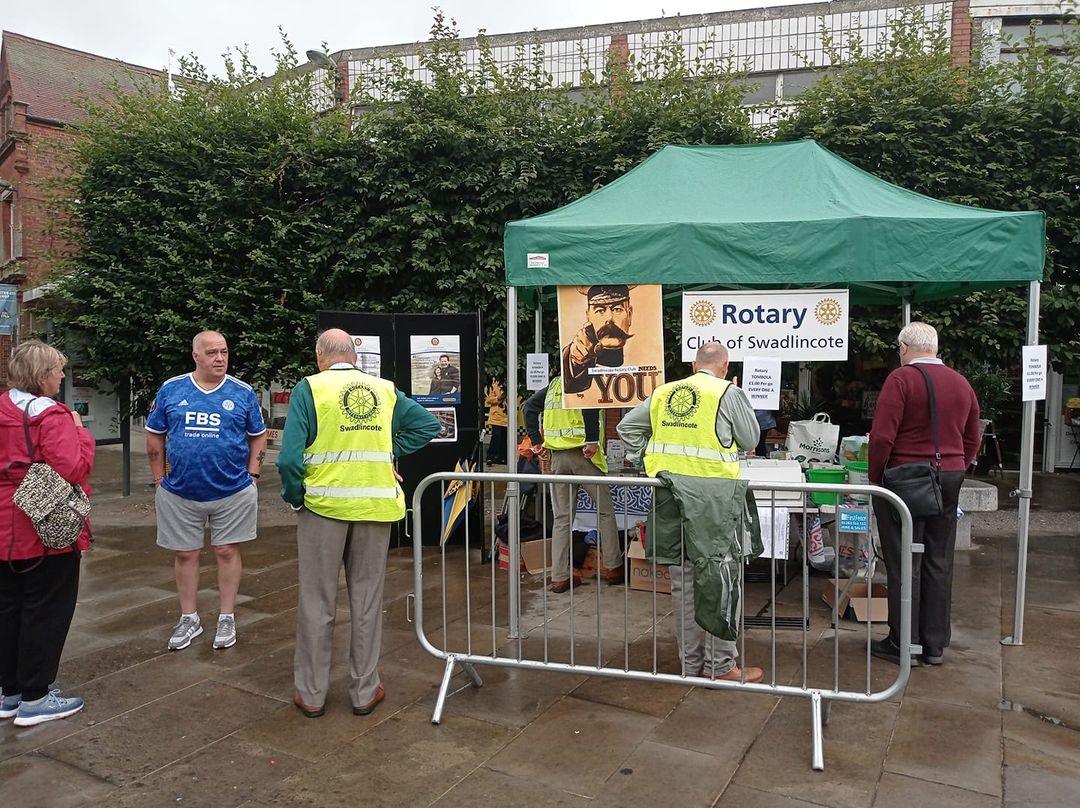 We lost two members during the Covid endemic. Barry Wood who had not long joined us from Bretby Rotary Club and Mark Ratcliffe who was our Past President three times.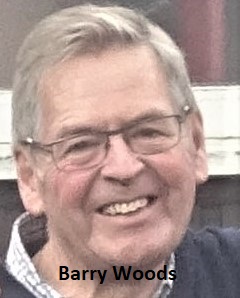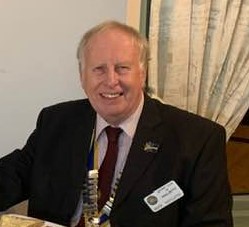 Past President Mark Ratcliffe died in his sleep at Burton hospital during the night of 5th/6th August 2020 following a long fight against his lung disorder. Mark was a dedicated Rotarian and served Swadlincote and it's community for many years. He will be sadly missed by his friends and colleagues from his days as Head Teacher at a local Primary School and as a member of the Burton Model Railway Club as well as the members of the Rotary Club he leaves behind.
Rest in peace Mark and thank you for you friendship and service.
Following tonights Council meeting, July 28th, we are sorry to report that e have decided to cancel our Seniours Out that was due to take place in September. We are also watching the covid situation with a view the our Christmas Concert due to take place on 30th November is also under threat. We'll take that decision following the September Council meeting.
The club had a good meeting on 17th October when Camille McCawley, the Develpment Coordinator for FareShare East Midlands gave us a talk on what her charity does. It was amazing how much food wastege there is in the country and thankfully charities like FareShare endure that a majority of it is redistributed to the needy of the UK.

On Saturday 12th October the club sent a small working party to the William Allitt school in Newhall, South Derbyshire to tidy up their central garden. We will be returning at a later date to assist in the erection of an ECO Greenhouse that the club is purchasing for the school.

Below are some photos from of the team and the garden The last picture is a dodgy one of our President in Del Boy mode........Cushty! We cleared around twenty five bags of garden waste and enjoyed ourselves in the process.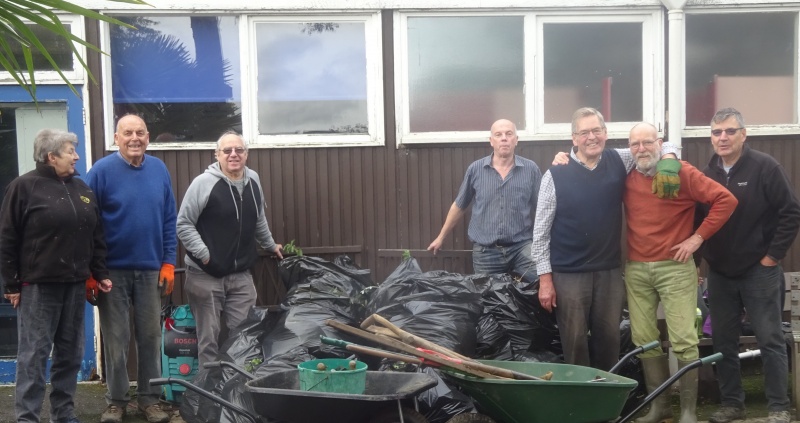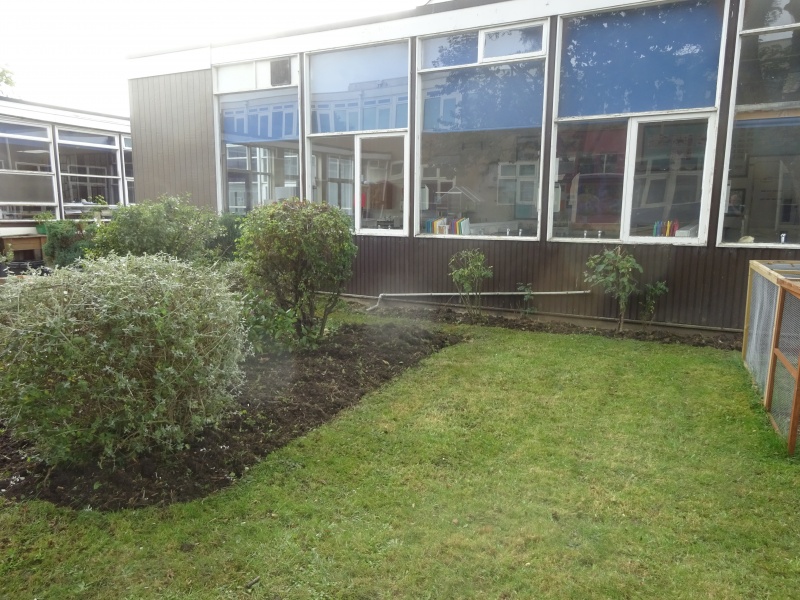 Today (13th September 2019) we donated £600 to Aquabox for four Aquabox Gold Family Boxes to the Bahamas appeal.
Assitant District Governor Pat Zadora presents our secretary Selwyn Goodacre with the "George Curley Trophy for the bestclub Bulletin. Well done Selwyn, most deserved.


We meet socially once a month, mainly on the third Thursday but check our meetings page.
We are in the process of forming an Interact Club with a local sixth form Academy Trust.
On Thursday 18th July we inducted five new members. Fresh enthusiastic blood to help our club survive and continue the good work we do within our community.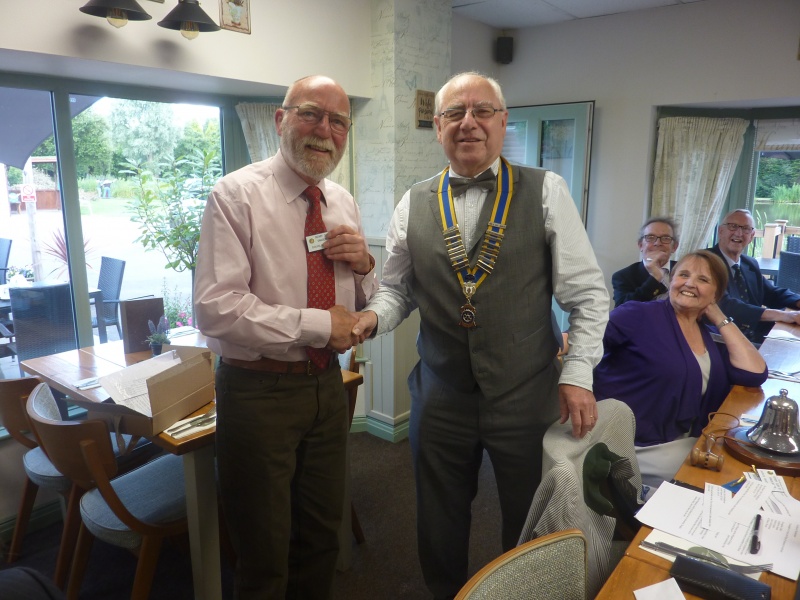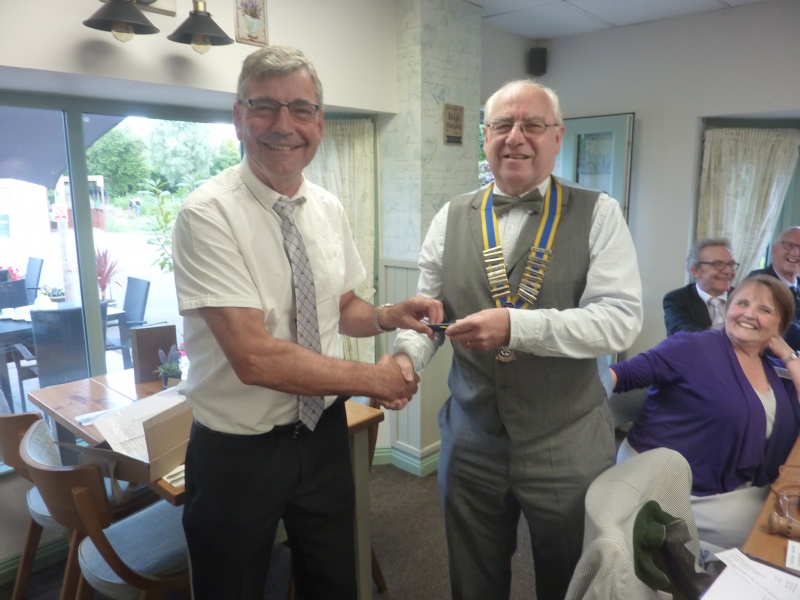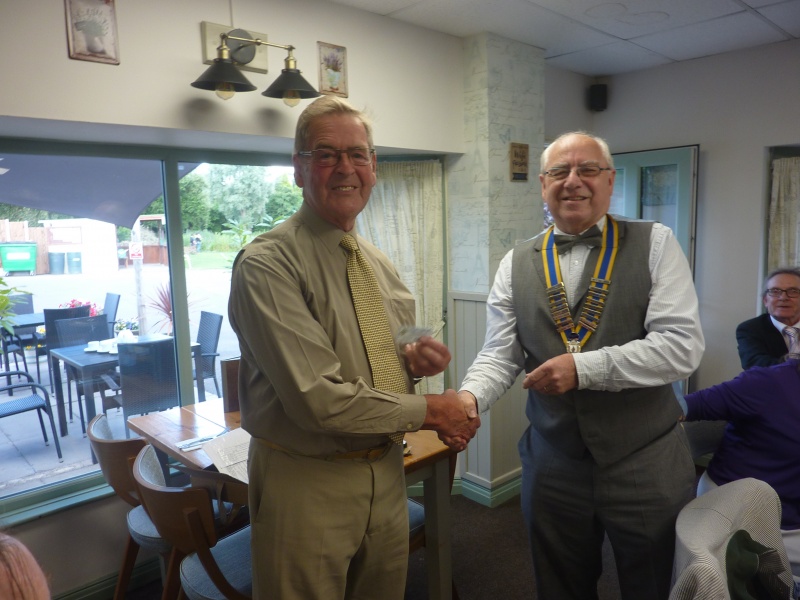 We have been sponsoring a local disabled athlete who is raising money to attend the Cerebral Palsy International Sports & Recreation World Games in Spain 2018. Go to his justgiving page to donate and ensure he competes with the best in the world: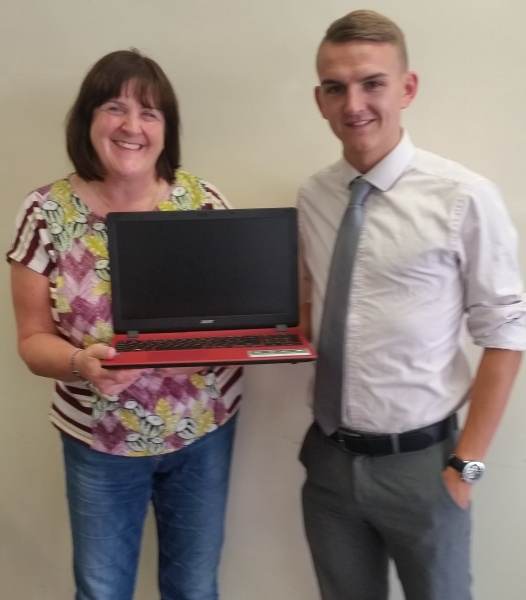 "A Friendly Club Meeting at the Heart of the National Forest"
To contact us phone Chris on 07584095601 or our meeting co-ordianator Philip on 01283701927
On behalf of President, Terry, we would like to welcome you to our friendly club.
We are a local community service and social organisation which is there to help people who are suffering both in local and international communities and achieve the Rotary message of 'Service above self'. Founded in 1947 by likeminded professionals who wished to spread the message of fellowship and friendship, we have been going strong in our commitment to help people and bring happiness to their lives. We celebrated our 71st Birthday in February 2019. We did not have a Charter Dinner this year but had a small relaxed dinner celebration at our usual Lakeside home.
As part of the Rotary International family, we strongly believe in the Rotary motto of 'Service above Self'. Our members love to show humanitarian spirit and put the needs of the community before that of themselves. We also follow the messages of the Rotary Four WayTest which helps us determine that we are helping our community.
Our diverse bank of members, many of who have lived in and/or worked in Swadlincote for a number of years, come from a variety of professional backgrounds; who are dedicated to furthering the messages of Rotary and help people in need both in South Derbyshire and abroad. Our members enjoy weekly meetings to further fellowship and friendship as we discuss our future programme of events and enjoy some of the best guest speakers, many of whom give us insights into issues which can be sympathetic and some who give us a great insight into our own minds and how we view the world. Our members and their diverse ranges of experience makes our club freindly and from all of our members you would recieve a friendly and warm welcome. We like to mix traditional and modern values into every aspect of our work, from giving away coffees on the Delph to raising money for our chosen charities, you will always see our members smile; they always chat to you in a way which shows our love of extending the enjoyable fellowship our members enjoy. As an organisation within the community. Each year we pick a charity to which we are going to support and aid, this year our chosen charity is our local MS Society .We raised a record amount of money at the Festival of Transport in Swadlincote last May and are looking forward to having the sixth event in May next year.
Our aims are:
To promote friendship and fellowship
Engage with society as a whole
Bridge the gap of all forms of diversificaion
Give back to our community
Promote the core Rotary value of 'Service Above Self'
We meet on the third Thursday of the month. Our monthly meetings take place at the Lakeside Bistro,Shortheath Water. We are not just about planning for future events but furthering fellowship by listening to fantastic speakers. these speakers range from charitable organisations telling us about their own work and how we can contribute to furthering their own cause, to speakers talking about subjects varying from historical events to literature and from the history of transportation to the history of our area. In our meetings, we also plan events which help charitable causes and further fellowship within the community. Details about meetings and speakers is posted on the Club programme section of the website.
There are many different types of membership availible to you ranging from full membership to a Friend of Rotary.
If your interested in being involved, you can contact us via this link: Membership or the membership page which is available from the drop down list in "What we do" at the top of this page.