GDPR Click here for or Our Privacy Policy

__________________________________________________________
On the 1st November 2022 The Rotary Club of Guildford and the Rotary Club of Guildford District joined forces to form The Rotary Club of Guildford Wey which will operate as Rotary in Guildford.
Our Club No. is 224808
_____________________________________________________________________________________
Ukraine Winter Warmer Project: IMMEDIATE
With so many windows blown out due to the bombing in Ukraine, families will freeze this winter.
This urgent appeal is for::
• Warm/thermal clothing
• Warm underwear & socks (new please)
• Warm gloves/mittens & winter hats
• Ski wear (goggles not required)
• Sleeping bags -any, but preferably those for lower temperature use

FOR IMMEDIATE ACTION: Whilst rummaging through your own house for suitable items, please advise friends and family to do the same
Please deliver to O'Keefe's at No. 16 Tilehouse Road in black bin bags
_____________________________________________________________________________________
On the 1st November at a ceremony in the Guildhall Guildford, the new Club President, Philip Rambech, was presented with its Charter by District Governer Roger Stent.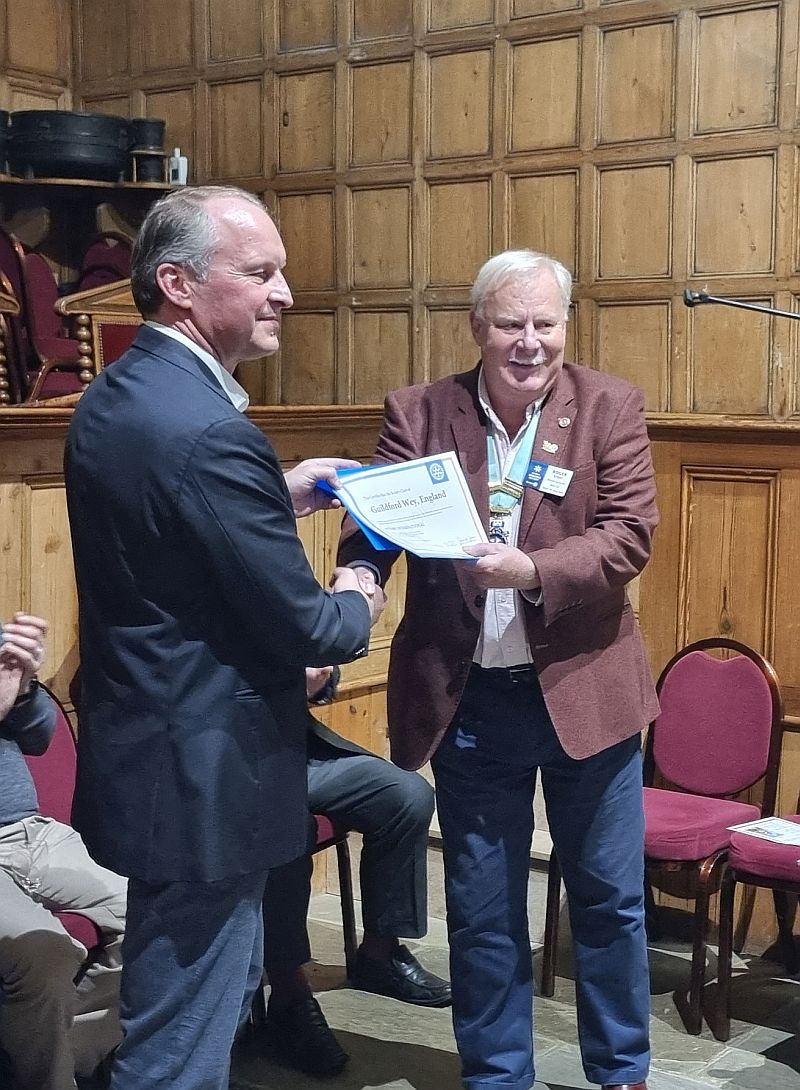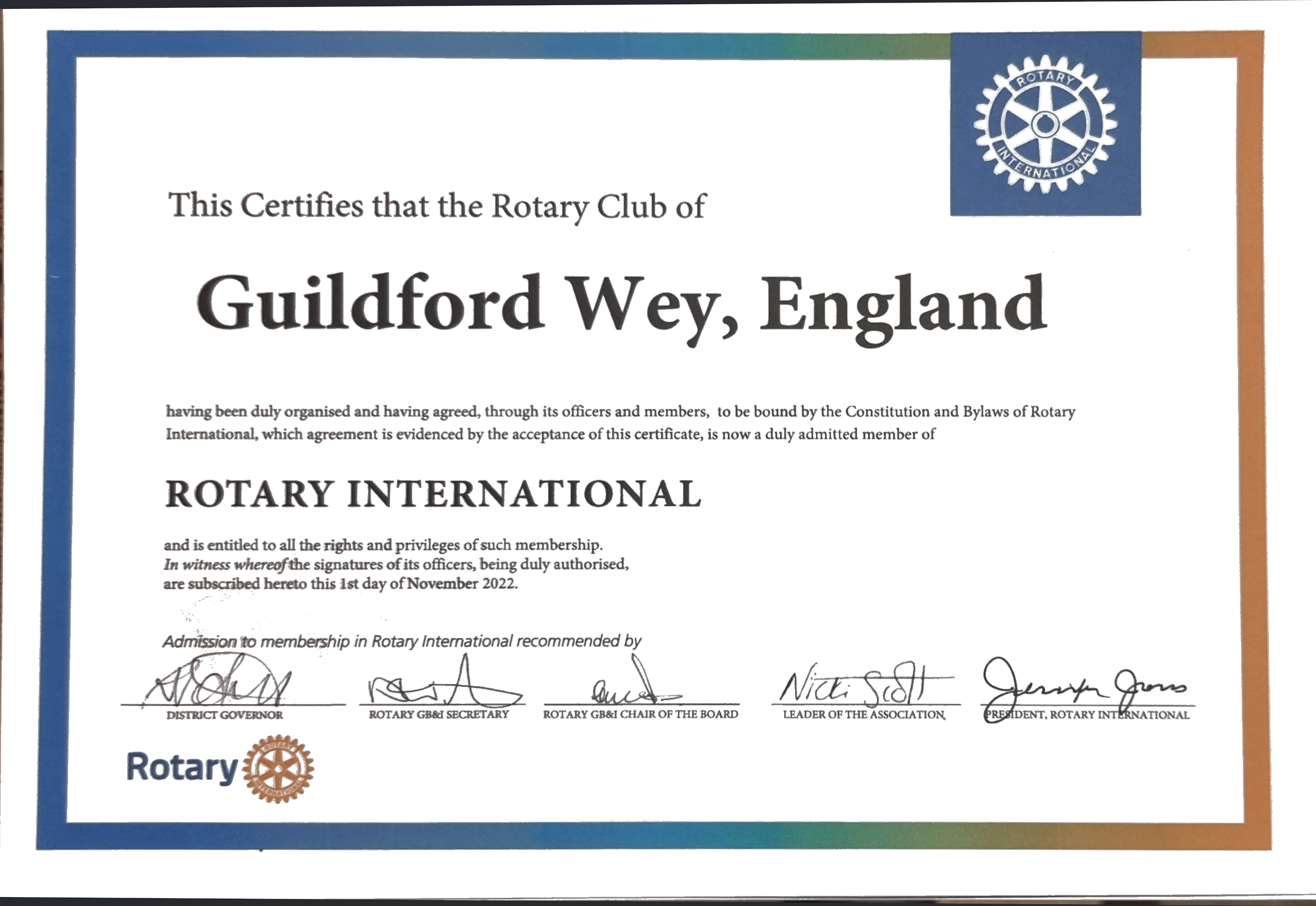 ______________________________________________________________________________
A Warm Welcome to this year's President of the Rotary Club of Guildford,.Oliver McGeachy.
Oliver will oversee the Club's transition into the Rotary Club of Guildford Wey (Rotary in Guildford)
Terence Patrick, Past President, Hands Over his Presidency on 11 July 2022
______________________________
_______
The reception was held as part of the Rotary Club of Guildford centenary celebrations. It was designed as an opportunity to not only review past achievements in the town but to look to the future with the theme of 'Guildford Rotary in Action in the community,' helping to facilitate the good work that can be achieved by business and charities working together. To build on this theme we held a Celebration Reception at the Guildhall with representatives from 10 local charities and senior representatives from 10 local businesses who were interested in investing in local charities. The objectives was to bring charities and potential donors together over an evening of drinks and canapes.
The evening was hosted by members of the three Guildford Rotary clubs with an opening address being given by Oliver McGeachy the Vice President of Rotary Club of Guildford. A response was given by the new mayor of Guildford councillor Dennis Booth who thanked Rotary for holding the event with charities and businesses and hoped that useful contacts would be made over the evening to help support the charities represented. Feedback from charities after the event indicate the event has been a success.
Click here for photos to give a summary of the event starting with the drinks and canapes and opening addresses and then the stalls set up in the main chamber by each charity.
______________________________
_______
District Governor Roger Stent addresses the Rotary Club of Guildford´s 100th Anniversary Dinner at the County Club in Guildord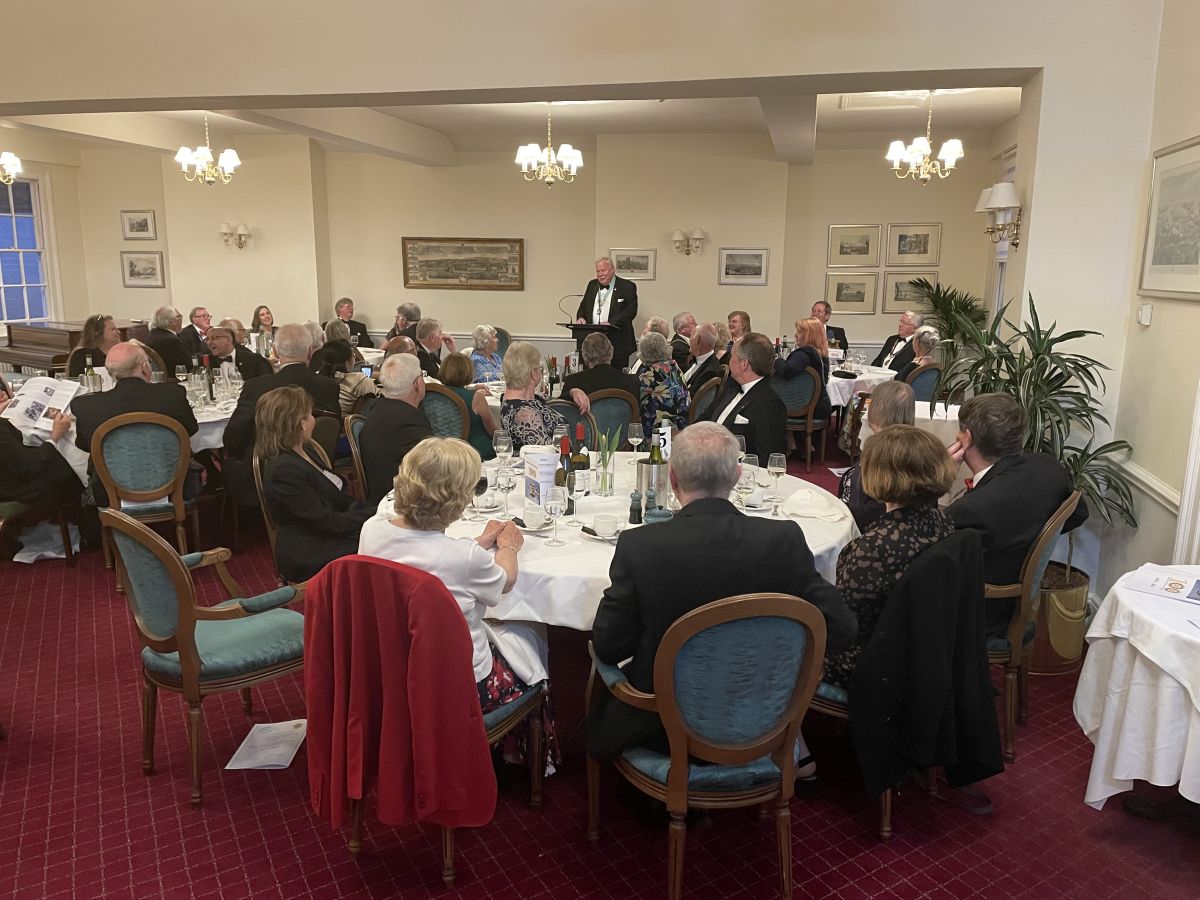 Rotary Club of Guildford 100th Anniversary dinner held at the County Club, Guildford on 9th May 2022. This was attended by the Mayor of Guildford Mrs Marsha Moseley, Lord Lieutenant of Surrey Michael More-Molyneux and District Governor Roger Stent and their partners.
The event was hosted by Rotary Club of Guildford President Terence Patrick and accompanied by his wife President of Guildford Inner Wheel. The event was attended by members of Rotary Club of Guildford and some past members and representatives from Rotary Club of Guildford District and Rotary Club of Guildford Chantries and their respective Presidents Philip Rambuch and Peter Hector and partners.
A Rotary in Guildford 100th Anniversary brochure was given out to all attendees summarising 100 years of Rotary in Guildford. The mayor presented Rotary in Guildford with the Mayor's Award for Service to the Community 2022.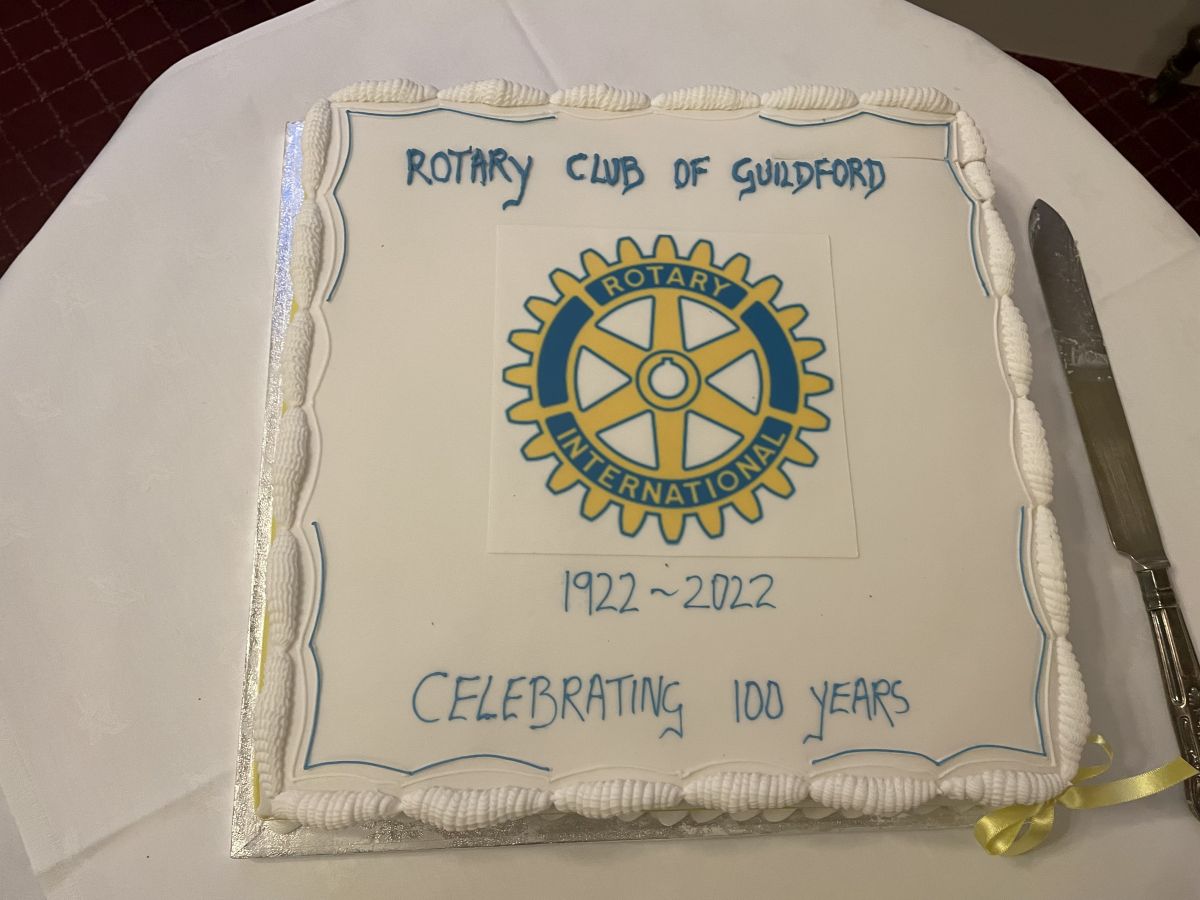 ___________________________________________________________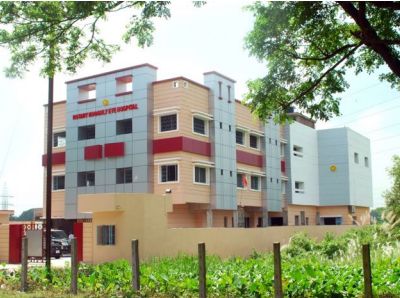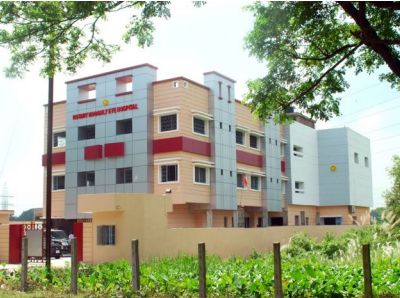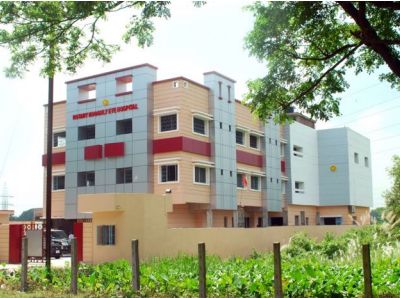 Guildford Rotary Helps Save Indian Eye Hospital On 20th May, a powerful and deadly cyclone struck Eastern India and Bangladesh, leaving a trail of devastation in its wake.

The Rotary Hooghly Eye Hospital in West Bengal suffered damage to buildings and vital equipment. The hospital was already struggling from the Covid-19 outbreak and all operations had been suspended. They were due to recommence on 1st June after the end of lockdown: the damage caused by the cyclone made this impossible. Hooghly town is about 50 miles north of Kolkata.

One of the major health challenges their citizens face is a high incidence of eye problems and blindness. This has a major impact on ability of those afflicted to provide an income for their families and in looking after their homes. In 2010, the Rotary Club of Guildford recognised the problem of blindness and the need for well- equipped eye hospitals. Through the Guildford Rotary Eye project the Club worked with the Rotary Club of Hooghly and together they mobilised other Rotary Clubs and The Rotary Foundation.

This Rotary partnership enabled funding for the building of the Eye Hospital. Since opening in 2011, over 2 million patients have been seen and over 20,000 have had eye operations. Many who were blind can now see enabling them to live a full life in their community. Guildford Rotary has donated over £5,000 to the Rotary Club of Hooghly Welfare Trust to pay for the initial repairs to the Hospital, enabling it once again to treat patients.



___________________________________________________________________
RHS Wisley opened its doors once again this 1/2 term week Feb 2020 to Guildford Rotary Clubs to collect for the fight against polio.
Over the 3 days the 3 Guildford Clubs raised £600

On Friday,Saturday 21-23 February the RHS Wisley very kindly allowed the Rotary Clubs of Guildford to hold a 'Purple Pinkie' weekend at Wisley Gardens supporting the National 'Purple4Polio' campaign. Over the 3 days £600 pounds was donated
For voluntary donations 'Purple4Polio' wristbands are handed out and children can, if they wished, have a "Purple Pinkie" to simulate the finger markers given to children taking part in the Polio vaccination programme promoted and funded by Rotary International.
"Purple Pinkie" is a campaign by Rotary to raise money to End Polio Now – one of the world's biggest ever immunisation programmes.
In its first year it was a tremendous success capturing the imagination of the public and to build on that success, "Purple Pinkie" is coming up with many more innovative ideas - full of fun - with something for all ages.
Polio has no cure. It is a crippling and potentially fatal disease and children under the age of five are at greatest risk. However Polio is easy to prevent by vaccination that costs just 50p. When a child is vaccinated, they have a purple stamp put on their little finger – giving them a "Purple Pinkie."
_______________________________________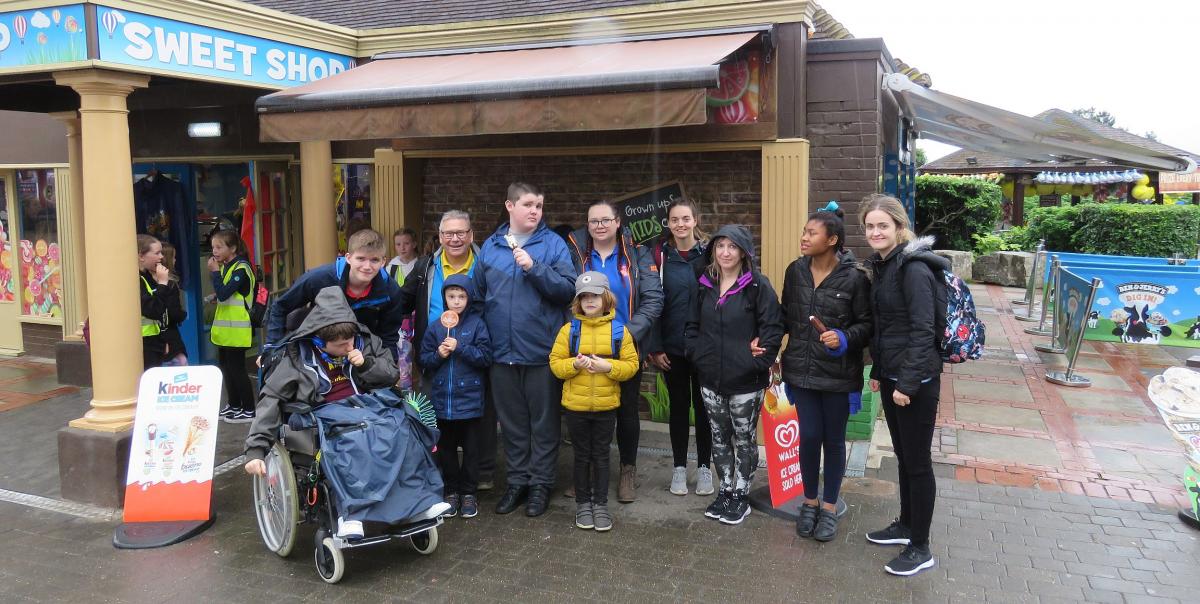 Guildford Rotary Club were pleased to be able to support Rotary KidsOut Day 2019 by sponsoring 5 children with 5 carers, from

Cherry Trees Respite Care Home

, to go to Chessington World of Adventures in June 2019.





Although physically dampened a little by the weather, it did not dampen their spirits.





The children all had a great day out, taking part in a number of the rides, seeing some of the animals and enjoying an indoor "picnic" lunch.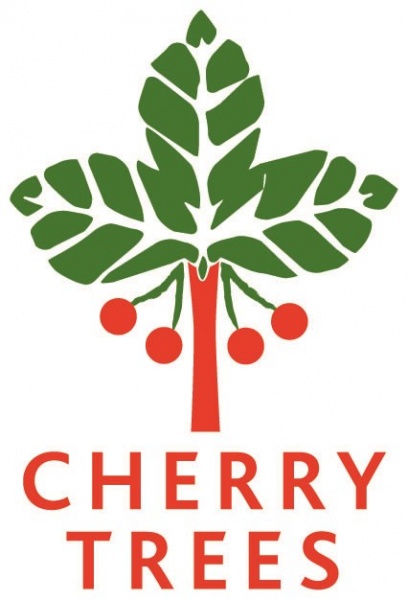 __________________________________________________________________