Welcome to the website of the Rotary Club of Guildford District
We are a group of men and women of all ages and experiences from Guildford and its surrounding area who, together, use our time, talents and knowledge to try to help Guildford and the wider world be a better place.

During the coronavirus problems we sadly had to take the decision to postpone our weekly meetings for the time being. However we are delighted to say that we are now back and able to meet face to face again. We currently are meeting over breakfast at 8.00am every 2nd Wednesday of each month at Hector's on the Wey, Catteshall Lane, Godalming and at varied times and venues or by zoom every 4th Wednesday.

If you are interested in more information about Rotary please use this website to contact us and we will respond straight away. Alternatively you might like to join one of our meetings; you will be most welcome. Please contact our secretary Peter O'Keefe - 01483 572894.
The following gives a little more detail about us and some of the things that we do; so do please scroll down to the end.

We raise funds, make friends and try, through our efforts, to help those less fortunate whilst having fun and enjoying each other's company
Rotary is all about Communities be they local, national or international. Wherever in the world that there is a need Rotary, through its worldwide coverage, is there, whether it is a disaster such as a Tsunami or a hurricane in the Philippines, or an earthquake in Nepal, you can be sure that Rotary will be there in some form to help.
Locally Rotary in Guildford undertakes a number of projects to help charities, deserving causes and individuals who are in need. How is this all achieved? Quite often we do fundraise but the idea that Rotary is all about collecting in the High Street or outside a supermarket is however far from the truth. We do do this it is but a small part of our efforts.
We also undertake more practical tasks some of which are outlined below:-
---
---
ANNUAL CHARITY WALK

For nearly 30 consecutive years we have run a Charity Walk from Shalford Park where the walkers raise money for their favourite charity at no cost. All proceeds raised go to them.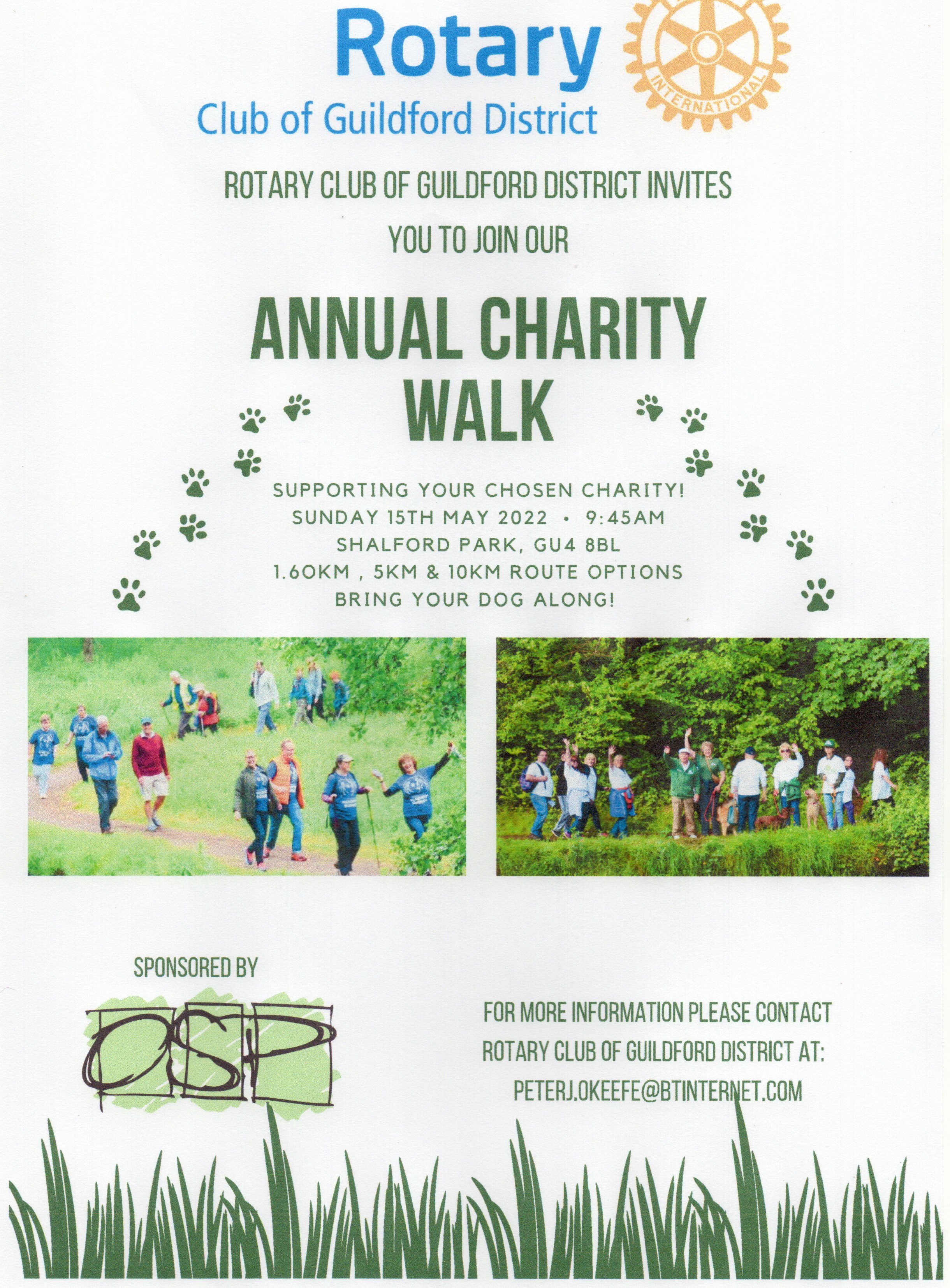 The last walk took place on Sunday 19th May 2019 and full details and photos can be found by clicking on "Annual Charity Walk" on the "What we do" menu .
Sadly both of the last two walks had to be cancelled due to the coronavirus. We will however be back in 2022- Hooray! Please come and join us on Sunday 15th May 2022 starting from Shalford Park.

If you are a regular supporter we look forward to seeing you again. If however have not taken part before and you support a charity all you need to do is get sponsorship and walk. It's a great way to raise money without any cost to you or your charity If you want to look at the maps of the three walks click on the following links where you can also get a sponsorship form for you to use.

sponsorship form click here
For over flow sponsorship click here
For a map of the long walk click here
For a map of the short walk click here
For a map of the even shorter walk click here
Bikeathon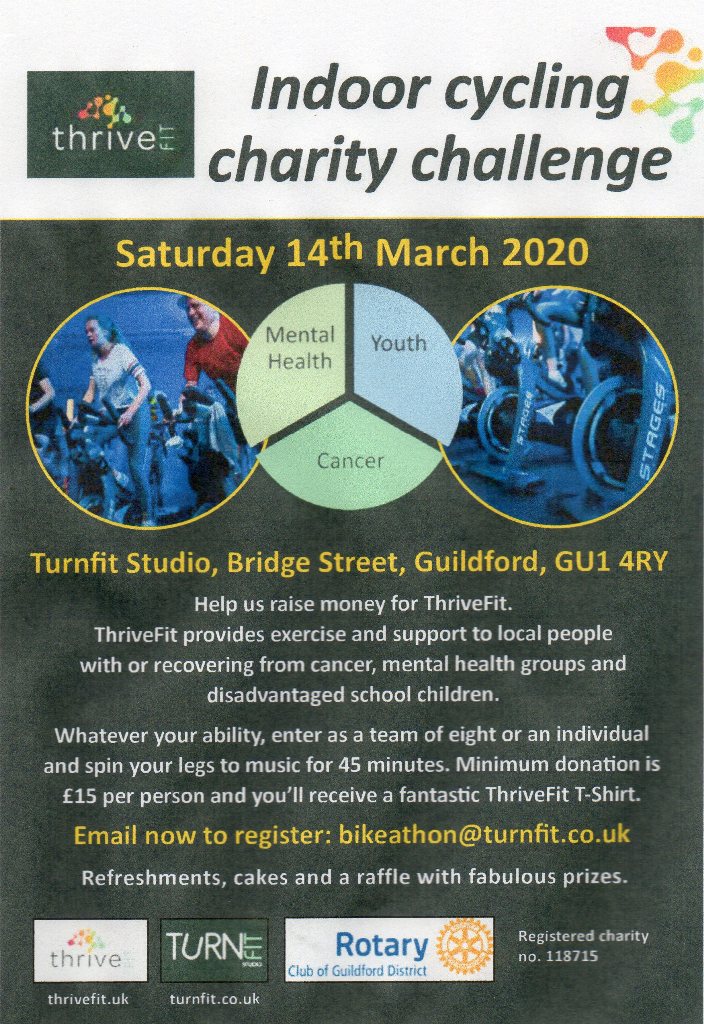 On Saturday 3rd March 2018 in our 3rd Bikeathon/Indoor Cycling Challenge was organised in partnership with Turnfit Studio.
The first year that the event was run we raised some £3,000 for the Prostate Project, the next year we raised some £4,000 for Topic of Cancer and in 2018 we reached almost £5,000, again for Topic of Cancer.
The funds raised for Topic of Cancer helps their Cancer Support Groups and also ToCFit weekly exercise classes for cancer patients and survivors in need of rehabilitation, run by a trained Turnfit fitness instructor dedicated to this class.
This year the event is back for its fourth time and is scheduled for Saturday14th March 2020. Please see the above flyer from which you will see that this year we are raising funds for a relatively new charity,Thrivefit . If you wish to take part or even better raise a team please follow the registration instructions. If you would like to support our efforts by donating please click here to go to the Thrivefit donation page
Unfortunately again because of the coronavirus we have had to take take the decision to cancel the event - but hopefully it can soon be rescheduled. Please keep an eye on this website for further news.
Annual Concert by Local Schools

WE ARE DELIGHTED TO SAY THAT WE WERE BACK ON 9TH MARCH 2022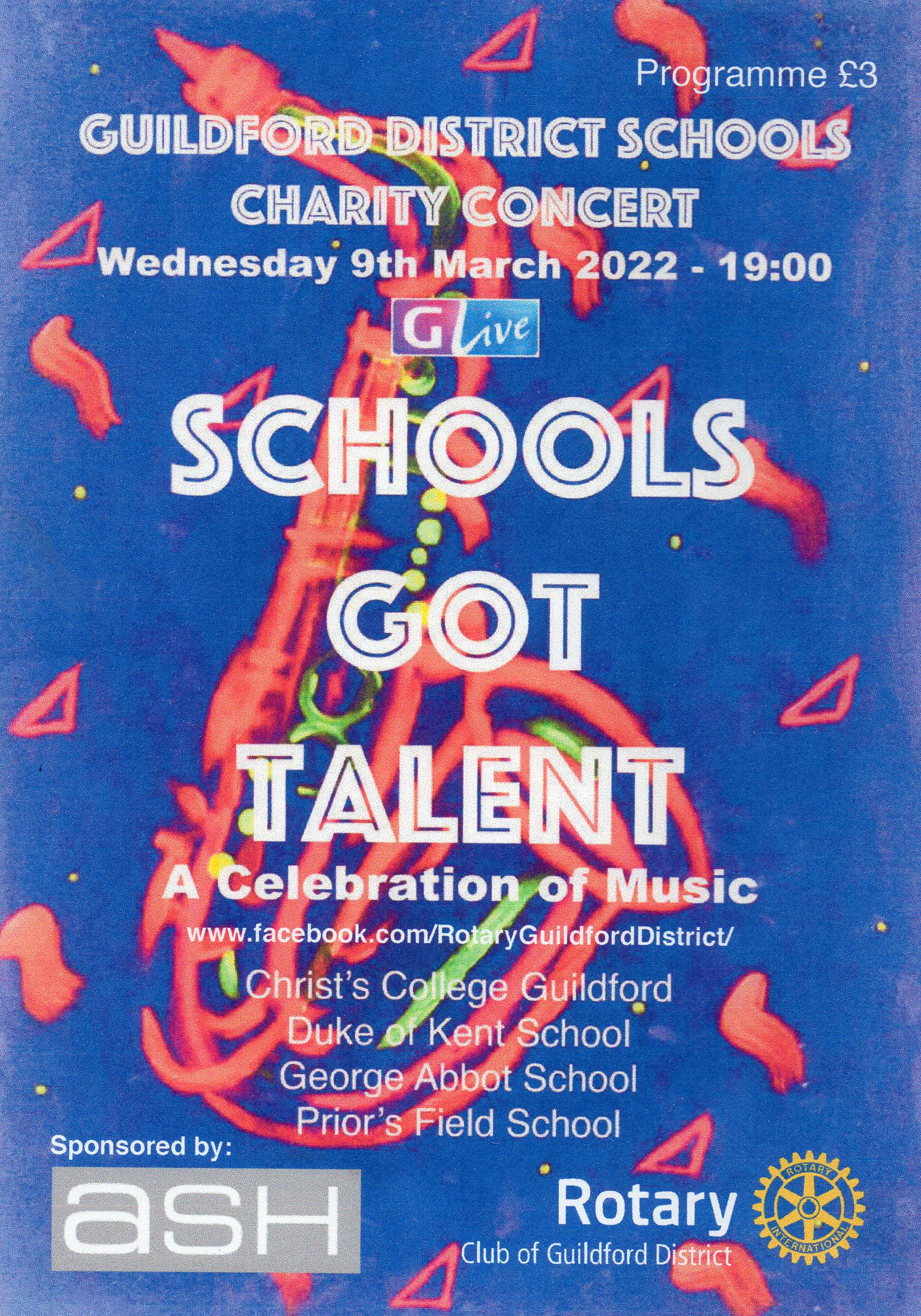 For eight years the Rotary Club of Guildford District organised an evening of musical talent from four local schools at the Glive theatre. The last performance was in 2020, just a few days before the first lockdown because of Covid19 and sadly the 2021 event sadly had to be cancelled replaced by a 'virtual choir'raising money for charity.

On the evening of Wednesday 9thMarch however the 'Schools Got Talent' concert was back!
In front of a virtually full house audience at Glive some 300+ pupils from George Abbot, Chris's College Guildford, Duke of Kent and Prior's Field Schools gave a staggeringly enjoyable and impressive performance. Each School was on stage for some 30 minutes and produced a wide range of music from excerpts from the musical Shrek (in full impressive costume!) to classical piano plus many other acts including Big Band, some excellent singers and choirs in several and varied genres. We had an unusual item; a junior version of the Stomp percussion group 'Broom' performance. Very unexpected. The audience got fully involved right from the start which helped create a great atmosphere, particularly noticeable when joining in with Shrek's 'I'm a Believer' and the Proclaimers' famous song 'I'm Gonna Be (500 miles) - keeping up with the youngsters marching took some doing! The impressive finale featuring soloists from all four schools was Michael Jackson's 'Earth Song'.
As in previous years the feedback from the audience was extremely good. The president of the Rotary club Philip Rambech thanked everyone involved including the generous event sponsors, local contractors ASH, and the programme advertisers for their support. A small group of organising Rotarians, the four schools Heads of Music plus of course the the pupils, all of whom worked extremely hard putting on such a good event deserve our thanks as do the staff of Glive, the photographer, Jonathan Constant and the stage manager Lisa Lee and her hard working team. We all look forward to next year.
The Rotary club made a departing bucket collection in support of the people of Ukraine and it is great to report that £1000 was donated. Thanks to everyone for their generosity.