About us
SHREWSBURY 7 ROTARY CLUB
ROTARY READY TO LEND AGAIN
A Rotary club is ready to lend again to create more entrepreneurs in Third World Countries.
Shrewsbury Severn Rotary Club now has £144.83 ready to make further loans through Lendwithcare which has a list of 47 prospective entrepreneurs applying for a loan.
"It is good news that we have such a choice," said Rotarian Chris Allsop, chair of the club's international committee. In a Lendwithcare newsletter that I receive weekly it seems that South America is struggling with repayments at the moment due to Covid-19. Palestine is also struggling although we have not made any loans to a Palestinian. The club has been advised that although Lendwithcare is seeing steady improvements, we should keep in mind that Covid-19 still presents a problem in many of the countries in which the lender works. However, we are proud to be a part of a worldwide organisation reporting that in September they saw a fantastic 12,600 loans made. This was their strongest month of lending since February, just before Covid-19 took hold across the globe. As a result we have been thanked by Lendwithcare for Shrewsbury Severn Rotary Club's continued support during what has been such a tough year for so many of us."
For further information about Shrewsbury Severn Rotary Club contact gdmw@hotmail.co.uk
----------------------------------------------------------------------------------
ROTARY CONTINUES SUPPORTING FOOD BANKS AND HUB
Money which would have bought a weekly meeting meal in times other than coronavirus will continue to be used by Rotarians to support Shrewsbury's food bank and food hub.
Members of Shrewsbury Severn Rotary Club agreed at their last Zoom meeting to continue donating a total of £1,000 a month to be shared between the Barnabas Food Bank, Shrewsbury Food Hub and the Pontesbury and Minsterley Food Bank.
For the last six months Rotarians have given significant support to the food bank and food hub in the town as well as to the Pontesbury and Minsterley facility.
Shrewsbury Severn Rotary Club has agreed to maintain the level of support to food banks and hubs, particularly in the light of potentially greater levels of unemployment due to Covid-19 and at its next Zoom meeting members will discuss possible further giving from their charity account.
Said Karen Williams, Foodbank PLUS Project Lead: "Foodbank PLUS appreciates the ongoing support of and relationship with the Shrewsbury Severn Rotary Club through regular monthly donations. This allows us to strategically plan for the future, particularly in light of the anticipated increase in demand of the services of Shrewsbury Foodbank and our debt advice service (Barnabas Money Advice) come the end of furlough. Their support ensures we can provide fresh fruit and vegetables for our clients to supplement the non-perishable parcels we provide, offer an extended debt advice service and continue to work with the community, supported by the community."
Added Karen: "Christmas is going to be a particularly busy time and we hope to provide Christmas hampers for 200 families on top of our normal client base. The support of Shrewsbury Severn Rotary Club will be integral to that provision."
-----------------------------------------------------------------------------------------------------------------------------------------------------
ROTARY TREE OF LIGHT GOES AHEAD
Good news for loyal supporters of the popular Rotary Tree of Light. The Tree is going ahead in the Bell Tower of St. Mary's Church, Shrewsbury, though the service has had to be cancelled due to coronavirus.
"We are delighted to make it known that the Tree of Light will be proceeding as near to normal as possible which will bring a lot of pleasure to many people," organiser Rotarian Iain Gilmour of Shrewsbury Severn Rotary Club revealed today. "We want to make it clear to the town that despite having to cancel the Tree dedication service this year due to Covid-19 there will still be a Tree of Light, albeit smaller than previously, and a one-way system round the church. The Tree of Light will be installed on November 9 and will remain until December 31. Rotary believe this is important for Shrewsbury and arrangements are well in hand for the usual stuffing of envelopes with valuable pieces of information for the many hundreds of donors who buy a bulb on the Tree in memory of a loved one".
"We are again indebted to Dyke Yaxley Accountants who post out the envelopes free of charge to Rotary," he added.
Anyone who would like to know more about the Rotary Tree of Light can contact Rotarian Iain Gilmour atiainfgilmour@gmail.com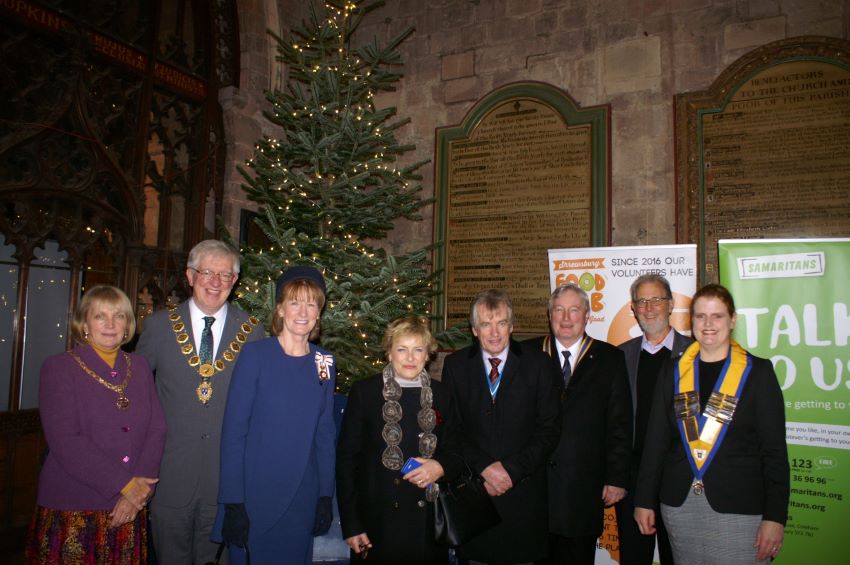 The Rotary Tree of Light will again be in St. Mary's Church, Shrewsbury, from November 9 until December 31. But there will not be a dedication service this year.
--------------------------------------------------------------------------------------------------------------------------------------------
CORONAVIRUS HAS MEANT NO CHICKEN DINNERS FOR HIGH SHERIFF
The High Sheriff of Shropshire has confessed to a local Rotary club that due to the coronavirus outbreak she had not had one chicken dinner engagement!
Mrs Dean Harris told a Zoom meeting of Shrewsbury Severn Rotary Club that she had been very busy and made good ground engaging with organisations, individuals, groups and charities across the county.
But it was just the 'ceremonial things' that had been missed off due to Covid-19 - and she had been told before taking office to prepare herself for a 'lot' of chicken dinners.
This was different to most previous High Sheriffs who, for a year, hold what is the oldest secular office next to the monarch. And whilst she brought a touch of humour to her Zoom talk to Rotarians, she also spoke seriously about her primary focusses of domestic abuse, drug and alcohol addiction and child poverty and deprivation.
She told Rotarians: "Whilst Shropshire is a truly beautiful rural county with a lot to offer in terms of employment opportunities, leisure, tourism and education - and I am proud to call it home – scratch the surface and you find there are a range of diverse and complex social issues. People need to understand and accept that domestic abuse affects all communities regardless of gender, age, race or religion and is the single major cause of homelessness. Somebody that a Rotarian knows will have suffered or be suffering from domestic abuse in some form or another. There is simply no excuse for abuse which is an epidemic of our times. I am keen that we educate people about addiction and break down preconceived and stereotypical views. The reality is that the majority of addicts are just like you and I. Again, addiction does not discriminate between rich, poor, young or old, male or female. We must break down the stigma."
The High Sheriff said nearly 5,000 people in Shropshire were classed as 'alcohol dependent' and in need of special treatment with only 20% getting help.
With regard to child poverty and deprivation, she said she believed every child deserved to be cared for, loved and protected.
"Shropshire would be seen generally as quite affluent county but there are without doubt pockets of significant deprivation, some of which are in the top 10% most deprived nationally. According to the Children's Society 1/3 of all children in Shropshire are living in poverty. And seventy percent of those would actually have one parent who was working, but 50% of lone parent families were also living in poverty".
She outlined specific events and projects that she had planned and that she hoped to engage schools to raise aspirations of children in deprived areas.
The High Sheriff praised the work of Shrewsbury Severn Rotary Club who support the Grange Primary School with regular funding to meet their needs which have included computers, provision of clothes, help with their summer school and also reading.
"There are a significant number of children in the county who simply don't have the same levels of opportunity as their peers," she added.
In a vote of thanks, Rotarian Garth Joscelyne said the High Sheriff's talk had been a 'breath of fresh air,' very enthusiastic and different. "I had no idea of the scale of domestic abuse in the UK. There are many things we can empathise with, particularly on the charitable side of your talk," he added.
Anyone interested in finding out more about Shrewsbury Severn Rotary Club can contact the secretary Gareth Watkins on gdmw@hotmail.co.uk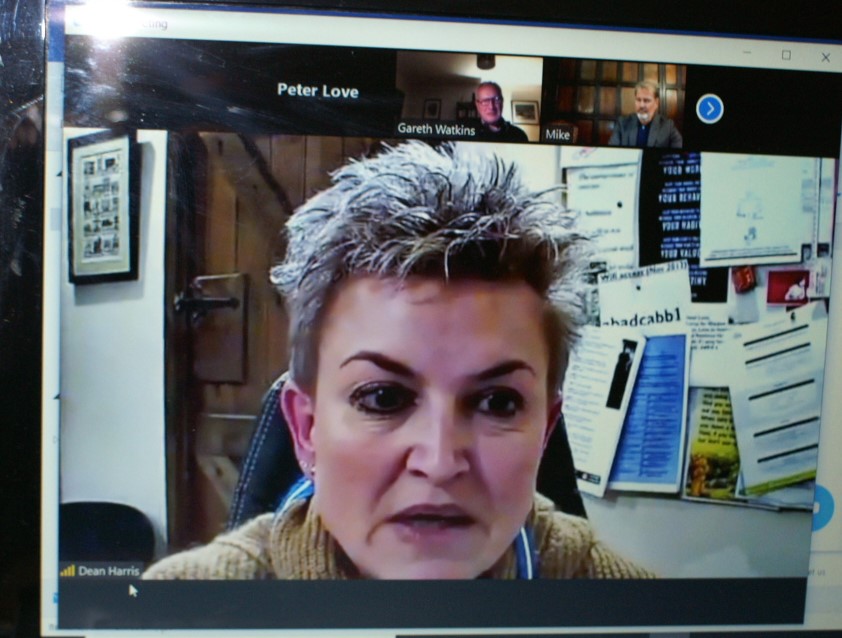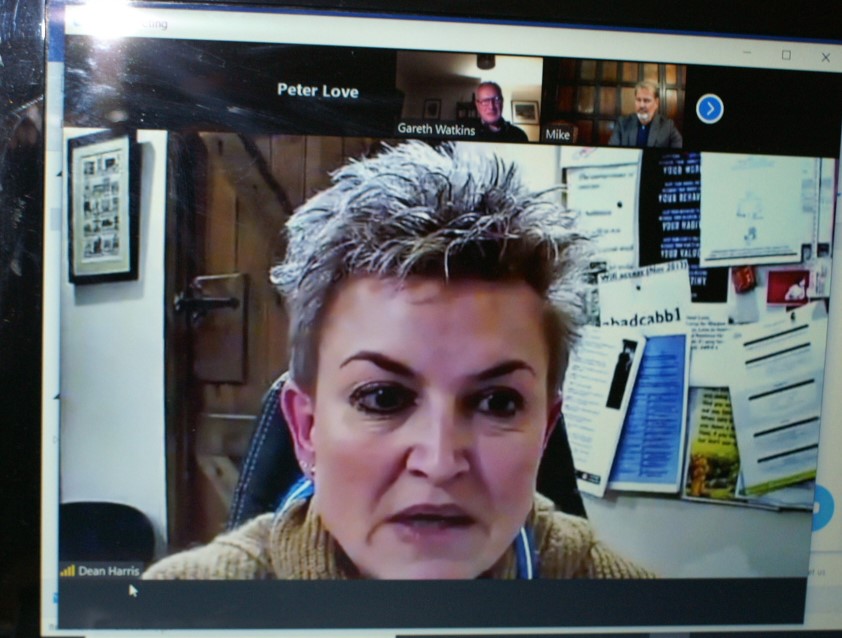 The High Sheriff in her Zoom talk to Shrewsbury Severn Rotary Club.
------------------------------------------------------------------------------------------------------------------------------
ROTARY RECOGNITION FOR PRINCE RUPERT
Rotary in Shrewsbury has been among the first organisations to recognise the 'sterling work' of the town's Prince Rupert Hotel in looking after the homeless during the pandemic.
Awards of Associate membership have been made by Shrewsbury Severn Rotary Club to the hotel's long-standing proprietor Mike Matthews, his hotel manager Charlotte Green and accountant Jacki Law.
The club's members agreed at their last Zoom meeting that such a recognition should be conferred on the 'Prince Rupert Trio' for their valued care of 33 homeless people at the start of the pandemic.
The hotel is still providing three meals daily for 11 homeless guests and will continue to do so for the foreseeable future. The Prince Rupert Hotel was to the fore in providing accommodation for the homeless during lockdown and Mike has been strongly supported by Charlotte and Jacki over these past difficult months. They have continued their sterling work in feeding and looking after vulnerable people in a safe and secure environment and in true Rotary spirit Shrewsbury Severn wanted to recognise this in the most appropriate way possible.
Shrewsbury Severn Rotary Club's Associate membership conferrals on Mike, Charlotte and Jacki mean they can take part in activities from current Zoom meetings – until live meetings can be held - to fundraising activities, including the forthcoming Tree of Light at nearby St. Mary's Church.
Said Mike: "The fact that the Rotary club has even considered recognising our work over the past six months is an honour in itself. Charlotte, Jacki and I can only describe the associate membership recognition as incredible. "We shall of course seriously consider joining the club as full members when the opportunity presents itself which we all hope will be sooner than later."
Anyone interested in finding out more about Rotary can contact club secretary Gareth Watkins gdmw@hotmail.co.uk