Welcome to the Rotary Club of Southsea Castle. We are often asked "What is Rotary?" You can watch a short video which explains this far better than most by clicking here. If after watching it you would like to find out more please click the "Contact Us" button above, we would really like to hear from you.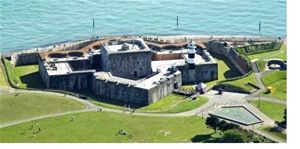 Built in 1544, Southsea Castle was part of a series of fortifications constructed by Henry VIII around England's coasts to protect the country from invaders. Barely was the work completed when Henry VIII's flagship, the Mary Rose, tragically sank in front of the Castle. During the English Civil War, nearly a century later, the Castle was captured for the only time in its history, by Parliamentarian forces.
The Castle has had many other uses besides defence. For a while it was a military prison. A lighthouse was built in the 1820s, and is still in use by shipping today. In 1960 the Castle left military service. It was acquired by Portsmouth City Council, which restored the Castle to its 19th Century appearance.
The Rotary Club of Southsea Castle is much younger, having been formed in 1988. It is a small vibrant Club and is actively engaged in community projects both locally and in the wider world. We meet on a Wednesday evening and visitors to our meetings are always welcome, however, as we have to book numbers of those dining with the hotel on the Tuesday morning before the meeting, please use the "Contact Form" button above to let us know if you would like to attend one of our meetings.
We are always eager to increase our membership so if you would like to find out more about Rotary in general or our Club in particular please click the "Contact Form" button above and send us your details.