Dawlish Water is a very friendly club that welcomes new members - men and women - who feel they would like to 'put something back into the community.'
Led by our first lady President we like to have fun, combined with great fellowship and the satisfaction of helping others.
The wide range of activities includes speaker evenings and fun sports such as boules, bowls, skittles, golf and sailing. There are also regular social events including special evenings for wives, husbands and partners.

Fundraising supports numerous local and Rotary charities - a twice-yearly pub quiz and other major events form the backbone of this. Regular support is given to Shelterbox - the successful emergency aid charity - Teignbridge Young Carers, Dawlish Community Transport, Assist Teignbridge, FORCE, the Children's Hospice South West, Chestnut appeal, Hospiscare, Devon Air Ambulance as well as other worthy causes. Substantial support is also given to other critical overseas projects such as polio eradication and provision of clean water.

In the community, the club provides support for local organisations, and has close links with local schools. The club each year donates over £300 in cash prizes to schools taking part in an annual schools' quiz and provides illustrated dictionaries to Year 6 pupils locally to help further their education. Support continues to be given to local young people in many other ways.
If you would like to find out more about Rotary or membership, please contact: Richard Hayes, secretary, Dawlish Water Rotary Club on 01626 438761 or email: a2r4hayes@talktalk.net
TOP ROTARY AWARD FOR CHARITY LEADER

A Starcross man has received a prestigious national award for his pioneering work, heading a charity dedicated to improving the lives of vulnerable communities in the Republic of Moldova, the poorest country in Europe.
Hugh Scudder received the Rotary UK Champions Awards 2020/21 – Community Champion, for his outstanding work leading the Christian Response to Eastern Europe (CR2ee) project after being nominated by Dawlish Water Rotary Club.
" We have supported this charity for more than 25 years and are delighted Hugh 's humanitarian work has been formally recognised by the Rotary movement," said Dawlish Water Rotary Past President Brian Hodge.

Hugh was presented with one of the six Awards at the 2021 Rotary UK Virtual Awards evening on 30th June 2021 to add to his MBE awarded in the New Year's Honours in January 2015.
Father-of-four Hugh was motivated by images of children trapped in orphanages to join several humanitarian aid missions to Romania before being instrumental in setting up a new charity to also embrace Moldova in Eastern Europe. Thousands of tonnes of humanitarian aid including X-ray and other medical and dentistry equipment, agricultural equipment and food, bedding and clothing have been have been transported to these poor countries over the last 30 years, while costs are kept to an absolute minimum.
For more than 25 years Dawlish Water Rotary have been co-ordinating a collection of Christmas shoeboxes for children and families in Moldova and paying towards costs for transporting these and a huge range of other goods including clothing, toys and medical equipment
Hugh Scudder (pictured below) makes regular trips to Moldova to maintain direct personal contact with families, to monitor projects, assess future needs and prepare plans for future initiatives. For more details and if you would like to help, please contact Hugh on
hugh@cr2ee.org.uk
or go to the Cr2ee website or Facebook page.
The search for this year's winners was carried out across Rotary's vibrant network of over 1,700 Rotary clubs.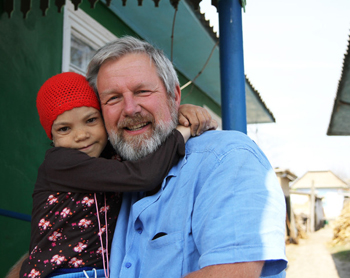 HELPING OUR YOUNG CARERS
Many families are facing a range of difficulties with extended lockdowns - and it has been a particularly hard time for the small 'army' of South Devon young carers that Dawlish Water Rotary Club has actively supported for several years, mainly through its Speed Pool competitions.
Now with £1,000 worth of funding from Dawlish Water club ( with several members making individual donations) and two contributions of £500.00 each from Teignmouth and Dartmoor Vale Rotary clubs, South Devon Carers are able to produce three
short informational videos to be shared via links to schools. One will be aimed at primary aged children and another at secondary pupils to support young carers and provide greater awareness of their needs, educational and otherwise.
The videos will explain to the young people exactly what a young carer is, what they do and how they can support their friend who may be a young carer. It may also enable some young people to recognise they are a young carer.
The final video will be aimed at CPD (Continuing Professional Development) training days for teachers, support staff and all those who work in schools to enable them to understand the enormous impact being a young carer can have on that young person's day- to-day life; including ensuring they can do learning at home or through incorporation into the school day.
This video will be focusing on what schools and all staff can do to support the young carer to access their education, be mindful of their own needs and look out for signs where pupils are not coping, an area where young carers can often hide.
Christine Franklin, Young Carers Lead Practitioner - South has praised the fact that Rotary has been able to sponsor this 'valuable and powerful' package.
In line with a national need to support more disadvantaged children who do not have ready access to computers. Dawlish Water Rotary has donated one of its laptops to Westcliff Primary Academy in Dawlish and also earmarked a £150 donation to help Gatehouse Primary Academy with their computer needs and on-line learning.
People living in Dawlish and visitors earlier this year admired the spread of purple crocuses planted five years ago in the town by local Rotarians - but may not realise they also have a special meaning.
The crocuses are the symbol of Rotary's greatest achievement, tackling polio - their purple colour matching the dye painted on the fingers of

children who have been immunised.

Hundreds of the purple crocuses were planted along the lower half of the stream and in a large circular bed nearby in the form of the Rotary roundel.

Rotary spearheaded the campaign at a time when there were over 1,000 polio cases a day in 125 countries, paralysing and even killing children. Today, the number of cases is down by 99.9% - an amazing achievement.

Polio, or poliomyelitis, is a paralysing and potentially deadly infectious disease that most commonly affects children under the age of five. The virus spreads from person to person, typically through contaminated water. It can then attack the nervous system.

At its peak in the 1940s and 1950s, polio would paralyse or kill over half a million people worldwide every year, including the UK.




Today, polio remains endemic only in Afghanistan and Pakistan but it is crucial to continue working to keep other countries polio-free. If all eradication efforts stopped today, within 10 years, polio could affect as many as 200,000 children each year.




Polio eradication is now a hugely successful partnership between Rotary, the World Health Organization, UNICEF, the US Center for Disease Control & Prevention and, more recently, the Bill & Melinda Gates Foundation and GAVI, the Vaccine Alliance.




Dawlish Water Rotary Club is continually supporting this worldwide effort through regularly fundraising for the Rotary Foundation.
"We can see queues at food banks getting longer and longer as many families and individuals become desperate for food for themselves and their children and we will continue to support the local food bank as this crisis is far from over," said Dawlish Water Rotary Club President Anne Harrison.

The club's most recent donation was £500.00 to HITS ( the Homeless in Teignbridge Support) food bank which provides the basic food requirements for households in financial crisis. They can also help with costs toward some essential services, such as electricity and gas.
The local food banks also help people in poverty by providing additional support to help them resolve the crises that they face, and, of course, they rely on the support of local communities to provide these needs.

ROTARY AWARD FOR COMMUNITY 'HERO' PAUL
Local 'hero' Paul Lentle, Manager of the popular Strand Centre in Dawlish, was voted Rotary Community Service Champion 2020.

"The Rotary Club of Dawlish Water, which has continued to meet by Zoom on the internet, chose Paul for this club accolade because of the tremendous amount of work he has done to support particularly the elderly and vulnerable over a long period, not least during the coronavirus lockdown," said President Anne Harrison.

The Rotary club had donated £400.00 to the Strand Centre, recognising it as a vital community hub. Paul also received a further £100.00 donation following his award. Paul for 7 days a week continued preparing and cooking meals, which he sends out to the vulnerable, elderly, and self-isolating people of Dawlish. He is arranging to do shopping and collecting/ delivering prescriptions as well as delivering food parcels.

He works in the centre alone and has a couple of people to come to the door to collect the deliveries. He is currently sending out about 20 meals a day. Three years ago, the Strand Centre became aware that people on their own that go to the Christmas lunch (which has been running for some time) were just as likely to be on their own in the week following Christmas. As a result, each year they run the Lighthouse Project when the Centre is open from early morning till after lunch each day for older people and for families in need of support at that time. Paul has worked with the Centre in providing games and other entertainment. Everyone has a free lunch because they know many who attend cannot afford a hot meal in the middle of the day.
"The success of this venture reflects the reality that Dawlish is the third most deprived community in the county of Devon," added Anne.
The trustees of the Strand Centre have decided to build on the experiment held last autumn to have a weekly afternoon club which would follow the Inspire cafe lunch period, and would be open from about 3.15 pm for families identified by the local schools, to provide activities and a free hot evening meal…meeting a very real need in the community.
In addition, Paul noticed that several homeless people come to the Strand Centre and on his own initiative, started voluntary collections of clothes and food for distribution.

In our photo below:Socially-distanced, Rotary's Anne Harrison presents Paul Lentle with his well-deserved Rotary community award.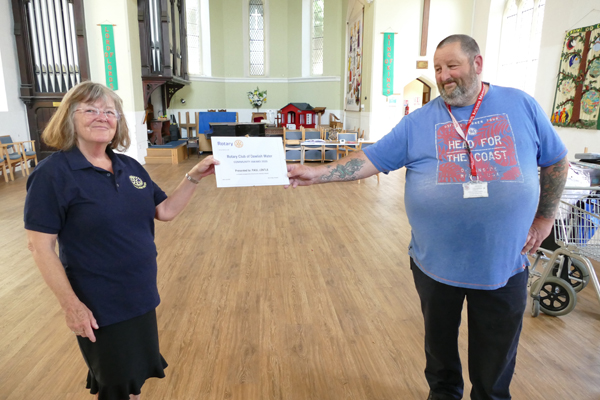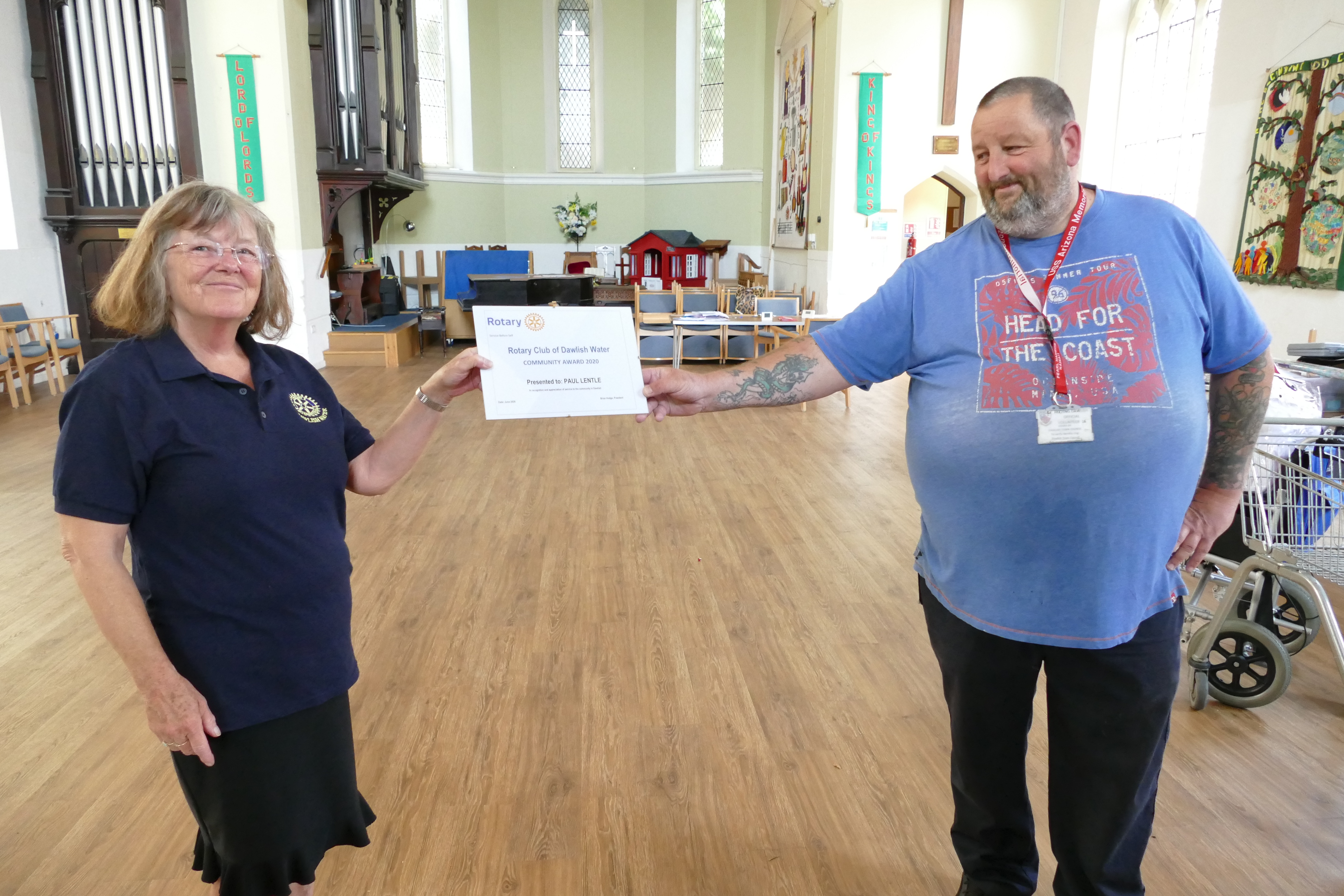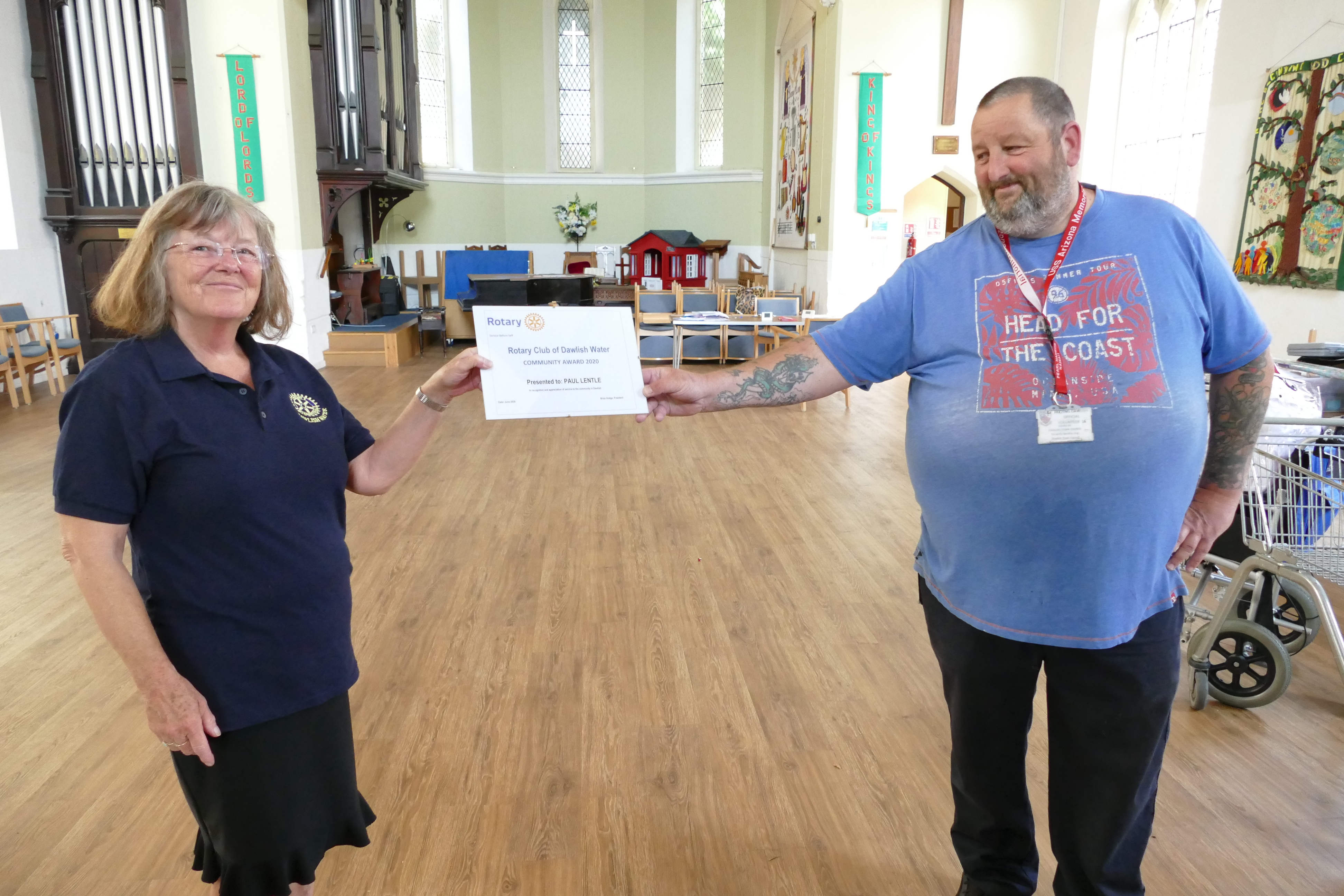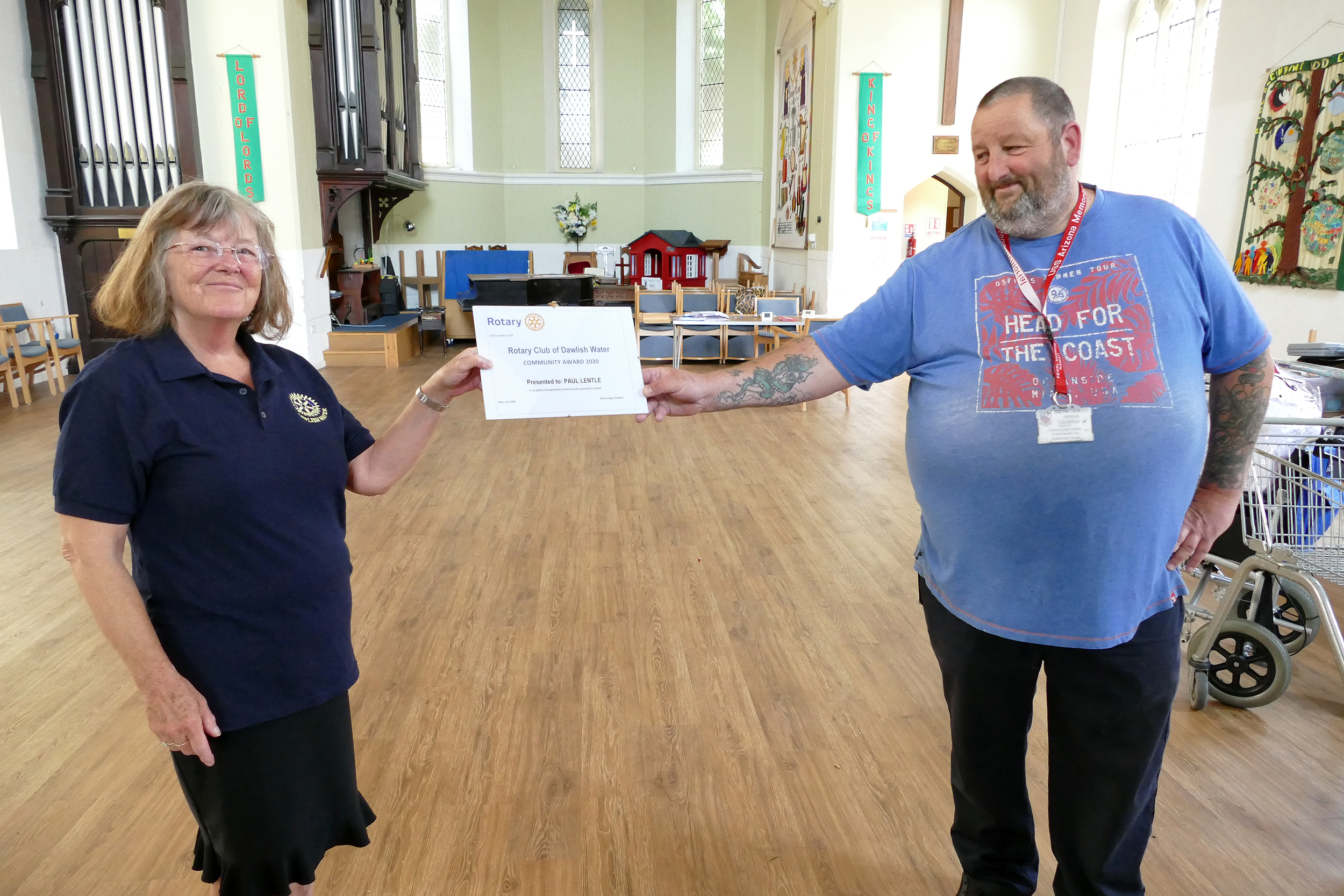 SWAN INN TAKE TOP QUIZ TROPHY

Over 800 people took part in Dawlish Water Rotary Club's twice-yearly pub quiz, from which more than £2,000 is expected to be raised for charity.
Over 50 teams took part and the Swan Inn at Dawlish ran out winners with 187 points out of a possible score of 195. They win the trophy and £200.00 for their Dawlish-based charity AIMS, plus 6 bottles of wine.
Not far behind in second place were the Church House Inn, Stoke Gabriel, with 178 points winning £100 for their own charity Rowcroft Hospice. They beat by just one point third-placed Claycutters Arms at Chudleigh Knighton, who win £50.00 for their charity.
Other top placings were:
4 - Devon Arms, Teignmouth 175 pts
5 - British Legion, Dawlish 173 pts
6 – Anchor Inn, Cockwood 173 pts
7 – The Globe, Chudleigh 173 pts
8 – Bell Inn, Bovey Tracey 172 pts
9 – Dolphin Inn, Beer 172 pts
10 – British Legion, Starcross 171 pts
There were also prizes for the largest teams – once again won by The Highweek Village Inn, closely followed by Ottery Bowls Club.
"The Dawlish Water club were helped on the night by other Rotary Clubs - Dartmoor Vale, Teignmouth and Otter Valley to ensure another very successful evening," says organiser Peter Harrison.
The next pub quiz will be held on Thursday October 15. For further details contact: Peter Harrison – email reliancefinance@talktalk.net
COLLEGE HOSTS ROTARY YOUNG CHEF SUCCESS

The first Rotary South West Peninsula Young Chef District Final to be held at Dawlish College was an exciting, close-run contest and was supported by two inspirational judges from Exeter University.
The atrocious weather did not dim the enthusiasm of the eight students competing on the day from schools and colleges across Devon and Cornwall. Competitors were required to prepare and cook a three-course meal for two, with ingredients that cost no more than £20.00 in total – and they produced a wonderful and delicious range of dishes.
Only four marks, out of 100, separated the 1st and 4th place. Sophia Murjaneh, of Penryn College, was the winner; the runners-up, respectively, were Abigail Warren (Churston Ferrers Grammar School), Ailis Temple-Thurston (Great Torrington School) and Rosey Elliott (Dartmouth Academy).
The various heats were sponsored by Dawlish Water Rotary Club with the generous co-operation of Dawlish College.
The judges were Giles Maling, Hospitality Operations Manager, and Rob Doidge, Head Chef, at Exeter University. A very experienced and successful chef, Rob, who is also a Dawlish resident, mentioned in his introduction that, on her visit to Exeter University, he had cooked a meal for HM The Queen. His two children had attended Dawlish College.
Rotary District Governor, Simon Wood, was also there to present the prizes.
The winners will now all go through to the Regional Final, which takes place on Saturday, 28 March at Havant and South Downs College, Waterlooville, Hants.
Rotary co-ordinator Robin Buchanan says: " Our thanks go especially to the welcoming, committed and very professional staff of the Design and Technology Department of Dawlish College, who arranged for the college to be open on the day, and gave up their time, and to Rachel Wickham, the Head, who made it all possible.
"Dawlish Water Rotary Club looks forward to continuing to work closely with the college in the future. And not least, our grateful appreciation to the parents and supporters, most of whom travelled long distances on one of the wettest and windiest days on the year!"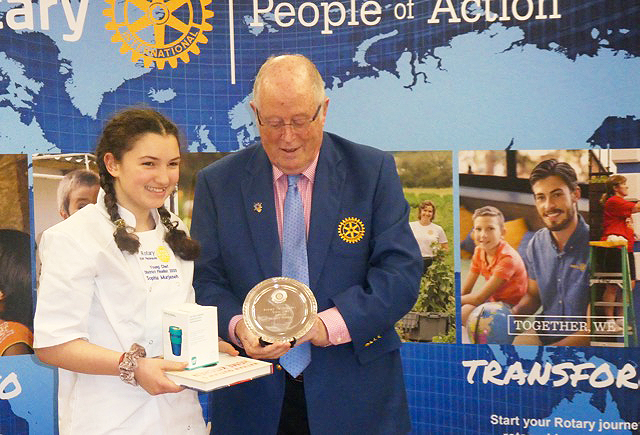 Dawlish Water Rotary Club celebrated more than 25 years of fundraising through its quiz with a special gathering at Teignmouth Rugby Club.
Present at the celebration were the three organisers over the years, Adrian Acton, Garry Adams - and Peter Harrison who currently organises the event. There were also presentations by local groups who have benefitted from the quizzes over the years - including FORCE, AIMS, ELF Dawlish Community Transport,Teignbridge Young Carers.
Guests also included quizmasters, including those from other Rotary clubs, who actively support the quizzes
On the night cheques, each for £500, were also presented by Dawlish Water President Brian Hodge to Dawlish Community Transport and Assist Teignbridge.
HELPING OUT AFTER HURRICANE
A Dawlish Water Rotary ShelterBox collection for the victims of the Bahamas hurricane in the town raised £302. "A big thank you is due to the wonderful people of Dawlish who gave so generously" said organiser and Rotary International Chairman Bill Hande.
More than £1,000 was donated to ShelterBox in the last year, wonderfully supported once again by the Dawlish Home Aid team.

Another great pig race evening was held in February at St. Mary's Hall, Dawlish Warren, and raised a magnificent £700.00 in aid of Rotary charities.

Dawlish Water Rotary Club celebrated the 30th anniversary of its charter with a special event at the Langstone Cliff Hotel, Dawlish Warren.
Two past presidents of the club, Richard Hayes and Robert Coates, were also presented with certificates to mark their 30 years as founder members.The event was attended by District Governor Graham Carey from Dawlish club.
Richard is currently secretary of the club and Robert, founder treasurer, is currently honorary auditor.
During its 30 years, Dawlish Water Rotary has helped scores of local community groups as well as having a significant role in overseas projects.
Overall, these groups and charities have benefitted from hundreds of thousands of pounds.
Below in our picture: Richard Hayes and Robert Coates cut the first slice of the anniversary cake.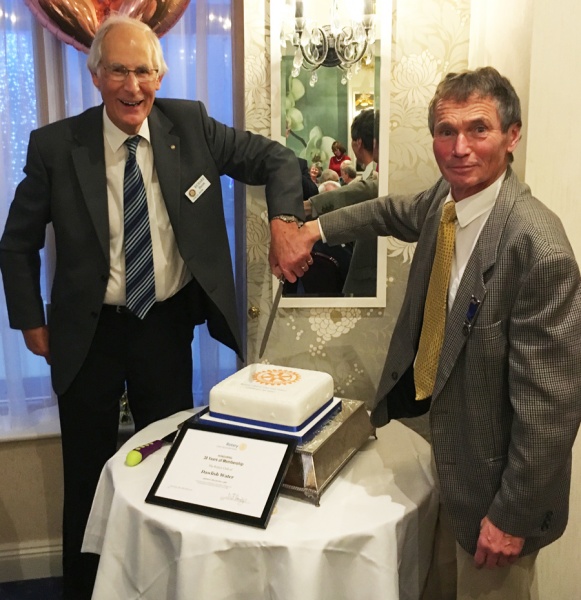 A big thank you to all who supported December's Home Aid coffee morning in Dawlish.
The wonderful Chisletts and their magnificent helpers presented me with a cheque for ShelterBox for £750," reports Club International Chairman Bill Hande. See article on Home Aid Community Awards below.

Four local charities benefited from a successful Jumble sale run by Dawlish Water Rotary Club in late June.
Dawlish Community Transport were presented with a cheque for £250.00 by Rotary organisers Eunice Everard and Robin Buchanan.
The money will help them to continue to provide accessible, affordable transport services for those who are unable to use public transport over a wide area including Dawlish, Cockwood, Teignmouth, and Shaldon.
Devon Young Carers, the HITS food bank project and AIMS, the Dawlish group for families who have special needs, have each received £50.00.
"Many thanks to all those who came along to the sale. We are delighted to have been able to support these local charities that do so much for other people in the community," said Rotarian Eunice Everard.
In our photograph below: Rotarian Eunice Everard presents the cheque for £250 to the Dawlish Community Transport Manager Sally Preston.
On the left is Marion Phillips and on the right Paul Cooper.
** Dawlish Water has again voted to give a £100 cheque to HITS to help with the pre-Christmas demand on its services.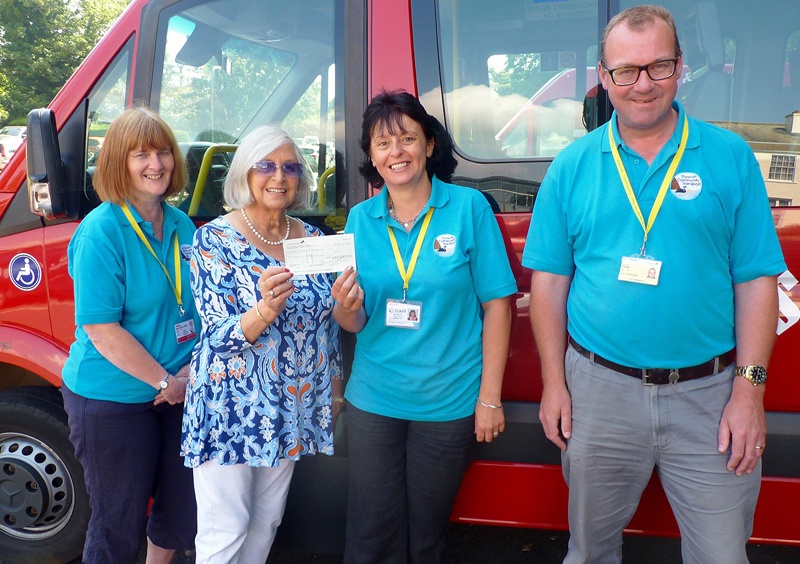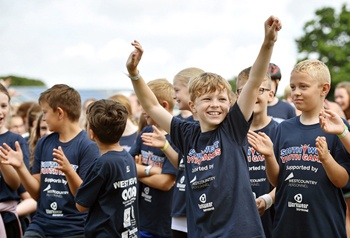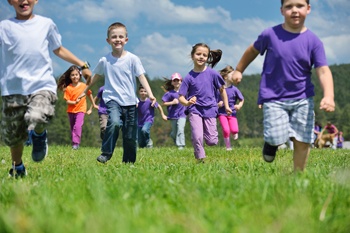 Which was the hottest sporting event at the weekend? Well for nearly 1,000 youngsters it was the South West Rotary Youth Games, held at Dawlish during the summer for the very first time.
Looking out across the various sporting centres and playing fields at Dawlish on Saturday, the event presented a fantastic and rewarding sight as teams of young people between 8 and 18 from all over Devon and Cornwall battled it out across 13 different sports on one of the warmest days of the year.
There was a treat in store, however, as the organisers had a large outdoor screen for the England World cup match against Sweden.
Teignbridge became fifth time winners of the Rotary Youth Games shield. Second were last year's overall winners West Devon and third were South Hams. In fourth place were Torbay.
The presentations were made by Graham Carey, newly-elected Rotary District Governor and a member of Dawlish Rotary Club, who praised the enthusiasm of the competitors and the great spirit in which they entered the competitions. Also giving her support and transmitting her enthusiasm for sport was Team GB cyclist Lauren Dolan, who is also an official ambassador for the Games.
A rousing 'Three Lions' chorus provided a lively start to the 2018 Games centered around Dawlish Leisure Centre and neighbouring facilities including the Red Rock Centre, Dawlish Tennis Club and Dawlish Community College. Three young women international rugby players - Clara Nielson, Poppy Leith and Hollie Cunningham - were also at the opening ceremony to add their support to the major event as well as running the rugby sessions.
A lively 'flossing' dance breakout then gave the youngsters a chance to further 'warm up' after all the teams paraded Olympic-style before the watching crowds.
It is amazing to think that the region's largest annual youth community sports event is in its 20th year and still attracting up to 1,000 enthusiastic youngsters and encouraging them into a variety of sporting activities.
The Games carry even more importance today when concerns are steadily increasing about the rising levels of obesity and mental health issues among young people. The legacy goes far beyond the event itself as it acts as a catalyst for a whole range of continuing sporting activity across the region.
Organiser Chris Broadbent praised the turnout and said: " it was a wonderful day which everyone seemed to enjoy. However, we could not have organised such a day without the help of numerous volunteers including club representatives who ran various sessions, to the team coaches, umpires and referees. We can build on this success for next year."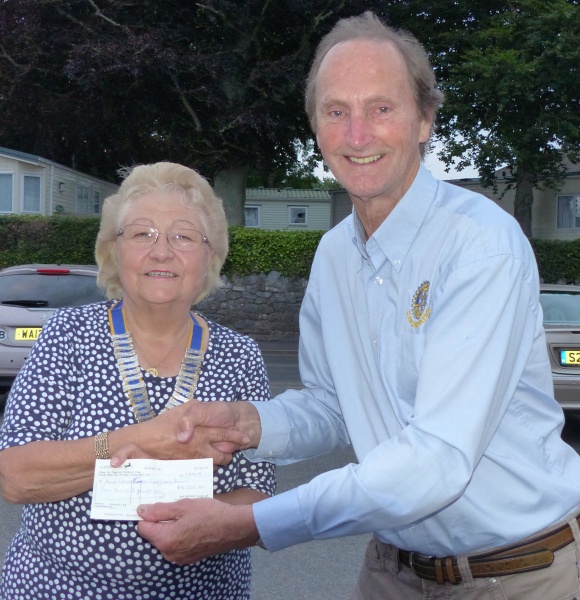 Dawlish Water Rotary Club has received a generous £4,000 cheque from Paignton Rotary Club towards their ambitious and successful project to provide clean water for life in the Third World through river dams. Already the District Sand Dams project, led by Dawlish Water, has sponsored three dams - two in Kenya and one in Rajasthan in India. Plans are under way to support a fourth dam. Above: Immediate Past President of Paignton club, Marion Smith, presents the cheque to Bruce Pell of Dawlish Water.
For more details of the project
, see below...
Teignbridge Young Carers have received a major boost after pub and club teams from around South Devon competed against each other in a charity speed pool competition organised by Dawlish Water, Teignmouth and Dartmoor Vale Rotary clubs.
A cheque for £2050.00 was handed over to South Devon Young Carers' Lead Practitioner Tom Humphreys at a special presentation at the Teignmouth Inn in Dawlish.
The Teignmouth Inn also received the winners shield for collecting most sponsorship – nearly £450.00 - while the trophy for the highest individual score went to one of their team, Scott Hellier, who raised an amazing £210.00.
Rotarians from the three Rotary clubs helped to tot up the scores from a total of 18 pubs and clubs in Dawlish, Teignmouth, Kingsteignton, Newton Abbot, Highweek, Christow, Chudleigh and Abbotskerswell.
The Rotary perpetual shield for the highest score went the Courtenay Arms A team from Teignmouth with a great score of 1305 points after completing 87 frames on the pool table. Second were the Conservative Club in Dawlish (1255 points from 83 frames) and third were The Globe at Chudleigh (870 points from 58 frames).
Special framed certificates were also presented to participating pubs and clubs.
"It was a great fun night, though very competitive, and all the players did us proud by raising so much money for a very worthy cause," said Rotary co-ordinator Richard Hayes. Pictured below - one of the competing teams from the Dog House in Dawlish with President-elect Peter Gibbs on the right of the picture.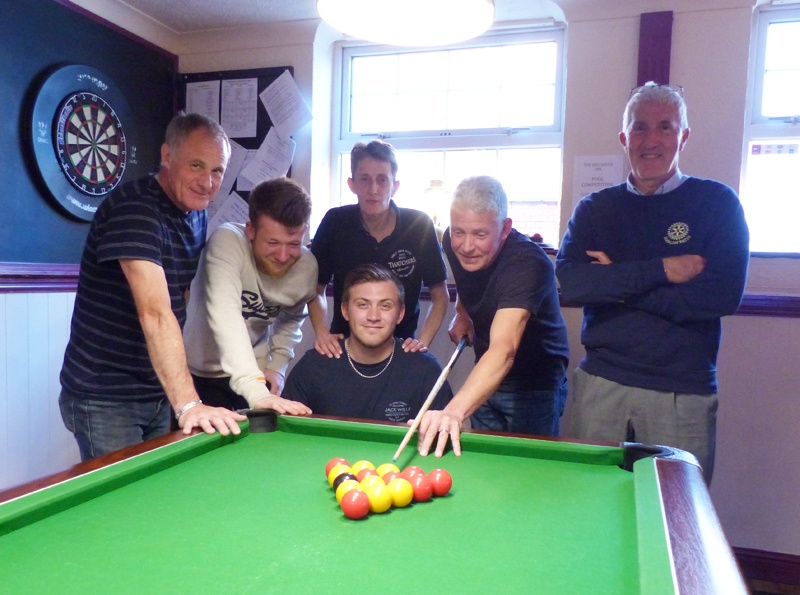 Powderham Castle in Kenton was a rendezvous point for a national Purple4Polio Rotary Grand Tour which is raising money for Rotary's highly-successful End Polio Now campaign.
Car and crews checked in by members of Dawlish Water Rotary Club at the Powderham Castle checkpoint included the national Rotary President, Denis Spiller.
Also represented were the Rotary clubs of Yeovil, Ashburton/Buckfastleigh, Launceston, Guernsey, Morriston (Swansea), Strood in Kent, East Sutherland, Appleby and Upper Eden, Tower Hamlets and Wakefield.
Crews were also welcomed by local District Governor George Eamer and his Rotarian wife, Jan.
The End Polio Now global Rotary initiative has virtually eliminated polio from the world. "With only eight new cases reported this year we are on the threshold of achieving the eradication of this dreadful disease that has blighted people, families, and communities for centuries, " said Dawlish Water Rotary President Barry Rendal-Jones.
Over 50 teams registered for the event and were expected to complete the entire 1500 miles by visiting all the checkpoints around the country.
In our photos - Rotarians checking in at Powderham Castle and Dawlish Water President Barry Rendal-Jones checking in another group of Purple4Polio crews.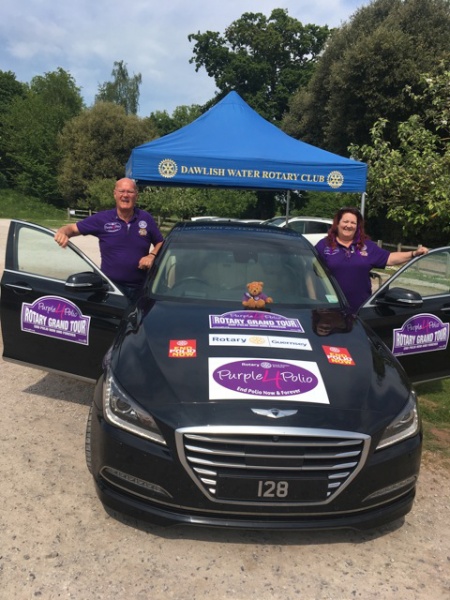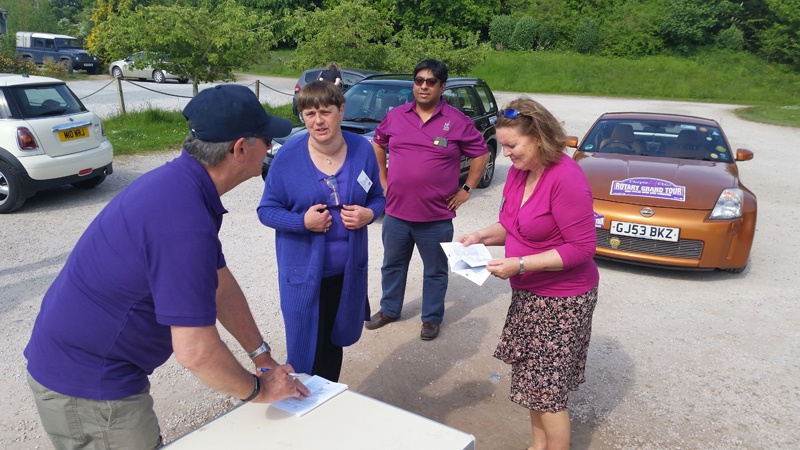 For the first time Dawlish Water Rotary Club has awarded its community award to a whole group of fantastic volunteers who make up Dawlish Home Aid and who have raised more than £50,000 for charity.
The award was made at a surprise presentation at the group's coffee morning on Friday, 27 April, which was held in aid of the FORCE Cancer Centre.
The group, mainly retired Dawlish citizens, was established by Peter and Wanda Chislett (past recipients of the award) over 15 years ago in order to raise funds to support a number of local good causes.
Early success prompted the group to become formally established and it extended its support more widely. While events such as concerts have been promoted, the basis of the fundraising has been monthly coffee mornings and the sale of cakes, jams and preserves.
Their Christmas coffee morning has for many years raised funds for Rotary's partner charity ShelterBox – more than £5,000 in total.
"As with many local organisations, its members are getting older and fewer in number. Although the group has cut down on their commitments, they continue to raise much-needed funds for several charities and well deserve this recognition," says Rotary co-ordinator Robin Buchanan.
Coffee mornings in future this year will raise funds for AIMS, Rowcroft Hospice, the Salvation Army and ShelterBox.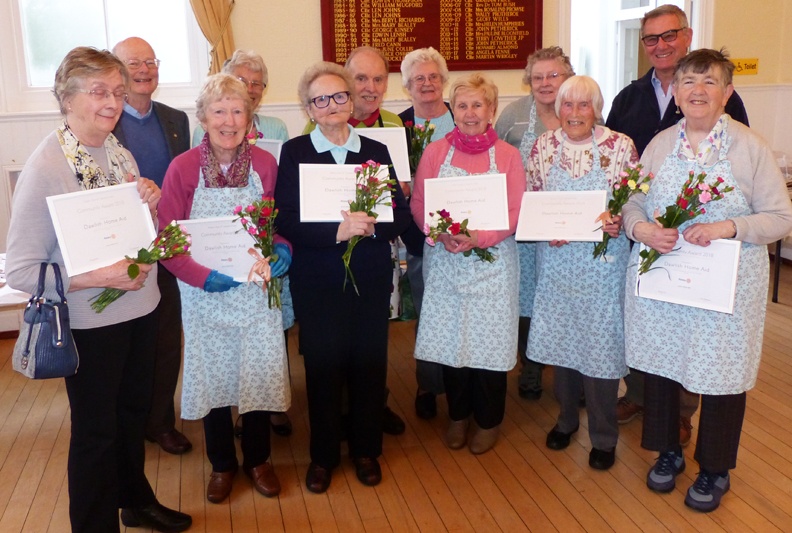 Pictured above, left to right, with their award certificates are:
Frances Young, Rotary co-ordinator Robin Buchanan, Elsie Pike, Bergitte Clatworthy, Judith Holmes, Peter Chislett, Sheila Coates, Joy Read, Veronica Dann, Jeanne Powell, Barry Rendal-Jones, Dawlish Water Rotary Club President, and Wanda Chislett.
The largest number of players for five years took part in the spring pub and club quiz held by Dawlish Water Rotary Club. More than 700 customers participated in the three round challenge and in so doing raised more than £1500 for Charities, including Children's Hospice, The Polio Eradication programme and Shelterbox.
In addition, over £1000 has gone out to charities chosen by the various winning teams from the night, as listed below.
For the first time the quiz was sponsored and the club is grateful to
Heavitree Brewery PLC
.
Their support is very much appreciated and means that all associated expenses are covered and 100% of the cash raised will go to worthy causes. The club is also confident that the Charities being supported can guarantee that every donation will directly support the work of the charity chosen.
The winning team was The 'Artichoke' Christow, who went one better than their previous runner-up place in October with an amazing score of 186 out of 195. They have chosen the Exeter Leukaemia Fund

to receive their £250 prize . The team also win a half-case of wine and the Top Team trophy.
The other prize winners were:-
2nd - Teign House, Christow, with £200 going to assist Rowcroft Hospice. (180points)
3rd - 'Two Mile Oak', Newton Abbot with £150 going to assist National Coastwatch. (179 points)
4th - Church House Inn, Stoke Gabriel, with £125 again going to Rowcroft Hospice.
5th - Team Asterix, France won £100
6th - Castle Inn, Holcombe (£75)
7th - Anchor Inn, Cockwood (£50)
Finally, the prize for the largest team on the night went this time to regular Quizzers, The Highweek Village with an amazing crowd of 55 players, raising from one team a total of £175. They win £100 for their preferred charity, Teignbridge Young Carers.
" My thanks go to all the teams and players on the night for making this another successful charity quiz. I must also thank the support of other Rotarians from Teignmouth , Dartmoor Vale , Otter Valley , Crediton and Seaton Clubs, as well as various guest quizmasters and ladies on the night , who gave up their time to help run this event" , says Rotary organiser Peter Harrison.
The next Charity quiz is set for
Thursday October 11
th
2018
.
Heavitree Brewery PLC
.
have, once again, kindly offered to sponsor the event so that all proceeds will go to the nominated charities
.
If you have a Pub/Club team of at least 10 players and wish to enter next time, then please contact Rotarian Peter Harrison on 01626 862731 or by e-mail to
reliancefinance@talktalk.net
) Come and join us!
Kenn and Kenton Primary School, with an excellent final round, just managed to claim the Dawlish Water Rotary Schools' Quiz trophy.
Eight local schools took part in the annual event and each earned a £50 cheque from Rotary for their school councils to use for the school.
There were three rounds on People, Places and General Knowledge and although each group of pupils was in their own school the electronic scoreboard kept them up to date on the scores.
"Kingskerswell Primary School were the leaders in rounds one and two but Kenn and Kenton, with their excellent final round, came up to tie with the leaders on 175 points and so were declared winners based on countback and Dawlish Water President Barry Rendal-Jones (seen below) presented them with the trophy.
"Cockwood Primary School, last year's winners, finished third this time. Over 150 pupils from Exminster, Gatehouse, Westcliff, Our Lady and St Patrick's, Starcross and the three schools mentioned above took part in the competition and were enthusiastic quizzers," says Rotary organiser Brian Hodge.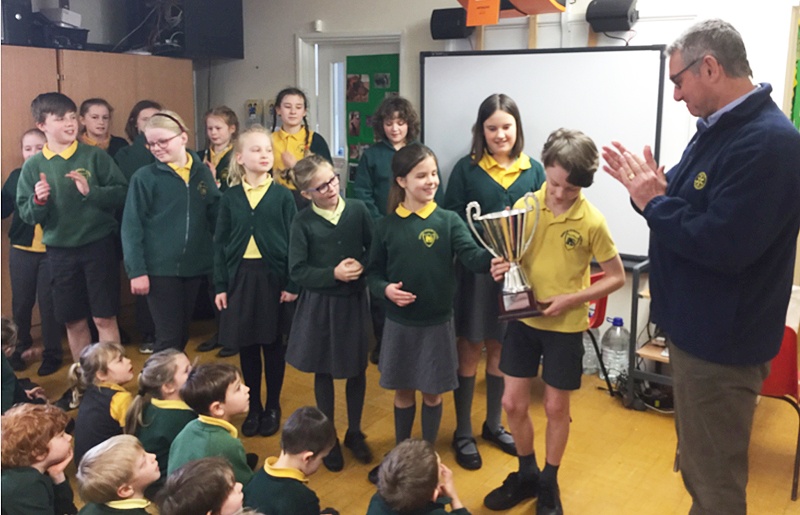 The beach clean,
held with the support of Teignbridge District Council

at Dawlish main beach and Coryton Cove
on Friday February 23,

was a success attracting a dozen or more volunteers to join the Rotary party (about 30 in all) - a very good effort considering the given the bitterly cold weather conditions.

A group of schoolchildren from Westcliff School in Dawlish also turned up to help although their efforts were a little hampered by the conditions and higher seas whipped up by the wind.

Nevertheless, the rubbish collected - including quite a lot of it plastic - filled four wheelie bins provided by Teignbridge District Council.

Dawlish Water Rotary club will be considering further beach clean initiatives this year to maintain the momentum.
Rotary organiser Gordon Peacock says: " The extent of pollution of the oceans and beaches, particularly by plastic, has horrified many people. It seems unbelievable that plastic is being ingested by wildlife in such remote places as Antarctica. It really is a wake-up call to us all.
"We are delighted to be doing our bit to clean up local beaches and supporting voluntary efforts and we hope others will follow."
A second environmental initiative by Dawlish Water Rotary Club is well under way.
Following the recent beach clean to celebrate Rotary Day, the club has acquired 50 trees to be planted in the local community
A total of 10 silver birch, 10 alder trees have already been set in Crockwells Meadow in Exminster through the offices of the Parish Council, who are developing this area as a forest zone with many trees. Rotary's contribution will add to that and we have yet to plan in 10 oaks, 10 beech and 10 hornbeam.
A few of these will be used to replace damaged trees in public spaces.
Rotary spokesman Gordon Peacock says: "We are keen to find ways of supporting our communities and work jointly with them to improve our local facilities.The trees have been supplied free under the OVO Energy 'I Dig Trees' scheme - a national scheme by this new energy provider where they have set half a million trees nationwide over the last three years.
"We also welcome potential new members who may join us in these activities and feel they can contribute in a wider sense. We meet weekly at the Mount Pleasant Dawlish Warren on a Tuesday at 1930. Supporters can follow us on our Dawlish Water Rotary home page or Facebook page."
Dawlish Water Rotarians collected over 2000 shoeboxes for the children and families of Moldova from schools, church groups and other organisations. These were transported in early December along with a host of clothing and other useful goods by Christian Response to Eastern Europe.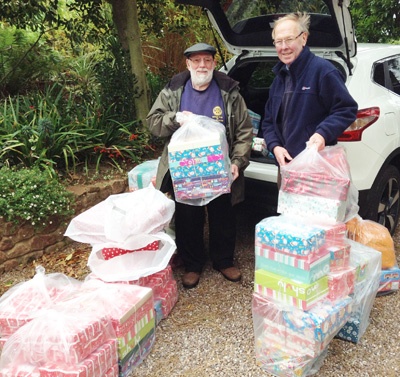 Dawlish Water has refurbished a number of musical instruments and gifted these to Dawlish Community College to help and encourage music students. Two guitars, a violin and two keyboards donated through members were presented to Jonathan Waterworth ( Head of Expressive Arts at the College (seen left below) with Dawlish Water President Barry Rendal-Jones, Youth lead Chris May and another member of staff (see also article below).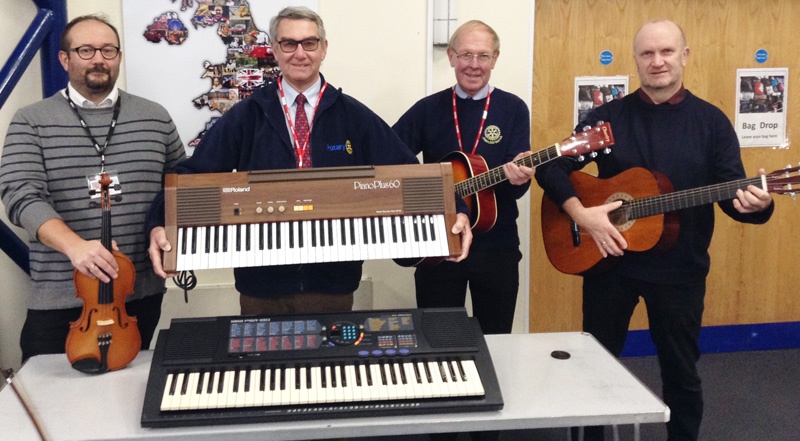 Dawlish Water inducted as a Rotarian in its third lady member, Anne Harrison, wife of former President and District officer Peter Harrison. Anne is a counsellor and was warmly welcomed into the club by President Barry Rendal-Jones.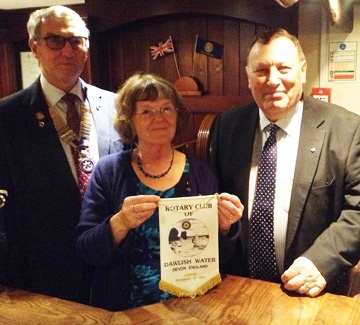 Street collections organised by Dawlish Water Rotarians in September, with the help of the Dawlish club, to help Caribbean islands hit by Hurricane Irma drew a huge response from local people - raising over £860.00.
Further donations from individuals, the Catholic Church and St. Gregory's Church raised nearly £600.00 and this, with a contribution of £500.00 already earmarked by the Dawlish Water Rotarians, took the total raised to £2,000.00.
"That is a fantastic effort from a town the size of Dawlish - a hugely generous response to a terrible situation. All at ShelterBox are extremely grateful," said organiser Rotarian Bill Hande.
After winding along its destructive route through the Caribbean, Hurricane Irma finally relented. Many homes have been destroyed by fierce winds, massive storm surges and floods. Now families urgently need shelter to survive.
Some 500 ShelterKits will have reached St. Kitts and ShelterBox's expert Response Team will be setting up a base of operations in Antigua. The focus now is on the first islands that were affected by Hurricane Irma, like Barbuda, where helping families who are finally returning to the island will be a priority

Dawlish Water Rotarian Bill Hande is available for shelterBox talks and presentations - please contact him by email - b.hande@btinternet.com

The cast of the TV series Doc Martin, filming in Port Isaac, also showed their support for ShelterBox last week - see Martin Clunes below...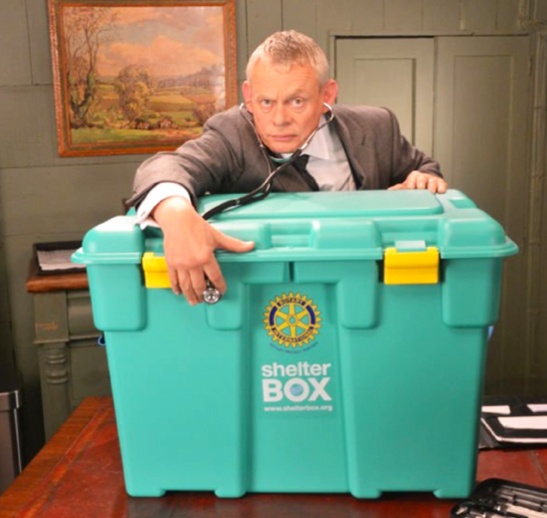 .
The West Exe Family Cycle Challenge

took

place on Saturday, June 17 2017

-

the first such cycle day organised by Dawlish Water Rotary Club in aid of charity – the main beneficiary being Prostate Cancer UK. Prostate cancer is the most common cancer in men - one in eight men are likely to suffer from it and over 40,000 are diagnosed every year. Funded research is vital - help to boost the battle to find new and more effective treatments.

Along the route for refreshments there were the Mount Pleasant Inn, Dawlish Warren, The Anchor Inn at Cockwood, Turf Lock pub, Double Locks pub and, at the quay in Exeter, Bar Venezia and Lutzys.




We are grateful to the numerous sponsors for this major event - including M&D Hire, and the Mount Pleasant Inn, and those shown below: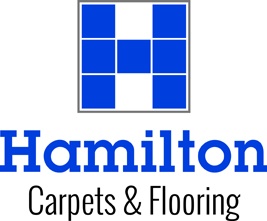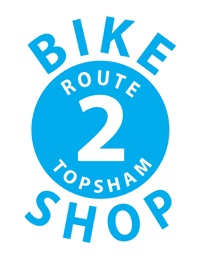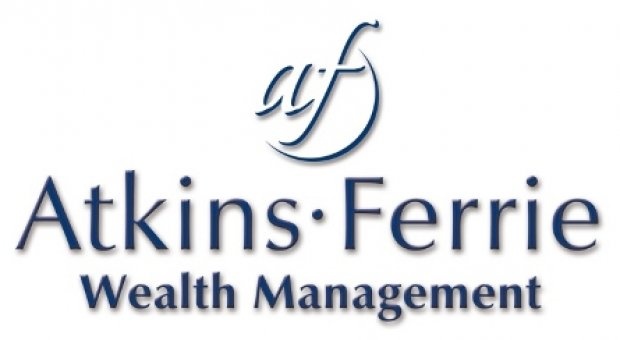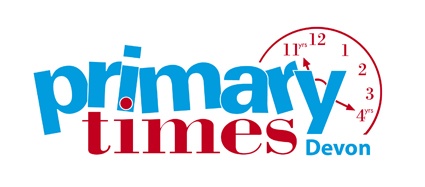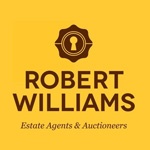 A fun pig race evening at the Manor in Dawlish attracted nearly 80 people and raised £400.00 for Dawlish Celebrates Carnival as well as money for Rotary charities. " It was a great success and we have our own pig-race equipment now which can be hired out at reasonable cost. It provides a great fundraiser," says organiser Rotarian Wendy Rendal-Jones. For more details :
contact secretary@dawlishwater.rotary1175.org
A cheque was presented to Geoff Wills, Vice-Chairman of Dawlish Celebrates Carnival, by former Club President John Petherick at a May meeting (see below).
Another pig race took place on The Lawn in Dawlish on Monday August 14 again supporting Dawlish Celebrates Carnival.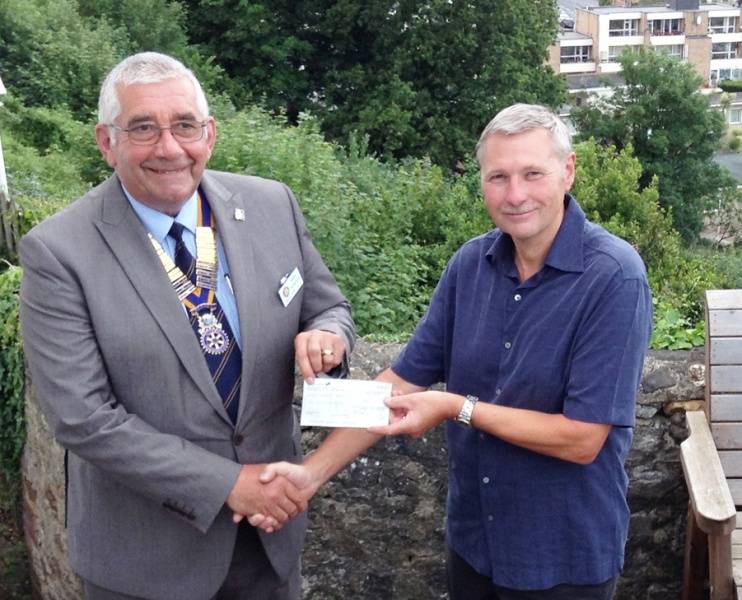 A major overseas water project led by Dawlish Water Rotary Club continues to go from strength to strength. Just over £33,000 has now been raised to support dams providing clean water.

This will be turned into nearly £100,000 worth of investment through the addition of further Rotary and UK Government grants.

The project - which principally funds community dams in Kenya - has been supported by 26 other Rotary clubs. In one presentation below a cheque for £1000 was presented by Newton Abbot Rotary Club. Further more recent support has come from Crediton Boniface, Bude, Barnstaple and Bideford and Mount's Bay.
Two dams - known as Sand Dams because they lie across sedimentary rivers - have been complete and contributions given towards the first Rotary Sand Dam in India as HSBC bank have stepped into Rotary's shoes and funded 45% of the cost. For more details see further article below..
Below former Dawlish Water President John Petherick receives the cheque from Newton Abbot President Martin Smith and International Chairman Richard Morgan.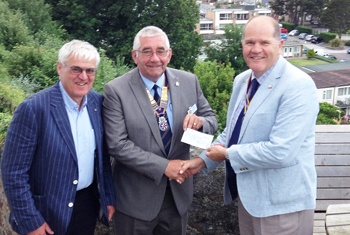 A Christmas coffee morning organised by Peter and Wanda Chislett of Dawlish Home Aid Group was again a huge success raising £740 for the ShelterBox disaster relief charity, which is regularly supported by Dawlish Water Rotary Club.
A special Christmas cake competition devised by Dawlish Rotary for Oaklands and Ratcliffe Special Schools in Dawlish was keenly contested by the students at both centres with some very fine cakes designed and presented by the students themselves.
Rotarian Roger Pickering presented each student with a certificate and bags of chocolate coins and there was a Rotary cheque of £100.00 towards kitchen equipment.
A Christmas cheque of £100.00 also went to the Teignbridge Food Bank.
A major fundraiser for our major overseas water project - Sand Dams - was held in the Lincoln Suite at the Langstone Cliff Hotel on Friday November 25 when a cabaret was performed by the Mark Price Electrical Theatre. Nearly £900.00 was raised thanks to the generous support of Mark Price and the Langstone Cliff. For more on Sand Dams - see below....
CLUB PRESIDENT FOR 2017-18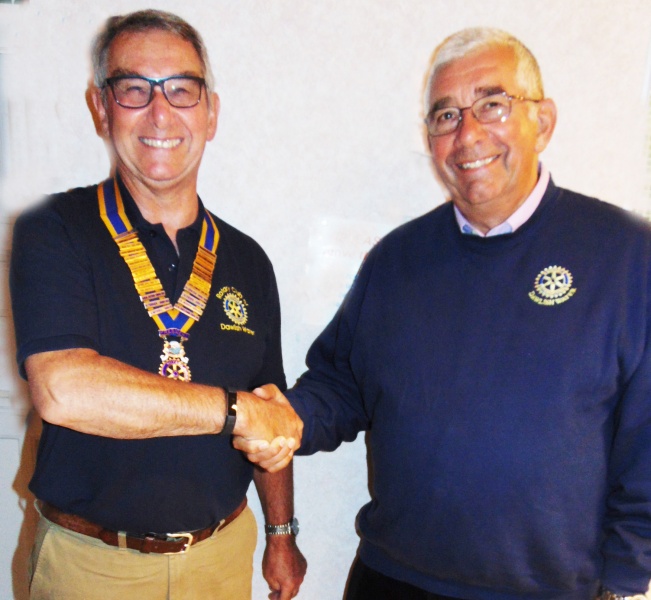 Barry Rendal-Jones from Kenton took over as Club President from John Petherick, a former Mayor of Dawlish. In our photograph above, John (right) congratulates Barry at the club formal handover.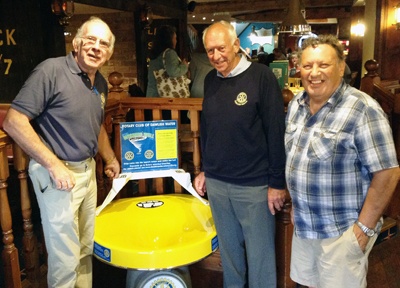 Dawlish Water Rotary Club has adopted a new fun fundraiser - a Spiral Wheel for collecting money through the year to support Rotary's highly-successful worldwide polio campaign and other causes.
Like a modern designed 'wishing well,' the colourful spiral wheel - organised by Rotarian Wendy Rendal-Jones - will be used by the club at various locations this year to boost the club's other fundraising efforts.
The spiral wheel was in action last year at Cofton Country Holidays Park by kind permission of Helen Scott and her family and The Boat House, Dawlish Warren, by kind permission of the owners Nigel and Jayne Cousens there.
The idea springs from America and has been developed by nearby Exmouth and District Rotary Club- and now adopted by Dawlish Water Rotary Club - not only to raise money but also promote Rotary within the wider community.
When money is slotted into the display, coins spin round furiously making it a great fun activity for children and adults.
Pictured above : Dawlish Water Rotarians Ray Moore, John Seaborne and Peter Harrison pictured with the Spiral Wheel fundraiser at The Boat House, Dawlish Warren
ANOTHER BOOST FOR SHELTERBOX
A collection in October for the Haiti disaster raised over £240.00, which included a generous donation from a local lady of £70. Rotary organiser Bill Hande has sent this money to the disaster aid charity ShelterBox, together with £147.60 given to him by the Dawlish Women's Guild, to whom he had previously spoken on the work of ShelterBox.
Members of Dawlish Water Rotary club visited Dawlish Warren for an on-the-spot explanation of the work being carried out to maintain the Warren as a barrier to storm waves.
Martin Davis (seen centre above) Team Leader for Devon and Cornwall for the Environment Agency, which is working with Teignbridge Council, explained the complexities of the £10 million scheme, which deals with concerns about maintaining the attraction for tourism, the nature reserve and the golf course.
The Exe Estuary Flood and Coastal Erosion Risk Management Strategy identified that the narrow part (or neck) of Dawlish Warren is at risk of being breached as a result of sea level rise and storms. If this happened, it would increase the risk of flooding to the railway line and estuary communities such as Starcross, Lympstone and Exmouth.
The first three groynes have had to be replaced as a matter of urgency and the remaining nine will be repaired or replaced. Sand will be dredged offshore to replenish the beach, a flood retention area created and a reinforced sand barrier set at the neck of the estuary. Part of the Warren will be allowed to return to nature and overall the scheme will improve the quality of the beach and allow the sand dunes to recover.

A complex timetable of operations is now planned for the coming months, taking care to protect the fragile ecology of this nationally important nature reserve.

INTERNATIONAL SERVICE AWARDS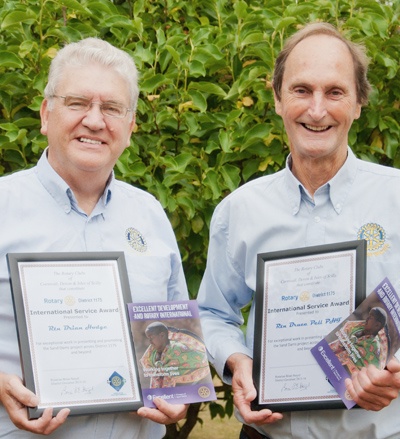 Two members of Dawlish Water Rotary Club, Brian Hodge and Bruce Pell (above), have been recognised for "exceptional work" in promoting a major overseas project.
Both have received the Rotary International Service Award from Rotary District 1175 which covers clubs in Devon, Cornwall and the Isles of Scilly - the first time these have been presented in the club's history.
The award certificates mark " exceptional work in presenting and promoting the Sand Dams project in Kenya across the Rotary district and beyond."
The two Rotarians have been leading the District project, which encourages communities to create their own sustainable water resources through building concrete dams across sedimentary rivers where rains come only once or twice a year. (See Sand Dams article below).
Exactly 100 people queued up for free blood pressure tests organised by Dawlish Water Rotary Club at the Dawlish Community Fayre in August. At least one person was advised to see their doctor immediately with a number of others advised to have their blood pressure checked again in a month. The confidential tests (part of the Stroke Association's awareness campaign) were carried out with the kind assistance of Dr Wheeler and Dr Wong and nurses Carin and Amanda from the Starcross GP practice. The Rotary club also had on display a Shelterbox tent, of the type used to help people affected by disasters around the world.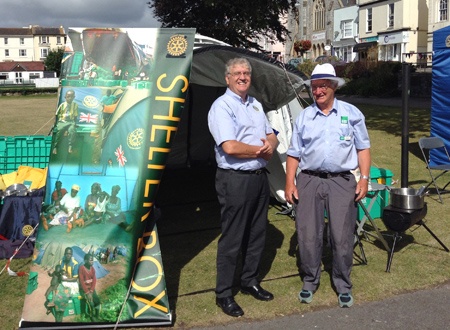 This could be a momentous year for Rotary and the eradication of polio. After steadily reducing cases of polio through a worldwide vaccination programme, we are on the brink of eliminating one of the most tragic diseases in history.

"Afghanistan and Pakistan are the only two countries where polio is still spreading naturally. They were responsible for 74 cases last year, and the nine cases reported so far this year. This is an incredible result and testimony to Rotary's huge influence around the world. Undoubtedly it is our greatest achievement," says Bill Hande, Polio representative for Dawlish Water Rotary Club, which contributes over £1000 each year to the campaign.

The success is the result of a Global Polio Eradication Initiative — a partnership principally between Rotary International, the World Health Organisation and UNICEF, backed by billionaire Microsoft founder Bill Gates.

As recently as 1988, polio was paralysing more than 1000 children every day. Since then, more than 2.5 billion children have been immunised thanks to the cooperation of more than 200 countries and 20 million volunteers, backed by an international investment of more than $11 billion dollars (£7.5 billion pounds).

The World Health Organisation estimates that 1.5 million children's lives have been saved and 13 million people are able to walk today because of the public health push to eradicate polio.

Dawlish Rotarians, planted thousands of purple crocus bulbs in the town in late October 2015 and in October 2016 planted thousands more to mark an historic moment in Rotary's worldwide campaign to eradicate polio, The crocuses are the symbol of Rotary's greatest achievement, tackling polio - their purple colour matching the dye painted on the fingers of children who have been immunised.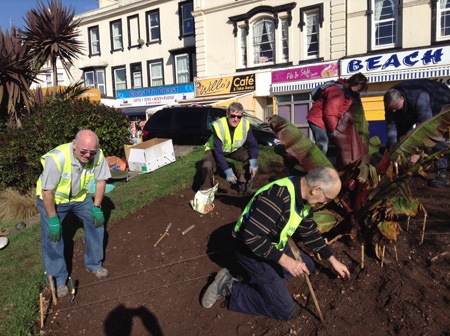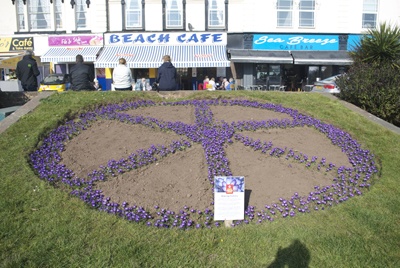 LEADERSHIP AWARD FOR JEN

Congratulations to Jen Wheeley, of Dawlish, sponsored by Dawlish Water, who has received the Rotary Youth Leadership Award (RYLA) which identifies young people who have shown leadership potential and who are likely, as adults, to become future leaders.
Students are placed in challenging situations to help develop leadership and team bonding skills and to increase personal confidence on the RYLA course.

Jen was selected from Dawlish Community College and is one of several College students to have achieved the award over the last few years. Below Jen is seen second right after receiving her award.
Jen talked about her experiences to the club on Tuesday December 13.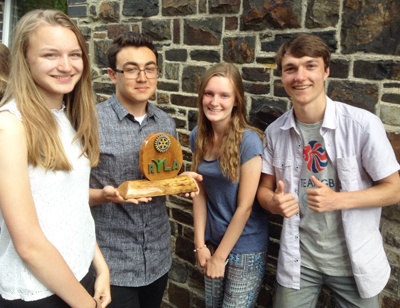 HELPING LOCAL EDUCATION

Dawlish Water Rotarians have again distributed over 100 illustrated dictionaries to Year 6 pupils in local schools as part of the club's educational stimulus. Others will receive them in the autumn term.
Below Rotarian Wendy Rendal-Jones is pictured below with pupils who received their dictionaries at Kenton Primary School.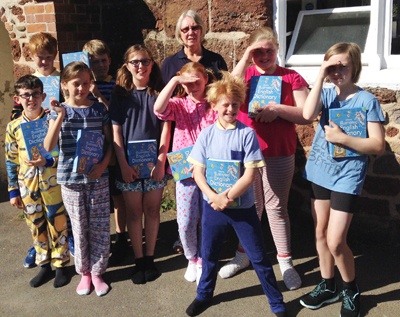 AWARDS FOR DAWLISH AIRSHOW TEAM
The remarkable team that organised the highly-successful Dawlish Air Show was recognised by Dawlish Water Rotary Club with the award of the club's Community Service Award.

Three of the recipients - Jenny Connor, Kevin Wills and Ali Aitchison - received the framed award at a special evening at the Mount Pleasant Inn, Dawlish Warren, and two others, Emma Nankervis and Matt Simmons, also earned the award.
Club Rotarians have willingly helped the Air Show to collect tens of thousands of pounds through programme sales and bucket collections over the last few years and will be helping at this year's Red Arrows and Carnival event.

Pictured below: Three of the recipients of the Dawlish Water Rotary Community Service Award - Jenny Connor, Kevin Wills and Ali Aitchison pictured with former Rotary President Richard Hayes.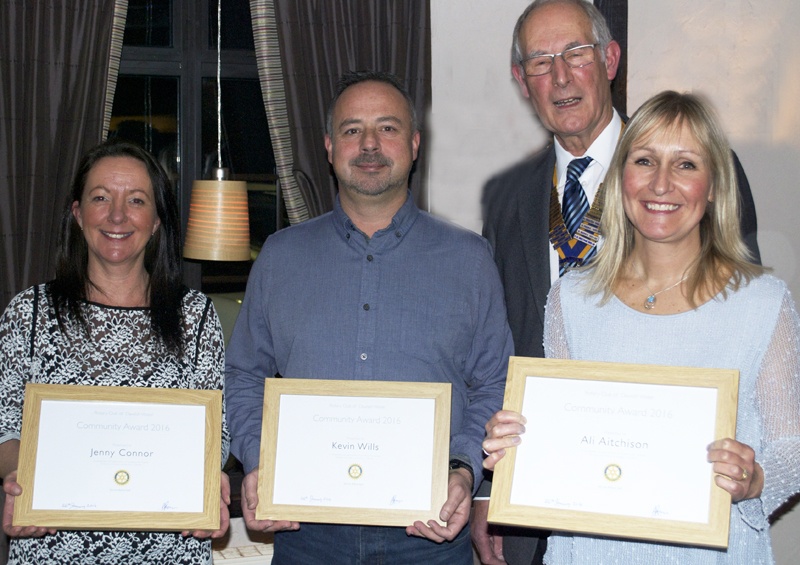 ROTARIANS SPONSOR LOCAL PLAY FACILITY
Pupils at Westcliff School in Dawlish now enjoy an extended outside play area thanks to a donation of £700 from Dawlish Water Rotary club and £500 from the Rotary Foundation.

The extra equipment provides more of a facility and better access to all children during their breaks.

In our first picture below : Children enjoying the new play area.
In our second picture below : Rotary Youth committee members Graham Shaw and Barry Rendal-Jones with Gemma Saich, Chairperson of the Friends of Westcliff, Anna Grim, treasurer, and Corinna Muir, Vice-Chairperson.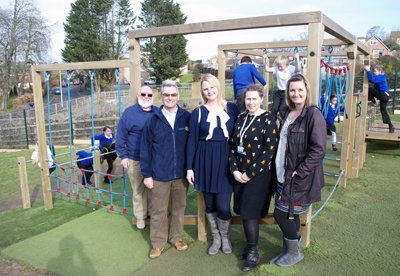 ACTIVE SUPPORT FOR TEIGNBRIDGE FOOD BANK

Is there a need for food banks in Teignbridge? The answer quite defintely is 'yes,' members of Dawlish Water Rotary Club heard at a weekly club meeting.

Rotarians were told by their speaker Bob Newton, Vice-Chair/Co-ordinator of HITS (Homeless in Teignbridge Support) that up to a tonne of food was distributed in the area every week . This included up to 60 food bags "to fulfil a great need out there."

The Rotary club continues to actively support the food bank through donations. Two members of the club, John Seaborne and John Evans, also presented Mr Newton with a cheque for £100.00 on behalf of the Cosens Institute, a local charity which makes small donations to local groups each year.A further £300.00 was raised from a Christmas raffle.
HITS is a local charity supporting local people, working with the homeless and those in crisis and need. Toiletry, food and household crisis packs are issued along with baby packs and sometimes pet packs. If you wish to assist the food bank, you can call 07990 515125 or email: hitscharity@yahoo.com
Pictured below: Bob Newton, Vice-Chair/Co-ordinator of HITS (Homeless in Teignbridge Support) receives a cheque for £100 from Dawlish Water Rotary club members John Seaborne (right) and John Evans on behalf of the Cosens Institute.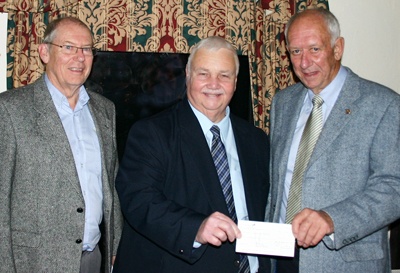 FANTASTIC RESPONSE TO SHOEBOX APPEAL
The Christmas shoebox appeal for the children and families in Moldova, organised by Dawlish Water Rotary Club in association with Christian Response to Eastern Europe (cr2ee), brought in over 1600 shoeboxes plus scores of bags of clothing and toys.

The gifts were distributed before Christmas and were gratefully received.

These Christmas gifts, which make a huge difference to needy families, came from various primary schools, church groups and local organisations as well as individuals. Many thanks to all those who helped to make this another highly successful appeal.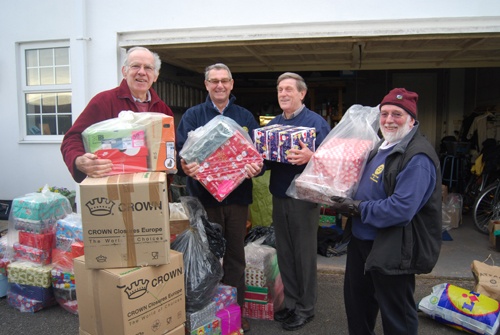 Often with deep snow and freezing temperatures the final delivery of shoeboxes to the scattered villages is extremely challenging.
Christian Response for Eastern Europe (CR2EE)

Charity director Hugh Scudder (seen left above with Community Service Chairman Peter Gibbs and President Richard Hayes) receiving a previous donation cheque of £250.00 when he visited the Dawlish Water club.
REWARDING YOUNG MUSICIANS
Dawlish and Dawlish Water Rotary Clubs celebrated the inclusion of two local students in the UK's annual Rotary Young Musician competition.
Henry Buckland,15, and Zac Ward,14, students at Dawlish Community College, were each presented with a £25 voucher by the two club Presidents, Mel Boon and Richard Hayes.
Both played the piano in the Rotary area final in Plymouth – Henry chose classical pieces while Zac performed jazz numbers. They each received afterwards a certificate of appreciation and a commemorative mug.
The competition was tough and neither was chosen to go through to the District final, but were complimented on their performances by local Rotarians.
"The two clubs were delighted to sponsor Henry and Zac and hope that more students will be encouraged to enter the competition in future years," said Past Rotary District Governor Barry Rendal-Jones after the presentations at the school assembly.
In our picture below - Mel Boon, President of Dawlish Rotary Club, Henry Buckland, Zac Ward and Richard Hayes, former President of Dawlish Water Rotary Club.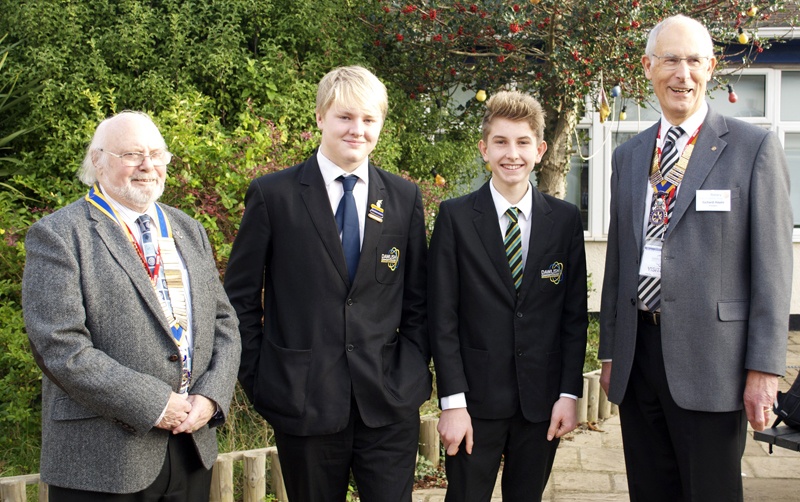 PIG RACING BRINGS HOME THE BACON!
A club fundraiser, a Pig Racing Night on November 13 2015 at St. Mary's Hall, Dawlish Warren, proved a great fun evening for Rotarians, partners and guests alike - and raised a fantastic £829.00.

Profits were shared between the FORCE cancer charity and Rotary supported charities.
HELPING HAND FOR RUGBY YOUNGSTERS
Dawlish Water Rotarians helped with the setting up of the very successful 'Little Ruckers' event on Dawlish Lawn to mark the start of the Rugby World Cup in 2015. Seen in our picture below is Rotary organiser Ray Moore, the Mayor of Dawlish Howard Almond and his escort and granddaughter Mollie, Rugby's Mr England Peter Cross, Rotarian and former Mayor Terry Lowther and the Wooden Spoon mascot.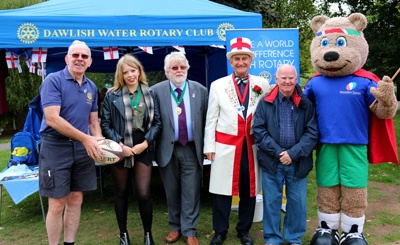 COMMUNITY AWARD FOR KENTON MAN
Last year, Dawlish Water Rotary Club presented their 'community personality of the year' award to Peter White, a Kenton man who has immersed himself in the village in voluntary and charity work for more than 30 years.
Peter was active for many years in the Starcross sailing club, teaching many youngsters to sail. For many years, too, he served as Chairman of the Parish Council in Kenton and whenever there was an emergency (flooding, snow) he would be out clearing the roads, drains etc – very much hands on. While Parish Council chairman, he was one of the principal people involved in Kenton Twinning with Linkebeek in Belgium and St. Lambert du Lattay in France.

He has been chairman of the Village Hall Committee for several years and is also host chairman for an informal breakfast club in the village. Peter is pictured below with his award.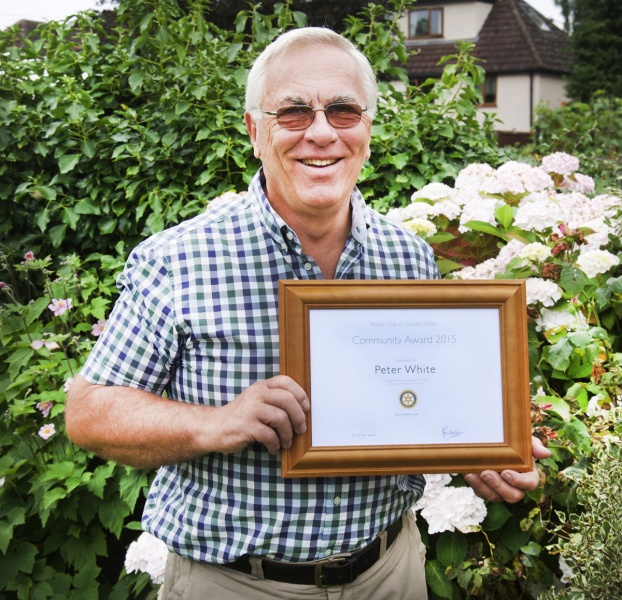 RAISING £1000 FOR CHILDREN'S HOSPICE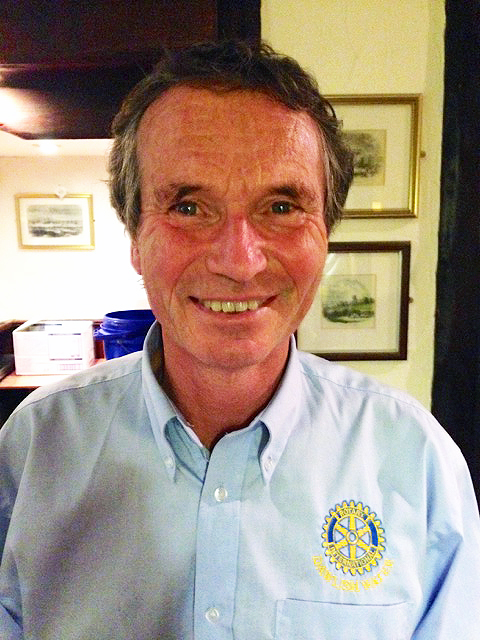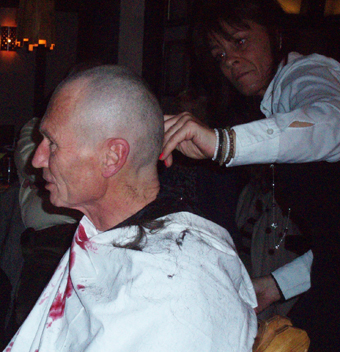 Dawlish Water Rotarian Robert Coates braved his head being shaved - all in aid of the Children's Hospice South West. Over £800 was donated by

the hair-raising event

- and club members made this up to a £1,000 donation for the Children's Hospice.
The Children's Hospice South West was founded in 1991 by Eddie and Jill Farwell after they experienced for themselves the urgent need for hospice care for children in the South West. Their two eldest children, Katie and Tom, had life-limiting illnesses.
There are now three centres in the South-West helping to complete a chain of children's hospices covering Cornwall, Plymouth, Torbay, Devon, Somerset, North Somerset, Bristol, Bath & North East Somerset and South Gloucestershire.
YOUTH JAZZ CONCERT A GREAT SUCCESS
An audience of over 100 enjoyed a superb, polished performance by the younger and older sections of the Devon Youth Jazz Orchestra at the Shaftesbury Theatre, Dawlish, during 2015.
The event was organised by Dawlish Water Rotary Club in aid of a major international initiative to provide clean water to villages in arid areas of Kenya through building sand dams (see below). Over £450 was raised.
Rotary organiser Brian Hodge also arranged for an afternoon's workshop at the Shaftesbury Theatre which was greatly enjoyed by enthusiastic youngsters from Kenn, Kennford, Gatehouse (Dawlish) and Cockwood. The workshop was led by the Devon Youth Jazz Orchestra Ambassadors (see photo below).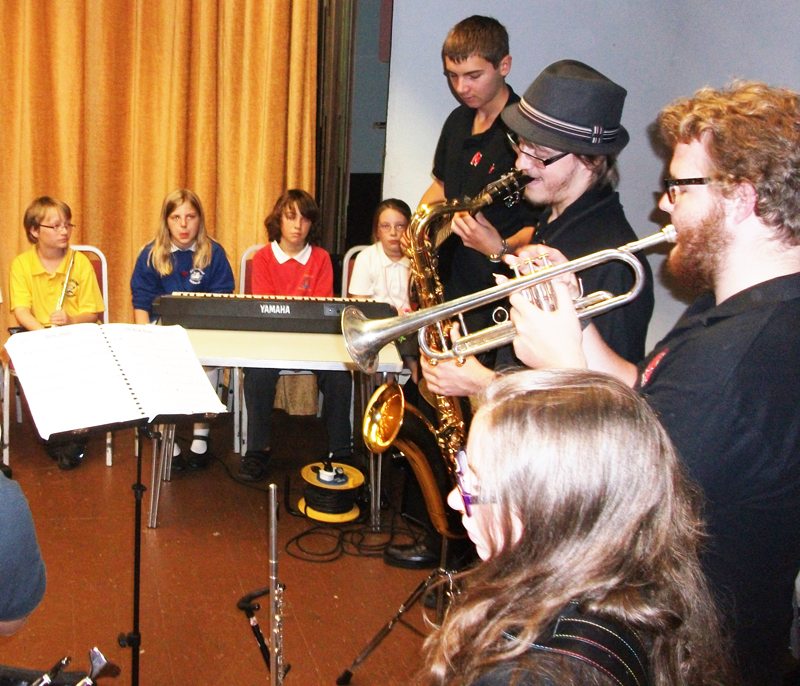 FIRST DAMS BUILT IN SAND DAMS PROJECT
Dawlish Water Rotary Club has now sponsored three sand dams - two in Kenya and one in India. The club has been leading a joint Rotary proj
ect to sponsor sand dams enabling farmers and villagers to gain access to clean water and grow more food and improve their environments. Sand dams provide that clean water year round for little or no maintenance.
A sand dam is a reinforced concrete wall built in a seasonal riverbed to capture and store water beneath sand - thus filtering and protecting it. A great self-help scheme as communities have first to agree to build the dam under supervision!
With the aid of other clubs across District 1175 (Devon and Cornwall) we have now raised over £30,000 and donated over £23,000 of this already. The money raised is part match-funded by the District and also attracts global grant from Rotary and Government aid, thus more than tripling the initial value of the money raised.
We are set to form part of a wider scheme to build 13 sand dams this year and next.
If you would like to help in any way, please contact us.
Reading Rotary Club in Berkshire raised £10,000 for a parallel Sand Dams project, and clubs in Cambridgeshire have raised over £6,000 following presentations by the Dawlish
Water club.
On a club club visit, Torrington Rotary Club were one of the clubs to donate £1,000 to boost Devon Rotary's involvement in promoting the Sand Dams project. Below - Ray Harris and David Large, of Torrington Rotary, presenting the cheque to Bruce Pell and Brian Hodge of Dawlish Water's Sand Dams Co-ordinating Committee.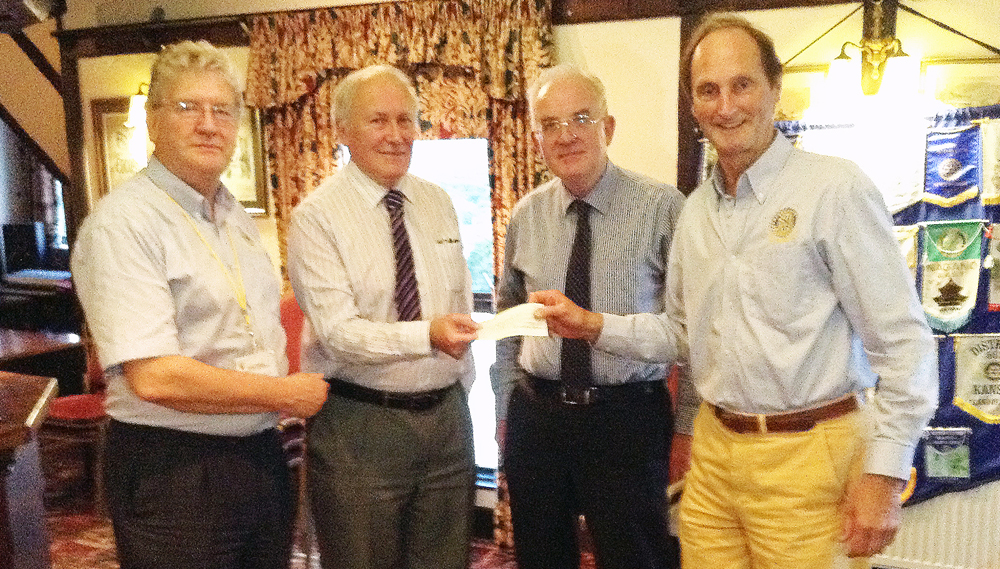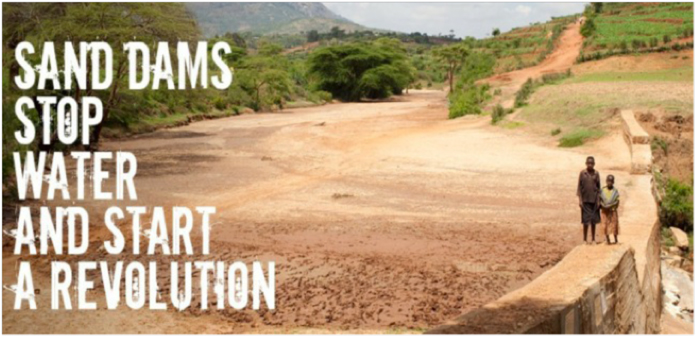 Dawlish Water Rotary Club has also helped Operation Imprezza, a UK charity, which helps provide education for Kenyan children who can't afford to go to school.
The club paid the costs of installing mains electricity at Imprezza Academy, making a huge difference. The Academy was founded in a Nairobi slum in 2001 and had to be re-established after the election riots of 2007. It is aiming to become self-sufficient by 2020 with 750 students on the roll.