Welcome to the Rotary Club of Sandbach Crosses
We meet on Tuesday evening at 7.30 at the recently refurbished "Wheatsheaf ", Hightown, Sandbach - our original home with plenty of room for all the club members to attend meetings and guests, potential new members and speakers to be invited.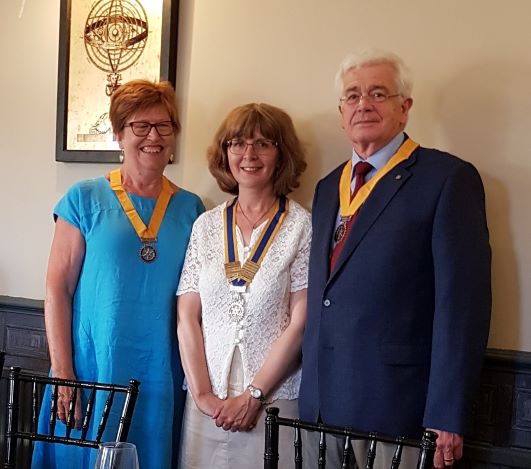 ---
Incoming Joint Presidents Kath Neame and Allan Jones with President Jean Billingsley (centre).
Kath and Allan would like to thank the Club for electing us as your new joint Presidents for the new year. It is an honour and privilege to serve the Club.
Rotary is a massive, worldwide organisation and we have a lot to be proud of in the work Rotary does, and it is up to us to see that this good work continues to present Rotary in the very best of ways.
Within the Clu, we have nomiated "Champions" in key areas who can draw on any club members expertise in the organisation of projects and events.
One of our aims for the coming year is to increase membership and growth for the future - thereby ensuring a strong and sustainable Club. As well as the past proven fund raising events such as the fashion show and Santa collections, we are proposing new events such as theatre visits, formal garden visits, film nights and a race night. We also have a number of intersting guest speakers lined up.
We shall continue to help with Sandbach becoming a "Dementia Friendly Town" with help from a number of committed members.
Finally, we have an established "Rotakids Club" at Elworth Hall Primary School which provides a further link to our local community.
The club is very sociable, with genuine friendships and wider interests between our members. This year, we are streamlining our business meetings, to allow more time for Rotary fellowship. We are also involving more of our members, to be more inclusive and share the volunteer workload across a strong team.
Kath Neame & Allan Jones. Joint Presidents 2019 - 2020
Visitors are always welcome - please see "future events" and contact us" on this website.
To find out more about Rotary in general please click here. This will take you to the homepage of Rotary International in Great Britain and Ireland.