About us
Welcome to the Web Page of
The Rotary Club of Mawddach
An Evening Rotary Club meeting in Dolgellau & Barmouth

.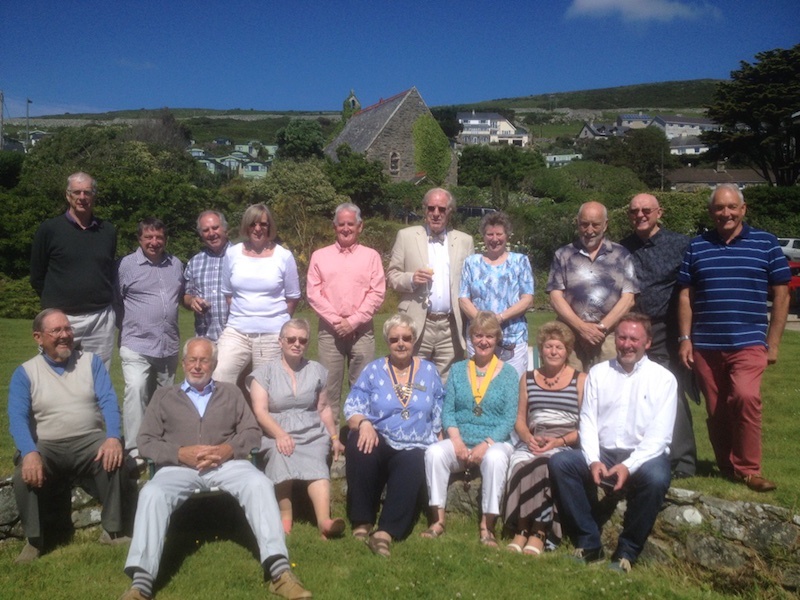 Who we are:
The Rotary Club of Mawddach is a friendly dual-gender club with a regular fortnightly programme of interesting and topical speakers, meeting at 6-45pm on Ist Thursday evenings at the Hendre Coed Holiday Park Restaurant, Llanaber, Barmouth and on the 3rd Thursday at The Sospan Restaurant in the centre of Dolgellau, Gwynedd, North Wales.
What we do:
Our members work together to support and assist those less fortunate than ourselves not only in the local community, but wherever they are in the world.
We enjoy our Rotary and so we encourage an informal and relaxed style at all our meetings. In addition,we organise enjoyable social, service, and fundraising activities.
Welcome:
A warm welcome is extended to all local or visiting Rotarians and anyone interested in meeting us at first hand.
Membership of Rotary International encourages you to make new friends worldwide. We therefore return the warm welcome which is always given to fellow Rotarians.
Fortnightly Meetings:
If you are visiting Dolgellau or Barmouth, please join with us for our Thursday meeting. Check our "Meetings Page" at the bottom of this page for details -
---
What We Do
---
Projects for 2018
Indonesian Visitor Thanks Mawddach RC & the People of Barmouth for Raising £280 for the Shelterbox Indonesia Tsunami Appeal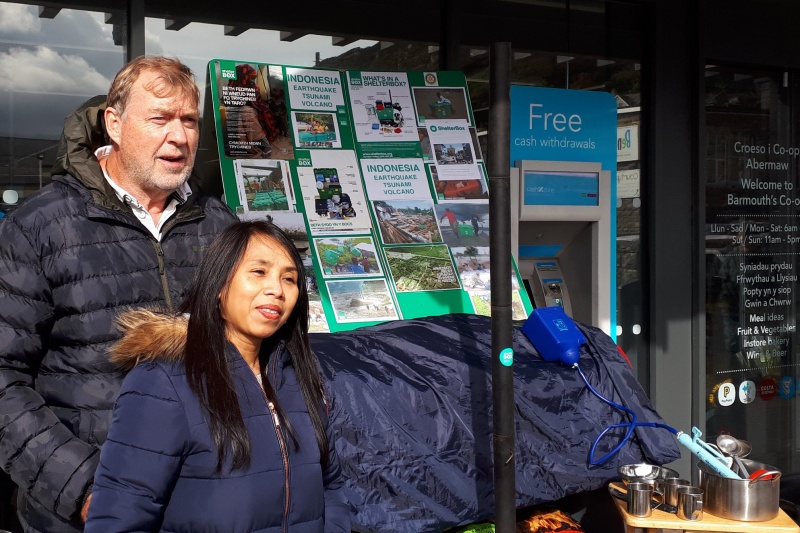 Mawddach Rotary Club Thank the people of Barmouth for their generous donations to The Shelterbox Indonesian Tsunami Appeal.
Pictured are the couple who were moved by the fact that we were collecting for the Indonesian Tsunami - and the lady wanted to send her family in Indonesai a photograph to show that people in Barmouth Care.To find out more about the Shelterbox Charity or to make a donation - go to www.shelterbox.org
New beginnings at Ysgol Bro Idris Dolgellau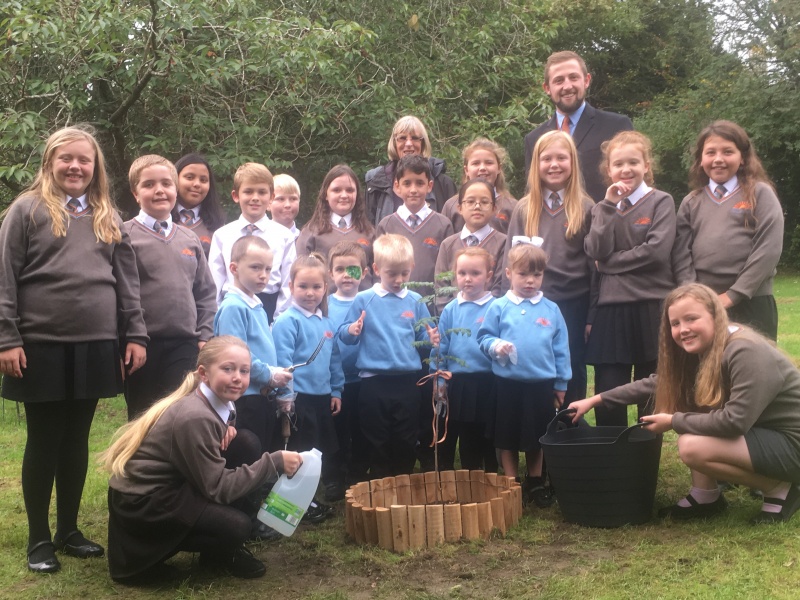 Enthusiastic pupils at the Dolgellau Bro Idris Primary School put the finishing touches to a newly planted young Tree - to mark the Official opening of their School.
Mawddach RC donated the Tree as part of Rotary's "Plant a Tree" project, to contribute towards the sustainability of our Planet and to raise awareness of the importance of trees in all our Futures.
Provision of Defibrillator in Dolgellau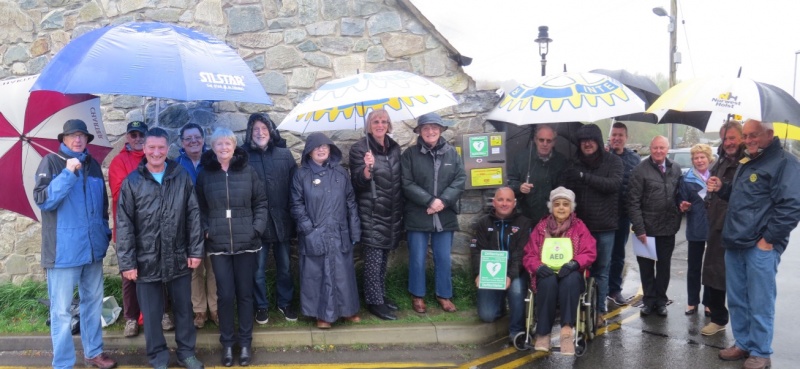 Mawddach RC's project to install a Defribrillator in Dolgellau's Main Car Park was well received - inspite of the weather on the day! - thanks to the generosity of the local Business Community, who collectively raised the £1,500 needed for it's purchase and installation.
A real Heartfelt "Thank You" goes to everyone involved for being part of this lifesaving project.
Film Night in aid of Rotary's "End Polio Now"
Campaign Raises £830
Purple was the colour of a film night for Rotary's End Polio Now campaign. "Breathe" was a true story of Robin Cavendish, a polio victim who invented a mobile respiratory unit to eliminate the need for an iron lung. Children, in parts of the world where polio is endemic, when immunised have their finger painted purple. Rotary, alongside the Bill Gates Foundation, has been successful in nearly eradicating this crippling and often fatal disease from the world. Many thanks to all those purple clad supporters for a successful evening.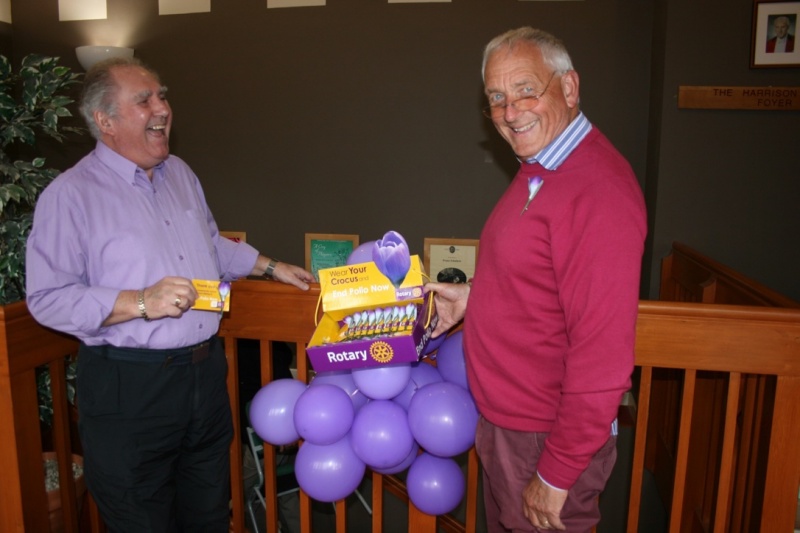 Marshalling at the Mawddach Goldrush Trailrace raises £800 for Good Causes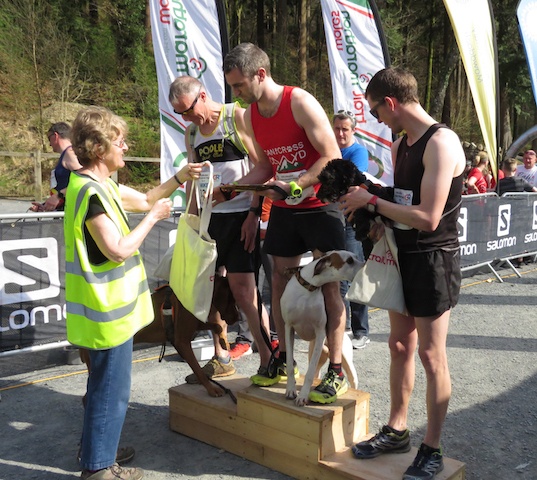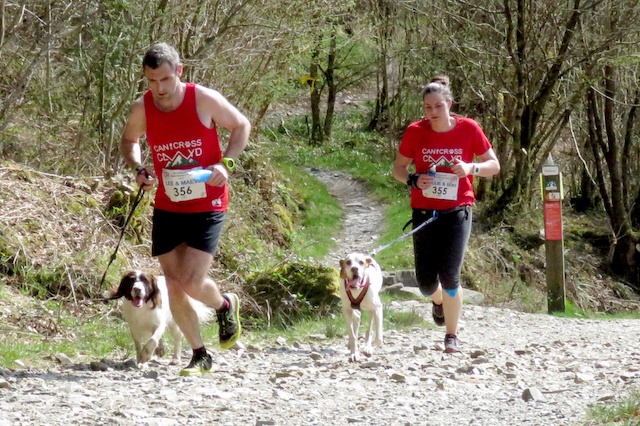 Projects for 2017
---
Mawddach Rotary Club receive TWO Rotary Distict Awards for their Community Projects in 2017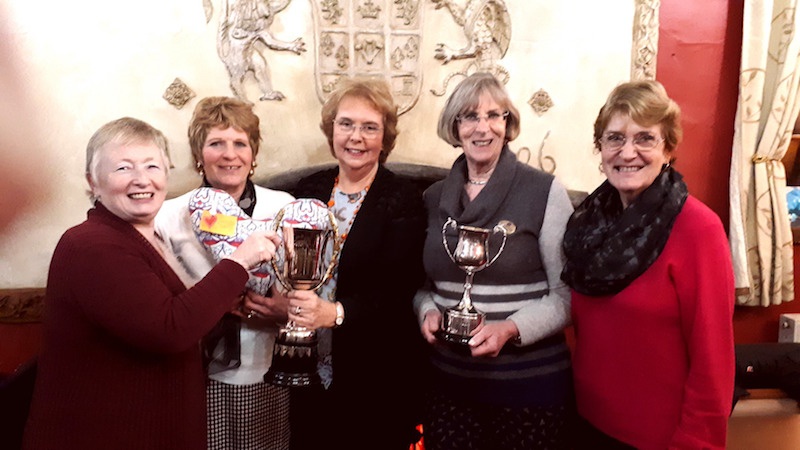 Well Done Ladies
and everyone at Mawddach RC for the award of the Wallasey & Llangollen Trophies by Rotary District 1180 - N. Wales, Cheshire and Liverpool - in recognition of TWO of this years Club Community Projects.
Rose Holland & Vicki Hawes on the left proudly hold the Llangollen Cup awarded for the Club's "Heart Pillow" Community project. "Heart Pillows" - as displayed by Hilary Nurse - are specially made by Mawddach RC members, assisted by Dolgellau Girl Guides, and distributed free to anyone in the local Community who needs extra comfort & support, following Heart or Chest Surgery.
Eliz Swain has just received the Wallasey Cup from President-Elect Penny Morton, for her organistion of the Club's Annual Oscar Night in Barmouth. Featuring an Oscar Nominated Film, Oscar winning Buffet AND the award of Oscars to 5 Unsung Heroes of the Mawddach Area in recognition of their voluntary work within the Community
Again - Well Done to Everyone
Presentation of £300 to Ty Gobaith -N.Wales Childrens Hospice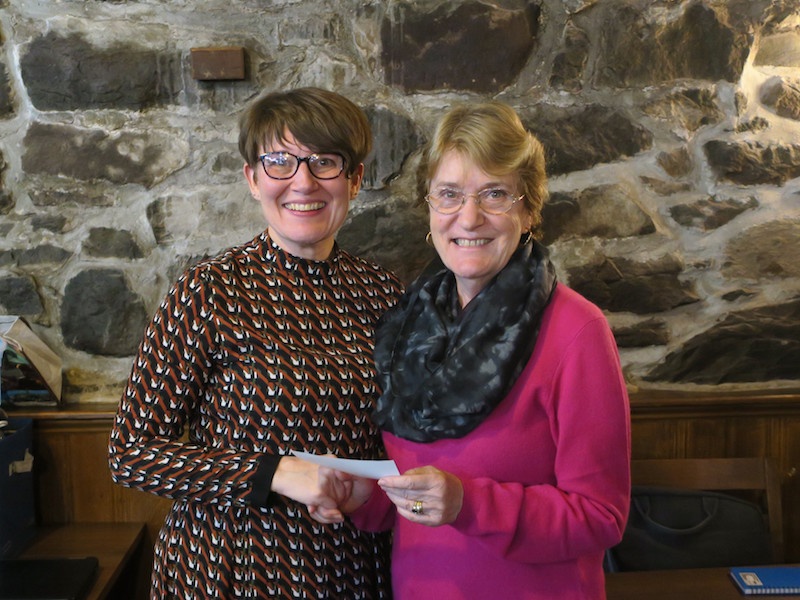 President-Elect Penny
presenting a Cheque for £300 to Eluned Yaxley from Ty Gobaith following her very moving talk about the wonderful facility that this Hope House Childrens Hospice provides for the people of N. Wales - in caring for seriously ill Children and in helping grieving parents come to terms with the loss of a loved one.
---
Rotary Youth Leadership Scheme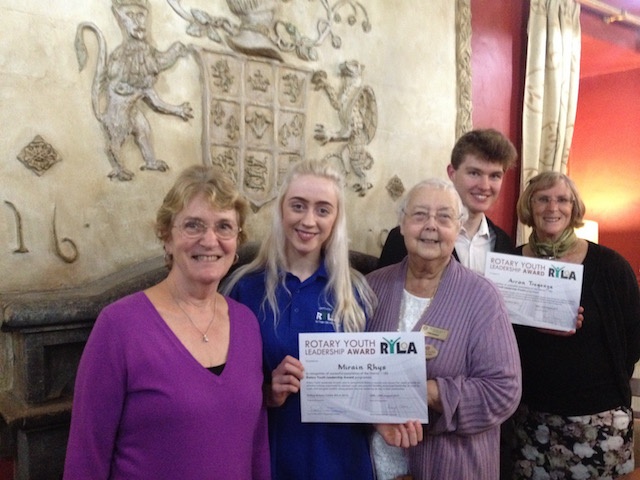 Mirain Rhys & Arron Tregenza receiving their well deserved Youth Leadership Awards (RYLA)from President Beryl and Youth Opportunities Chairman Penny Morton & Eliz Swain following their excellent presentation about their week at this years RYLA Course in Arthog, N. Wales.
The aim of the Rotary Youth Leadership Award is to encourage Teamwork and Leadership in young people through Outward Bound Activities - boosting their potential to be future Community, Professional or Business leaders.
RYLA is an annual worldwide Rotary Youth Community Scheme open to 16-18 year old students - and is held during August at Arthog Outdoor Activity Centre. Selection of Candidates from Coleg Meirion Dwyfor is made in May of each year.
For further details just email Mawddach Rotarian Eliz Swain on elizswain21@icloud.com
---
Antiques "Roadshow" comes to Barmouth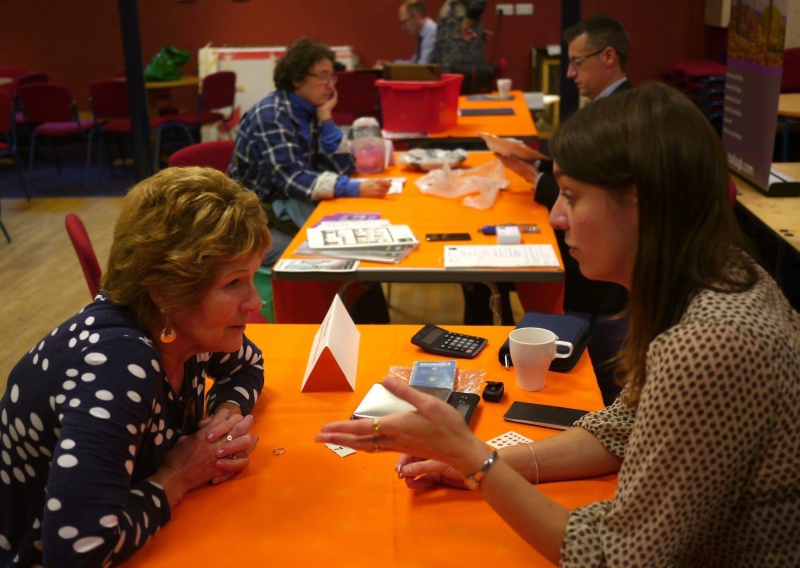 The Antiques "Roadshow" organised by Mawddach Rotary Club in Barmouth, in conjunction with Experts from Halls of Shrewsbury, was again very popular with local residents who brought a large number of fascinating items to be valued.


All monies raised from this popular Annual Event are used to support local Charities and Good Causes.
So an especial "Thank You" to everyone who came along together with their treasures - and to Halls of Shrewsbury for their invaluable knowledge & support.
---
Dolgellau Guides take Project to "Heart"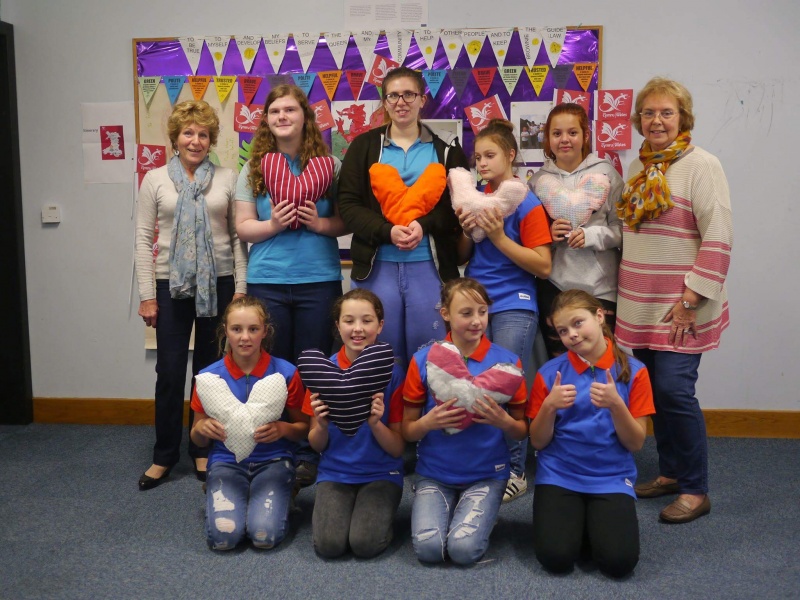 1st Dolgellau Guides proudly display their "Heart Pillows" which they have made for Mawddach Rotary Club's Community Project to give free comforting cushions to local ladies in need of extra support following breast or thoracic surgery.
If you would like to receive one of these Free Heart Pillows - just ring Vickie on 01341 423459 or Hilary on 01341 450255.
A big Thank You goes to all the Guides photographed above for their wonderful heart pillows

---
Oscar Night awards the "Hidden Figures" of Barmouth & Raises £800 for Local Good Causes
The Annual Mawddach Rotary Club Oscar Film Night in the Dragon Theatre Barmouth, provides the perfect backdrop for their Oscar Presentations to People in the Area, in recognition of the special contribution they have made to the Local Community.
Not to mention the opportunity to "Bring out the Bling" and watch the Oscar Winning Film "Hidden Figures" having enjoyed an Oscar Winning Buffet beforehand with all profits going to Local Good Causes.
A Great "Oscar" Night Out all round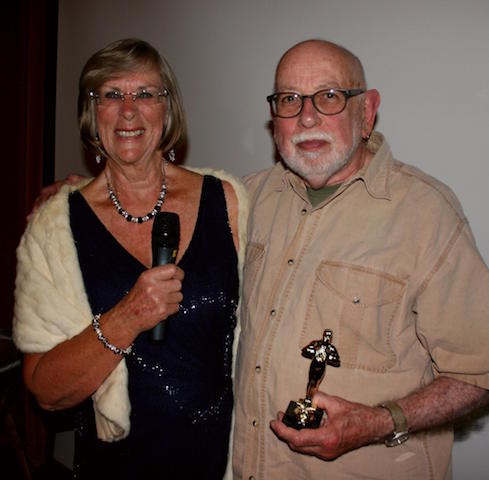 Danny Jones receiving his Oscar for Best Musical Director acknowledging the debt music lovers owe him for the many fantastic Jazz Nights he has arranged in Barmouth and Dolgellau over many years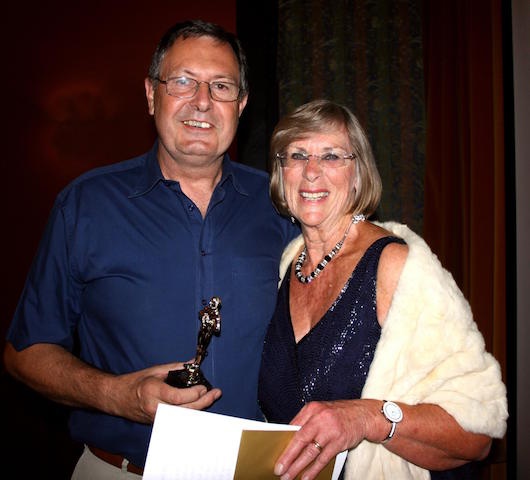 David Hooper receives his Oscar for Best Director in recognition of his work with the Barmouth Food Bank and Elim Church Community Centre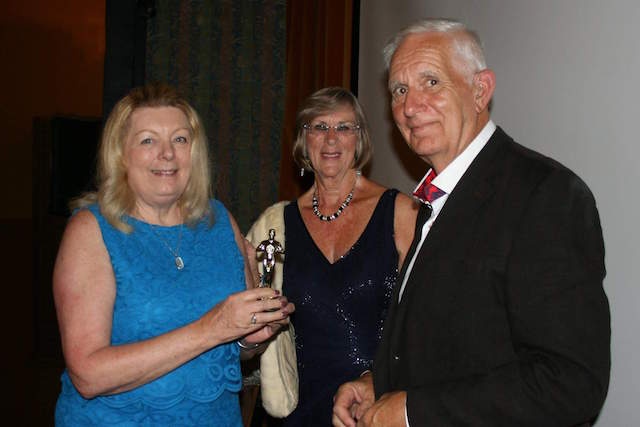 Bill & Leslie Amison collecting their Oscar for Best Producer for their work in establishing and running the highly successful Barmouth Walking Week over many years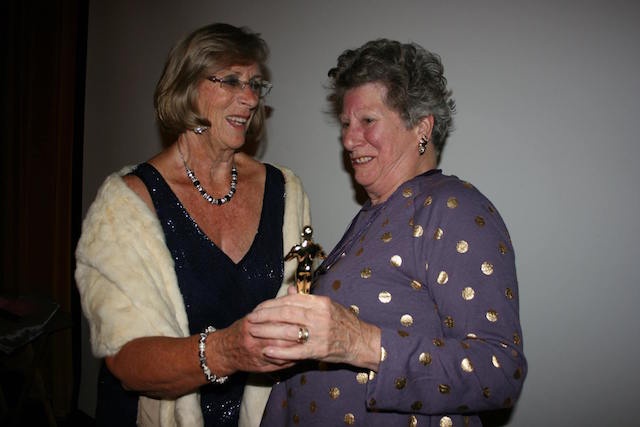 Octaginarian Betty Annett was awarded an Oscar for Best Choreography in recognition of her dediction to teaching Dance to both young and old in Barmouth.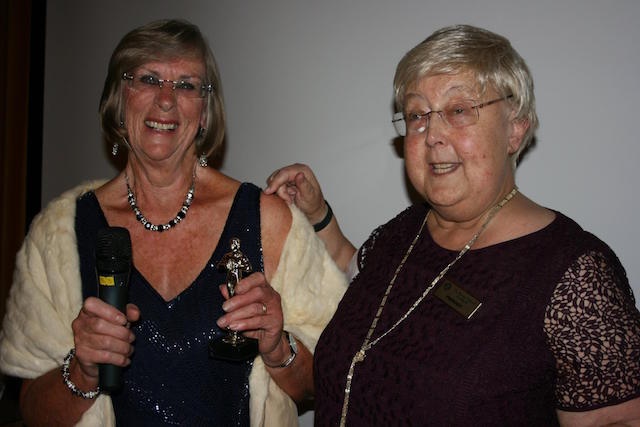 Rotary President Beryl Clark presented a surprise Oscar to Eliz Swain for Work with the Film Industry in recognition of helping establish Charity Film Nights in The Dragon Theatre
---
Cake Stall raises £300 for Hope House Children's Hospice at Mawddach Paddlefest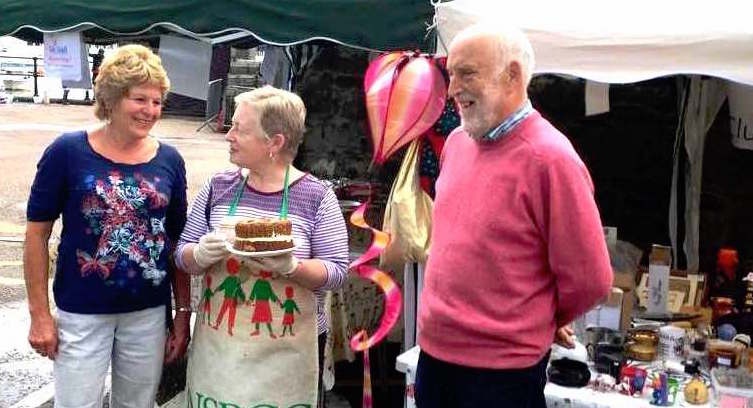 ---
Helping the Community
All Smiles as Y6 Pupils admire their new Dictionaries4Life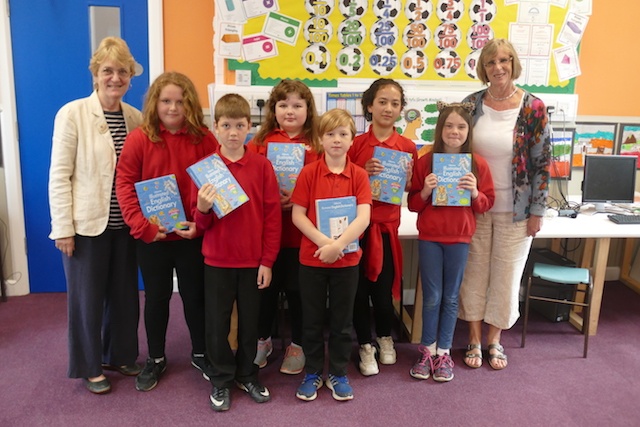 Llanelltyd Primary School looking forward to taking their new Dictionaries with them to their new Secondary School in September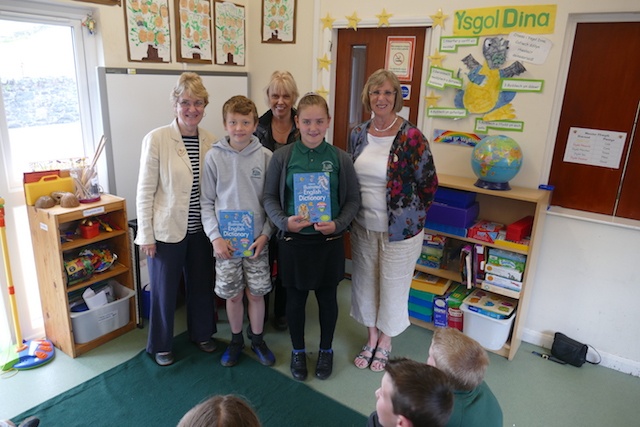 Llanelltyd Y6 pupils also looking forward to next term at "Big School"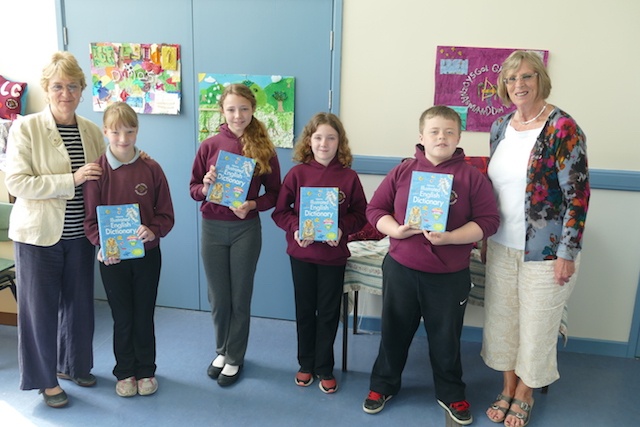 Dinas Mawddwy Y6 ready for next Term at their new School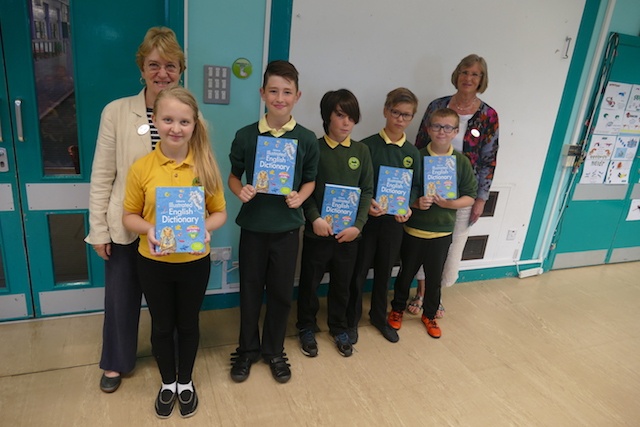 Barmouth Y6 "booking" their place for next term
Dictionaries4life is a Rotary Commuity Youth Project to help youngsters making the big step up to Secondary School by providing them with illustrated dictionaries for use at both School and at Home
---
Mawddach Goldrush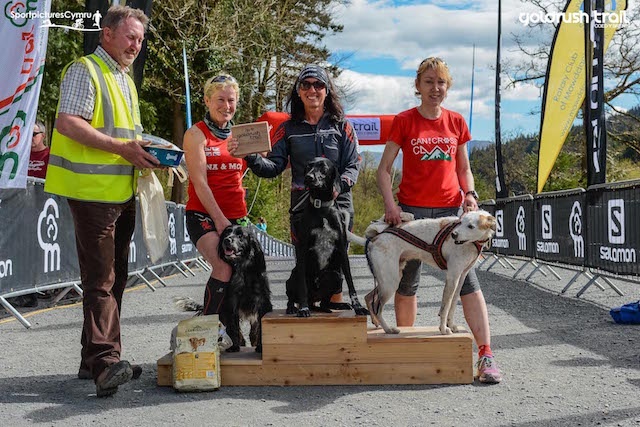 President Terry presenting Awards to
the winning Ladies Canicross Race.
With Mawddach Rotarians also Marshalling the Race throughout The Coed y Brenin Forest
---
Supporting Dolgellau Junior Netball Club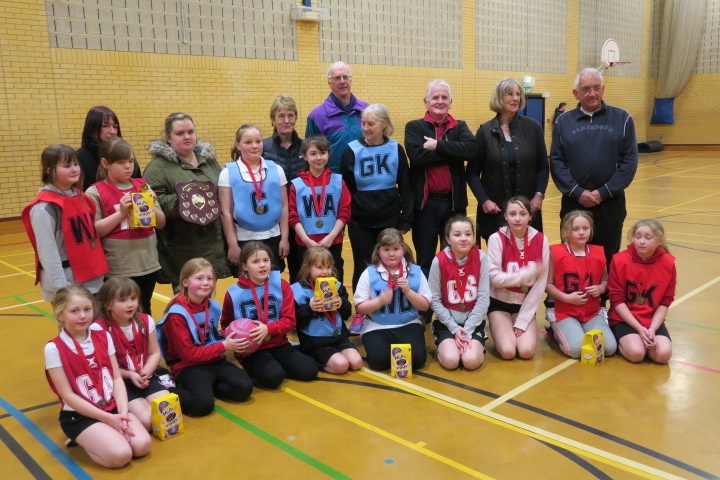 Mawddach Rotarians supporting the Yvonne Owen Memorial Junior Netball Competition in Dolgellau
---
Coleg Meirion Dwyfor Student Chef reaches Semi final of UK Rotary Young Chef of the Year Competition


Congratulations to Heledd who achieved Coleg Meirion Dwyfor's best result in this years Rotary "Young Chef of the Year" Competition by reaching the Semi-Final where she achived 2nd place - only just missing out on a place in the National Final - Well done Heledd
---
Heart Pillow Project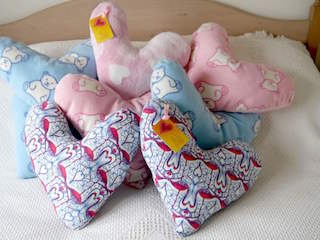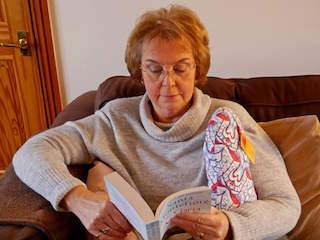 If you've recently undergone Surgery or Radiotherapy for Breast Cancer and are having discomfort when sitting or driving then these specially designed cushions will be a great comfort to you.
If you live locally and would like to try one then just ring Vicki on 01341 423459 or Hilary on 01341 450255 and we'll be happy to arrange for you to receive one FREE OF CHARGE
---
Female Hygiene Kits for NW Nepal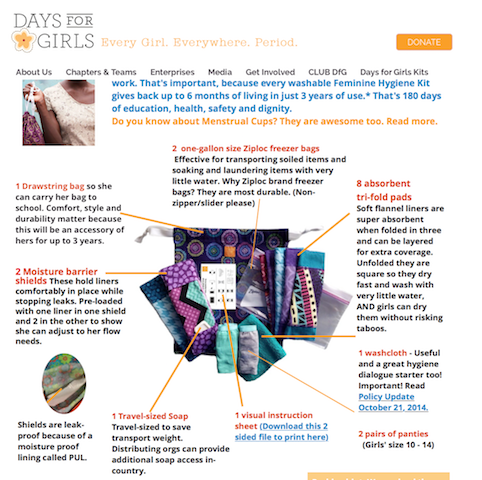 Working with The Nepal Trust and Days for Girls, our Club is looking to provide Female Hygiene Kits to the Yari Health & Birthing Centre (See Below) in Humla District in NW Nepal as part of an ongoing Health Education Programme in an area were Menstuating Girls and Women are banished to an Outbulding for a week every month. These special Hygiene Kits, costing around US$7 are washable and designed to last for 2-3 years.
School in a Bag for Thehe School in NW Nepal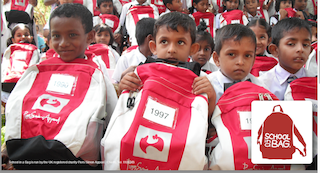 Again working with the Nepal Trust, our Club aims to provide essential Childrens School Stationary through a School in a Bag similar to the one shown above. Humla district in NW Nepal is an extremely poor and remote Area and The Nepal Trust has identified the Village School in Thehe as being in particular need.
---
Projects from 2016 and before
---
Nepal Health & Birthing Centre

Project nears Completion in Yari
Mawddach Rotary Club along with the Rotary Clubs of Newtown, Welshpool & Porthmadog and in conjunction with other Rotary Clubs in England, financed this life changing facility in Yari, NW Nepal.
Construction Staffing & training was facilitated on Rotary's behalf
by the UK based Nepal Trus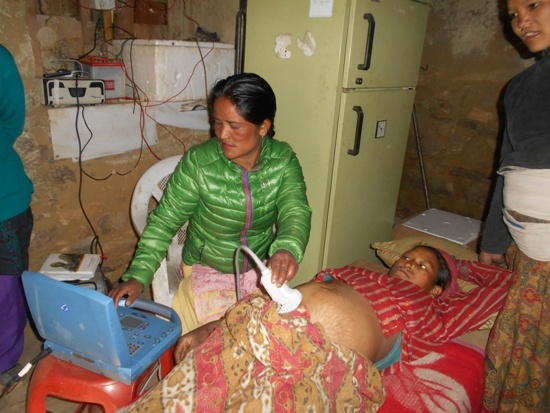 An Auxillary Nurse Midwife examines an expectant Mother in the new Health & Birthing Centre at the village of Yari in the remote "Hidden Himalayas" of NW Nepal close to the Tibetan Border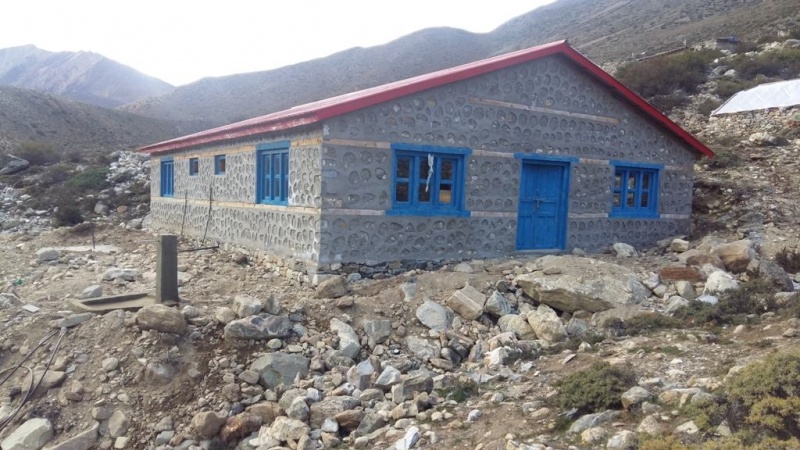 Yari Health Centre completed and now being fitted out
---
Mawddach Rotary Club donates £200 to
Dolgellau Hospital Equipment Appeal

Mawddach Rotary Club gave £200 from its Good Causes Account to the Dolgellau Hospital Appeal for the purchase of a much needed Urinary Flow Diagnostic Device as shown above to Past President Hilary Nurse
---
Mawddach Rotary Club donates £600 to the

Shelterbox Haiti Appeal to provide urgently needed

Emergency Shelter following Hurricane Matthew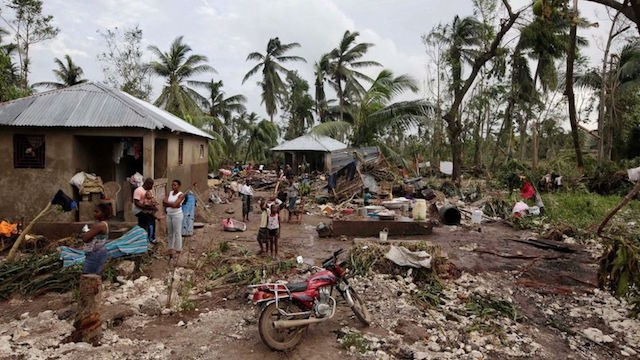 The scene of devastation in Haiti on the morning of Wed 5th Oct after the Hurricane swept through the Country and where very shortly aid will be arriving from Shelterbox. See www.shelterbox.org
Shelterbox is a UK based Charity providing emergency aid in the form of Tents, Shelter kits and essential survival items delivered within hours direct to the Disaster Area.
This donation of £600 to Shelterbox would not have been possible without the very generous public support of Mawddach Rotary Clubs Fund raising Events.
---
Mawddach Rotary Club donates £300 to Barmouth Oasis Community Group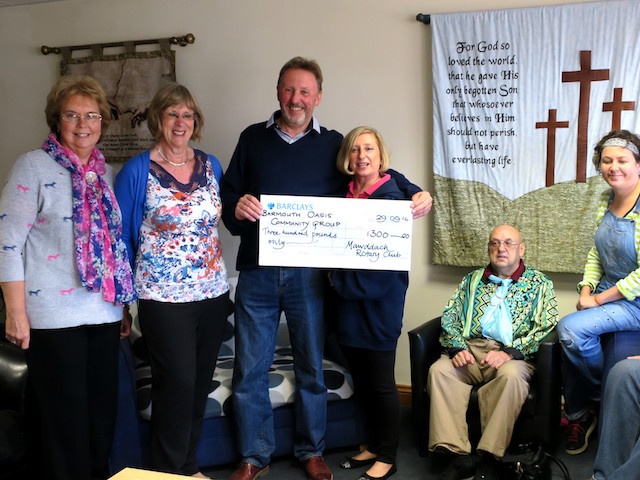 Mawddach RC was delighted to donate £300 to Barmouth Oasis Community Group (BOCG) for the purchase of much needed furniture for their increasingly popular "Drop-In Centre" in Park Road, Barmouth (opposite the Co-Op Carpark).
The Drop-In Centre is just one of a whole range of Community Services provided by BOCG which also include: a Children's Day Nursery, Food Bank, Bereavement Counselling Service and Courses in the everyday useage of Computers, Smartphones and Tablets.
The Centre can be contacted on 01341 280808
---
Barmouth to Berlin
A few snapshots of the Clubs recent joint visit to Berlin together with our German Friendship Club Rotarians from Lippetal in Northern Germany. What a great fun place Berlin is!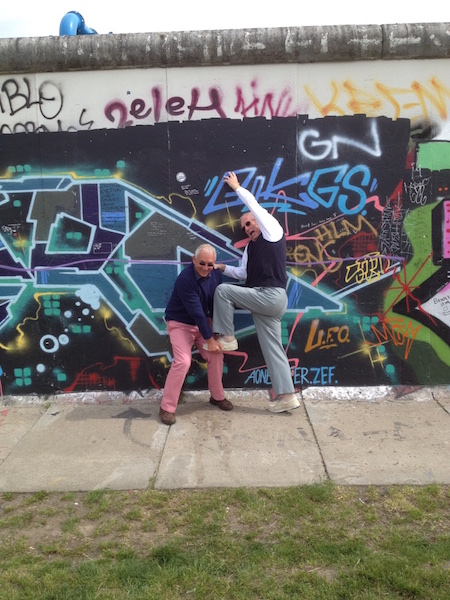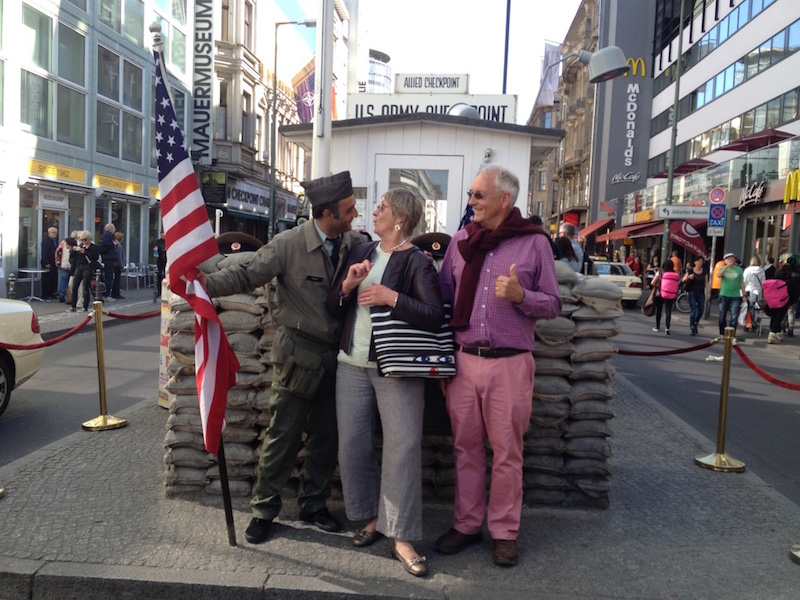 Reminders of the Berlin Wall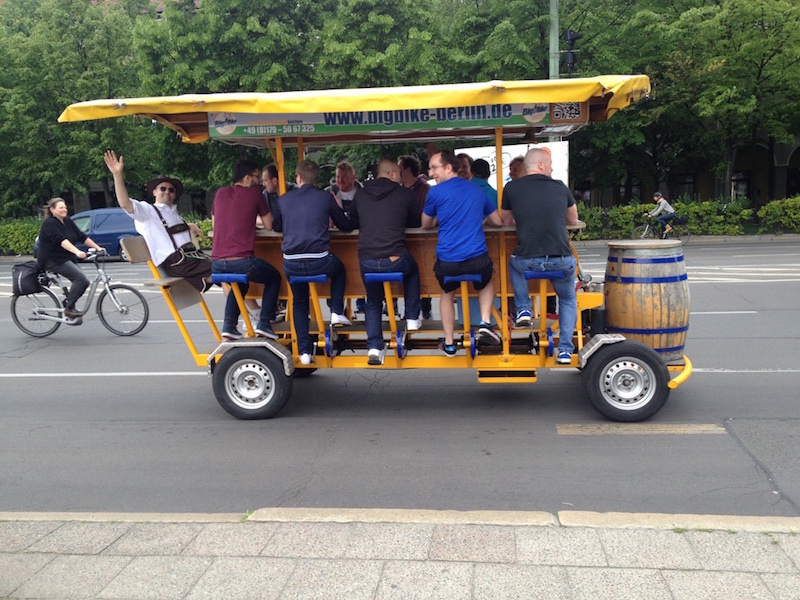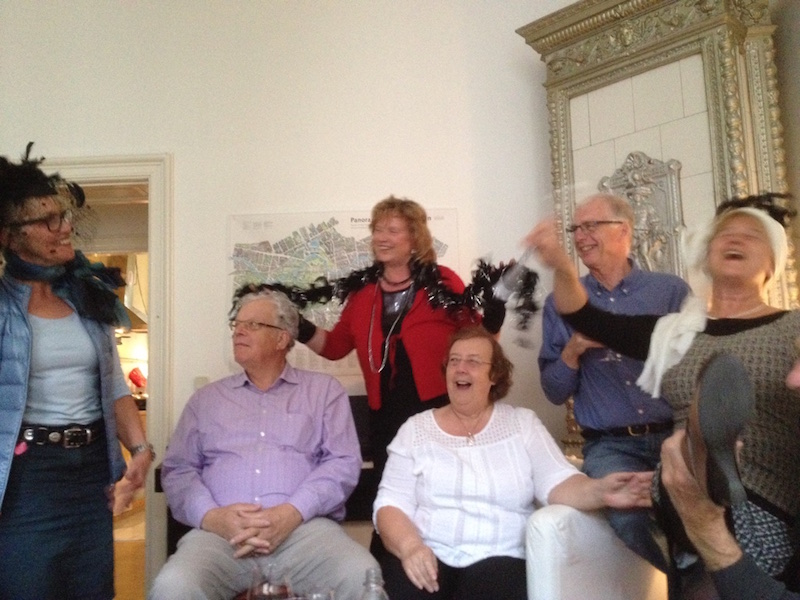 Party Time!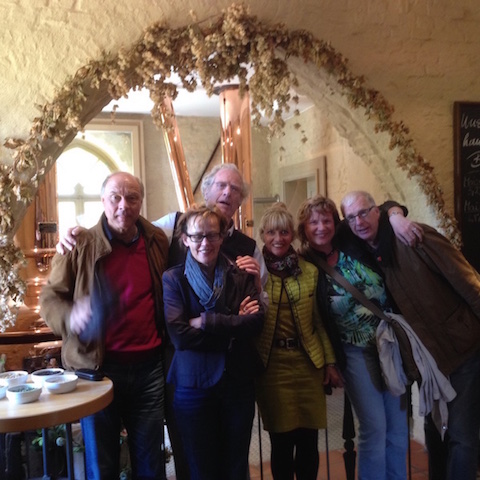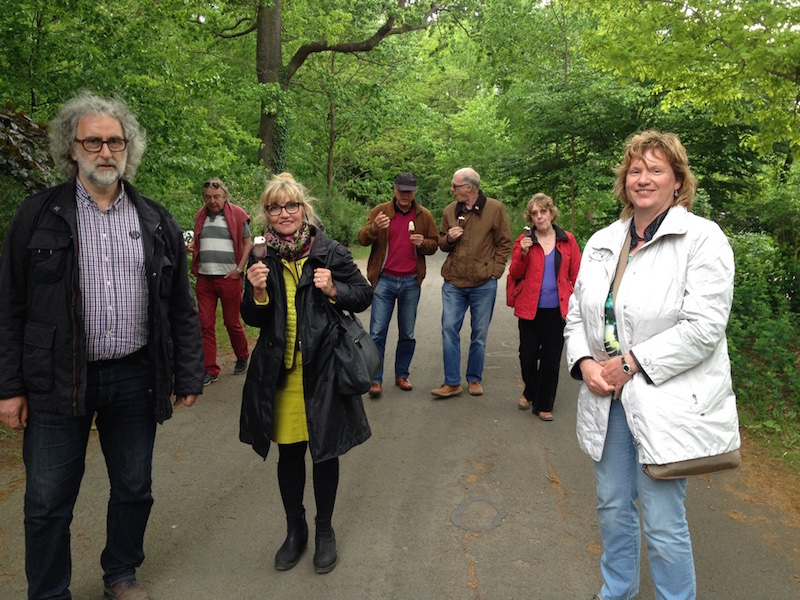 Beer followed by Ice Cream Everyone!!!!
Thanks to everyone at Lippertal RC for a great Visit to Berlin


Rotary Youth Leadership Award

Scheme- (RYLA)
The Aim of RYLA:
To encourage the developement of Teamwork and Leadership Skills in young people aged 15-17 who have the potential to be future Community, Professional and Business Leaders.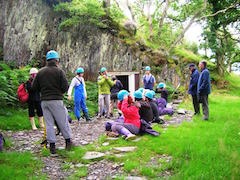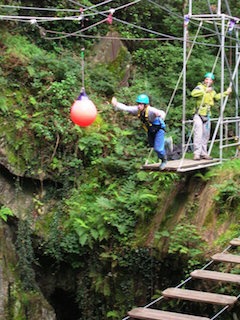 Caving & Leap of Faith
How is this achieved:
By sending youngsters selected and sponsored by their local Rotary Club in conjunction with their School or College on a one week residential Leadership Course to an Outdoor Activity Centre in their locality.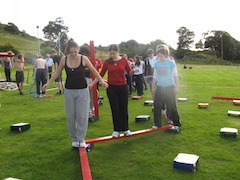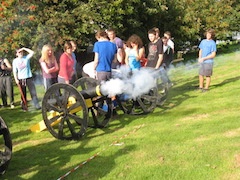 Problem Solving and "The Final Canon"
The Aim of RYLA Courses is to help all participants to:
Build self confidence in themselves and others through challenging situations
Build Team Spirit to enable the group to work effectively together and to support one another
Encourage the recognition and use of skills in others
Discuss and establish the characteristics of effective leadership in practical situations
By making the whole experience thoroughly enjoyable
---
1st Dolgellau Girl Guides Shelterbox Day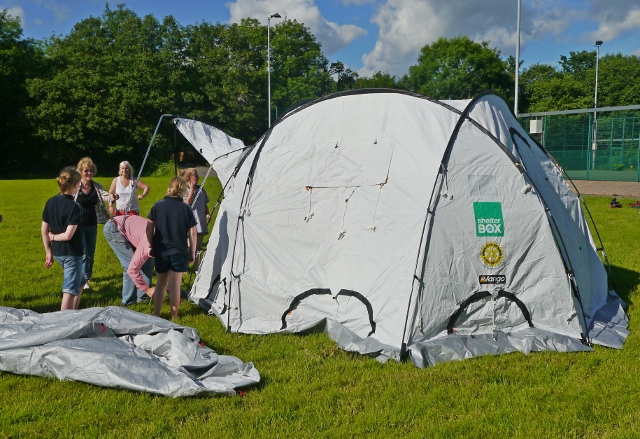 Well that's the Tent Up - Can we light the Fire now?

Supper looks great - come on everyone!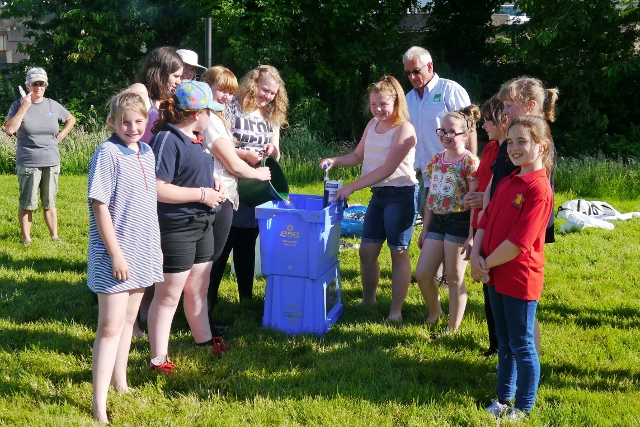 -
and Aquabox gives us safe drinking water too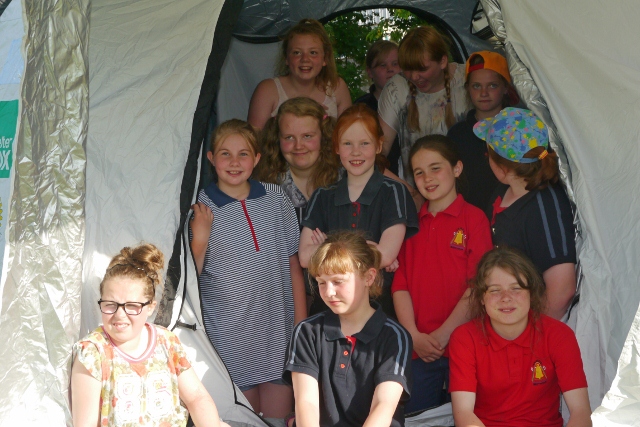 What a Great Day
"Thanks" Shelterbox & Mawddach Rotary Club
See: www.shelterbox.org & www.aquabox.org
Rotary N Wales District

Para-Olympic Fun Games, Chester Sept 2018
Just one of the many sports that participants enjoy - including Cricket, Golf, Baseball, Tennis, Cycling, Curling and many many more
See http://www.rotary-ribi.org/districts/page.php?PgID=397763&DistrictNo=1180
If you live in the Dolgellau area and know of a group of persons with special needs who would enjoy the opportunity to participate - then please contact our Youth Opportunities Member at mawddach.rotary@aol.co.uk
Represent the Mawddach Area & be one of the hundreds of participants who attend this lively event every year.
The 2019
Event will be in Sept
---
---
---
Rotary News
Be part of a global network of volunteers, trying to make the world a better place. Please also see the 'links & news' page for information from the local district and live feeds from Rotary International and Rotary International in GB&I.
Flexibility creating new opportunities for new members
---
RotaKids supporting their local community
---
---
Meetings & Venue
Where and when:
We meet on Thursdays at 1900
(
We meet at the Sospan, Dolgellau on the third Thursday of each month. We also meet on the first Thursday of each month at Hendre Coed Isaf, Barmouth, LL42 1AJ. 01341280597
)
Y Sospan
Queen's Square
Dolgellau
Gwynedd.
LL40 1AR
01341 423174