THANKS FOR EXPLORING OUR WEBSITE
A warm welcome from Club President Robbin Suffield and members of Henley in Arden Rotary Club, serving the community since 1974.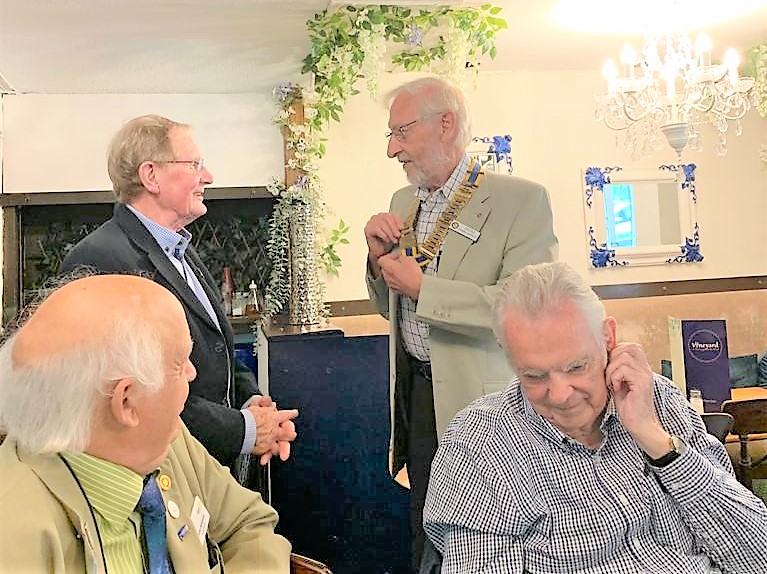 Incoming President Robin Suffield (seen on RHS above) greeted by Outgoing President David Burman.
INVITATION TO BECOME A ROTARIAN
If you are looking for a new challenge in 2022, how about considering joining our Rotary Club.
Please contact us via the Join Us tab above to discuss in more detail what the club does, explain what the Rotary ethos ''Service above self'' means in practice, and share your interests and skills. We look forward to hearing from you.
In February the HIgh Bailiff,Laurence Marshall, was inducted as an Honorary Club Member.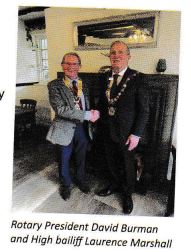 F2F MEETING ATTENDANCE REQUIREMENT
To help protect health anyone attending a club meeting either as a guest,visiting Rotarian or club member is requested to complete a lateral flow test before the meeting which has a result indicating they are covid free.



2022 EVENTS & ACTIVITIES

************************

Immediate past events 

Henley HOSPICE HIKE  
 

Sunday 19th June 2022

300 pounds were raised for the benefit of  Shakespeare Hospice. 

A fun day was had by all and many thanks to all who participated and donated to this great local cause.


 




Marshalling car parking at the Bluebell walk for charity in Wootton Wawen in 

May 2022. 

15,000 pounds was in total split between  Cancer Research UK and for Henley 

Rotary Club to use for charitable purposes.


 


 

Seen above Jo Haimes of Yew Tree Farm hands cheques to Ryan 


 

from  Cancer Research UK and David Burman of Henley Rotary.


 


  

 


 

Supporting the Shakespeare Marathon, Stratford on avon 24.4.2022 


 

by route marshaling and by helping to marshal at the 


 

run 

put on by

 

Kenilworth Rotary 

on 12th June.


 
 

 


 


 

 Rtn. Keith Degville marshalling at Warwick Half Marathon


 AQUABOX DONATION

The club recently donated  £100 to Aquabox in memory of Mike Redman , a long standing club member who sadly passed away last year, in support of Aquabox's special Christmas appeal for supplying community water filters particularly to disaster-hit areas.  In addition some members also made personal donations. 

Follow the link stated here to learn more about this wonderful cause:       htpps://aquabox.org



SPECIAL 2021 EVENTS
Triple80 Charity Walk completed on 9th September 2021 to support 3 hospices. For more details click on link below:
Octogenarians prepare for 80-mile sponsored walk to help hospices | The Leamington Observer
29.11.2021 The Ten Thousand Pounds , yes .. 10k raised was split between Acorns, Myton & Shakespeare hospices.
Click on What We Do Tab above to see pictures of event.
Charity Golf day
Completed 24.9.2021 at Stratford Oaks Golf Club.
A huge thank you to all participants and supporters
Click on What We Do Tab above to see pictures of event.