Did you want to know more about being a Rotarian?
Do you think we may be able to help?
Please Contact our Secretary Andy Carlisle a.carlyle@btinternet.com
2020 - Our latest trip with physiotherapy equipment.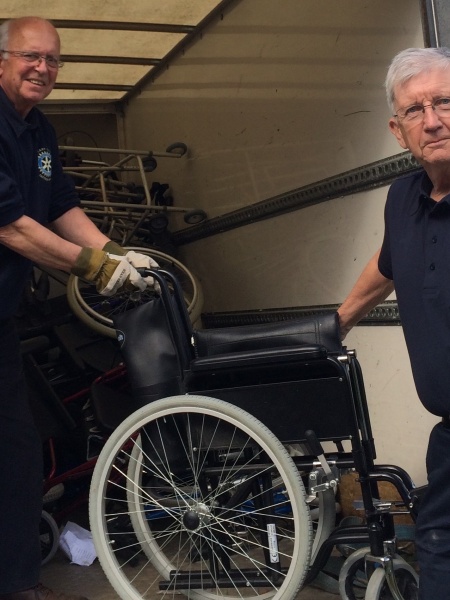 For the past three years the Rotary Club has been supporting PhysioNet, a charity that collects unwanted mobility and physiotherapy equipment for distribution to developing countries.
Members of the Rotary Club of Saffron Walden regularly undertake deliveries of sound, unwanted medical equpment such as wheelchairs, Zimmer frames, crutches etc to Physionet, the Knaresborough based chaity in Yorkshire.
After collection and delivery to PhysioNet's Yorkshire depot, the equipment is checked and where necessary refurbished prior to being shipped to areas in Africa where the equipment is needed.
Ed Netsel, chairman of the club's Physionet Committee said, "Over the past three years members of the local Rotary club have collected in excess of 50 tons of equipment from hospitals, special schools, residential homes and other charities for delivery to Yorkshire."

We have teamed up with PhysioNet to collect surplus or unwanted wheelchairs and other mobility and physiotherapy equipment for onward shipping to their depot in Yorkshire. It is then refurbished, packed into containers and shipped to 3rd world countries.
We would really appreciate your getting in touch with us if you have any equipment which you think may be of use.
Please contact our co-ordinator Ed Netsel at edwardnetsel@btinternet.com or call 01799 520020
SAFFRON WALDEN ROTARIANS JOIN WINDMILL RESTORATION PROJECT
Several members of the Rotary Club of Saffron Walden joined volunteers from other local rotary clubs to mark the start of the restoration of Great Chishill Windmill in nearby South Cambridgeshire.
The windmill at Great Chishill is one of only five surviving open-trestle post mills in the country but is no longer safe for visitors. Cambridgeshire County Council closed the building about 10 years ago.
As pressure on local authority budgets grew, the intended maintenance and renovation fell by the wayside and the mill was in danger of collapse.A group of concerned villagers and mill enthusiasts formed Great Chishill Windmill Trust with the aim of preserving the mill and returning it to a stable and weather-proof condition for future generations to enjoy.
Although permission must be gained from Historic England for work on the Grade II listed building, Trust members decided to start work at the site by uncovering the fantail track, the circular track around which the tail assembly wheels travelled as the mill turned into wind around its central post.
The team from Saffron Walden Rotary Club, joined a team from Royston Rotary Club, cutting turves on the fantail track at site.
President of Saffron Walden Rotary Club, David Telford said: "We were happy to help out on such a lovely day with a glorious view and passing interests. Hopefully the exposure of the tail track will add momentum to the restoration project.