Thetford Rotary Club – a Short History
The Rotary Club of Thetford was founded in 1954 with guidance from District (a committee formed from all of the clubs, chiefly in Norfolk and Suffolk) and advice from the Diss club, which became Thetford's "mother". After some months of initial "interim" meetings, the club was formally chartered in 1955 at which time there were 21 members, most of whom lived and worked in the town centre. Several were shopkeepers – a butcher, a baker (but no candlestick maker), a chemist, a tobacconist, a TV retailer, and the manager of the Electricity showroom; also, a Doctor, a Solicitor, a bank manager, a printer, a garage proprietor, a newspaper r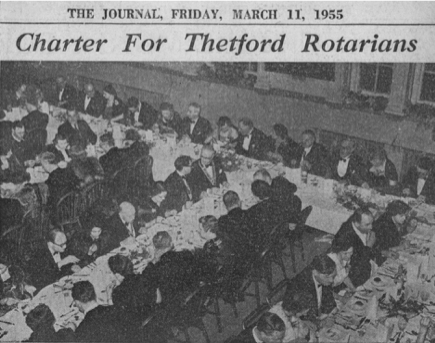 eporter, several local authority staff including the town clerk, and a selection of other business men.
Once the club was under way various committees were formed, as was normal in Rotary, each having different responsibilities. Probably the most active has always been the Community Service Committee, which in the early days organised assistance to local people, including transport to social clubs for the visually impaired and disabled, and paying for minibus transport to local hospitals for relatives of patients. After some years, and much fund raising by the club, jointly with Thetford Round Table, a new minibus was purchased at a cost of £1,047(!) and handed over to Norfolk County Council Welfare Committee.
Fund raising by this committee included, for several years, a Donkey Derby and Fete (jointly with Round Table) which raised large sums of money for the club's charity funds, and indirectly for a large number of local organisations who took stalls at the fete. Other fund-raising over several years was for the construction of a swimming pool for the town. The funds eventually went towards the cost of the original swimming pool at the sports centre and speeded its construction by quite a few years.
The International Committee worked to create a relationship with RAF Lakenheath and thereby to improve International relations; the club also developed a relationship with a Rotary Club in Denmark, which lasted for a number of years, and gave rise to a number of long-lasting friendships. During crises for refugees from Hungary, and more especially from Uganda, the club assisted with preparation of housing. Socially, this committee organised long weekend trips for members and partners to a variety of countries, which continues to the present day.
The Vocational Service Committee was active – early in the club's life it organised careers exhibition and created a register of over 60 activities in the town for the benefit of new arrivals. In later years this and the Community Service Committee merged to avoid confusion over the overlap of responsibilities.
The Club Service Committee has always had the responsibility of managing the day to day running of the club, planning meetings (frequently with speakers), social functions, and not least, looking after membership.
Rotary has now served communities locally and worldwide for over 100 years and as it adapts to social; and media changes of the 21st century the same culture of friendship and support for those less fortunate is unchanged
If you would like to know more about the history of the club or about becoming a member you can contact the Luncheon Steward on 01842 890482 or the President on 01842 754526