Having problems viewing this website on your Windows PC?
Hello and welcome to Fishponds & Downend Rotary Club Website
Fishponds & Downend (F&D) Rotary Club is a small, active, friendly, and very sociable Club.
We would love to encourage new members to join our club and see that the above is really true. If you are unable to join as a member but can offer some support at our fundraising events, then perhaps being a 'Friend' of Rotary would suit you? Please do get in touch and we will respond to you with details. If you are unsure whether Rotary is for you, you are more than welcome to join our meetings (via Zoom or in person when able) to see what we are about.
The Rotary Club of Fishponds & Downend Charity Fund
In 1994 the then Officers of the Rotary Club of Fishponds and Downend executed a Declaration of Trust which established a Charitable Trust known as the Rotary Club of Fishponds and Downend Charity Fund.
The Charity Fund has been registered with the Charity Commission for England and Wales under registered charity number 1034555 and full details of the trust including trustees and charitable objects can be found by using this link
https://register-of-charities.charitycommission.gov.uk/charity-search/-/charity-details/1034555/contact-information
The Charity Fund is a completely separate legal entity from the Rotary Club and is very often responsible for fund raising events for either named charities or unnamed charities supported by Rotary.
Covid-19
As a result of the outbreak of Covid-19 all face-to-face meetings have ceased until for the time being. The Club however continues to function with Zoom meetings each Thursday. We have also 'Zoomed' with other local Rotary Clubs when they host Speaker Meetings, and joined national and international online Rotary meetings. If, as a guest, you would like to join one of our Zoom meetings, please contact the Club using the contact enquiry section on this website. Club Officers make weekly phone calls to our members, and we make use of email and WhatsApp communications between members to stay connected. Over the last year, we have enjoyed many speakers as well as virtual wine tasting events and quizzes.
Fundraising
Due to the Covid19 situation, our usual fundraising events have in the main ceased. We as Rotarians have however managed to raise small amounts of money through donations made by members themselves. To list just a few of our virtual fundraisers this year, a raffle drawn at one speaker meeting raised £95 for our charity account; our first Zoom wine tasting event raised over £70 for The Rotary Foundation; a Virtual Auction raised £300.
Amongst donations made over the last year, was £1000 via Rotary International to support those affected by the Beirut Disaster and £250 to support 'KidsOut' Christmas Toy Box initiative 2020 which covered the purchase of 10 toy boxes for children living in local refuges. Our Club also makes payments to Lendwithcare. As loans are repaid we lend again to different entrepreneurs.
We are dedicated to raising money for charities and good causes which we achieve by fundraising at our events: some of which are facilitated by having a presence at public events like fetes and shows. We also organise street and supermarket collections, mostly at Christmas-time, but also some in response to major disasters. Proceeds are often used to fund the purchase of
ShelterBox
and
Water Survival Box
emergency relief equipment (Rotary International is an official project partner of Shelterbox, and Rotary is a Charity Partner of Water Survival Box).
Community Service
The Club aimed to focus this year on offering support to local groups/clubs providing for the elderly, lonely and/or vulnerable, in the form of funding and practical help. Some of our plans were curtailed due to Covid but it has been great to have residents from a local care home regularly listen in at our Zoom speaker meetings. We hope to develope this relationship once restrictions are lifted.
If you are involved in any local organisation involved in events that serve the community, e.g. litter picking, planting community gardens, food-banks etc. please get in touch and we will endeavour to provide support.
We recenty hosted Linda Clarke who gave an interesting talk on Rotary's partnership with Carers UK and we offer this statement to encourage Carers to get in touch and see how we can help.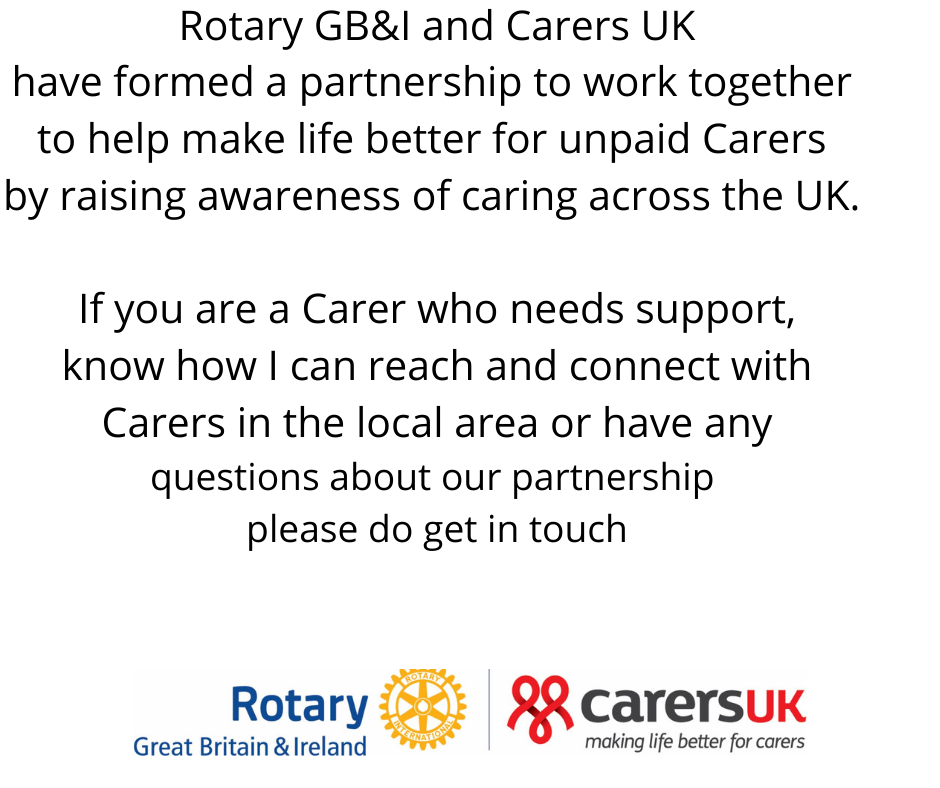 There is also a video that explains the partnership
https://1drv.ms/v/s!AtOQTm2s6z0tgcZ6mGVQ2jAM70cFaA?e=Ftrb1v
F&D and Our Local Communities
F&D Rotary Club is a local community-driven organisation running events in our local communities, supporting charities and good causes in our local communities, providing service in our local communities, supported by people in our local communities, based in the centre of our local communities, and drawing our membership from our local communities.
In response to the Covid situation many people have come together to offer support, in many ways, to their local communities. If you would like to get involved with an established service organisation that exists within your community, please get in touch. We would love to meet you and show you what we do.
Social events
We always enjoy great social connections with fellow Rotarians, not only in our own Club but also with other Rotary Clubs, especially those geographically close to us. We enjoy, for example, dressing up in finery to attend our own and other Clubs President's Nights. We have parties and dinners and arrange visits to pubs, restaurants, and places of interest. Internationally we enjoy fellowship and social interaction with our twin Rotary Club in South West France. With the easing of restrictions, we recently held an outdoor gathering of members in support of our twin Club's fundraising event being held on the same day. It felt just like old times and was wonderful to be together socialisng again.
Events we were hoping to complete so far this year:
Our Annual Chocolate Bunny fundraising raffle was cut short due to the Covid-19 lockdown. Most of the money raised from 'Bunnies' placed in shops and pubs was collected but, with limited amounts of tickets sold, a smaller than usual profit was made. We're hoping for better next Easter
In June we normally run a plant stall at Mangotsfield Festival, and in July a Book Stall/Bottle Stall at Frenchay Flower Show. In recent years we have also run a Bar at Lyde Green Summer Sizzler. Sadly, all these events were canceled in 2020 and again this year. We did, at least generate a small amount of revenue through seedlings sown and plants grown by members being sold outside Rotarian's houses or via Facebook.
Our 'established' Fashion Show, normally held at Downend School in November was another casulty of the pandemic. We hope to be able to deliver this event again some time in the near future, including a bar serving Gin cocktails, wine, and Prosecco.
We own a portable casino and, with a return to normality hopefully in sight, we are preparing to start looking to hold 'for fun' events. We will be able to offer this as a service for your charity fundraising event or for your private event. Please get in touch and we will give you all the details.
We are hopeful that life will return to normal for us all soon and we are getting back to planning both routine and new events. Please keep checking this website for updates.
Thank you.

The Rotary Club of Fishponds & Downend Charity Fund is Registered in England No. 1034555
Any trademarks, text, sound-bites & Images (copyrighted or registered) used in this non-commercial website are acknowledged