Featured pages
Rotary Club of Pershore - welcome! We meet on ZOOM. Please scroll/swipe down through this page to find out more about us, in addition to the pages linked in the menu, top left.
---
About us
Air Ambulance receive £1500 from Rotary Club of Pershore Tree of Lights Appeal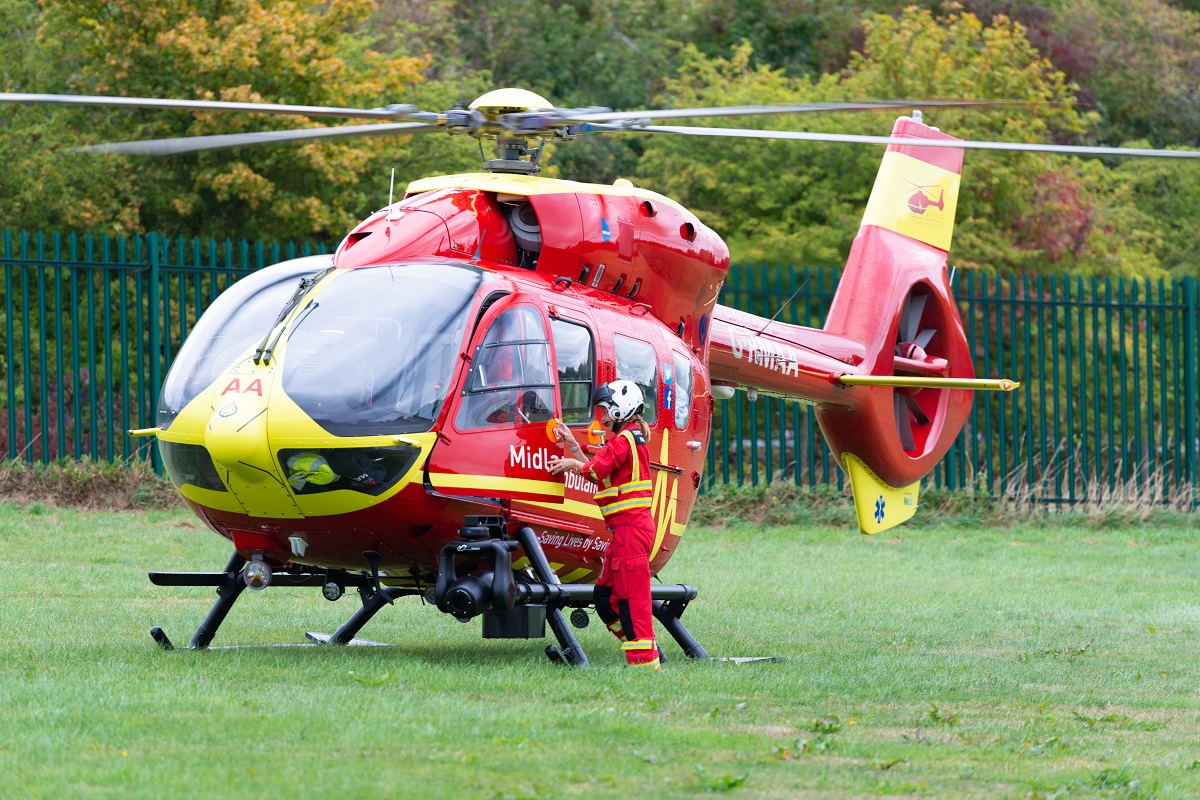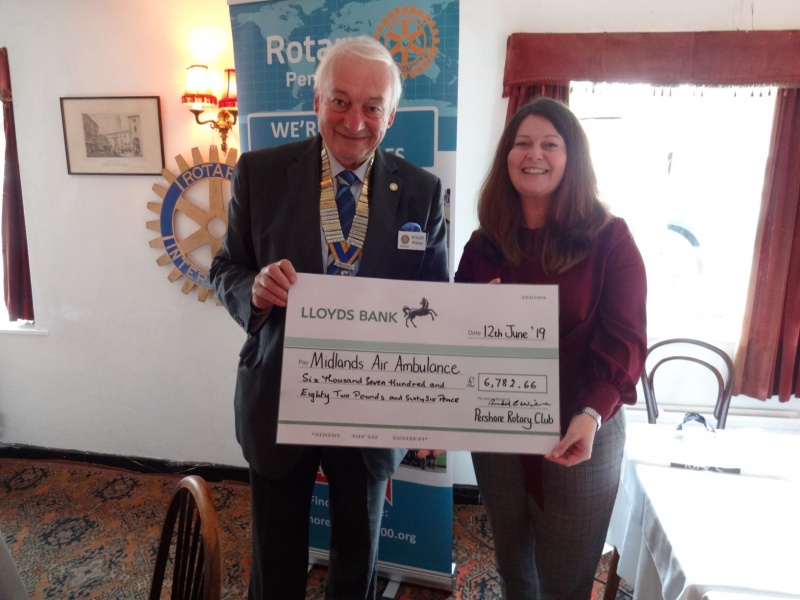 ---

---

Follow the latest news on
Sponsors and Names to be Remembered
Pershore Rotary Tree of Lights
on our facebook page
---
---
Rotary Club of Pershore supporting hurricane 'Dorian' relief.


Thanks to the generosity of the people of Pershore, the Rotary GBI Disaster Recovery trust now has an extra £625.75 from the street collection on Saturday, 14th September. These funds will go towards the re-building of the local communities in Grand Bahama and the Abaco Islands devastated recently by hurricane 'Dorian'. This was a category 5 storm that struck the islands with wind speeds up to 185 mph, brough 35 mm of rain caising flooding and severly damaging or destroying 13,000 properties.

President Ken Rowe said how grateful he was to the continuing generosoty of local people. No matter what the cause, Pershore's community will always try to help. Ken went on to say that arranging permits at short notice for street collections can take some time. However on this occasion the Worcestershire Regulatory services were very supportive and deserved our thanks.





Toilet construction started in one of several schools in Trincomalee District, Sri Lanka. Funds raised through Inner Wheel District 10 (including I.W. Pershore ) together with Rotary Club of Pershore and Rotary Club of Evesham. Considerable funds were also raised through the Interact Clubs of Prince Henry's School and De Montfort School

---
Thank you to all racegoers who generously dipped into their pockets at the close of the Purple Plum Festival at Worcester Racecourse on Tuesday 31st July. £620 was raised for Midlands Air Ambulance.
Graham Smith, freelance drummer, musical director and the inspiration behind the Pershore Jazz Club was Pershore Rotary's guest peaker on Wednesday 1st August 2018
---
Zambian Exchange with Pershore High. supported by funds from Back to the 80's Concert at Pershore Abbey in April. handover to new President Richard Williams
Claire Lording Hon. Member.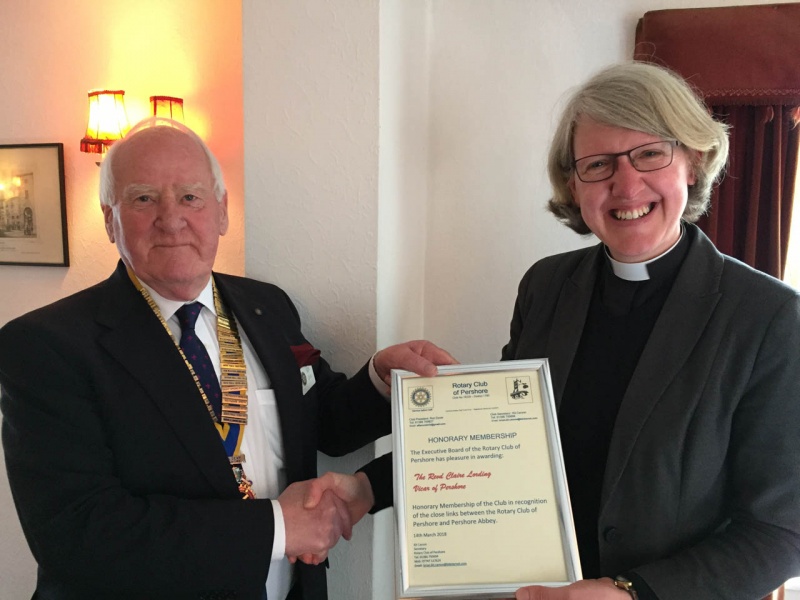 Following her stimulating talk about the work of the Pershore Food Bank, Claire Lording receives a certificate from President Ron Davis recognising her Honorary Membership of The Rotary Club of Pershore, together with a cheque for £50 for the Foodbank.


PROGS (Pershore ROtary Grant Scheme)
supports Pershore Junior Rugby
Junior Rugby Tour is a Triumph in Grassroots Rugby and Local Company Sponsorship
article by Ben Andrews - Coach to Pershore Junior Rugby
Whilst Pershore Rugby's first ever junior tour to the Bournemouth area last April was a triumph in grassroots rugby and a happy development of age group team building at a small but growing local rugby club; it was perhaps a more significant victory or example of local companies sponsoring worthwhile local causes.
Even with the varied fundraising activities carried out by the club, the tour would simply not have been possible without some very generous sponsorship and donations from local companies and groups for which we are very grateful (in no particular order):
Pershore Rotary Grant Scheme (PROGS), Smart Cut Ltd, Vic Haines Transport and Storage, 1st Call 24-7 Plumbers and Heating, Airducts Ltd, Amerie Garage, Emotive Design, PJ Improvements, Chase Heating, and Tarplett Generators.
When it came to the day of departure for the tour, Batman, Batwoman,
Superman, Superwoman and
their trusty sidekick 'The
Hulk' all landed at Pershore's Piddle Park as the Under 13 tour were preparing to leave. Perhaps the adults
were more excited about the forthcoming departure to Bournemouth than the youngsters!
On arrival on Friday 21st April the group checked in at their hotel on the Bournemouth coast, then the party proceeded with an evening of rugby training on the sand
followed by eating at a restaurant
overlooking the
beach. The evening was
finished off by coaches
taking the
boys onto the sand
to teach them
some educational
games…. (what
happens on tour
stays on tour).
On Saturday 22nd April the tourists travelled to Wimborne RFC for our first game. We received a jolly welcome when we arrived and immediately started a training session followed by the game. The first half started well with us winning most of the many scrums and saw some great individual play. At half time we were 3-0 down and minus a pair of boots! There was lots of good play to note from the Pershore boys namely Callum, Tanwa, Fynnley, James and Andrew. Sadly Andrew went off injured towards the end of the game. Even though we were quite evenly matched the Wimborne squad of 30 proved too much as they swapped fresh legs in throughout the game, the final whistle blew with a Wimborne win of 8-2.
On Saturday evening we found time for a trip to the beach, with a swim in the sea, barbecue, and trip to the pier.
On Sunday 23rd April we were due to travel on to Bournemouth RFC, but not without a hearty b
reakfast, which was a challenge for everyone after our busy Saturday,
but the lure of another full English allowed most of us to manage it! Sunday was an
extra special day as it was Fynnley and Coach Bens' Birthday. We sang a quick Happy
Birthday along with cake then
boarded the coach headed for
Bournemouth RFC.
From the moment we
drove our coach through
the gateway of
Bournemouth RFC we
knew this would be a
totally different game
and we were now playing
with the 'Big Boys'. We
had arrived at a complete
'Sports Complex' with it's
Astro, Go Karting, Seated
Stadium etc, etc. Never
the less we were warmly
greeted and once changed
hit the pitch with heads
held high. The boys
remained in good spirits
throughout but once the score
reached 10 tries to nil it was
decided to mix the teams up and
have a little more fun! Yet again we
were short on players and
experience but never let up
becoming more and more
determined as the clock ticked.
Final score was 16 tries to 1 (the 1
being scored by a Bournemouth
player playing for us)! Amazingly
the boys still smiled and never lost
their great spirit especially Jay
who was injured
but refused to leave the pitch until
the end.
Bournemouth awarded birthday boy
Fynnley Player of the match.
11am on Friday 21st April we set off to Bournemouth with a Rugby Team
consisting of 13 Players. On Sunday 23rd April we returned back to Pershore
RFC with 13 'Mates'. Every single boy laughed and bonded with his team
mates no matter who they were or the sort of relationship they had prior to
the trip. They are now a 'Team'.




Photographic Competition
Senior winner Jacob Stevens 2nd Imogen Sutch 3rd Emily Folkard
Intermediate winner Merrin Dewson


Successes ....
We recently sent £500 to Malaria No More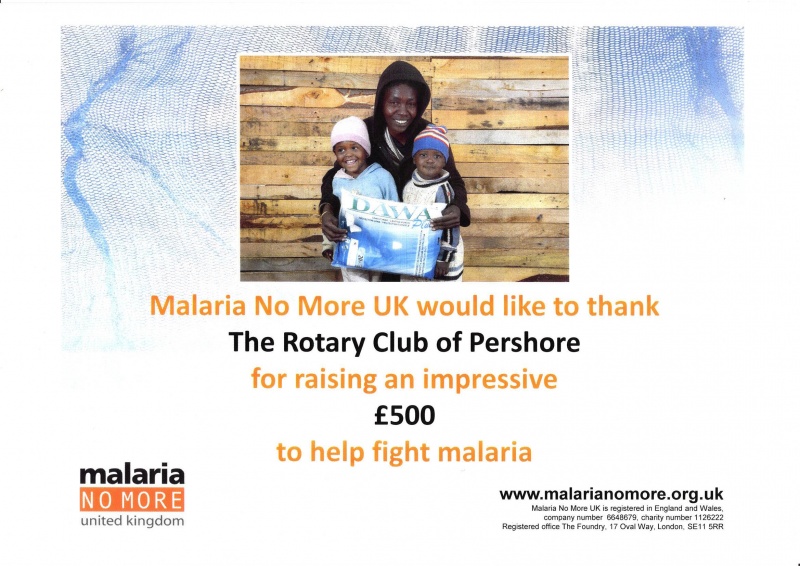 And from the concert (see below) we raised £1,250 for Acorns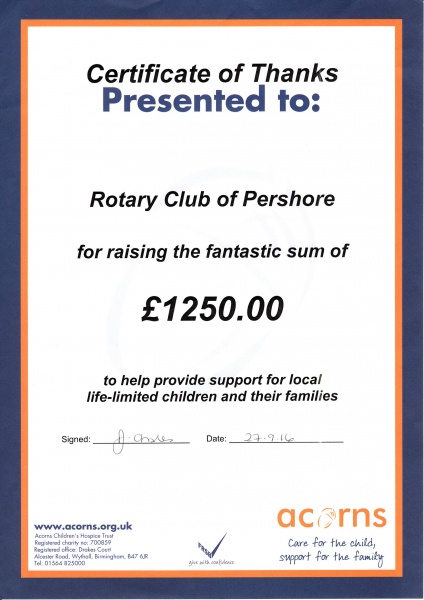 Over the last 50 years we have raised £24000 for Acorns Children's Hospice so tonight as we celebrate our golden anniversary we would like to bring the total up to £25000.
Sparkling wine and canapes before the performance put us in a good mood to appreciate the soloists from The English Symphony Orchestra. Catherine Handley on flute and Hugh Webb on guitar enthralled us playing a selection of classical music. We were transported listening to the sounds of the flute intertwining with the plucked strings of the harp. After the interval Stephen Warner on either double bass or guitar blended with Corrine Frost on the cello.
Rotarian Chris Meredith organised this successful evening which would not have been possible without the support of sponsors Harrison Clark Rickerbys Solicitors, Worcester and Cheltenham.
Hopefully ticket sales, raffle sales and donations will bring us up to our target.
---
Rotary Club of Pershore celebrate 50 years with an evening of music at Number 8 Stephen Warner and Corrine Frost.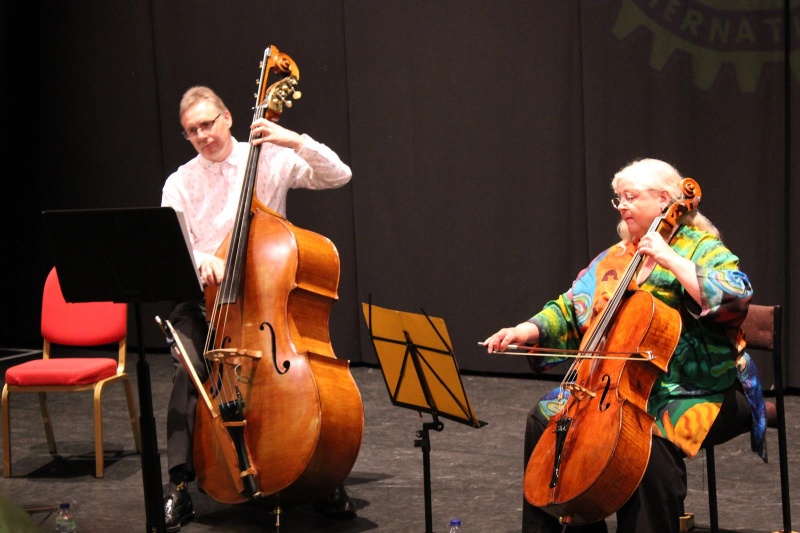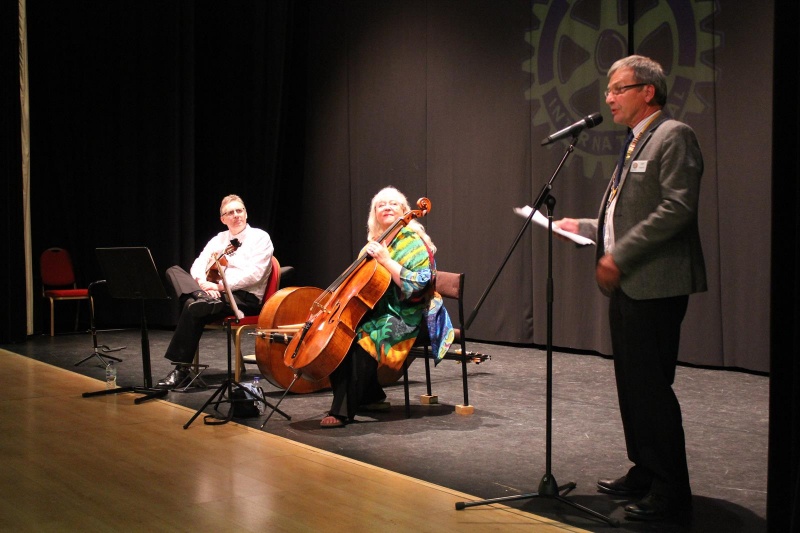 Pershore High School
Presentation Evening
Katrina Hart, a bronze medal winner in the 4X100 m relay at the 2012 London Paralympic Games and ex Pershore High School student was the Guest of Honour at the school's Presentation Evening. John and Kit were both invited as our club donates Rotary Club Awards for Modern Language Essays. John presented Eloise Seale and Heather Titterton with the French and German essay awards respectively. He also took the opportunity of getting much needed advice on how to run faster!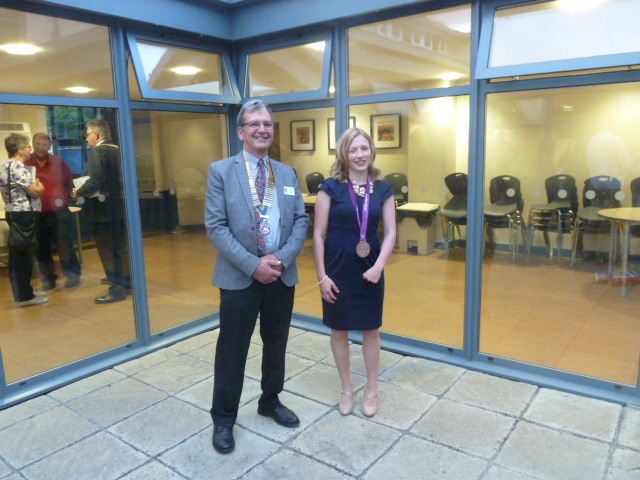 Two Water Survival Boxes purchased and ready to be sent to the next disaster area.
Guest speaker Tony Quinn (Rotary Club of Chelwood Bridge) receives cheque for £300 after delivering a really interesting talk about the boxes they make up and deliver to emergency areas throughout the world.
The standard water survival box is designed for a family of five who have lost their homes and all their posessions following natural or man made disaster. First priority is the water purification kit - to protect against water-bourne disease. Second priority is to provide survival items for: eating and drinking, health and hygiene, basic shelter,simple tools,household items - all to help survival for the early weeks and months after disaster.




Pershore links with Limbe (Malawi)
to help Megan Thomas improve
Yamikani House


Megan from Pershore High School raised money to go on Project Trust in order to spend 8 months in an Orphanage in Malawi. She has found this a really rewarding experience. She recently contacted us outlining their effort to make Yamikani House more self sustainable. Their plans include building and kitting out a chicken hut, creating a decent vegetable garden and renewing their bore hole to ensure a good supply of clean water. We decided to make all this happen with £750 and are working closely with the Limbe Rotary Club in Blantyre to set the projects going, provide monitoring and relevant photos and accounts as proof of work done. We are dealing with Tayub who is both one of the Directors of Yamikani House and a member of Limbe Rotary Club.


President's Night at Holland House
On Wednesday 1st June we celebrated President's Night in style. Holland House is a wonderful atmospheric and relaxing venue to hold an event and it lived up to expectations. Welcome drinks and canapes served in the hall and garden set the scene. A very tasty and well presented 3 course meal followed, rounded off with coffee and petit fours. we were entertained throughout by a talented pianist putting us in the right mood for enjoying out event.
As a surprise item President John awarded Bob Marchant a well deserved Paul Harris Fellow. This was to acknowledge his "service above self" in pershore Rotary. A second coming as president, creation and follow through with the Twylight Club, continued driving force behind the Tree of Lights and all the social events organised over the years.
As another surprise, John (fortified by the red wine consumed at the table) proceded to recite his year as President in verse. Autographed copies can be obtained directly from John for £1000 donated to a charity of his choice !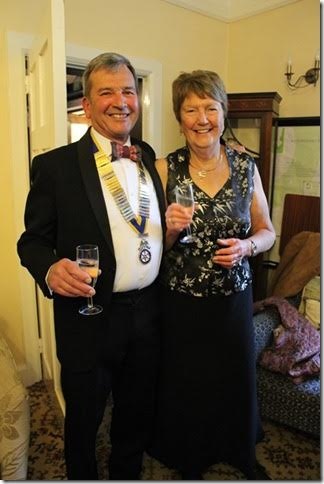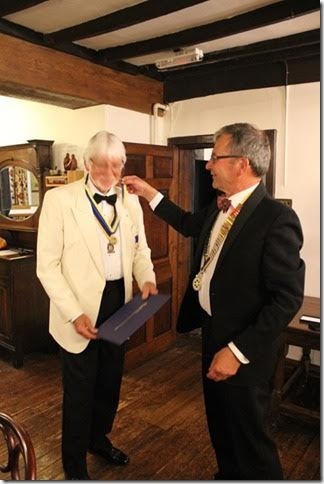 All Things Wild
Joe and Ken have now trained on all their hair-raising rides at the Safari Park so fearlessly wanted to move up a gear. They were not daunted in the least by the prospect of the Vale School challenge of All Things Wild. They tyeamed up with Evesham Rotary under Sue Lomas' leadership.
So they volonteered for Kids Out on 8th June and ventured off to Honeybourne where they got hands on experience with animals. Rotarian volunteers and the yougsters alike had a really fun time with the animals. We expect to receive some feedback on wildlife encounters as a change from death defying rides from them both if they manages to survive.
Champagne tombola
Once again we held a champagne tombola on Pershore Abbey grounds on 30th May. Good weather helped bring out the crowds to sample the craft, food and drink stalls and the wide variety of activities taking place. Adrian organised our traditional Champagne Tombola and Kit helped set up the Pershore High School Interact stall selling drinks and sweeets. lots of volunteers helped set up and man the stalls. All those Rotarians with "barrow boy" sales experience helped pull in the punters. We made a clear profit of £358 on the day so well done to all involved.
Twylight Club inducts new members
On behalf of Pershore Rotary Club, president John inducted 3 new members to our satellite. Mike Gordon,Michael Williams and Kim Dunn joined the Twylight Club on Monday 16th May at the Angel in Pershore. Sue Fitzjohn (our District Area 8 Rep) attended along with Mike Lambert and Eric Brownhill(Rotary Club of Stroud). Also several Pershore Rotary members were present. Mark Jennings, pershore baptist Church minister gave an interesting account of charitable work through a local Trust Fund.
The Twylight Club welcomes new members meeting every first and third Monday of each month 5:30 pm at The Angel. This club particularly atrracts young people working and/or living in and around Pershore. If you fancy joining this active group contact the secretary Tom Tarver on tom.tarver@jpc.uk.com
Rotary works internationally - more
spectacles for Sri lanka
As a result of our joint work with Kandy Rotary Club on Eye Camps in Sri Lanka, John was recently contacted to find out if we could put 14 boxes of spectacles to good use. These large boxes were lying in a building in Sri Lanka, in a store set up by Hope Outreach who had been carrying out eye clinics since 2004. They had ceased operations and had these as surplus but didnt want them to go to waste.
John contacted his friends in Kandy Rotary and they declared they could use them at an Eye Camp in Matara where they were intending to screen 400 people. He duly made arrangments to get the spectacles delivered to Kandy. So once again Kandy and Pershore Rotary work together.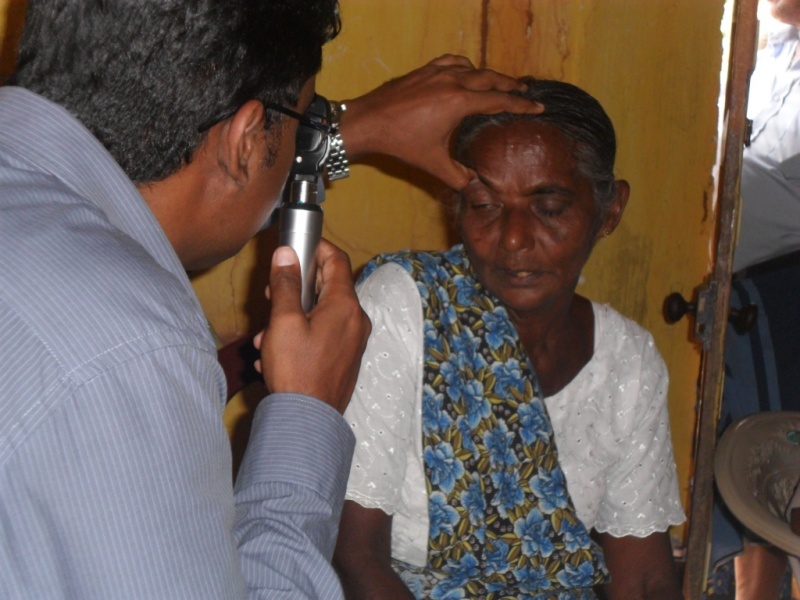 Donation to Pershore Riverside
Youth Centre
Alex Mellor receives a cheque for £1500 on behalf of Pershore Riverside Youth Centre.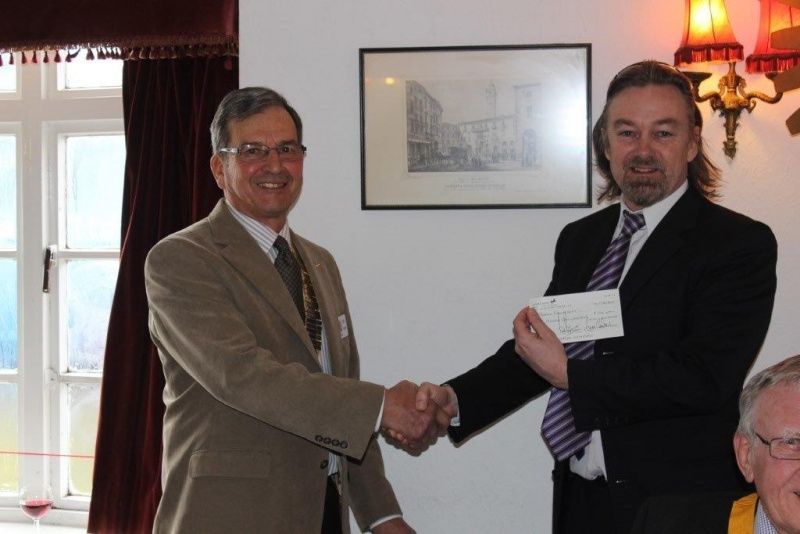 Donation to Acorns Children's Hospice
Gemma Timmis receives £1500 on behalf of Acorns Children's Hospice.


Tree of Lights - successful this year
The rolling screen display in Allchurch Bailey proved a major success in attracting donations to the Tree of Lights Appeal. This was a big improvement on previous years. Next year we hope to add another screen and attract more sponsorship.
£4500 to be distributed betweeen Acorns Children's Hospice, Pershore Riverside Youth Centre and Pershore Rotary Grant Scheme.


Fund raising for Desai School
This year we have now raised £1,950 to upgrade Desai School in Nairobi.
We are supporting Swindon Old Town Rotary Club linked to a Rotary Club in Nairobi in their bid for a global grant. The grant scheme means that each £1 we raise will become £3.44 through matched funding.
This will enable the school to admit an extra 150 pupils, build a kitchen on site and provide a secure water and electricity supply.
Desai School is situated in a Nairobi slum and only takes children from the slum to give them skills, knowledge and hope for the future. All the staff are recruited from the slum and trained to teach to a high standard. Children are very keen to learn and usually attain excellent results in the National Tests.
John Angood - President 2015-16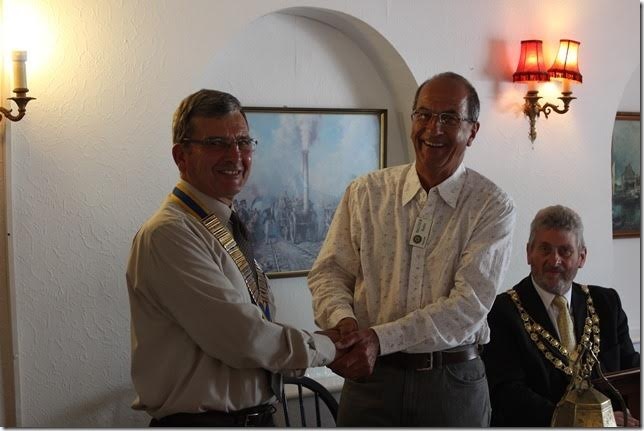 Eye Camps in Sri Lanka
Building on last year's success of improving the eyesight of 1500 people Pershore Rotary Club sent £3,500 to Kandy Rotary Club on 22nd January. The money came from a mock auction at a fun antiques evening, Flint & Holywell Rotary, a District grant and various donations. John Angood said "A big thank you to all who took part and contributed to this massive effort. Over 2 years we have raised and sent £8000 to kandy Rotary for eye camps - a remarkable achievment "
His Rotarian friends in Kandy have already organised 2 successful eye camps with more to follow. "We get extraordinary value for money as each £3 either provides a pair of prescription glasses or a cataract operation. This year we should be able to help 1,200 people".
Rotarians Antiques evening raises money for Sri Lankan Eye Camps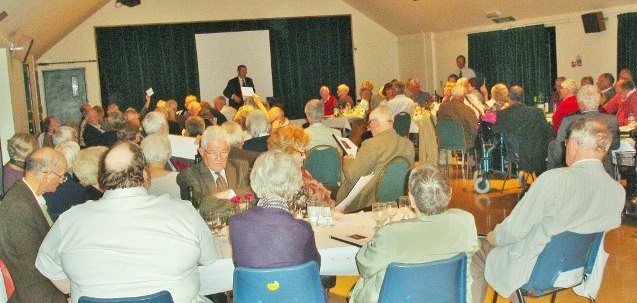 Our attempts at the antiques evening of bidding the price articles actually sold for at auction showed most of us don't know the price or value. The mock auction winner was a guest, Tony Cocks - next door neighbour to John. However John certainly knows how to organise an excellent fun evening, and yet again showed his prowess at raising funds for eye camps. The overall profit was £1,500. As usual this demonstrated the more base habits of members - gambling (the raffle raised a profit of £430) and drinking (the bar raised £226.95) With the £500 from Flint and Holywell Rotary Club, plus other donations, the total now stands at £2,340. Well done John and thanks to all those who assisted with the bar, raffle, clear up and in organising the evening. The original oil painting by Kumara Rathnayaka sold for £105 to Anne Angood.
Richard Martyr Memorial Award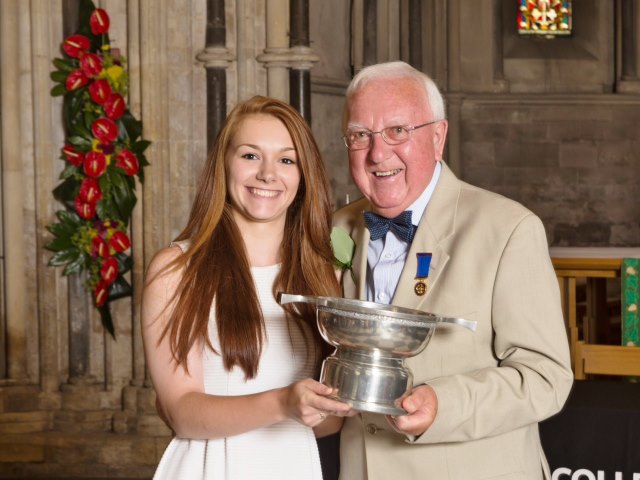 Cairns clearly enjoyed representing the Club at the Pershore College Award Ceremony where he presented this Pershore Rotary Club award to Olivia Jew
As an interesting by product of this the College has expressed the wish to further develop links with our Club. Cairns is pursuing this
Rotary Youth Leader Awards Worthwhile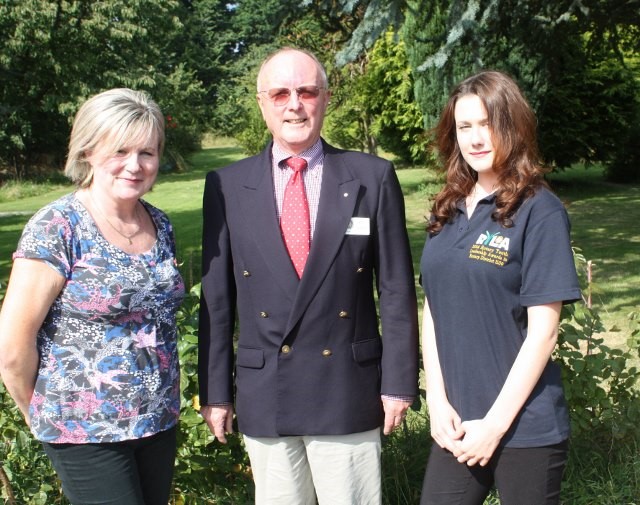 Our RYLA candidate from last summer, Lydia Stephens, accompanied by her mother, joined us for lunch at a recent meeting. She did of course have to earn her lunch by giving a presentation of her experiences on the course. All agreed this was one of the best presentations we had received from a High School student - very confident and full of enthusiasm. Her description of the activities was punctuated with "terrific"; "fun"; "brilliant"; "team work"; "worthwhile" It is listening to young people that have experienced RYLA that makes our support of it so worthwhile and rewarding.
Pershore Rotary's new President Malcolm Haden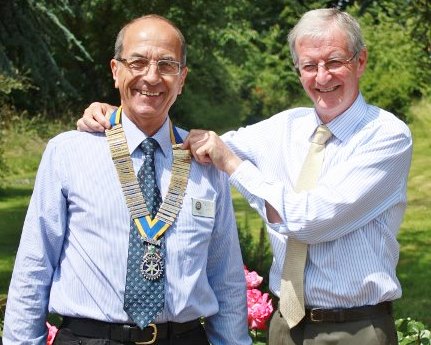 The annual handover ceremony gave Alan the opportunity to highlight the achievements of the Club this year. In total over £17,400 has been donated to charitable causes, the main beneficiaries being Sri Lankan Eye Camps (£4,539), Pershore Riverside Youth Centre (£3,500) and Acorns (£1,500). The extensive social programme included Summer Garden Party, Christmas party, Stratford Theatre trip, visit to Heritage Motor Museum and Committee social evenings. "It has been a privilege to be your President. This has been a team effort. Thanks to everybody - Officers, Council members and all those who rally round!. Malcolm thanked Alan for a brilliant year and ensuring being a member of the Club was a real pleasure.
It became readily apparent at the subsequent photo shoot that our new President and the 2 senior office holders of Secretary and Treasurer were not only members of the Wyre Piddle Mafia, but also that infamous local band "Four Old Geezers". It is hoped to recruit John, our Senior Vice, to complete the set - major musical talent is not a prerequisite John, just a sense of humour and the fortitude to survive the lengthy word tours the band will be offered after its success at Dumbleton Hall.
Normally meet weekly for lunch, with a speaker after the meal. Sometimes we visit other clubs or places of local interest and hold evening meetings when partners and friends are usually invited to join us (see "Meeting programme"). These help develop a sense of fellowship and are enjoyable occasions. Visiting Rotarians are always made welcome.
Our main aim is to serve the community both at home and abroad. To achieve this we support a number of charities and engage in other service activities, e.g. Stroke Awareness-testing peoples blood pressure in the centre of Pershore and the Tree of Lights. If you would like to support an event or help in any way please use the "Contact form"
Happening soon...
Meetings and events happening soon
Wednesday 10th June 16.00
ZOOM meeting at 4pm for all members
---
Use our ZOOM forum to keep in touch with other Club members.
Wednesday 17th June 10.30
ZOOM at 10:30am CLUB ASSEMBLY and HANDOVER
---
An important Rotary meeting - not to be missed.
Wednesday 24th June 16.00
ZOOM meeting at 4pm for all members
---

Keep in touch.
Wednesday 1st July 10.30
ZOOM meeting at 10:30 am for Council.
---
Agenda and details on emails.
Wednesday 1st July 16.00
ZOOM meeting at 4pm for all members
---
Keep in touch.
future events Past Events calendar district events local events
---
---
---
Rotary News
Be part of a global network of volunteers, trying to make the world a better place. Please also see the 'links & news' page for information from the local district and live feeds from Rotary International and Rotary International in GB&I.
Flexibility creating new opportunities for new members
---
RotaKids supporting their local community
---
---
Meetings & Venue
Where and when: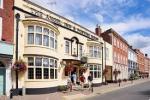 We meet on Wednesdays at 12:00 for 12:30
(
Occasional evening meeting 7.00 for 7.30pm. Our Business Club (as an alternative) meets regularly 1st and 3rd Thursdays every month 5:15pm at The Angel in Pershore
)
The Angel Inn Hotel, 9 High Street, Pershore.
VIRUS LOCKDOWN MEET ON ZOOM
3rd Wed each month until further notice WR10 1AF
01386 552046