Christchurch Rotary Club's New President Awards Rotary Honour
Marianne Abley has been appointed as the new President of Christchurch Rotary Club. Marianne has been in the club for the past four years and spent many years of her working life in public service both in England and abroad. She has been Chair of Cruse Bereavement Services locally and is a trustee of the Citizens Advice Bureau for Bournemouth, Christchurch and Poole.
One of her first acts as President was to award a Paul Harris Fellowship to Rotarian Richard Reader at the first face to face meeting of the Christchurch Rotary Club for over a year on Tuesday 27 July at the Kings Arms Hotel Christchurch.
Marianne said that "It was a great privilege to present Richard with the award which is only given to Rotarians who have given outstanding support to their club and their community. He is often described as the quiet Rotarian who embodies all the qualities of a diligent and respected member. I joined the club during his presidential year and found him to be extremely supportive to me as a new member. It was a great pleasure and personal reward to see Richard as Paul Harris Fellow.
Richard joined the club in the year 2000 and his contribution to the club has been extensive. He has been outstanding in his work as press officer and has kept the club in the limelight, particularly during the pandemic when we were unable to meet. He helped to set up the Business Partners Scheme and was club President in 2016/17. He has worked extensively in the local community as secretary to both Christchurch Chamber of Trade and Commerce, Christchurch Food Festival CIC and until recently a Director and secretary to Highcliffe Residents Association CIC."
Marianne went on to say that she "looks forward to a year of fellowship and friendship supporting local and international communities through a variety of Rotary initiatives, especially at this difficult time for many local people. Rotary is at the heart of giving help to people in need and I am very keen to see this work continue".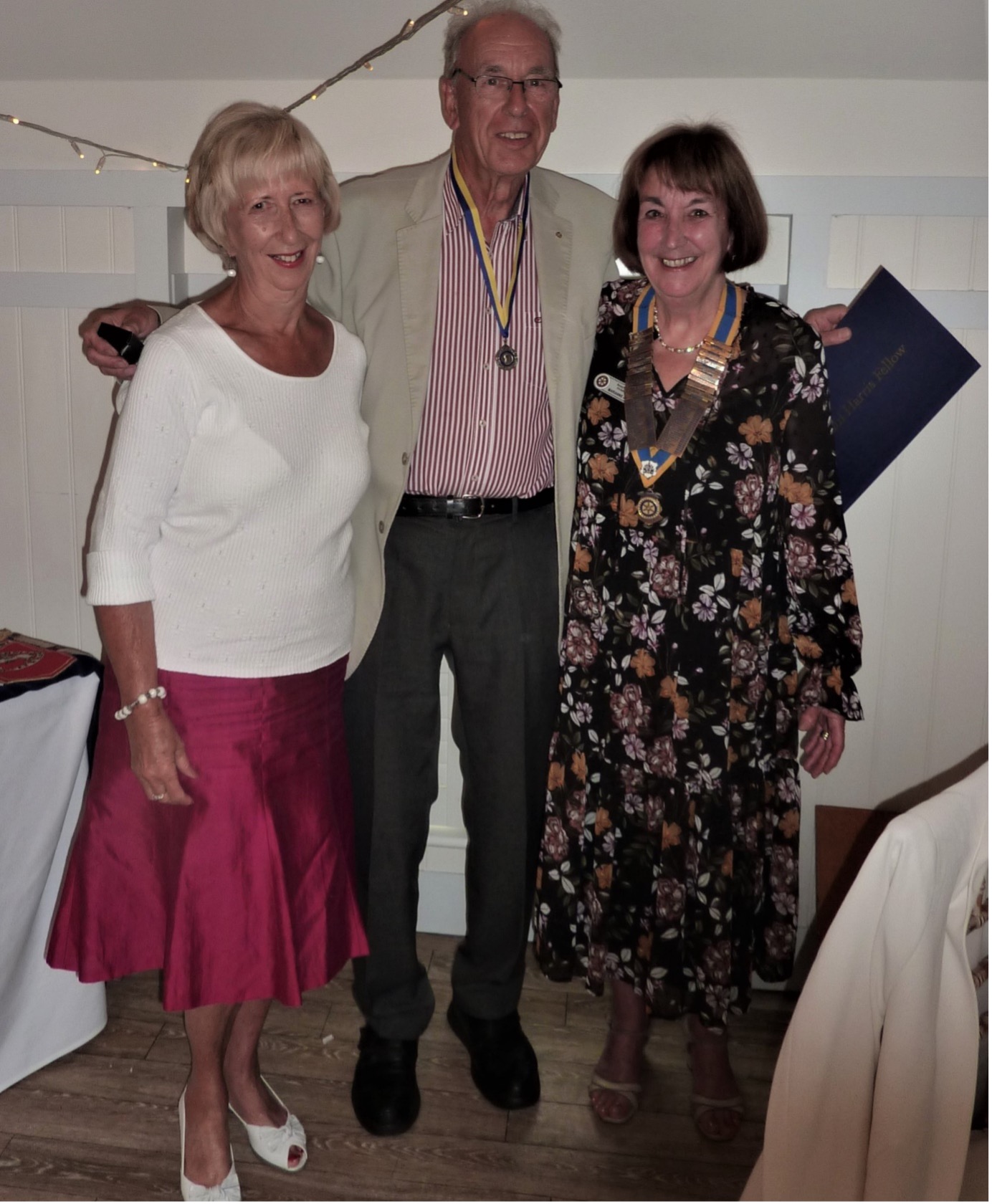 ANNUAL REPORT AND FINANCIAL STATEMENTS OF THE TRUSTEES FOR THE YEAR ENDED 30 JUNE 2020
Christchurch Rotary is supported by the following Business Partners
| | |
| --- | --- |
| Avon Reach Care Home | |
| B Cole & Sons (Amusements) Ltd | |
| K J Kilford Builders | |
| Captains Club Hotel | |
| MPA Financial Management | |
| Ambrow Trailers Ltd | |
| Millers Undertakers | |
| South Coast Marine | |
| Harbour Hotels Group | |
| Hoburne Dental Practice | |
| Signs of Distinction | |
| William Cole (Carnivals) Ltd | https://www.facebook.com/williamcoleandsonamusements/ |
| Window Centre | |
| SureTech IT | |