Team for 2020/21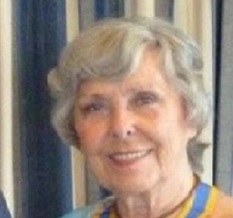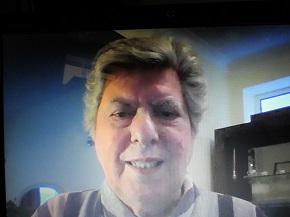 Joint Presidents Georgina Brooks and Bob Bradley - beginning the year under lockdown.
The chosen charity for the year is Vasculitis UK. A medical charity providing research, eductaion and patient support for a range of auto-immune diseases with no known cause or cure.

We now have a charity account with Amazon
If you link your Amazon account to us, we will receive 0.5% of the value of your purchases. All products and prices remain the same and you use the same User ID and Password. You just need to remember to enter Amazon via Amazon Smile each time you want to use it.
Follow these steps to link your account to our charitable trust:
1 Go to Amazon Smile or search for amazon smile on your browser and load it.
2 Log in using your existing User ID and password
3 Enter "Poole Rotary" as the charities name and click search.
4 Select "Poole Rotary Charitable Trust" from the results list (it should be at the top).
5 If you wish you can install Amazon Assistant – but this is not required.
Your selection will be remembered each time you use Amazon Smile. All your purchases are confiendial. If you use the main Amazon site, then nothing will be donated.
Please encourage all your family, friends and accquantances to do this.
We are raising the funds to buy a Shelterbox using Just Giving
Tsunamis, earthquakes, hurricanes, floods, volcanoes, typhoons and now coronavirus. We live in a country with dependable weather and shelter. Just imagine what it is like to have your roof and all your belongings destroyed at once by natural forces and diseases beyond your control. Shelterbox provides emegency relief for such circumstances.
To contribute to the £590 we need, go to Poole Rotary Just Giving Appeal.
Latest Rotary Videos
Team for 2019/20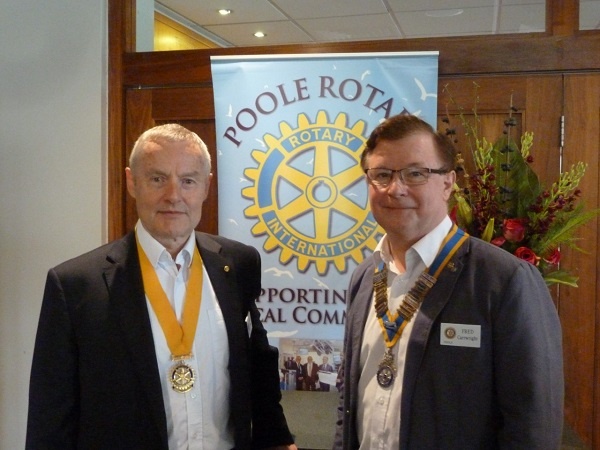 Vice President Andy Ross (left) and President Fred Cartwright.
This was a Rotary year greatly affected by the Covid-19 pandemic. Our President was even called back to serve in A&E for the NHS. Many social, twinning and fundraising events had to be cancelled. We all learnt how to use Zoom for meetings.
A highlight of the year was the Chinese Celebration Buffet and Entertainment. Held in October with terrific support from The Dorset Chinese Association, the event raised £2,320 split between Global Sight Solutions, The Nepal Trust and Shelterbox disaster relief.
Other organisations helped include: End Polio Now, Jean Robinson Trust in Grenada, PramaCare Foundation, YADAS, Bayside Acadamy, Carter Community College, Saint Anns, Young at Heart, Elizabeth House Care Home and Cots for Children and Nursing Awards at Poole Hospital.
Along with other Rotary Clubs we supported Young Musician, Young Chef, Youth Speaks and Technology Tournament competitions.

Bursaries were awarded to the following young people: Liam Openshaw (tri-athlete), Hannah Glatter (sailing) and Ben Kimber & Rocco Strickland (Costa Rica ecological visit).
Sadly during this year we lost Rotarians Gordon Alder and Bryan Keeping, honorary member Norman Morris and retired former presidents Norman Pipler and Ray Smith.
Stuart Dean was made a Paul Harris Fellow, the highest award in Rotary, after many year service to Rotary and the local community.