About us


WELCOME TO THE ROTARY CLUB OF CASTLE DOUGLAS WEBSITE
LATEST NEWS!!
PLEASE NOTE THAT ALL CLUB MEETINGS HAVE BEEN CANCELLED AS A RESULT OF THE CORONAVIRUS UNTIL FURTHER NOTICE:
Below are some of our more recent activities. For more details of what we do and what we support, both locally and internationally, please look under the "What we do" tab at the top of this page.
ROTARY DISTRICT 1020 SW AREA "KIDSIN" ONLINE AUCTION WEDNESDAY 29TH JULY:
An Online Zoom Auction has been organised for Wednesday 29th July starting at 19.30 hrs. Below are details of how to join the Auction and how to bid for the various items.
This is an online Zoom Auction to support the charity "KidsIn 8000". The charity needs to raise £80,000 to enable "KidsOut" to fund the 8000 children and mother in refuge to have a fun day out at the cinema, a drink and popcorn. This will take place when social distancing allows! The fun day out helps children remember what it is like to be a child again and have some fun. Fun Days give these children something to look forward to and happy memories to last a lifetime! All the money raised will be spent on the children.
There are two ways in which you can take part and support this fundraising event. Firstly by joining the Zoom Auction or by making a "sealed bid" online.
To join the Zoom Auction, email Louise Smith at louisesuz@aol.com to book your place.
The signing in details for Zoom are:- Meeting ID: 883 8871 0326. Password: 537688
How to place a "Sealed Bid" if you want to take part in the Auction, but not via Zoom on the night...
Please email Louise Smith louisesuz@aol.com stating
1. Which Lot No. your bid is for
2. One or Two words from the lot description to be sure
3. The amount you want to bid
Your email must be sent & received by 6.00 pm on Tuesday 28 July 2020.
The Lots!

Annan

Lot No. 01 - Hypnotherapy Voucher for Breconbeds Hypnotherapy
Value of £50
Lot No. 02 - Pet Photographic Portrait "All Creatures Great & Small" Indoor or Outdoor photoshoot. One hour. 5 images include on a pen drive.
Value £75

Castle Douglas
Lot No. 03 - Gift Hamper containing Wine and Nibbles made by Harris & Co. Castle Douglas
Value of £50
Lot No. 04 - Bottle of Garden Shed Gin, produced in Glasgow. 70cl. 45% vol.
Value £37.95
Dalbeattie
Lot No. 05 - A Midweek round of golf for four players at Southerness Golf Club, a championship links course with spectacular coastal scenery
Value of £240
Dumfries
Lot No. 06 - "Frogs in the pond" Handmade Quilt. 42" Square. Can be used as a Quilt or a Playmat. 100% Cotton. Machine Washable. Can be Tumble Dried.
Value: £100
Lot No. 07 - Line Drawing by Phil Collins of Phil Collins 13' x 11"
Value £50
Lot No. 08 - 6 Bottles of 2014 Amarone Della Valpolicella to be opened 2024
Value £180
Lot No. 09 - GE Photography Family Portrait Experience Voucher for a group of up to 6 people. Including 2 images to be reproduced as 10" x 8" prints.
Value £95
Lot No. 10 - Isle of Harris Gin. 70cl. 45%Vol and Harris Gin Glass Twin Set and Walter Gregor's Tonic Water 4 x 200ml
Value: £69.99
Lot No. 11 - Case of 6 M&S Prosecco. Delicate, Crisp, Zesty.
Value £48
Lot No. 12 - "Just Slate" Natural Slate Handcut in Scotland. Small Tray and Set of 4 Natural Slate Coasters "Highland Cow" design.
Value £62
Lot No. 13 - Elderflower Gin Liqueur. Glitter Globe. 70cl 20% vol
Value £15
Dumfries Devorgilla
Lot No. 14 - Car Roof Luggage Pod
Value of £t.b.c
Lot No. 15 - Womens Walking Trainers. Size 36
Value £t.b.c
Lot No. 16 - Bike Roof Rack
Value £t.b.c
Kirkcudbright
Lot No. 17 - A basket hamper containing: Half bottle of Glayva, 2 small bottles wine, jars of local preserves and pickles, bottle balsamic truffle condiment, oatcakes, local cheese and pate.
Value of £50
Lot No. 18 - Tour of the Galloway Hills in a 1931 12/50 Alvis wide 2 seater with a 2 seater dickie seat, for 2 adults and one child. Subject to social distancing and government advice.
Value £180
Lot No. 19 - One bottle of Tobermory Gin in a presentation box with a balloon, blue stem glass.
Value £50

Lockerbie & District
Lot No. 20 - One bottle of Napoleon Brandy. 12 Year Old. 1 litre
Value: £t.b.c
Lot No. 21 - One bottle of Glenfiddich Whisky. 15 Year Old.
Value £t.b.c
Lot No. 22 - Texel Cross Lamb 40kg. Butchered
Value £120.00
Lot No. 23 - One bottle of Dom Perignon Champagne
Value £t.b.c
Newton Stewart

Lot No. 24 - Laithwaite's Wine Case
"Discovery Dozen Reds Gift"
2 each: Il Papavero, Portinho do Covo, Hacienda de Lluna Shiraz, Ramon Roqueta Tempranillo Barrel Selection, Yarrunga Field Special Reserve Shiraz, Il Basso Merlot
Value: £89.00
Lot No. 25 - A 3-night stay at No7 The Smiddy, Wigtown.
1-bedroom flat (double room) with spacious living area in the heart of Wigtown, Scotland's National Book Town.
Dates negotiable depending on availability. Excludes Wigtown Book Festival dates.
Contact Anne Barclay to arrange: annebarclay1@gmail.com or 07834693420.
Value: £160
Thornhill & District
Lot No. 26 - Bottle of Malt Whisky
Value: £t.b.c
Lot No. 27 - Gillian's School of Motoring. One Hour lesson or One Hour Refresher.
Value: £30
Lot No. 28 - Framing by B-Framed to the value of £40.00. Photograph, Painting or Print.
Value: £40
CD ROTARY SUPPORTS THREAVE ROVERS YOUTH TEAM:
Like all Rotary Clubs, Castle Douglas is very committed to offering young people opportunities to unlock their potential, develop new skills and broaden their horizons. The Club enjoys working with young people and seeing their development. Thus, this year, they have provided £400 funding to Threave Rovers Youth Team to help in their drive to make the Birkland ground much more environmentally friendly. Mark Geddes who runs the Threave Youth Squad commented that, after a game at the Birkland ground, there is a large amount of plastic waste left behind and which has to be cleared up and disposed of. This is an environmental issue. The money from Rotary will enable Threave Youth to install a new potable water supply from which supporters can fill their reusable containers. In addition, tea and coffee will now be served in reusable mugs. Thus the Birkland ground will become more environmentally friendly, the waste needing to be recycled or going to landfill will be completely avoided and the Youth Team will be more environmentally aware for the future.
CD ROTARY SUPPORTS LOCAL MEALS INITIATIVE: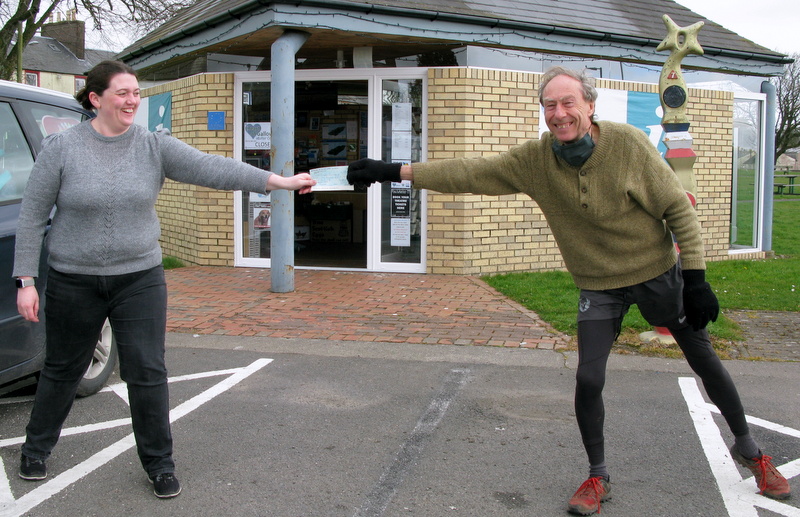 With the unprecedented disruption being caused to local people's lives around Castle Douglas due to the Corona Virus, Castle Douglas Rotary Club has been looking for ways in which it can actively help the community. Castle Douglas Development Forum already operates a food bank delivery service and this is now being expanded to produce 500 ready meals per week for distribution to those who are unable to cook for themselves.
Neil Walker, proprietor of the Mad Hatter Café and an active member of CDDF has, with time on his hands due to the closure of his café, kindly taken on the task of producing the meals.
With the income from the CDDF charity shop having dried up through closure of all non-essential shops, CDDF were facing a challenge to fund the ingredients for the meals.
Rotary President James Robertson decided that this was an area where Rotary could support the local community in a positive way. With the support of all the members of the Club, Treasurer Geoff Monk presented CDDF member Sarah-Jane Allsopp with a cheque for £1500. Sarah-Jane was taking a brief time out from delivering food parcels around the area to receive the cheque.
James commented that Rotary was very aware that it raised much of its funding from the local community and here was an opportunity to support a local initiative providing an essential service in difficult times. He added that while Rotary was not meeting during the current crisis it was still active and doing things both locally and internationally.
The attached photo shows Sarah-Jane Allsopp receiving the cheque from Rotary Treasurer Geoff Monk while obeying all the personal space advice!
VISIT TO VETERANS' GARDEN IN DUMFRIES: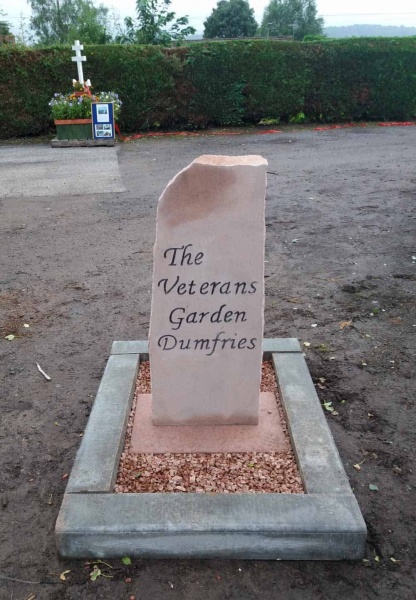 Club members recently visited the Veterans' Garden now located at the Crichton Nursery. This is a community garden which has been developed by ex-servicemen most of whom have suffered mental and physical health problems as a result of their military service. It offers a tranquil yet supportive environment where the veterans can achieve and enjoy the company of others.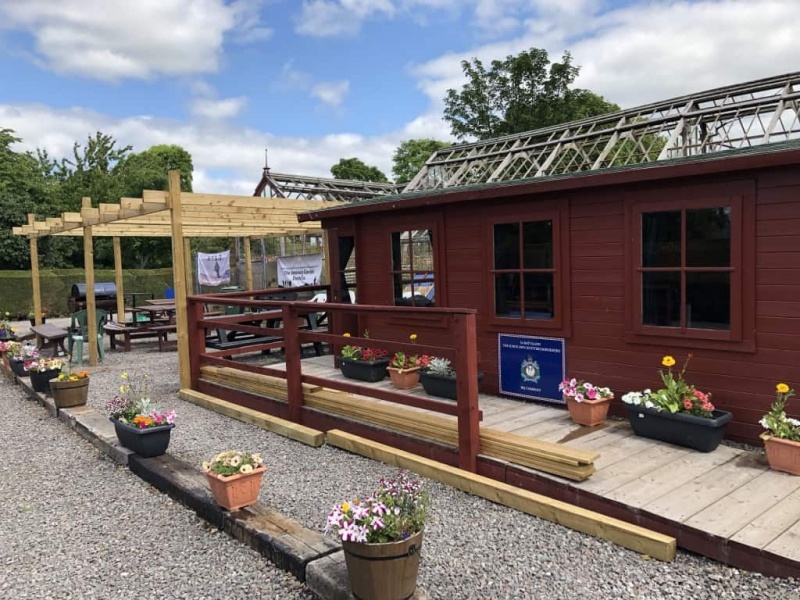 The veterans also run a monthly Breakfast Club where present and past servicemen can socialise and enjoy a good meal.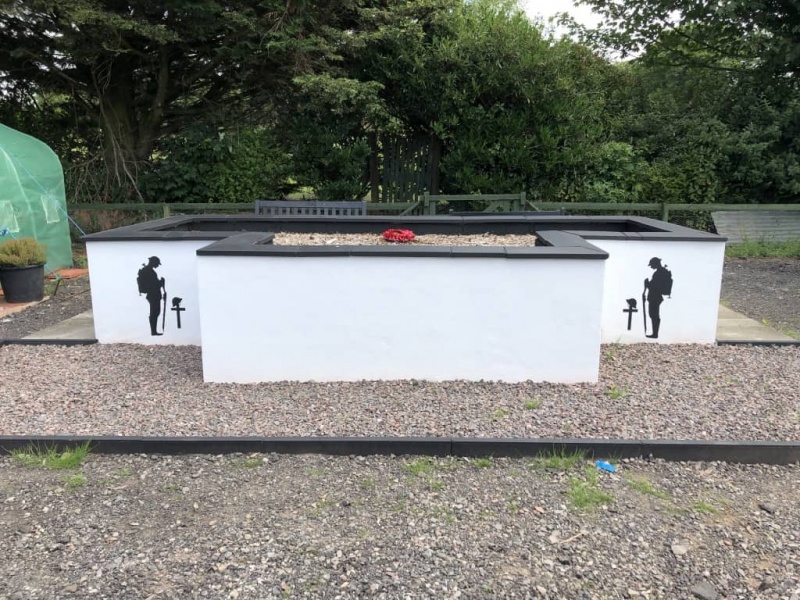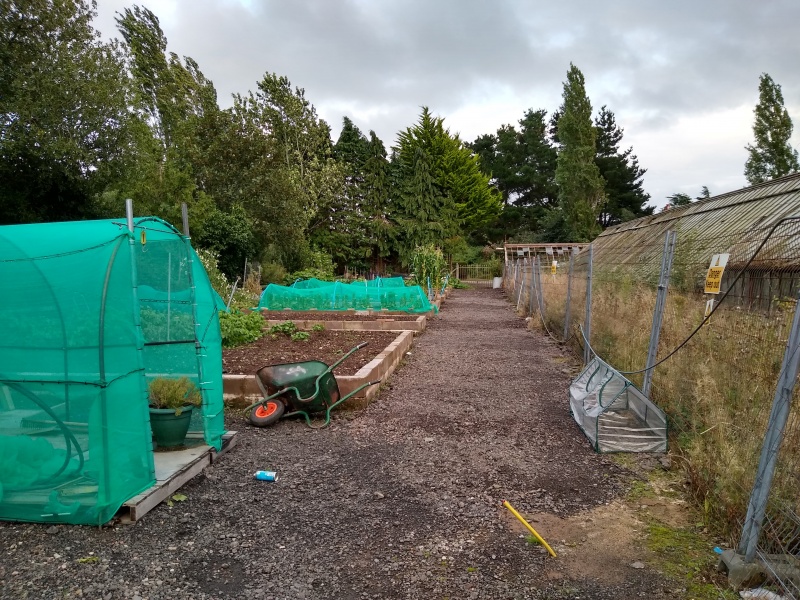 Some of the new beds in development.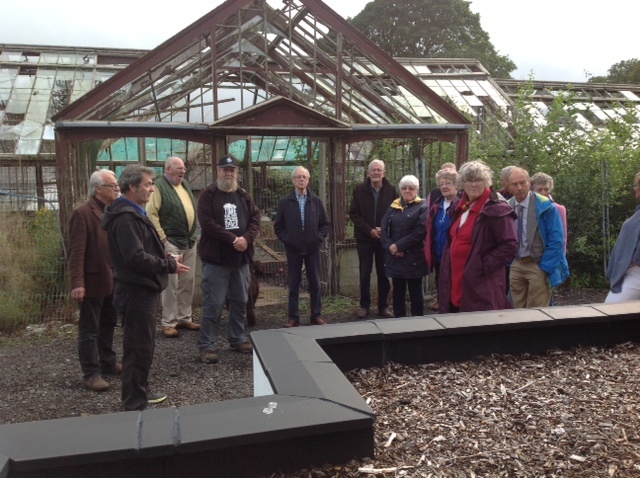 One of the original Crichton greenhouses which are now being refurbished by the veterans.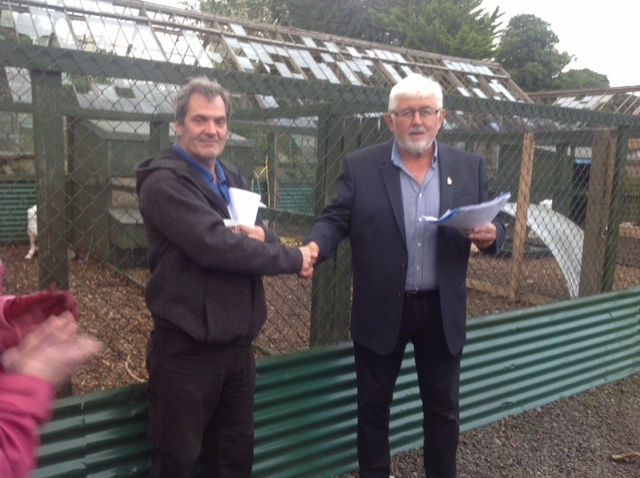 Alan Murray presenting Mark Harper with a cheque from Castle Douglas Rotary Club to support the work of the Veterans Garden.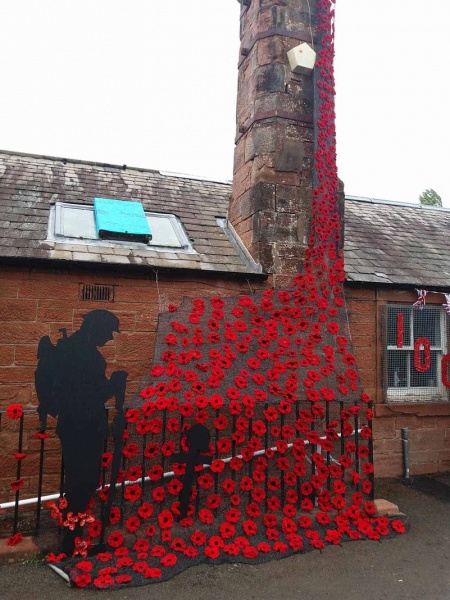 The tribute built by the veterans to mark the 100 year anniversary of the end of World War 1.
NEW PRESIDENT FOR CASTLE DOUGLAS ROTARY CLUB: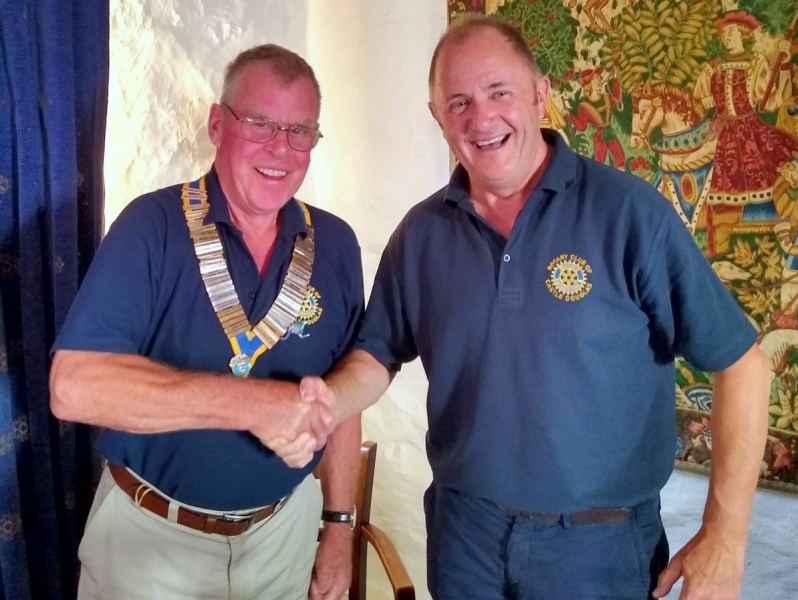 A delighted George Dickson hands over the chain of office to incoming President James Robertson. James will be leading the Club for the next 12 months and will be outlining his plans for the year at the Club's next Business Meeting.
VISIT OF PHIL GODFREY DURING HIS ROUND BRITAIN RAIL TRIP:
Phil Godfrey, who is an Ambassador for the life threatening disease, APS, visited Castle Douglas Rotary Club as part of his Round Britain Rail Trip. Phil talked about promoting greater awareness of APS which affects some 600,000 people in the UK yet is not well understood and often misdiagnosed. Phil's wife, Christine, suffered from the illness for 40 years before her untimely death. Phil has raised over £80,000 for APS Support UK which develops on line Continuous Professional Development Programmes for GP's and other health professionals.
President George presented Phil with a cheque for £250 to suport the work of APS Support UK before Phil set off on the next stage of his journey.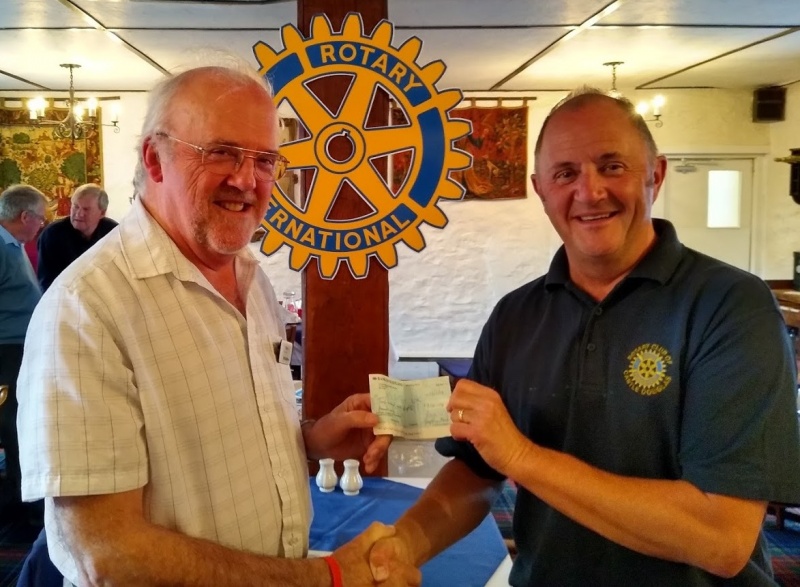 ROTARY RIDE 2019: SUNDAY 16TH JUNE:
Rotary Ride 2019 was very much a family ride with several younger riders who enjoyed the 15 mile ride. Below are some photos of the riders who enjoyed refreshments back at the Castle Douglas Legion.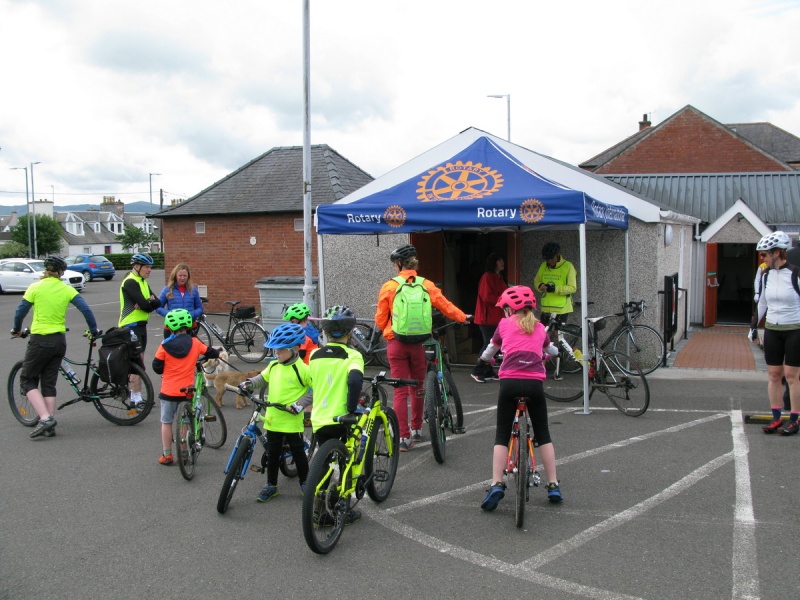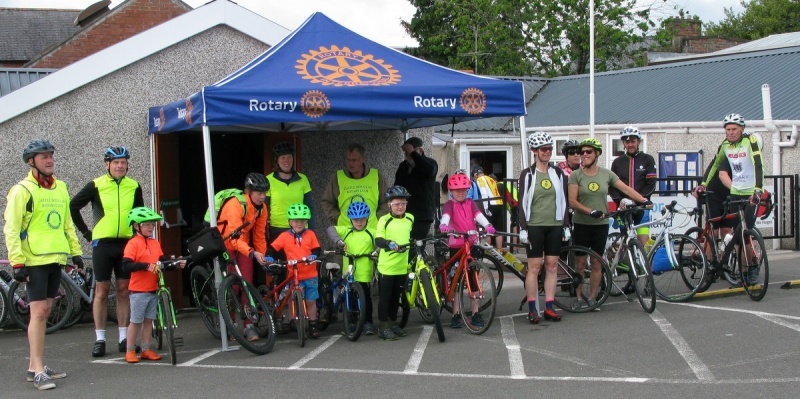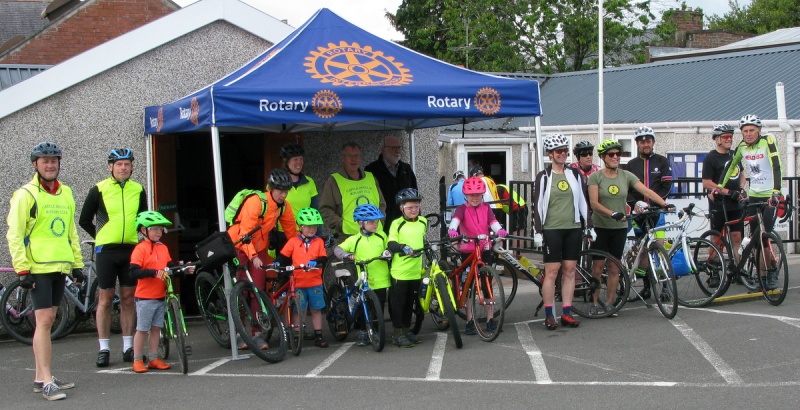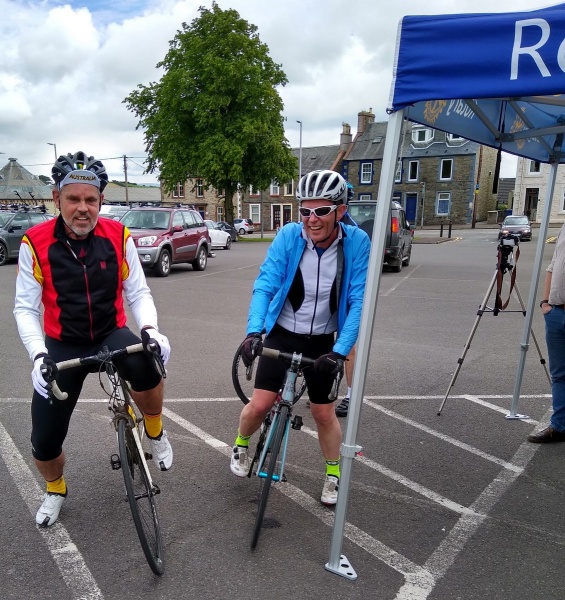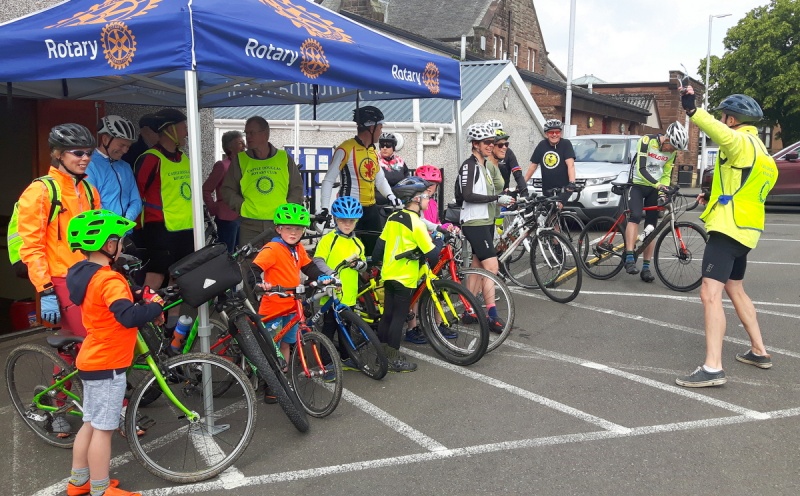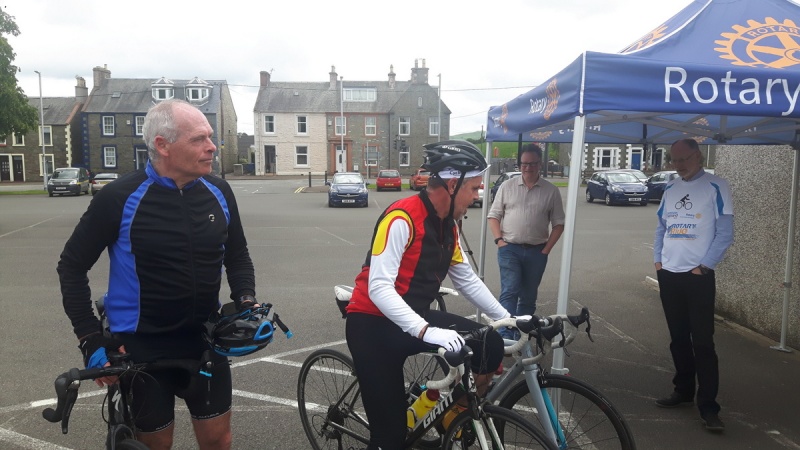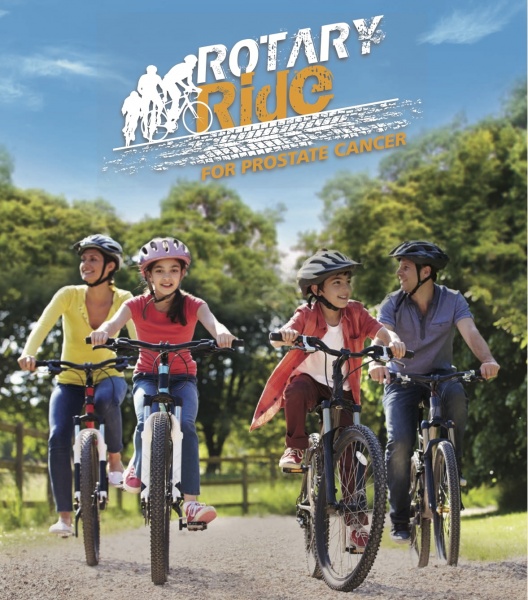 VISIT TO HILLS & HARBOUR GIN:
A party of Rotarians and friends visited the Hills & Harbour Gin Distillery in Newton Stewart. After hearing about the development of craft gins, the group were taken around the facility to see the process in action.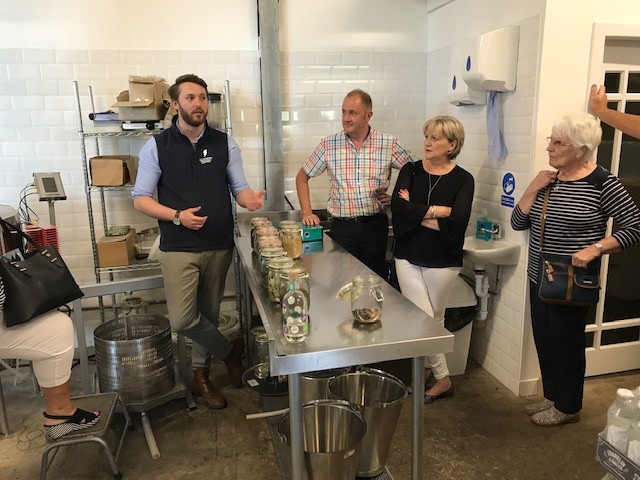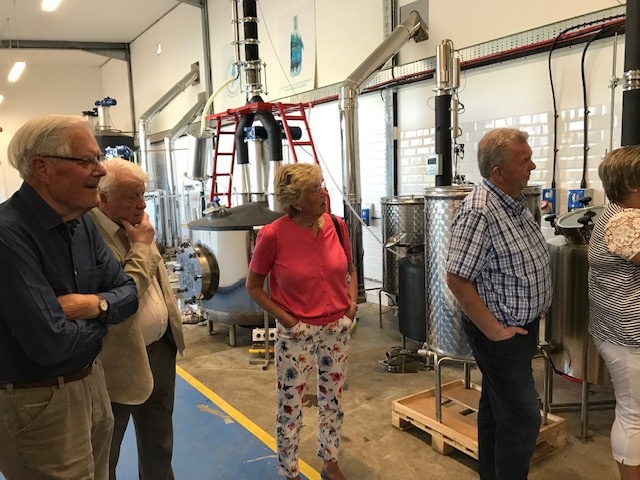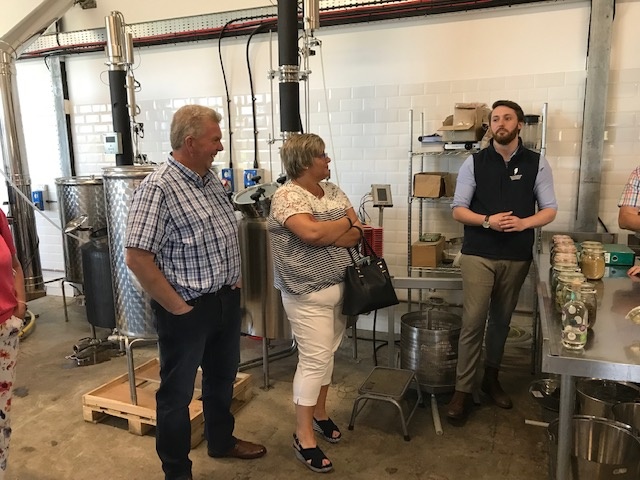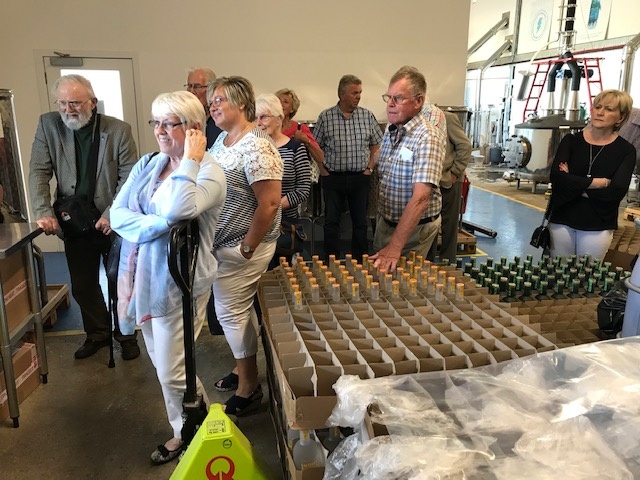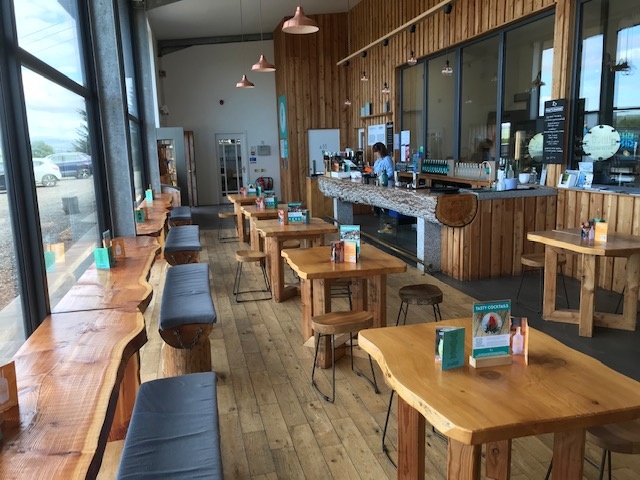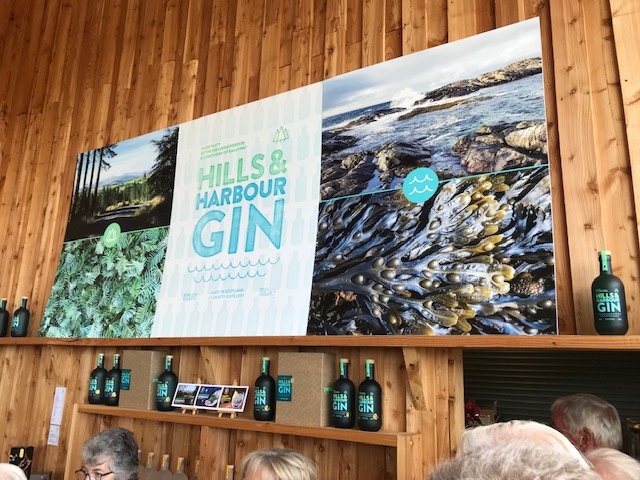 And finally, after all that walking and listening, they got to taste the end product!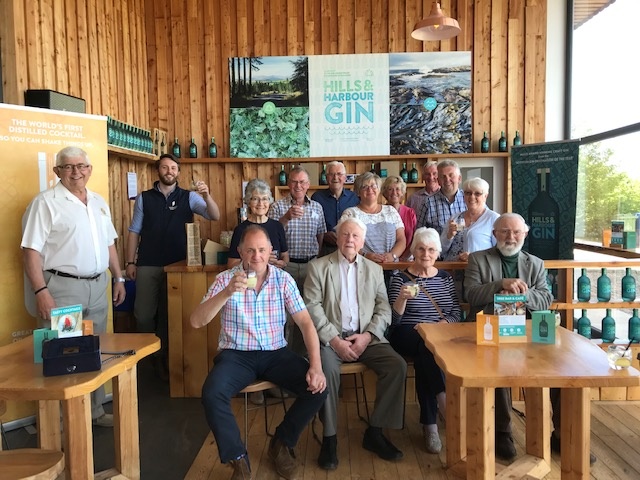 YOUNG MUSICIAN & SINGER 2019
Thursday 7th February saw 13 pupils from Castle Douglas and Dalry High schools competing in the Rotary Young Musician and Singer of the Year 2019.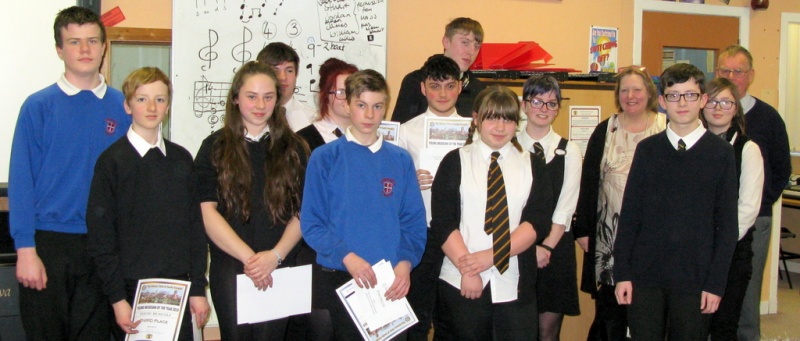 Following some excellent performances by the entrants, the judge named Kyle Duffy as Musician of the Year for his performance on the drums. Cameron Smith was names Young Singer of the Year for his redition of "Better Off the Way I Am". Finally, Kyle Duffy was awarded the Murray Trophy for the best overall performance.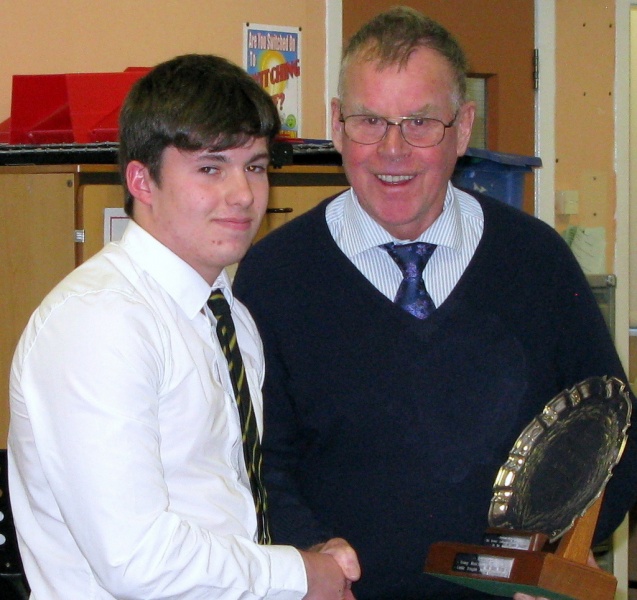 CASTLE DOUGLAS ROTARY CLUB MEMBERS IN 1971:
A photograph of the Club membership in 1971 has kindly been donated to the Club. It shows a healthy membership of 29 with many familiar faces. One of those pictured, Bill Hean, is still an active member and, in fact, Bill has been a member since the Club was founded in 1963.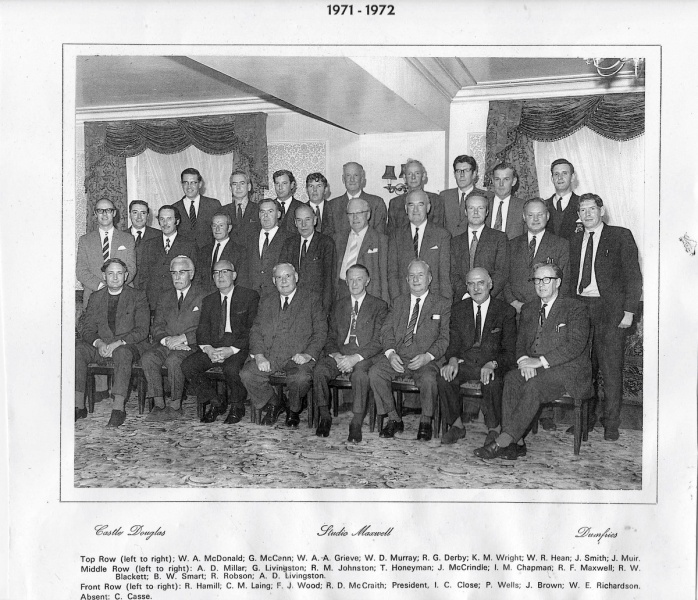 JOHN HEUCHAN REPRESENTS SCOTLAND!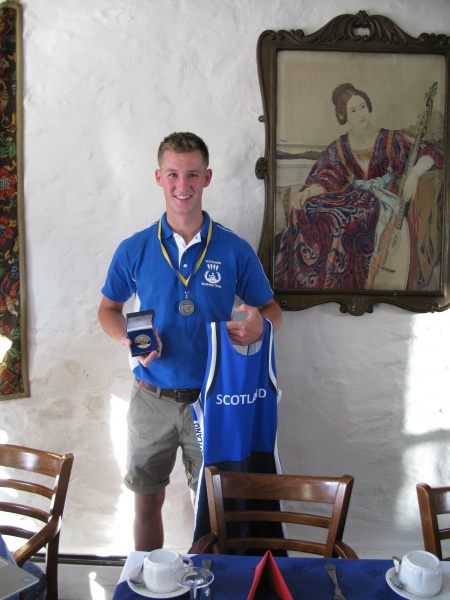 John Heuchan wins gold medal on his Scotland debut. John attended the recent Rotary meeting to update us on his rowing career and particularly his target of representing Scotland at rowing. Castle Douglas Rotary Club have sponsored John to develop his talent and help him achieve his goals. John was selected for the Scottish Rowing Team for the Home International Regatta held in Cork this year and raced in the Lightweight Double Class along with his partner, Ben Parsonage. To their delight they won the race by an impressive four lengths. John brought along his winners medal together win his Scotland Squad kit. President George Dickson is seen congratulating John for his achievements and the difficulties which he has overcome to achieve such sporting prowess.
John is next off to Australia to spend a year coaching rowing.
NEW PRESIDENT FOR CASTLE DOUGLAS ROTARY CLUB: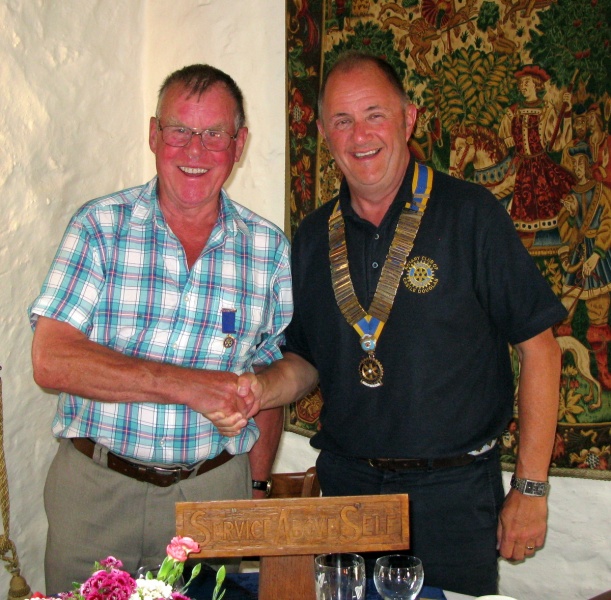 Club members welcomed George Dickson as the new President of Castle Douglas Rotary Club at the Handover Meeting. Before handing over the "chain of office", outgoing President James Robertson detailed the achievements of the Club over the last 12 months and wished George every success in the "hot seat". George outlined his brief plans for the year and emphasised his commitment to work with the Convenors to ensure that Castle Douglas Rotary continued to serve the community in which we live.
ROTARY RIDE 2018: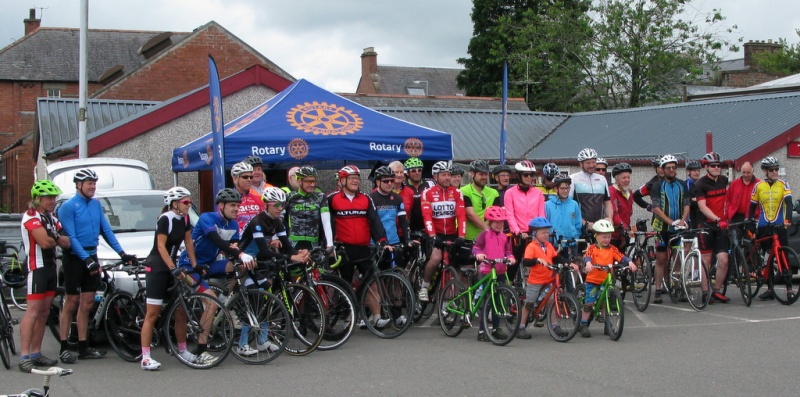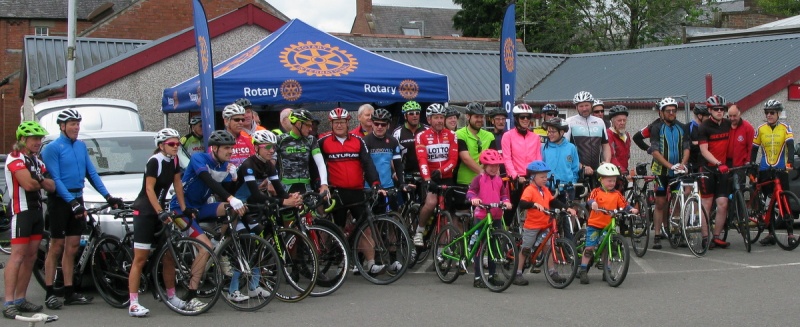 34 riders enjoyed the Kirkcudbrightshire countryside during the annual Rotary Ride which started from the British Legion in Castle Douglas. With riders aged from 4 to 74, there was a diverse range of competitors and ability. Most riders opted for the more challenging 45 mile circuit taking in Kirkcudbright, the Doon Bay and Twynholm before heading back to Castle Douglas. With a warm welcome and refreshments back at the Legion an enjoyable Sunday morning was had by all the riders.
Riders kindly donated £410 to Prostate Scotland to help with the work which the charity does to prevent deaths from Prostate Cancer with 11000 men dying of the disease each year.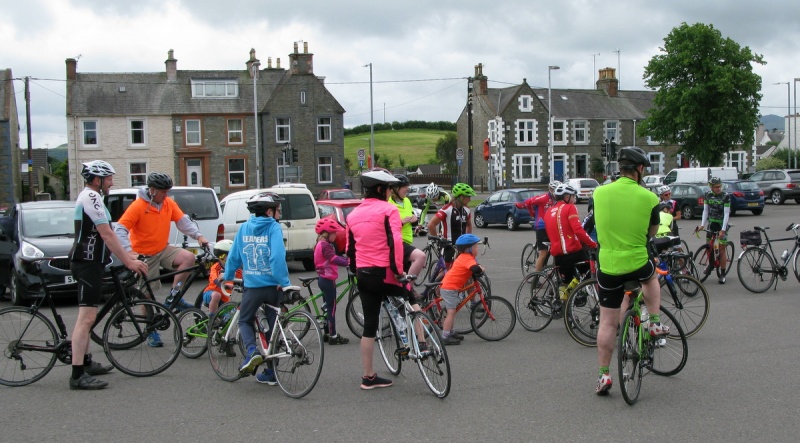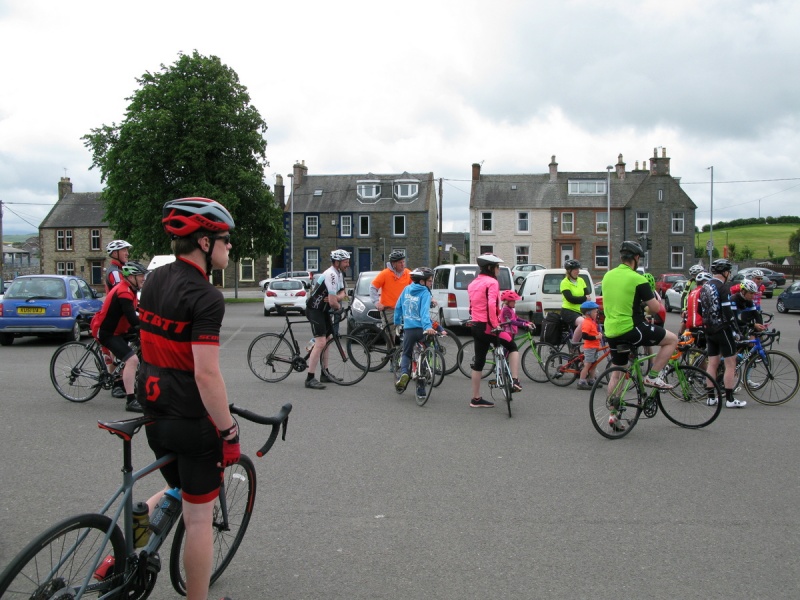 Prostate Scotland raises awareness of Prostate Cancer and promotes research into services and treatment both to help those who already have the cancer and to raise awareness so that men seek treatment earlier in the development of the disease. It is particularly supporting robot assisted surgery for men in Scotland.
RACE NIGHT 2018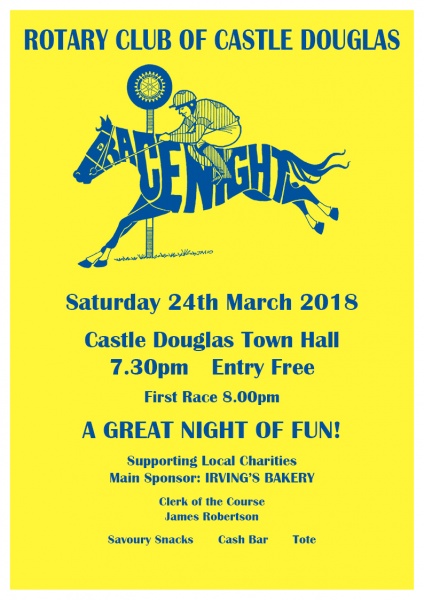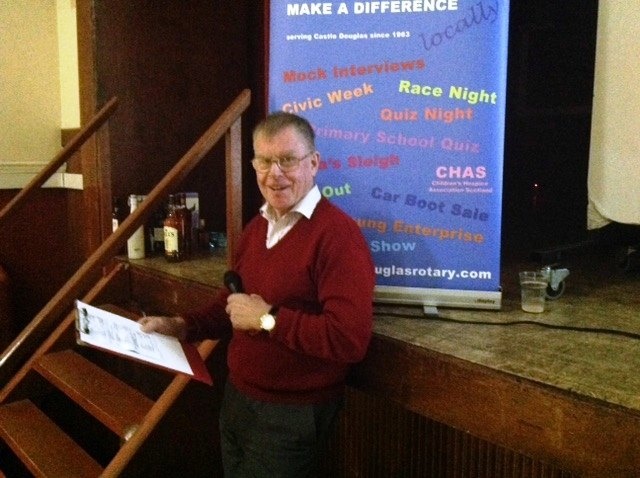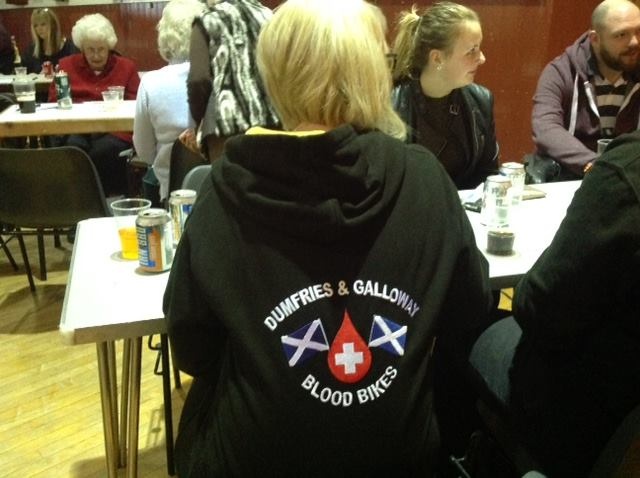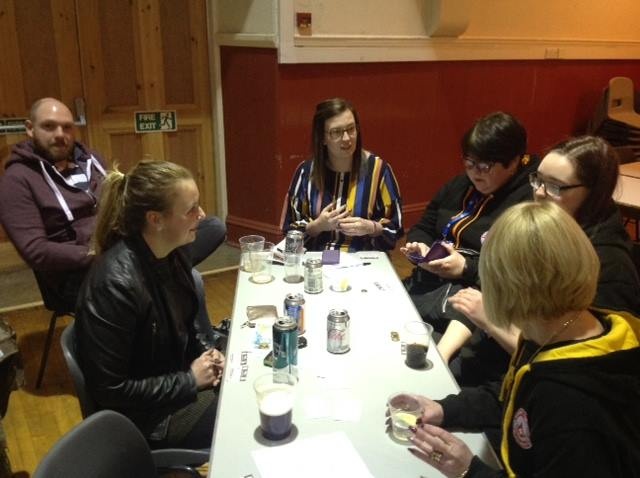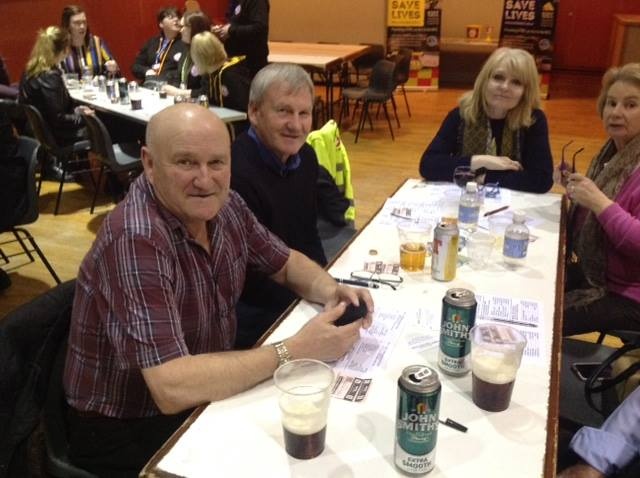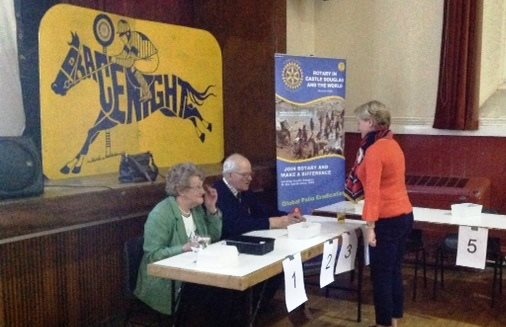 Saturday night saw our Rotarians and friends enjoy the Annual Race Night in Castle Douglas Town Hall. We were able to bet on 6 races which had all been sponsored by local business folk and individuals. The seventh race saw individuals in the audience bid to sponsor and name the horse - the money raised from this race was donated to Dumfries and Galloway Blood Bikes. All other money raised on the night will go towards local Youth and Community projects. A huge thanks to everyone who sponsored a race or a horse and to our members for producing such great prizes and buffet. A great night.
Anyone who wishes to have information about Rotary is welcome to come along to any meeting on a Thursday evening at the King's Arms Hotel or contact us through this website.
YOUNG MUSICIAN COMPETITION 2018:
Castle Douglas Rotary Club hosted the local round of the Young Musician of the Year 2018 at Castle Douglas High School on the 8th February. There was an excellent turnout of 13 pupils from both Castle Douglas and Dalry High Schools competing for the prize of Young Musician and Young Singer of the Year.
First prize in the Musician category went to Marnie Clark who gave an excellent performance of Grieg's "Notturno" on the piano. Second prize went to Alex McMenemy, who performed "Clowns" by Kabalevsky also on the piano. Joint third were Huw Hodson and Zoe Burgoyne. James Robertson, President of Castle Douglas Rotary Club, presented the awards to the prize winners.
In the Young Singer Competition, James Wallace was awarded first prize for his superb rendition of the traditional scottish song "Will Ye No Come Back Again". Ya'el Du Toit-Burns came second with her performance of "You are the Reason" by Calum Scott and Tyler Gilmour was awarded third prize with his rendition of "Second Hand White Baby Grand" by Marc Shaiman.
Finally, the judges decided that overall winner of the Young Musician of the Year should go to James Wallace.
The picture below shows James Wallace receiving the "Young Musician of the Year" trophy from Kenny Murray of the Rotary Club of Castle Douglas along with the other award winners.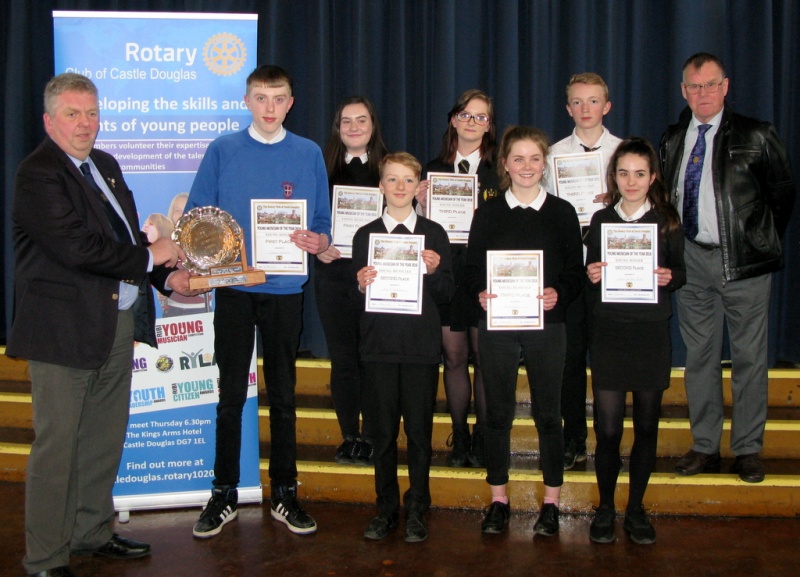 SANTA SLEIGH RAISES OVER £2000: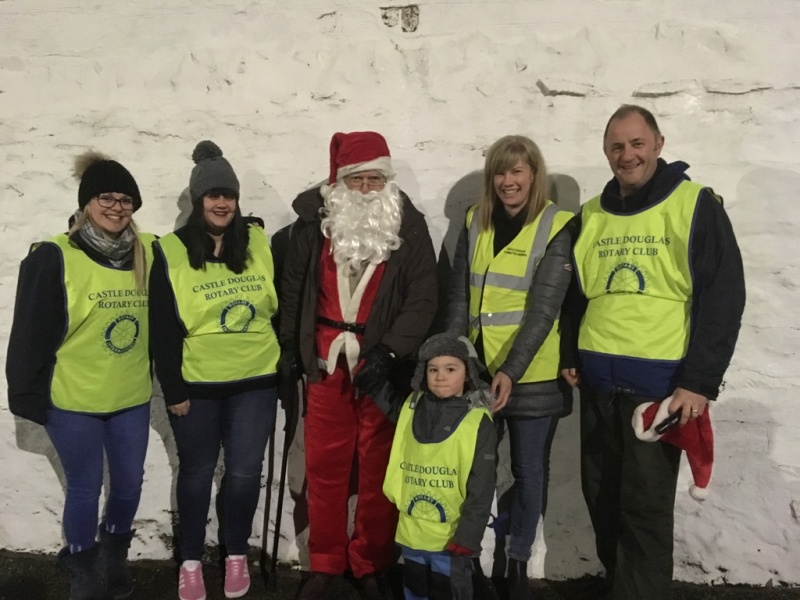 Castle Douglas Rotary Club have now parked their sleigh for another year and allowed Santa a well deserved rest following their trips around the streets of the town in the lead up to Christmas.
George Dickson, Vice-President of the Club said "We are delighted to have raised £2155.41 from the Santa Sleigh Project and would like to thank everyone who donated to enable us to raise such a superb total. The money will ensure that the Club continues to make a difference in our local community as well as being able to support international projects such as the work towards eradicating Polio worldwide among other vital work."
The Club would particularly like to thank the following people and organisations who very kindly gave up their time to help with the collection. Staff and senior pupils from Castle Douglas High School, Staff from the Boots Pharmacy in the town and staff from the local branch of the Royal bank of Scotland. Robert Wallace of Craigley Farm at Gelston, who supplied the tractors and drivers for the nights of the collection and enabled Santa to be transported around the town safely.
Anyone who wants information about Rotary is welcomer to come along to any of our meetings which are held in the King's Arms Hotel in Castle Douglas or can contact us through this website.
KID'S OUT 2017: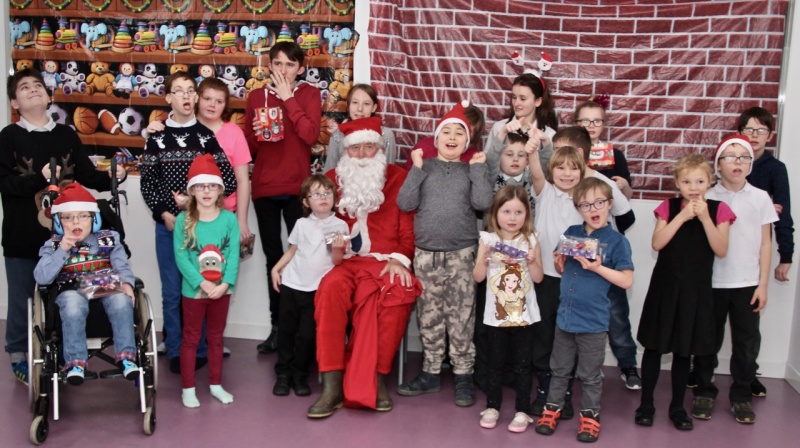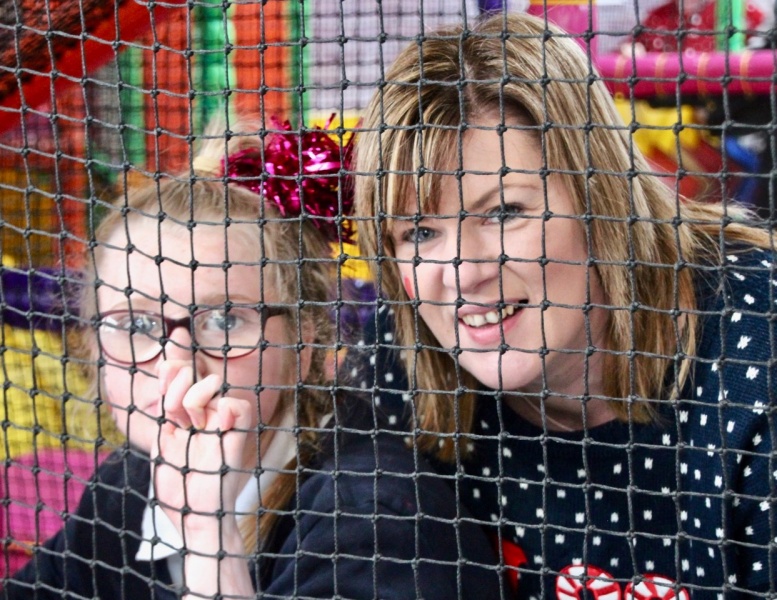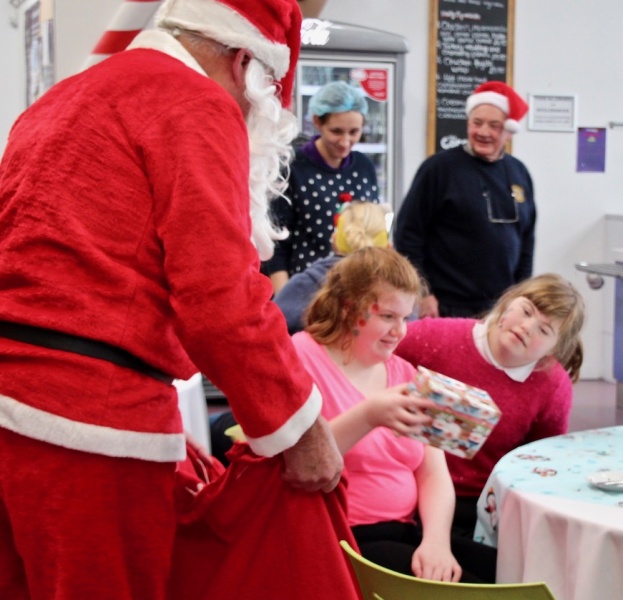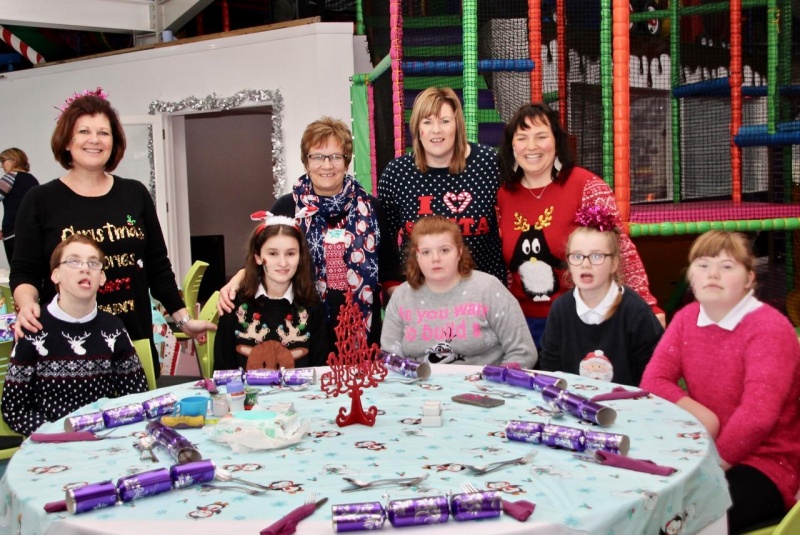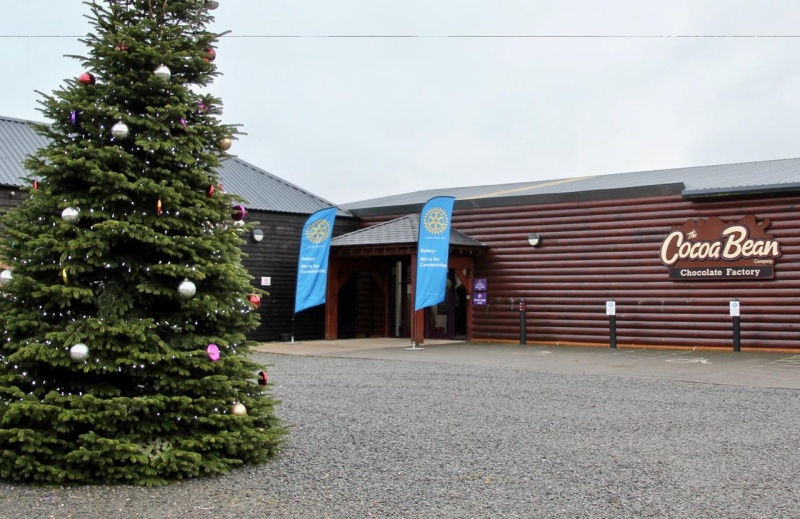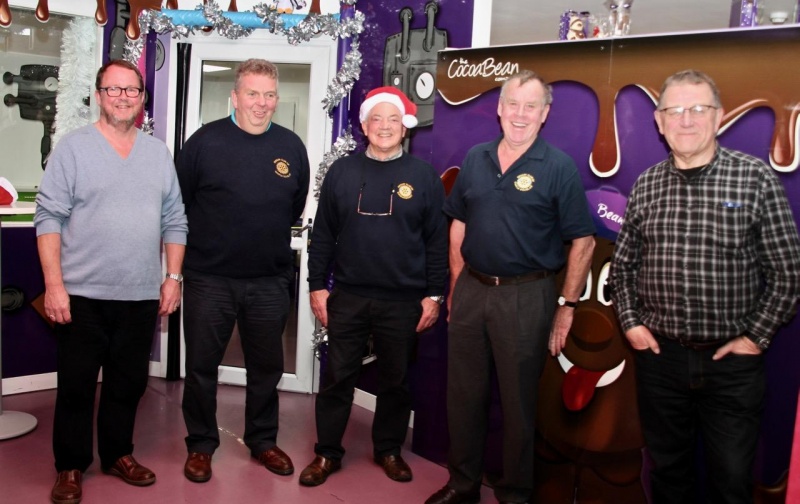 NEW PRESIDENT FOR CASTLE DOUGLAS ROTARY CLUB:
During the last meeting of the Club in June, members welcomed James Robertson as the new President for the Rotary year 2017-18. James is a well known face around Castle Douglas and Kirkcudbright and also amongst the business community for managing Rancher, the decorative ironwork company situated in Castle Douglas.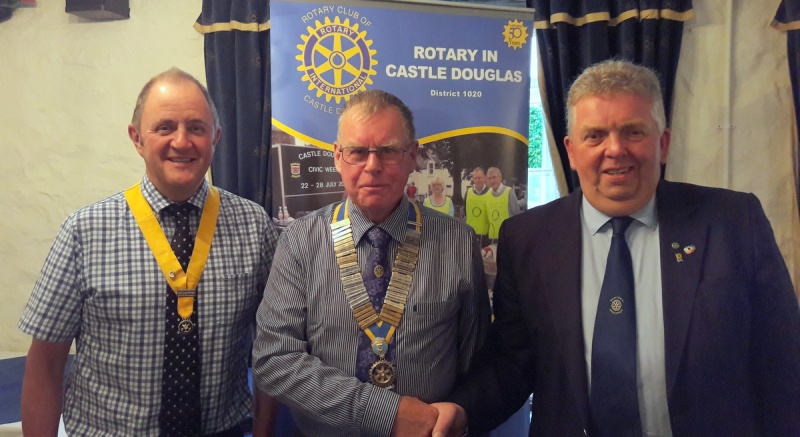 Before handing over the President's jewel to James, outgoing President Kenny Murray reviewed the achievements of the Club during the past year, covering both the local and international good work which the Club had supported.
The picture shows Kenny Murray, on the right, handing over to James Robertson, centre and with George Dickson, Vice-President, on the left.
ROTARY RIDE 2017:
As usual this event took place on Father's Day, June 18th and a collection of riders set off in warm sunny weather. There was a choice of 15, 30 and 45 mile routes with most of the riders opting for the more challenging 45 mile route.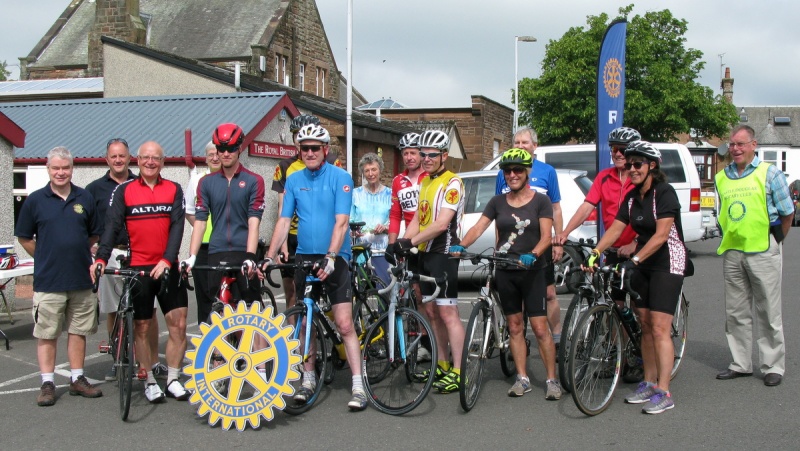 For more pictures of the event CLICK HERE


---
Rotary News
Be part of a global network of volunteers, trying to make the world a better place. Please also see the 'links & news' page for information from the local district and live feeds from Rotary International and Rotary International in GB&I.
Rotary serving communities through supporting foodbanks
---
Diversity is part of Rotary's core values
---
---
Meetings & Venue
Where and when:

We meet on Thursdays at 1800 for 1830 hrs
(
We gather in the Bar around 6:00pm. Meal is in the Dining Room at 6:30pm. No meeting between Christmas and New Year.
)
KINGS ARMS HOTEL, ST ANDREW STREET, CASTLE DOUGLAS
DG7 1EL
01556 502626