Rotary Larbert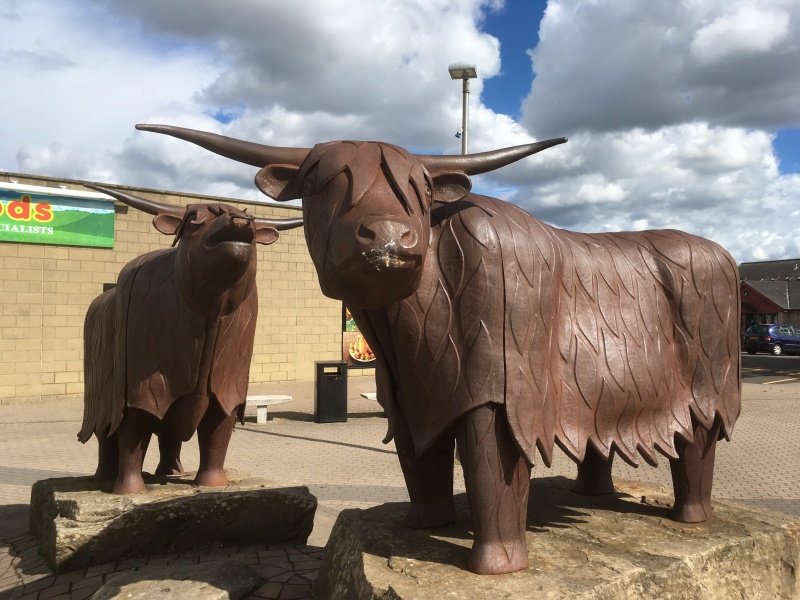 The famous cattle trysts were held in Larbert from 1782 with as many as 150,000 cattle, sheep and horses brought there for sale from all over Scotland. The arrival of the railways in the 1840s ended the trysts.
The sculpture shown above is fabricated from cast iron reflecting the connection with the nearby Carron Iron Works. The highland cow was also the logo of McCowan's toffee factory, makers of Highland Toffee, established in Stenhousemuir in 1922.
Other places of interest close by are The Falkirk Wheel, The Kelpies, Callander House and Stirling Castle. Glasgow and Edinburgh are only 30 minutes away by car or train.
President Archie Kerr

2021/22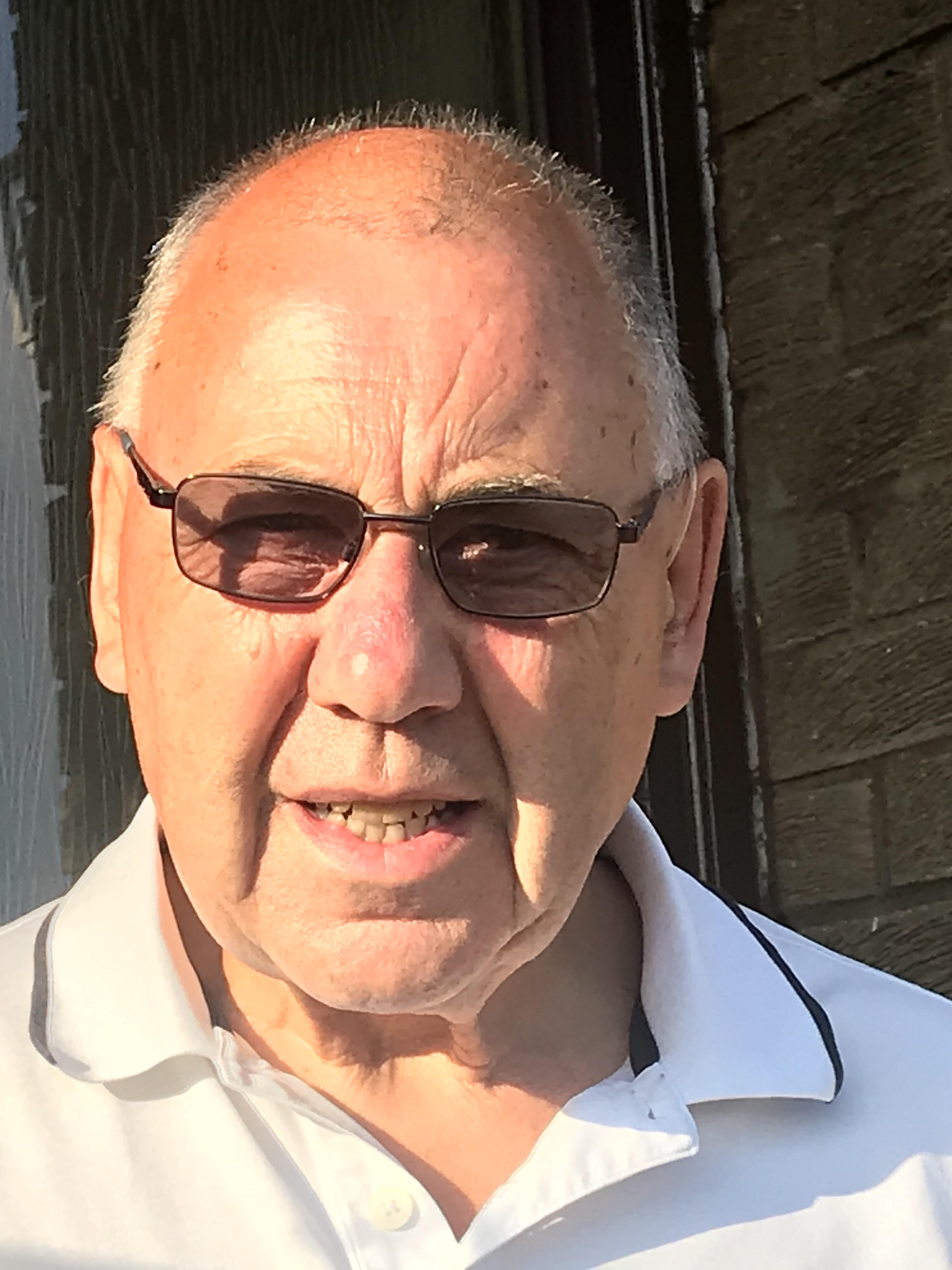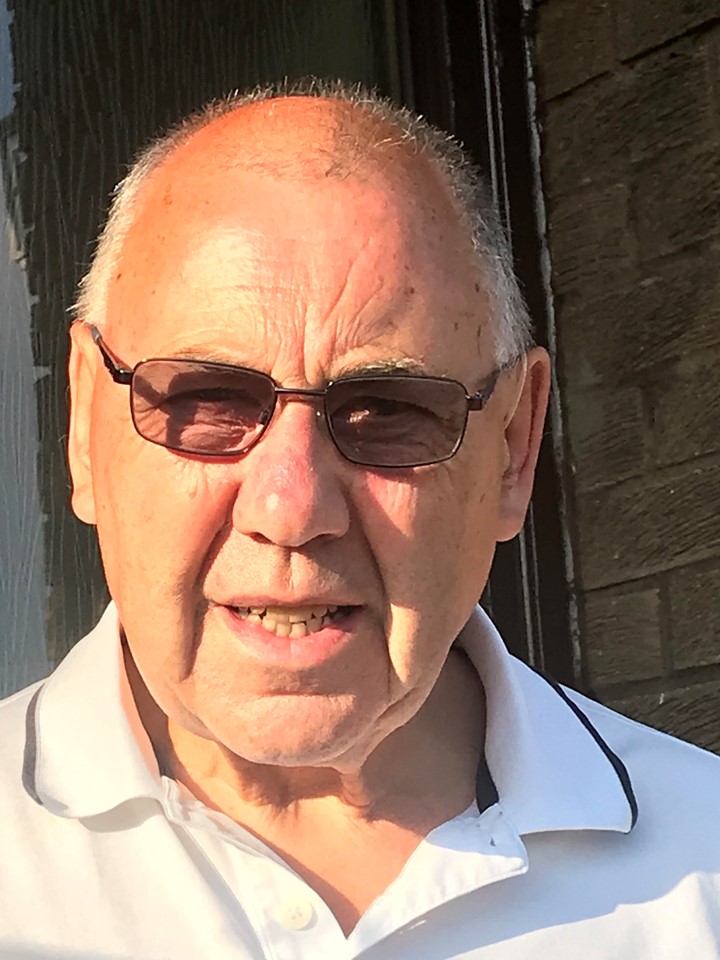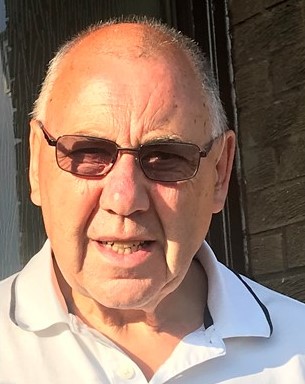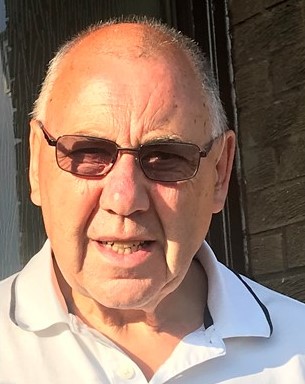 Welcome to our website.

We are a small but very active club in our community.

Our projects for this Rotary year include collecting the plastic tops from milk and soft drink bottles, (see below for more details of this project), working with Keeping Larbert and Stenhousemuir Beautiful (KLSB) including assisting with their Community Food Pantry. We are also investigating some innovative and exciting new ideas for community projects in the future.

Plans are being made for new, innovative and exciting ways of doing Rotary. Please feel free to contact us to find out more about the varied opportunities which Rotary can open for everyone.
We always welcome visitors and new members.

Detais of how to get in touch are shown elsewhere on our web pages.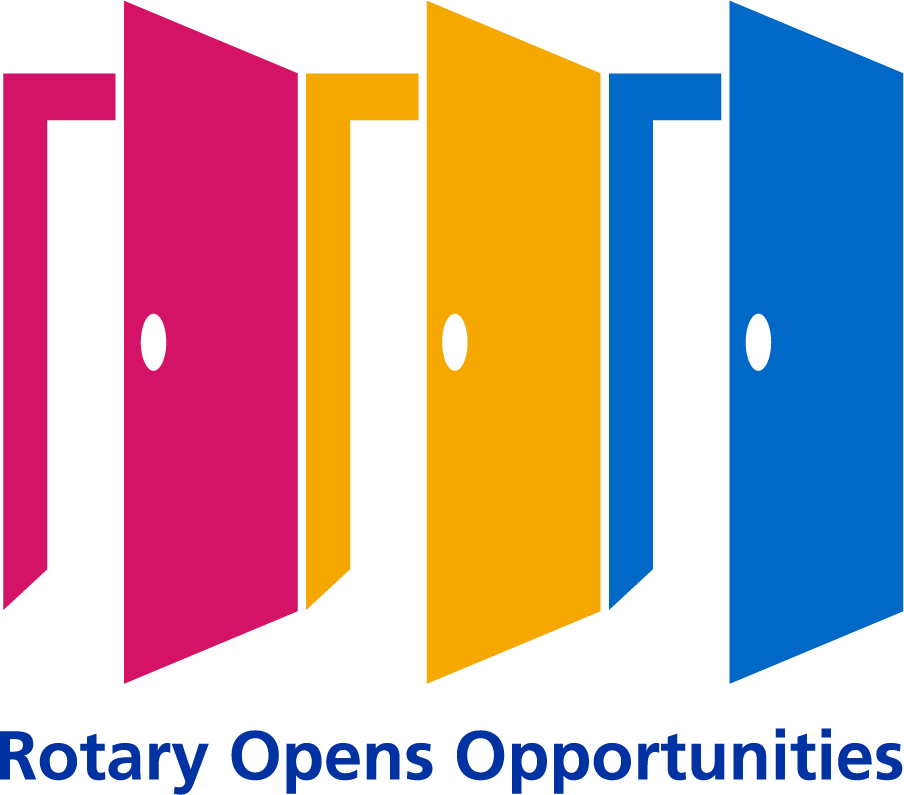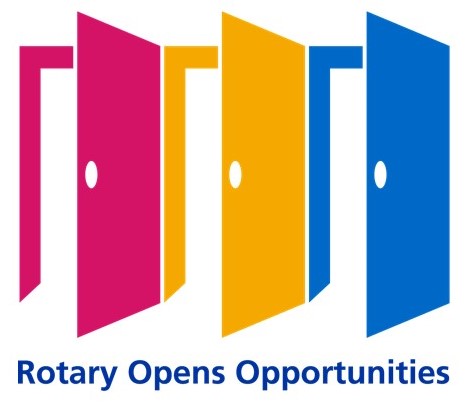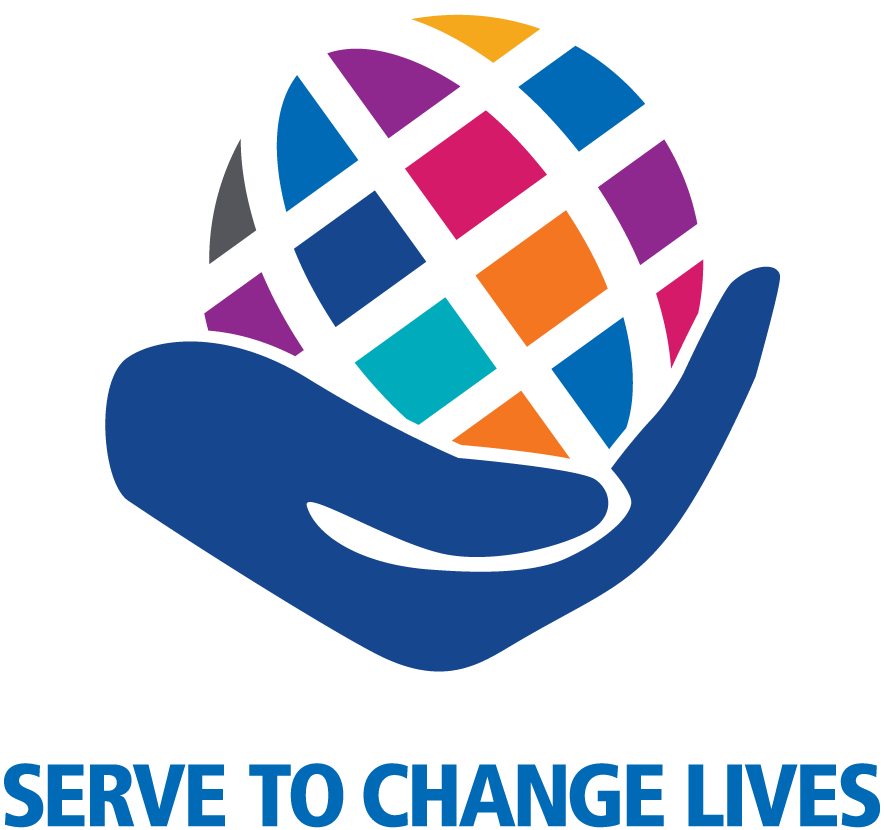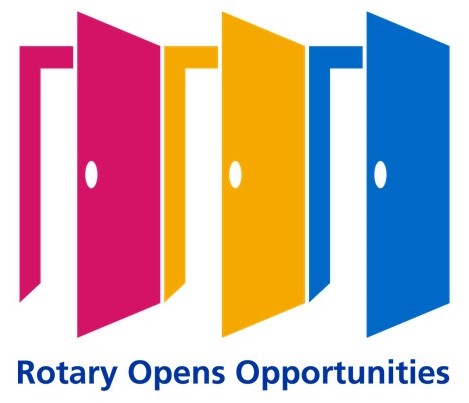 ---000---
Following the cancellation of 'face to face' meetings during the period of the pandemic we have now resumed physical meetings and moved to The Station Hotel in Larbert. We have also taken the decision to meet on a fortnightly basis.

If you would like to join us in one of our meetings please email RotaryLarbert@gmail.com to get the next meeting's details.
---000---
Although we were not meeting in person over the past 18 months we have still been active within the community and have several projects on the go.

Read on to find out more.
We are delighted to announce that with funding from Foundation Scotland we are now administering the Todhill Windfarm Micro-Grant Scheme.
Grants of up to £250 are available to individuals, unconstituted groups and small constituted groups in Larbert, Stenhousemuir and Torwood to help fund projects that benefit the community.
The Micro-Grant Scheme provides an opportunity to have an impact on a wide number of people. For example, by supporting:
- those not involved with or benefiting from activity run by formal, larger constituted groups;
- the community could contain small un-constituted groups who none the less provide valuable services or activities (for example lunch clubs or friendship groups) but who are inelligable to apply for funding from elsewhere.
- Individuals undertaking specialist training e.g. music or athletics, fostering local talent.
- Individuals or small groups wishing to 'test' or try out an idea.
- Participation (including travel) of community members to represent their community at regional or national events or in activities not available in the local community.
Some examples of awards might be:
- An award towards the travel costs of an annual trip for a local horticultural society.
- A local football club receiving an award to buy new goal nets.
- An informal lunch club for the elderly receiving an award towards start up costs.
- An award to a young person to enable them to participate in an overseas volunteering project to build a new school.
For more information and / or an application form please email us at RotaryLarbert@gmail.com
Please note that grants are only available to individuals or groups in the Larbert, Stenhousemuir or Torwood areas as this is the area covered by the Todhill Windfarm Grant Scheme.



---000---

Right now we are collecting the plastic tops from milk cartons which we can convert into cash to enable us to continue working within our community and, where required, further afield.
There is only one condition attached to this, the bottle tops must have a number 2 inside the recyling triangle. We can only accept tops with the number 2 stamped on them.
To arrange for bottle tops to be collected from you or to find out where to deliver them contact us by email at
RotaryLarbert@gmail.com
and someone will contact you to arrange things.
Thank you for your support.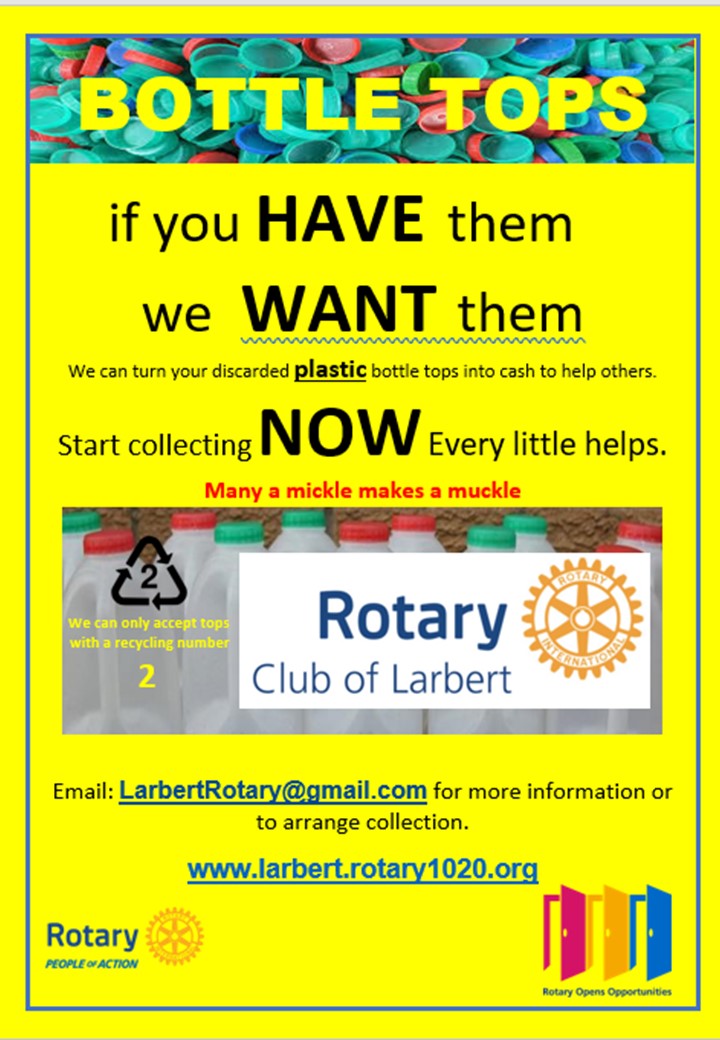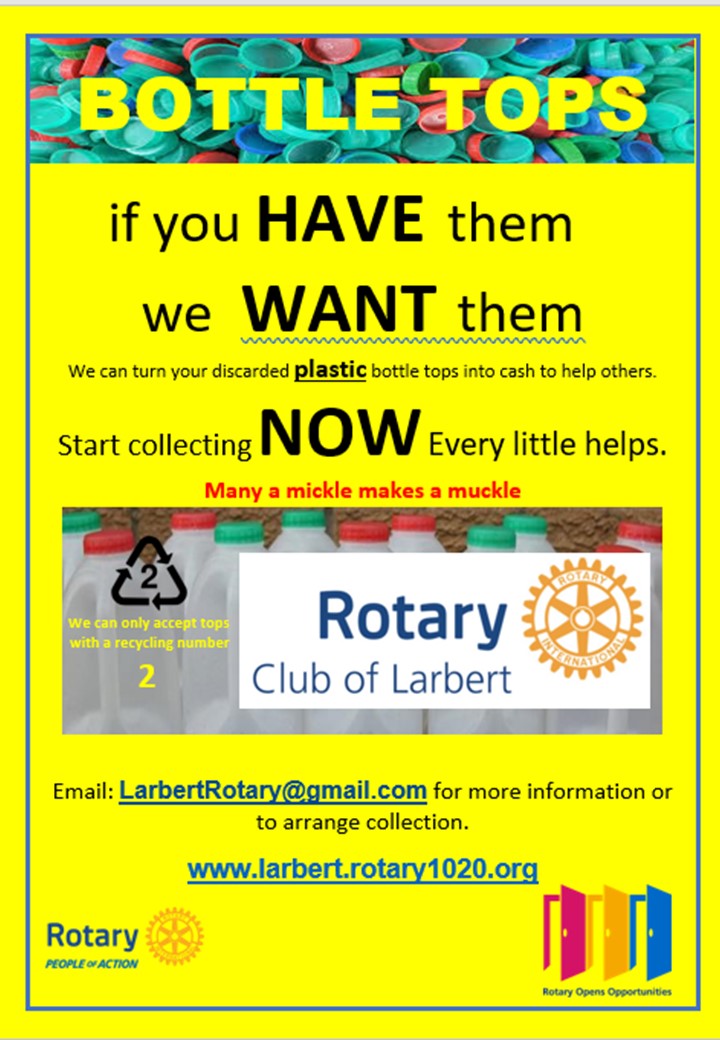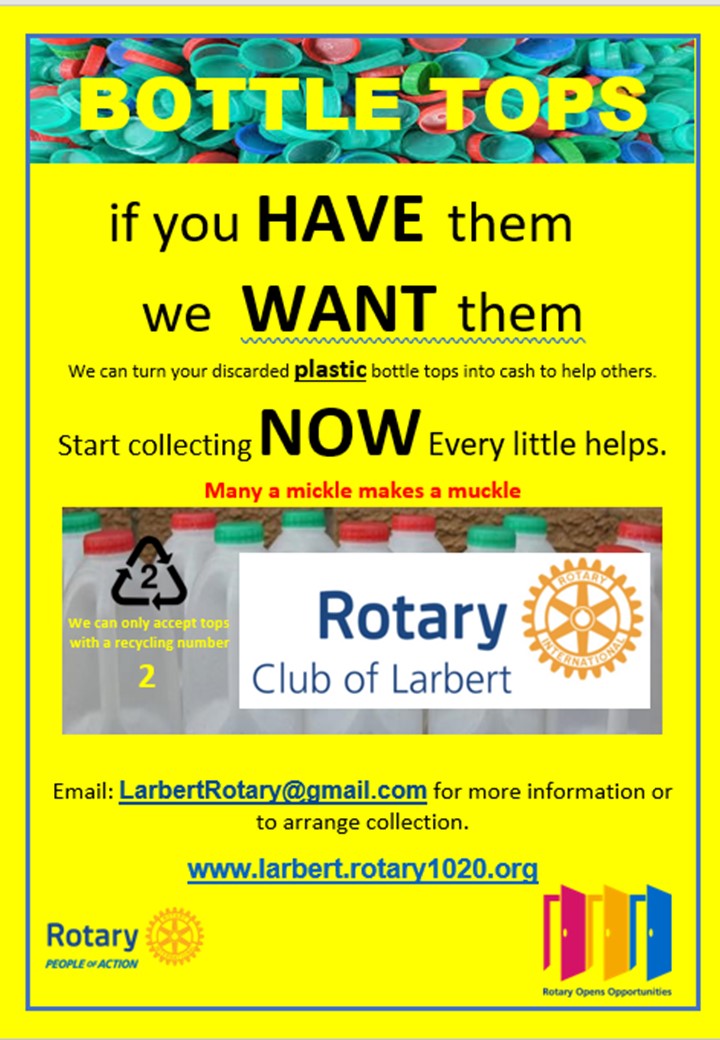 We are contnually updating our whole website. We actively work to refresh everything and keep you up to date with what we do and what we have planned.
Look in on a regular basis and see how we are getting on.