President

Pat Hastings

welcomes you to
The Rotary Club of Bray website

.
Please support our online funding for the 2020 Giving Tree appeal. To donate click on the following link: www.idonate.ie/BrayRotaryAppeal
The Giving Tree has been a feature of Christmas in Bray for the last 16 years and helps up to 300 people each year.
This year Bray Rotary Club cannot host its annual Christmas Giving Tree over two weekends in December on the steps of the Holy Redeemer Church on Bray Main St. due to COVID-19 restrictions.
While the giving Tree is missing the need is greater than ever.
How the Giving Tree traditionally works is that Gift Tags are placed on the tree with first names and ages of local needy children and, also vulnerable teenagers and adults.
Bray Rotary get the names from the four St Vincent de Paul Conferences in Bray, Purple House Cancer Support, Five Loaves Soup Kitchen, Ark Housing, Bray Community Helpers, Open Door Day Centre and CASA, the Caring and Sharing Association
The public take a gift tag; buy that person a suitable present, bring it back to the tree (unwrapped) and Rotary distribute them to the Charities.
Each year we get huge support from the people of Bray, especially families, and have many regulars coming year after year.
This year your support is greatly appreciated.
---
Memories of the 2019 Giving Tree Project, 2020 will have to be very different.
---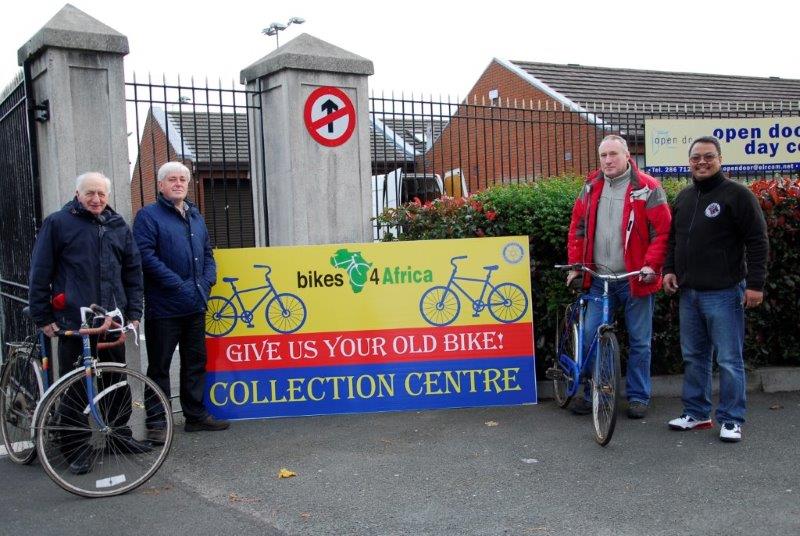 WE WANT YOUR OLD BIKE!
COLLECTION DATES 22nd & 29th AUGUST 2020, 9am to 1pm
The Rotary Clubs of Bray and Wicklow in conjunction with Wicklow County Council's recycling centres are seeking used bikes to refurbish and send to schoolchildren in The Gambia in West Africa. These unwanted bikes are going to enable children in The Gambia to get an education. A bike gets a child to school safely, on time and alert instead of exhausted after what can be a 7 mile walk in the searing heat. Thanks to Governor of Loughan House Open Prison in County Cavan the Irish Prison Service is partnering with Rotary to refurbish the donated bikes. The project provides prisoners with an opportunity to give back to the community and learn new skills. It teaches them about bike technology and repair as they service, clean and recycle the bikes in the newly constructed Bikes4Africa workshop in Loughan House prison.
Life is difficult for a child in Africa, especially Sub-Saharan Africa. The early life of a child faces multiple health issues from trying to survive malaria to having a balanced diet. Education suffers especially for children from rural areas, many children have to walk a long distance to school, some over 10 km, often without adequate food or water. A typical journey could take at least 90 minutes with children arriving late and tired for school.
Having to walk such long distances in hot sunshine to school and face the return journey in the afternoon when the sun is at its hottest is not conducive to students regularly attending school but having a bike to cycle to school makes a huge difference as they tend to be more attentive at school having not had to walk a long distance.
Students look after the bikes and they last them for many years. In Africa the advantage of bike ownership in a family can enhance life immeasurably and can significantly also improve their lives through access to work and essential services. Often, when the children return from school in the evening, with the addition of a simple attachment the bikes are used by mothers to collect water.