Young Musician of the Year competition 2017
Wed 5th July 2017 at 1.00 pm - 4.00 pm
Held at Charterhouse, the RVW Music Centre.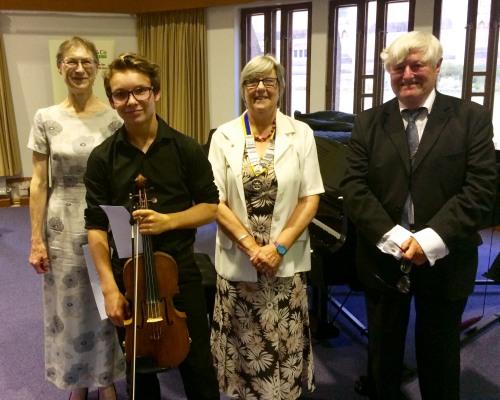 The Rotary Club of Godalming held its annual Young Musician of the Year competition at Charterhouse on Wednesday 5th July 2017 at the RVW Music Centre by kind permission of the School.

An appreciative audience of around 50 heard some outstanding playing on clarinet, trombone, piano and viola. Clem Pickering on viola was the winner and Chung Sze Kwok (piano) was placed second. Both will go forward to the next District round.

Other participants were Leoni Pickering (Clarinet) and Felix Rockhill (trombone) The comments of the adjudicator, Pamela Lidiard, Deputy Head of Keyboard Studies at the Guildhall School of Music and Drama, were very helpful both to players and audience.

The event was generously sponsored by AJ Bennewith and Co Chartered Accountants, Guildford. Deputy Godalming Town Mayor Cllr Nick and Mrs Williams presented the prizes.

Pictured Pamela Lidiard, Clem Pickering, Heather Pollard (President) Cllr Nick Williams (Deputy Town Mayor).