Last Night of the Rotary Proms
Sat 14th September 2019 at 19.30 -
Another Great Evening of Classical Favourites.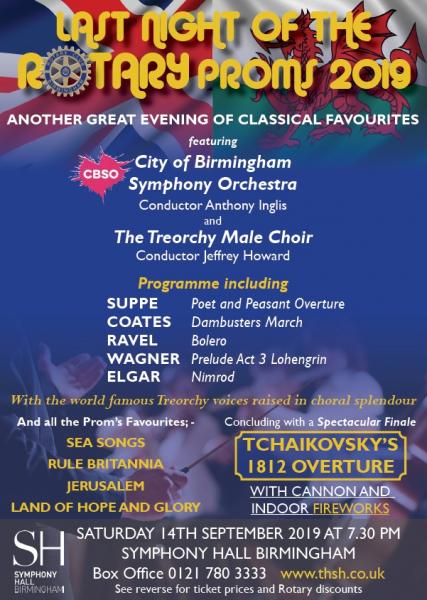 LAST NIGHT OF THE ROTARY PROMS 2019
SATURDAY 14TH SEPTEMBER 2019 AT 7.30 PM
SYMPHONY HALL BIRMINGHAM
Box Office 0121 780 3333 www.thsh.co.uk
See reverse for ticket prices and Rotary discounts
ANOTHER GREAT EVENING OF CLASSICAL FAVOURITES featuring
City of Birmingham Symphony Orchestra Conductor Anthony Inglis and
The Treorchy Male Choir Conductor Jeffrey Howard
Programme including
SUPPE Poet and Peasant Overture
COATES Dambusters March
RAVEL Bolero
WAGNER Prelude Act 3 Lohengrin
ELGAR Nimrod
Concluding with a Spectacular Finale TCHAIKOVSKY'S 1812 OVERTURE WITH CANNON AND INDOOR FIREWORKS
And all the Prom's Favourites; -
SEA SONGS
RULE BRITANNIA
JERUSALEM
LAND OF HOPE AND GLORY
With the world famous Treorchy voices raised in choral splendour
At the RIBI Conference in 2014 "The Last Night of the Rotary Proms" was sold out six months in advance and many Rotarians could not get tickets, so we did it all again in 2016 with much the same result.
DON'T MISS OUT THIS TIME!!
Tickets priced at £39.50; £35.00; £30.50; £25.50; £18.50 and £15.00
FOR GREAT ROTARY DISCOUNTS FOLLOW THE STEPS BELOW AND BOOK BETWEEN 1ST SEPTEMBER 2018 AND 31ST MARCH 2019 AND REMEMBER THE EARLY BIRDS WILL GET THE BEST SEATS!!
FROM 1ST APRIL 2019 REMAINING TICKETS WILL GO ON SALE TO THE GENERAL PUBLIC AND ROTARY DISCOUNTS WILL NOT BE AVAILABLE AFTER THAT DATE
DISCOUNTS
EVERY TICKET (EXCEPT GROUP BOOKINGS) BOUGHT BETWEEN THE ABOVE DATES WILL BE DISCOUNTED BY £1 AND THE NORMAL PER TICKET COMMISSION OF £3.00 WILL BE WAIVED, MAKING A TOTAL SAVING ON A PAIR OF TICKETS OF £8.
OR
FOR GROUP BOOKINGS OF 20 TICKETS OR MORE ON THE TOP THREE PRICE BANDS ONLY, THE TOTAL PRICE WILL BE REDUCED BY 10% AND ONCE AGAIN THE NORMAL PER TICKET COMMISSION OF £3.00 WILL BE WAIVED. ALL OF WHICH MEANS A SAVING ON A PAIR OF TOP PRICED TICKETS OF NEARLY £14.
WHY NOT GET UP A COACH LOAD OR JOIN WITH OTHER LOCAL CLUBS TO DO SO?
TO BOOK
GO TO www.thsh.co.uk AND SELECT 14TH APRIL2019 FROM THE DATE BOX. CHECK THE SEATING PLAN AND HAVING DECIDED WHICH SEATS YOU WISH TO BOOK, FOLLOW THE ONLINE INSTRUCTIONS, OR CALL 0121 780 3333 FOR INDIVIDUAL SALES OR 0800 358 7070 FOR GROUP SALES, OR VISIT THE BOX OFFICE IN PERSON. IN EACH CASE QUOTE PROMO CODE: - ROTARY19
For further information call or e-mail Stuart Guy on 0121 602 3515/ 07785 117172 sg@sgconsult.co.uk or Brian Fuller on 01903 339 776 brilin1957@aol.com