Ringwood Musical Dramatic Society Summer Show
Thu 25th July 2019 at 7.00 pm - 10.00 pm
.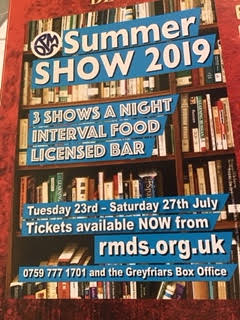 Ringwood Musical Dramatic Society Summer Show on Thursday 25th July 2019.
This year the theme is "Bookshelf " so it will be a CRIME to miss it. It could be a THRILLER, a FAIRYTALE or even the start of a great ROMANCE.
It is a series of 3 brilliant mini shows of approximately 35 minutes each with free nibbles and a cash bar during each interval.
Tickets are £12.50 with doors opening at 7.00 pm and the performance starting at 7.45 pm.
The event takes place at:
Greyfriars
44 Christchurch Road
Ringwood
Hampshire
BH24 1DW
Please can you let Jo know if you would like to attend or not asap :-)