Inner Wheel
The Cosham Inner Wheel club operates in a similar manner to the Rotary Club, supporting charities and having fun.

The Inner Wheel Club of Cosham is now in its 66th year.
Meetings are held twice a month on the First & Third Tuesdays at The Church of the Resurrection Hall, Drayton PO6 2AP and all start at 2:15 pm.
A variety of speakers are invited to meetings.
We are a friendly club and pleased to welcome guests.
The objects of Inner Wheel are to promote true friendship, to encourage personal service and to foster international understanding.
Inner Wheel is an International female organisation with Clubs in 103 countries.
It was started in Britain with the first meeting held in Manchester in 1924.
To celebrate Inner Wheel's 90th Birthday Members attended a national event
on the London Eye and clubs donated items with wheels to charities.
Our club provided tricycles for the Elizabeth Foundation.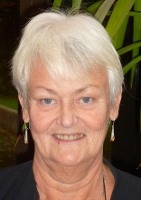 Currently, Christine Cooper is our President with Sheena Jeffereis ( above) taking over for the second half of the year. Their chosen charities for the 2017/18 year is the Wessex Cancer Trust
Club Member Lynn Gutteridge is the District International Chairman. Her International District Charity for the year is The Butterfly Tree.
.